This is the Civil Service Exam CSE Result March 2022 Region 9 Passers (Professional).
CIVIL SERVICE EXAM CSE RESULT MARCH 2022 — This is the list of Region 9 passers (professional level) as released by the Civil Service Commission (CSC).
The exam results including the list of passers, top 10 passers, and other announcements related to this will be posted on this website once CSC will release it.
CSC conducted the Civil Service Examination – Pen and Paper Test (CSE-PPT) on March 13, 2022, at testing centers in Metro Manila, CAR, CARAGA, ARMM, and all regional testing centers in the country.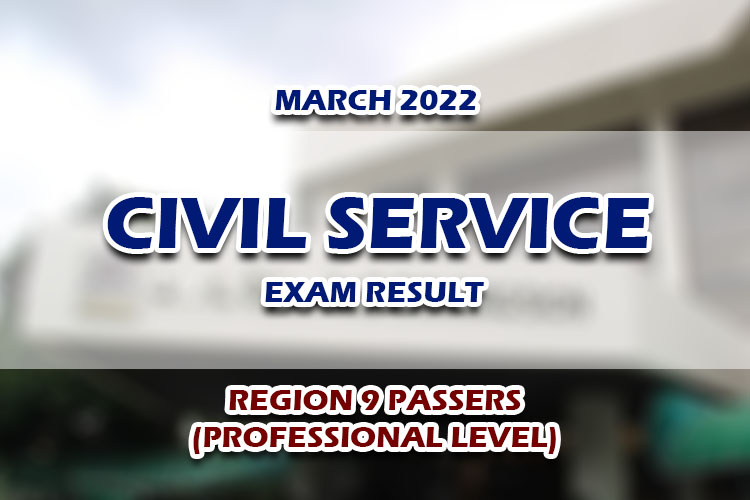 SUMMARY OF RESULTS
Here is the list of passers:
March 13, 2022 CSE-PPT
Professional Level: List of Passers
Civil Service Commission Regional Office No. 9
Name
ABAD, ARIANE C
ABEJO, CHRISTIAN ZACHARY B
ABLONG, DAN PHILIP B
ABOUT, REGINE G
ABUBAKAR, ALAWI W
ABUBAKAR, JEHAD A
ACOGIDO, HANNAH JOY C
ADANZA, DANICA DANE T
AHMAD, FAISAL T
ALAM, JOSEPHINE CLAIRE S
ALCANTARA, MARY WANDA T
ALCORIN, MARVA HONEY T
ALEGADO, JENNALYN FE C
ALFARO, NOLI CRIS M
ALIPADA, HANIE M
ALLAS, JEWIL JAY C
AMILASAN, FATIMA AYESHA C
AMSID, MARC MICHAEL F
ANGELES, CHRISTIAN R
ANIÑON, CARL LIANN L
APOSTOL, KATE S
AQUINO, RENMILLE JOYCE L
ARAP, SHARIFA NURURAHMA C
AREVALO, MARDY V
ARQUIZA, MARRY JOY P
ARQUIZA, RAQUELYN A
AUPE, APPLE JAMES J
BACARON, WHENA MAE P
BALADAD, AHMAD B
BANA, JOHN MARCUS
BANDICO, MERIAN L
BARABAD, MICHELLE ANGELICA A
BARING, IRISH M
BECADA, EVELYN M
BELARMINO, LEA GRACE O
BERNARDO, ALBERT A
BIER, NICHOL D
BIONES, JOHN PAUL G
BRIONES, KENNETH H
BUCOG, CLARISSE ANN T
BUCOL, PREXY JADE B
BUE, JUDY ANN L
BUENVENIDA, KATRINA V
CABANIT, GERWIN H
CABURNAY, CYRON L
CAHIGAS, IKIE P
CALLAO, PRINCESS KYN C
CALLESO, MARC ARJO R
CASABA, CRISANTO JR. A
CASIL, ANGELICA T
CASINTO, JULIUS CARL S
CATIAN, MICHAEL BON Q
CHIU, KHUINCY P
CHUA, KAZEL ANN T
CIMAFRANCA, SC MYZELLE S
CLEMENIA, ROWENA
CLETO, HENRY G
COFINO, MARJORIE P
COLUMBRES, JOAN P
COMBIS, CHARITO Y
COMIQUE, MARIDAL B
CORTEZA, CHRISTIAN F
CRISTORIA, CYRIL EVE C
DACULA, SHARIFF JADHSAR H
DAKULA, SHAINA D
DAMPIOS, IMEE L
DAUBING, ANALISA U
DE FIESTA, REGINE T
DE GUSMAN, MANILYN M
DE LOS SANTOS, CEDREX A
DE LOYOLA, RENZ PATRICK F
DE VERA, DAVIE JANE M
DEL ROSARIO, ALMIRAH DIANA D D
DEL SOCORRO, CAROL L
DELA CRUZ, JUSTINE RENE C
DELGADO, DERYHL F
DELOSTRICO, MERIAM L
DEMAYO, MARDY F
DOÑA, MABETH NIKKI L
DUAY, EUNICE ANN M
DUBONGCO, JAMES LESTER V
DULAY, DARYLL JAY E
DUMANON, JANRELL H
EBOL, IAN R
EBOL, SHEENALYN KATE R
EDRIAL, PHILIP LYLLE N
EGO-OGAN, IAN REY B
EGUIA, SHIENNA MAE P
ELNAR, EUGENE L
ENCARNACION, ROUMELO ISAIAH A
ENTERA, MARIE ANTONETTE D
ESCARES, HAZEL E
ESPAÑO, SONNY F
ESPERAT, RICHELLE O
ESPIRITUSANTO, JENALYN R
EUSEBIO, MARY ANN D
FERNANDEZ, AALIYAH N
FERNANDEZ, ANGELYN M
FRANCISCO, JEREMIAH A
GALDO, RON RYAN B
GALERA, NINA S
GALVAN, AILENE A
GAMELO, GLEN FORD B
GANOB, CHERYL C
GARCIA, JEFFREY LEE D
GARCIA, TIFFANY URSULA BOLYN B
GEMILGA, KRISTOJAY C
GO, SARAH G
GORMISE, EMMANUEL C
GURREA, IDO MARK M
HABON, JEROME D
HADJULA, JUNAIFAH A
HAJAL, AL-REDZKI M
HARUN, MAHDA H
HASSAN, HAIDIR M
HAYAWAN, MIKA J
HERBANO, JOSEPH BENEDICT M
HERBANO, JUDE CHRISTIAN D
HERNANDEZ, JANES VILLE P
HIOLEN, ALESSANDRA ALANA B
IDJIRAN, FATIMA AISHA B
IGHOT, CHARISSE L
ILAHIM, NURHANA S
ITURALDE, EUGENE MARK C
JACA, MARK ALEXIS M
JAMALDI, HUZAYNAL I
JAMIL, JOSEPH JEREMIASH R
JAMIRI, AISHA I
JIMERA, REYNAN T
JOE, CHRYSTALIE R
JONEM, RINABEE M
JUATON, ARNOLD MICHEAL C
JUSTO, JULIUS OLIVER F
KARASUDANI, KAZUTO C
LABISIG, JENNELYN B
LACASTESANTOS, JOSIAH B
LADJA, CHERRY MAE L
LAJARANI, MEG-RYAN S
LAMATAN, MELOCRIS PAUL C
LAWANSA, JENNIFER R
LIM, ANJELICA ANN G
LIM, CHARLE KENT B
LIONG, TIFFANY KAYE S
LLANES, JOHN CARLO M
LOPEZ, JOEYANN MAE A
LUMACAD, WALTER D
MAALAM, ORLAN GLENN N
MACABALANG, JUNAINAH T
MACROHON, RAMMILA MAE C
MADRAZO, SAMANTHA P
MAGALLANES, WILLYMAR P
MALIK, SALMIA H
MALINGIN, MICHAEL JAMES M
MALLARI, REJIE A
MANANSALA, JFRELZ J
MANDAC, ANGELYN R
MARQUEZ, VILMAR V
MARTEL, JUN LEE O
MARTINEZ, CRYSTAL ROSE G
MARTIREZ, ANN ROCELLE T
MATLIH, JAWADA Y
ME-OT, JOHN PAUL DR
MERCADER, BONNEVIE E
MERCADO, KIMBERLY ANN E
MIDEL, JULIETA B
MIGUEL, JONGIX S
MOH RAZARI, AMINUDDIN G
MOLEÑO, JEHLO L
MORALES, RICLYN JAN N
MOSQUERA, BILLY JEANE A
MOSQUISA, MAUREEN JANE A
MUKARRAM, BENZAR M
NADONZA, APRIL JOY T
NAMOC, RENDYLL MAE F
NATUEL, AIJI E
NEBRIA, RHEA AMOR S
NICOLAS, GECELSON L
NINGASCA, PRINCESS SIONE P
OLARTE, JESREL J
OLIVEROS, SHARMAINE E
ONG, ALAN JOSEPH DT
ORIAS, ARNYL A
ORQUIJO, ANA MARIE L
ORTEGA, JENELYN Q
PALAHANG, JASON A
PALMA, JERLYN B
PAMPLONA, JOEL A
PARNONCILLON, GLADYS M
PASCO, CHRISTIAN NOEL B
PASCUA, REYNALIZA O
PASIOL, JESEL P
PAYUMO, EDMAFYL HANAH S
PELENIO, MAY ANNE B
PIOQUINTO, RODERIC T
POLINAR, JADE M
POSADAS, HEIDIE GRACE N
PRENALA, APPLE DIANNE B
PUNTOD, IEDEN P
QUIBILAN, JOAN C
RAMOS, ARGIE ROY V
RESPALL, RAY JOHN M
RESURRECCION, LOWELIN A
REYES, DEARLY MAE P
REYES, JOHN ARNNIE M
RICARDA, LEO L
ROBLE, VANESSA ROXANNE S
ROCA, KAREN LISSETTE J
ROJAS, LEA BELEN Y
RUBIA, MARY JANE M
SABADO, ARJAY C
SABOLBORO, LOUI ACE G
SAGRADO, ROI JOMAR G
SALADAGA, JOHN GABRIEL B
SALAR, LOYZHA MAE
SALIM, ABDUL AZIZ U
SANCHEZ, DARLENE R
SANTOS, BERNADETTE E
SCHUCK, BISMARCK III J
SERIMOGAN, IRINEO JR. D
SIAROT, JAMES MAR R
STA ANA, CATHERINE M
SULIT, LEA JEAN R
SULLANO, LEONA C
SULPOT, ELIZEL L
TANGCO, NICOLE F
TANGGOTE, SITTIE BAENARE R
TAPAYAN, ERELL JAMAICA A
TAYONG, EDGIE LYN R
TEESHIAN, KARREN S
TENEJEROS, LERICA SHEEN B
TORIBIO, ERWIN F
USMAN, MUHAMMAD KUMINI F
UY, ARLENE D
VALDEZ, CRISTINE MAE L
VALLAR, KEIFFER JAMES D
VELASCO, NAPOLEON JR. R
VERGARA, CLAUDINE FE I
VERGARA, ZEDE ZABDIEL B
VILLAFUERTE, CLOYD ROMEO E
VILLANOSA, LEA S
VILLANUEVA, BERNARD KENT C
VILLANUEVA, RENE A
VILLAROSA, SHEENA MAE J
YAP, ARON KENNETH S
YAP, ROMAN E
YEE, MELCAH SM
YOSOYA, ORLENE L
YULO, MARIA MAGDALENA VICENTA G
ZAMORA, CHRISTINE A
ZUASOLA, ROGEENA MAE P
EXAM COVERAGE
Professional Level (in English and Filipino)
Numerical Ability (Basic Operations; Word Problems)
Analytical Ability (Word Association – identifying assumptions and conclusions; Logic; Data Interpretation)
Verbal Ability (Grammar and Correct Usage; Vocabulary; Paragraph Organization; Reading Comprehension)
General Information (professional and subprofessional levels)
Philippine Constitution
Code of Conduct and Ethical Standards for Public Officials and Employees (RA No. 6713)
Peace and Human Rights Issues and Concepts
Environment Management and Protection
RELEASE DATE
The Civil Service Exam CSE Result March 2022 is expected to be released within sixty (60) days after the examination.
REMINDER
The exam result may be released by the CSC earlier or later than the target date without prior notice.
Examinees shall obtain at least 80.00% general rating to pass the examination. Just visit this website regularly or refresh the page for further updates and information.