This is the Civil Service Exam CSE Result March 2022 Region 2 Passers (Professional).
CIVIL SERVICE EXAM CSE RESULT MARCH 2022 — This is the list of Region 2 passers (professional level) as released by the Civil Service Commission (CSC).
The exam results including the list of passers, top 10 passers, and other announcements related to this will be posted on this website once CSC will release it.
CSC conducted the Civil Service Examination – Pen and Paper Test (CSE-PPT) on March 13, 2022, at testing centers in Metro Manila, CAR, CARAGA, ARMM, and all regional testing centers in the country.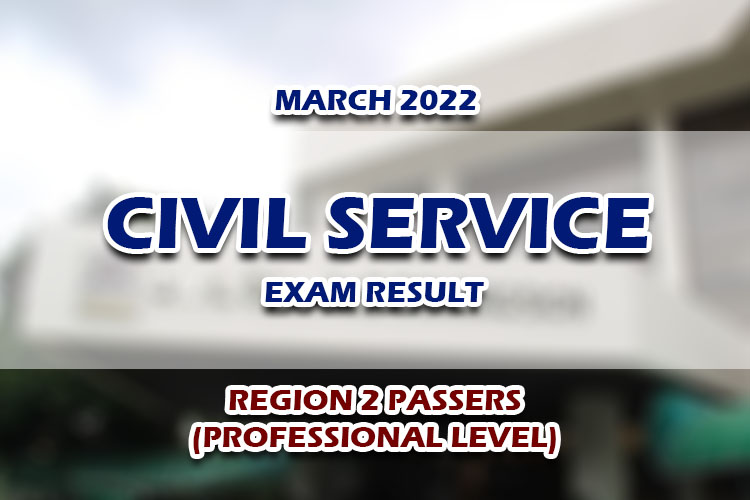 SUMMARY OF RESULTS
Here is the list of passers:
March 13, 2022 CSE-PPT
Professional Level: List of Passers
Civil Service Commission Regional Office No. 2
Name
ABADU, BEVERLY C
ABARA, WENDEL JONN L
ABAÑO, ZOREN A
ABBAS, ALISON AHMAD L
ABEDES, ALVIN S
ABELLA, JAYROL C
ABLAT, CHARMAGNE
ABLAT, JOHN DAVE
ABSALON, CLIFFORD JOHN B
ACAYA, JERICK VOLTAIRE C
ACAYA, JOHN KYLE P
ACCAD, AUGUST NICOLE ANGELO R
ACHANZAR, VICTORIA H
ACOBA, LEILANIE V
ACOSTA, DEBRA LEE MAJA M
ADDUN, CHRISTINE JOY P
ADDUN, LAWRENCE R
ADDURU, JESTER C
ADVERDERADA, GERLIE MAE G
AGATEP, DANIEL DANE P
AGBAYANI, GLORYBETH S
AGMALIW, JONELYN L
AGPALZA, JAMES KARL A
AGPAWA, MELCHOR O
AGRIAM, CHERRYMAINE S
AGRIAM, WENDELL CARL G
AGSOLID, ALEXA MARGARETH N
AGTANG, GLENCYL B
AGUDO, JULLAN MATTHEW G
AGUDO, JUSTINE MAE C
AGUSTIN, JOHNNY B
AGUSTIN, ROBIN VINCENT D
AGUSTIN, ROWENA B
ALA, DAWNVIE MAE M
ALARCADO, JOSEPH B
ALAVADO, DAISY C
ALAVADO, DAVID C
ALAVADO, TERESITA B
ALBOLERA, CLARISSE JOY D
ALCANTARA, JESWIN A
ALEGADO, JHONDLE S
ALEJANDRO, ASHLEY ANNE D
ALIBANIA, CHRISTOPHER C
ALINDADA, ARTHURO JR. P
ALINDAYU, CARL FRANCIS A
ALIWED, DEBBIE T
ALIÑO, RIA C
ALLAUIGAN, MA ANGELICA A
ALMERIDO, RANA ZARIFA M
ALMONINIA, JAMES A
ALUAD, FREDERICK M
ALVARADO, EDELYN S
ALVARO, CLARICE L
AMBOY, RONA JOSEPHA A
AMBOY, ROSELYN D
ANCHETA, DONNABELLE S
ANCHETA, FELIMON M
ANDRES, MARA SALOME B
ANGELES, FRANCES CHIARELLA M
ANICAL, EMELITA E
ANTOLIN, SWIT KRISTIN AUBREY T
ANZIA, ABIGAIL B
APOSTOL, ELPONS JOHN G
AQUINO, LEOMAR I
ARADANAS, MARK RENSON A
ARAGONES, REMOEL C
ARELLANO, CHRISTIAN S
ARELLANO, JANSEN CARL D
AREVALO, JANINE B
ARUGAY, SHERWIN S
ARZAGA, DOUGLAS ARTHUR R
ASA, FERDINAND JR. A
ASUNCION, DEXTER D
ASUNCION, TEMITEO JR. B
ATABAY, PRINCE CHRISTIAN F
ATANACIO, SHARON S
ATIENZA, BRADLEY ALEXANDER A
ATITIW, ARCHILES G
ATTUNAGA, JON REI A
ATUNAY, GUILLERMO B
AYADI, JERICK B
BACANI, ALYSSA JANE DA
BACCAY, RENMAR J
BACKIAWAN, DOMINICA P
BACULI, GEROLD S
BAGAOISAN, RAMIL R
BAGASOL, JULIUS C
BAGAYAO, DELIA Q
BAGCAL, KRISLEEN PEARL S
BAGGAYAN, JOENAHAN I
BALA, KRIZIAN MAE A
BALAG, HAERIETTE JOYCE D
BALAGAN, JESUS ROBERTO E
BALANOBA, JOHN NATHANIEL G
BALANTOC, ROBILIZA S
BALAO, CHARMAINE MAE A
BALAO, EVA S
BALASBAS, CLAUDIA FELMA B
BALASBAS, IZEL JANE E
BALASBAS, JOHN ANTHONY R
BALASYA, MARIVEL S
BALBUENA, GHIA C
BALCITA, BARBY L
BALERA, RODANTE B
BALICANTA, MA CHRISTIAN MAYE G
BALIDAY, ERIKA KEISHA R
BALIDAY, MARIA KHRISNA
BALLESTEROS, MAVERICK M
BALLESTEROS, MELODY EVE T
BALMORES, JAYSON MARC KEITH DC
BALOLOY, DARREL V
BALTAZAR, CHRISTIAN JOY M
BALUALUA, TEDDY R
BAMBALAN, MARILOU M
BANAC, JASMIN M
BANGALAN, RONIE M
BANGAYAN, MA SOCORRO Q
BANIAGA, KRISHELLE MAE V
BAQUIRAN, KARLA CATHERINE V
BAQUIRAN, LOURDVALEN JOY C
BARACAO, MARYJANE V
BARAL, ERICA FAYE I
BARCELONA, CHRISTIAN BRYAN A
BARIUAN, JERT NIÑA DC
BARIUAN, PEDRO MA JR. L
BARIWAN, NICOLLE B
BARLES, DOMINIC JR. S
BARROGA, MYLENE G
BARTOL, MARCO D
BARTOLOME, KARIZZA MAE O
BASCO, HAZEL ANN C
BATALLER, MAE ANN B
BATOON, SHEILLA MAE B
BATTUNG, MARIA TERESA S
BAUA, LUZVIMINDA S
BAUA, SHERYLL A
BAUTISTA, CHARLIE R
BAUTISTA, HAROLD KING D
BAUTISTA, JENNIFER P
BAUTISTA, MICHAEL ANGELO B
BAY-AN, JESSIE JAMES A
BAYARAS, CARL ANGELO B
BAYBADO, ANA MARY C
BAYSAC, ROGER J
BELEN, EDISON B
BENAVIDEZ, MAY ANN L
BENIDO, FE T
BENIGNO, JOAN D
BERINGA, EDWIN M
BILLARIÑA, JEROME A
BINAYUG, CAMILLE H
BINUEZA, CANDY T
BLANCAS, THOMAS JOY U
BLANCO, ABRAHAM JR. S
BLANQUERA, DORIE ZITA C
BLANZA, JOHN RAY M
BLAS, ROSE ANNE M
BOGBOG, JON PHILIP T
BONDAME, JOVINSON P
BONGBONGA, EMIL A
BORJA, CLARISSA MAE A
BOSI, CHRISTINE C
BOX, MARK JULIUS V
BRILLANTES, RENZ LOUIE A
BRIONES, ERROL M
BUCAYU, JACKIE LYNE G
BUDEK, EULYSES C
BUEN, RENE V
BUENAFLOR, JOHN PERRY A
BUENO, AILEEN JESSICA C
BUENO, DWIGHT ALLEN C
BUENO, KHRIANNA R
BULAQUIT, BENDER N
BULUSAN, KRISTINE G
BUMATAY, BILLY DYWANNE G
BUNAGAN, MARVIN JOHN S
BUNOY, NOVALYN T
BURGOS, GENEVA D
BUSTAMANTE, MARIANE JOY P
BUTAY, ANGELICA JANE S
BUYAGAWON, MARIFE W
CABAL, NOVELYN R
CABANSAY, MA LOURDES C
CABARUAN, SHERYL C
CABAÑERO, NESTOR O
CABUDOL, AILEEN C
CABULAY, JAYLORD A
CABULAY, JEREMY B
CACHERO, JOHN OLIVER C
CADAVIS, CATHERINE S
CADIENTE, MA REGINA YVONNE T
CADORNA, ANGELIKA MAY D
CAFIRMA, JOSE C
CAGURANGAN, CARL BRYAN G
CALATA, RANIEL G
CALIMAG, KATE ALIJUN C
CALIMAG, MARCIAL JR. A
CALINDAS, VELENDA G
CALINGAYAN, MARY JOY I
CALLANGAN, WILKENDRICK T
CALUCAG, MA JENNALYN A
CAMPONION, MARIEL J
CANAPI, JOSE II A
CANCEJO, ANGELINE C
CARAG, AIRAH JANE M
CARAMBAS, JAYRIME C
CARANGUIAN, ALLAN DIEL E
CARDONIGA, DOMINIC Q
CARIAGA, JAN REY R
CARIO, ARLENE P
CARIÑO, LENLAIS B
CARMONA, HONEY P
CASCOLAN, MARILOU Q
CASTAÑEDA, KARL ANGELO C
CASTILLEJOS, DELMA P
CASTILLO, RODERICK E
CASTRICIONES, ROXANNE JHEN F
CASTRO, DIANE NICOLE F
CASTRO, JUVILYN U
CASTRO, ROMMEL M
CATUIRAN, FEBEELYN D
CAYABA, JASON F
CENTENO, RYAN LEE C
CHUA, CHERRY A
CHUA, CZAR TIMOTHEA T
CIA, JOEL G
CIDRO, PRUDENCIO III H
CLEMENTE, MARY JANE C
COBICO, JERLYNNE
COLLADO, KATHLYN JOY T
COLUMNA, MERCEDES I
COME, RHODELYN G
CONCEPCION, KLARISSE LIANNE B
CORDEL, JONALYN A
CORPUZ, KENT VILLE F
CORTEZ, DARWIN GREG J
COSILIT, NADINE ANGELICA P
CRISTOBAL, HARVEY C
CULTURA, KEITH ANDREA
CUMIGAD, JAIZLE ANN F
CUNTAPAY, LOIS EMANUEL C
CURILAN, EDNA G
CUSTODIO, KRISHA C
DA JOSE, GERALINE Q
DAGDAG, RICHARD A
DALERE, RAMJAY D
DALICUN, DIANA P
DALLEGO, MARLENE JAY D
DALUMAY, SEITH T
DANAO, CARLO C
DANGILAN, ANTHONY F
DANGUILAN, CYD JESPER C
DAQUIOAG, KAYE ANN D
DAQUIOAG, REYNALYN T
DAROCA, MARY JANE S
DASALLA, FEDENCIO JR. R
DE LA CRUZ, CHRISTINE JOY S
DE LOS REYES, JON RONNEL O
DE SAGON, JAMAICAH
DECENA, VANESSA A
DEGAMO, NOVELYN B
DELA CRUZ, ARNOLD S
DELA CRUZ, DONNA MAE L
DELA CRUZ, JESSICA G
DELA CRUZ, MARIO JR. P
DELA CRUZ, MARIVIC C
DELA PEÑA, ARMIN JAY L
DELOS SANTOS, ANALYKA D
DELOS SANTOS, CHARLENE MAE B
DERADA, GABRIEL B
DIMAKILING, JUSHUA RAFAEL M
DIONISIO, OPALYN J
DIVINA, EDMALYN JOY D
DOCA, VERONICA B
DOCTOLERO, GESALYN S
DOJINO, PATRICK JOHN IRISH G
DOLLAGA, RALPH JON WILMER D
DOMINGO, ERENEAH R
DOMINGO, GLECIE C
DOMINGO, MA SHALIMAR C
DULNUAN, VICENTE JR. T
DUMANGENG, ELSA D
DUMANGENG, JUNELL K
DUPAYA, RONALD P
DURAN, HONEY JANE M
DUYA, KEVEEN B
ECALNIR, ARREL SHAYNE S
ECALNIR, JORDAN JOHN E
EGAR, SHAHARA LOREYN A
ELCANO, JAN ALEXIS H
ELCANO, SAVANNAH H
ELEP, KENT CEAZAR C
ENEGO, DOMINIC C
ERESE, JEANETE J
ESLABON, CHLOE M
ESPERGAL, KARLA MAE V
ESPIRITU, JEREMY G
ESTAREJA, WINNIE ROSE I
ESTOY, JESIE N
ESTRADA, GOLDY GRACE P
ESTRAILA, MARIA PHILAMAE P
EUSTAQUIO, ODESSA A
FAELDON, VIVIAN
FAJARDO, NIDA C
FALCIS, LAILANI V
FALQUEZA, WALTER JOEL C
FAROLAN, ABIGAIL C
FAUSTINO, ELSICA L
FELICIANO, CAMILLE KATHLENE M
FELIX, GHERLEE GRETTLE KATE A
FERNANDEZ, ALLAN HARLEM B
FERNANDEZ, CZARIELLE G
FERNANDEZ, KIM LAMBERT T
FIGUEROA, JOMAR R
FIJER, JINKY B
FLORES, BRIAN PAUL G
FLORES, CHARINA BEVERLY B
FORONDA, JUSTIN DOMINIC P
FORTOZO, EARL JOHN P
FORTU, CHRISTINE M
FRANCO, MICHAEL M
FRONDA, JERICHO D
FUENTES, ANGELITO
GABAY, DEO FRITHIR A
GABILO, MARILINE G
GABRILLO, CLYNCHESTER B
GACAD, LIXEM P
GAJES, REA B
GALANTA, NATASHA F
GALERA, MARIZ T
GALINGANA, JUNEL T
GALLARDO, BRYANT J
GALLARDO, CHLOE E
GAMMAD, ANTONIA C
GAMMAD, MARK JAMES C
GANADIN, ROWENA E
GANET, LLOYD KEVIN F
GANGAN, TEDDIE G
GARCELLANO, HONEY GRACE M
GARCIA, BONYVIC M
GARCIA, JAN IANH T
GARCIA, KATHLEEN V
GARNACE, CHERRY MAY V
GAVINA, FERMIN II G
GELACIO, JNE N
GERARDO, AROLD U
GOLLAYAN, KLENMAY A
GOLOYUGO, CHRISTINE JOYCE A
GONSAY, ANTONETTE R
GONZAGA JR, ALOYSIUS V
GONZALES, ODESSA DM
GONZALVO, HELEN G
GRAY, RHODA LEA P
GUANLAO, REGINE RUTH C
GUDTAN, JERICA B
GUILLERMO, HAIZEL GEL H
GUIMPATAN, MARIVIC L
GUINUCUD, JEREMY T
GUINUMTAD, ROGELIO JR. L
GUIYAB, MARICRIS D
GUMABAY, JAYVIN P
GURAT, CRISTY P
GUTIERREZ, DOMINIC C
GUTIERREZ, KEIFER
GUZMAN, RICHARD LENIN D
HAKAM MAHMOUD BEIRUTI, NADIA E
HERNANDEZ, DANISSE MAE P
HERNANDO, ATHALIA ROSE MAI M
HERUELA, ATHINA ROUSSEL D
HORCAJO, JEFFREY H
HORCAJO, MICHAEL G
HORNEDO, SHEILA L
HUBAYAN, ROGER B
IBANEZ, JUAN MIGUEL RAFAEL P
IGNACIO, ELA MAE DG
IQUIN, PATRICK AGUSTIN B
ISLA, KIMBERLY V
JAMON, RHODALITA P
JAMPAS, LIEZEL B
JAVIER, CHERRYBEL D
JAVIER, JENIFER S
JIMENEZ, JEI ARISTON C
JOSE, JOSELITO JR. V
JUAN, ZHANDREX JOHN P
LABANG, ROVELYN C
LABAO, LENDELL V
LABRADOR, MELAINE N
LABUGUEN, JEAMILLE JUDINAE U
LACBAYAN, DARYL JOHN T
LACUANAN, KAREN KEYTH A
LADERA, GISELLE JOY B
LADIA, ANGELICA MAE R
LAGMAY, JENNYLEE DG
LAGRAN, MARK JAYSON P
LAGRIO, MARK KEVIN C
LAGUITAO, JEROME Z
LASAM, JACKIE LOU B
LATTAO, JOHN DOMINIC C
LAXAMANA, ANALYN D
LEAÑO, RENZ JOHN J
LEO, DENALYN D
LEONES, EMMANUEL JR. L
LIBAN JR, JONAS A
LIBATIQUE, JULIET M
LICUANAN, KEITH A
LIGMAYO, MARIJOU F
LIM, PAULEANNE MARIE D
LIMMONG, JOZZEL S
LINDA, FRANCIS C
LINGAN, LOUIE A
LIQUIGAN, ALYSSA MAE B
LLAMELO, REMA JOY G
LOBO, RODOLFO VI M
LONGUI, EHERSON D
LOPEZ, RYZZA MAE S
LORENZO, KELLY KRISTINE MAYE L
LORENZO, MA ARIANE GAY D
LOÑEZ, DELFHIEMAE ALPHA A
LU, KATE GILLIANE T
LUCAS, ELISE MARIE M
LUCERO, GREDEN MARK G
LUGA, JENEAN M
LUI, CHEBENG J
LUMABI, ANTONETTE A
LUNGUB, NOREEN JOYCE E
MABBORANG, CHYNA ANDREA M
MACAPULAY, DIANNA MAY C
MACARAEG, RHODA MAE I
MACATUGGAL, JERIC R
MADAYAG, KAREN M
MAGASTINO, DELMAR H
MAGUIGAD, CARLA FAYE R
MALAB, KRISHELLE DOMINIQUE W
MALAMUG, JOHN CARLO I
MALANA, JANICE D
MALANA, LAURENCE BRYAN R
MALLANAO, MARIZA L
MALLILLIN, EDMAR T
MALLILLIN, JEFFERSON A
MALLOC, MAY I
MALUGA, HAZELYN D
MALUPA, VANESSA MAE D
MANABAT, MA ESMERALDA M
MANALIGOD, GRICHEN G
MANAOAT, CHRENZELLE KANE T
MANGABAT, HERBERT P
MANGUSIN, JANESS SHAIRA N
MANUEL, JEREMY CLYDE D
MANUEL, SHAREL A
MANUEL, VANESSA JOY C
MAQUIRAYA, JUIAN KEITH LUIGI
MARAMAG, JOCELYN S
MARAMAG, ROWENA S
MARANTAN, GABRIEL M
MARCOS, HECTOR A
MARCOS, JORGEN MICHAEL S
MARIANO, AREA FE M
MARIANO, MARY JANE G
MARQUEZ, SHARLAINE B
MARTIN, ALEXANDER D
MARTIN, HANY DREAM T
MARTIN, SEYCHELLE P
MARTINEZ, ANGELICA MARIEL S
MARTINEZ, NOREEN V
MARTINEZ, RONNEL E
MARTINEZ, ROWENA C
MASIRAG, DAVE M
MATEO, LORIELYN P
MATTALUD, STEVE M
MAYLEM, SANDAE S
MAYO, ARLENE S
MAYRENA, REZEL JOHN
MAZO, NEFERTITI CAITLIN P
MEDINA, HESER IDYKE R
MEDRANO, DANIEL D
MEDRANO, LLANIEZEL MARIE C
MENDOZA, KEVIN GENE T
MENDOZA, MARK GIL A
MERINA, NICOLE KATE R
MESA, SHEENA CAMILLE G
MIJARES, VIMSON C
MIRANDA, CHARISSA C
MONDEJAR, JHOSUA E
MONDRAGON, GAINY ROSS C
MONFORTE, MICHELLE T
MONTENEGRO, KIMBERLY MAE M
MONTOYA, RIZZALIE MORNE V
MORALES, EUGENIO III N
MORALES, LOVEMAR D
MORGADO, RAYMART G
NABOR, LORRAINE A
NAFURAN, KICHELLE JANE C
NARAG, EDGAR JR. A
NARAG, THEA JOY M
NATIVIDAD, GUILLER P
NATIVIDAD, MARILOU DR
NAVARRETE, SUSANA C
NAVOA, RANDOLF BRENT L
NERONA, CEDRIC M
NIFALAR, CAMILLE D
NIÑO, YUMIKO MIRE H
NOBLEZA, CHARMAINE
NOLASCO, JIMMY MAR S
NOVIDA, ARJAY MAR P
OBRERO, RIZZABELLE C
OCRETO, RHEY CARLO S
OREÑA, AIZA LOVE T
ORPILLA, VIRGILIO JR. B
PACIS, KIMBERLY ROSE Z
PACLEB, MA ERIELLE COLINE T
PACRIS, JINNETHON VAL B
PACUNLA, EDISON KURT M
PAGADUAN, MA ELENA P
PAGADUAN, MARY CRUZ A
PAGALILAUAN, MATTHEW DAVID D
PAGAUISAN, LIONEL JR. D
PAGULAYAN, MARIELLE T
PAGULAYAN, PIA HEIDY S
PAJARILLO, IVY A
PAJUDPUD, MARK GIOVANNI
PALADIO, RALPH DENZEL B
PALARAN, JOANA MARIE O
PALAYAD, APRIL F
PALCONG, JULIUS B
PALIUANAN, RICHELLE ANNE C
PALPALLATOC, JOSEPH A
PANGILINAN, JONIE D
PAREDES, MARIA ANGELICA
PASARABA, ALLEN JUDE M
PASCUA, ALEXIZ MAE T
PASCUA, JOHN RUSSEL P
PASCUAL, CARLO RODRIGO A
PASCUAL, JACKELYN F
PASCUAL, KENNETH ANJOE S
PASCUAL, MARIA ANGELICA A
PASCUAL, ODLE BRIGS C
PASIMIO, EXCELSIS ROUMAYNE A
PASTOR, NEILVIN KLYDE D
PATNAAN, DOLRIECH M
PATRICIO, CLIFFORD C
PATTALITAN, MARIA JANINE B
PAZ, DAVID IAN O
PEDRALVES, ELVIS JR. B
PEDRO, ALFREDO JR. B
PEDRONAN, RACHEL ANN T
PENOL, RAYMART P
PIS-O, RON BERNARD T
PIÑERA, LOYDA B
POBLETE, CAROLGIN VINCE E
POKING, EDSEN-GEL M
POLIÑO, ARNOLD JR. M
PORLUCAS, ORLANDO JR. A
POSIDIO, SALOME M
POUDYAL, ZHAYDA JANINE B
PRIETO, JERIEMAR Q
PRIMERO, KRISTOFERSON C
PUA, LUIS CARLO A
PUGUON, ROD FERDINAND B
PURUGGANAN, ATHONY D
PUYAO, NOEMI M
QUEMADO, ARMIDA M
QUIJALVO, MARITESS Z
QUILANG, MICHELLE C
QUITOLA, KRISTINE S
RABAL, CHRISTIAN M
RAGASA, EDUARDO JR. M
RAGUNDI, JOMARI R
RAMACHANDRAN, ALLAN CHRISTIAN P
RAMIL, GEOFFREY P
RAMILO, RITCHIE ANN R
RAMIREZ, GINA I
RAMIREZ, MA LOURDES E
RAMOS, BRYAN JAY P
RAMOS, CLINTON C
RAMOS, MARIA KATHERINE B
RAMOS, MARK O
RAMOS, NECITA JUCELYN V
RAMOS, RAFFILYN SHAIRA A
RAMOS, REY FRANCIS M
RAPANUT, MARK ANTHONY C
RAPOSAS, MARIA ABIGAIL A
RATERTA, MONICA C
RAZALAN, JEMAUREENE C
REASONDA, KIMBERLEE B
RECOLIZADO, BUTCH G
REGALADO, RUVY C
RESPICIO, ELLAINE ROSE S
RESPICIO, MA ELAINE V
REYES, ARDEE A
REYES, DARWEEN SON T
REYES, EMMANUEL D
REYES, PHOEBE T
REYES, REINETTE PAOLA A
RILLON, ROSE V
RIVERA, CARLA ANGELIE C
RIVERA, KRISTEL JOY T
ROCES, ROSEMARI R
RODRIGUEZ, BERNADETTE B
RODRIGUEZ, GABRIEL ANTON M
ROLA, NICOLE ANGELA D
ROMERO, MARICRIS B
ROMERO, PRINCE JOREN C
ROSAL, MARY JANE V
ROSARIO, CLYDE ERVINE R
ROSETE, MAE ANN C
RUECO, JERRA MAY A
RUFIN, HENRY C
RUIZ, CHRISPIN B
RUIZ, EVANGELINE F
SABACAN, JEAN M
SABINO, REMY T
SABLUDEN, CRYSTAL JOI S
SACDALAN, RHODA G
SACPA, CHRISTINE T
SALAZAR, WENDY A
SALCEDO, NINO JERWIN T
SALES, LAURETTE JEAN R
SALES, VANESSA CLAIRE B
SALMO, MARY GRACE M
SALVADOR, CHONA T
SALVADOR, ELISEO JR. N
SALVADOR, JAYSON JOHN D
SALVADOR, TIFFANY A
SALVIEJO, ROMARSON B
SAMANIEGO, PRINCESS L
SAMPAYAN, JAYSON B
SANTIAGO, EZRA CIARA V
SANTIAGO, JOHN LEE P
SANTIAGO, JUAN CARLOS P
SANTILLA, JONALD P
SANTOS JR, AMADO M
SANTOS, LADYLYN P
SEBBEY, GLEN L
SEJALVO, EVANGELINE C
SERVILLA, IRENE C
SEVILLA, CATHERINE A
SEVILLEJA, DWIGHT GABRIEL C
SIA, ERIC EDWARD S
SICAM, ALYSSA JEANNE M
SIMEON, JANETTE T
SINGSON, MARK ANTHONY D
SINOT, FLORITA D
SIOBAL, HARVEY D
SIRIBAN, JEANNE MICHELLE
SO, SHERWIN O
SOLIS, MYRA LONNA V
SORIANO, ALVIN M
SORIANO, LORAINE C
SOSA, ALEXANDRIA NYLIANNE S
SUBAC, JAY S
SUGUE, ARSENIO JR. I
SULIO, ULYSSES JOHN B
SUMABAT, RENIELLE VIEN A
SUMBAGAN, THARA LEE B
TABAO, ANGELICA B
TABBU, JOSEPH ANTHONY M
TABLAC, MARK DEEJAY I
TACSON, CHARIZA A
TACTAY, IVY JOY G
TAEZA, MUMTAZ RAEZA DYMPHNA MARIE A
TAGUBA, JOYCE T
TAGUBA, MARIA CLAISSE TRINIDAD C
TAGUINOD, JENICA M
TAGUINOD, JOHN RB M
TAGUNA, JAY ANN B
TAJADAO, REGINE MAE V
TALANA, GLENN FREY D
TALANG, AZIEL JACOB A
TALINGDAN, JOSE LEONICO C
TALLA, MICHAEL C
TALLA, THEA THALIA M
TALOSIG, EMERSON V
TAMANO, CLAIRE B
TAMARGO, ARLYN C
TAMAYO, KEITH T
TAPAT, GRETCHEN U
TAPICERIA, NANCY B
TEJERO, MAERIAN A
TELAN, CARLOTA M
TENEZA, FERDINAND A
TEOXON, DIVINE GRACE S
TERNORA, MARLON D
TOBIAS, ROSALIE F
TOLENTINO, BABY LIEZL KRYZANDRA I
TOLENTINO, GINA B
TONG, IRA PATRICIA A
TORIBIO, JOHN RICO C
TORRATO, EUKAR JAN T
TORREJAS, CHRISTIAN JOSHUA F
TRANSFIGURACION, ROYETT R
TRINIDAD, DANILLE KEVIN G
TUBANGUI, MARK JOHN GENESIS B
TUJON, JENNIFER C
TUMANENG, VICYLYN F
TUMPALAN, KEVIN HERBERT L
TUNGCUL, PAUL ANGELO C
TUPPIL, JULIE ANN S
TUQUIB, GLAIDEL M
UANANG, LYKA DAPHNE T
UDDIPA, DARYN PAULA I
ULANI, MILLETTE B
ULNAGAN, JAYMARK M
UMAYAM, MARIA FATIMA C
UMAYAM, WEENONIKA C
UMBRERO, JANELLE KINA Z
URSUA, ROGER ALLAN A
VALDEZ, NATHAXIA LEI B
VALDEZ, REYMARK A
VALENZUELA, JESSICA M
VALIENTE, JACKIE LOU
VALIENTE, JOY C
VALLEJO, MARJELYN L
VARGAS, KAYLA ANGELICA E
VEGA, PAULA NICOLE U
VEGA, ROELLE G
VELASCO, JOCELLE Z
VELASCO, JOHN ERVINS PB
VELASCO, KHRISTALYN MAYE G
VENTO, AIKO JANE O
VERDADERO, MARIA CECILIA F
VERGADO, KENNETH P
VERZOSA, MICHAEL ANGELO
VIERNES, DAX BY ANGEL R
VILLA, JOANNE T
VILLA, ZERNA G
VILLALUZ, CHERRY MAY N
VILLANUEVA, CEDRIX B
VILLANUEVA, ERIKAH ISABEL T
VILLANUEVA, NEIL CARLO C
VILLARAO, EVEANDOLPH M
VILORIA, DOMINICK LAR A
VILORIA, YVES L
VIOLA, JAMILIN P
VIOLA, RALPH EZRA B
VITALISTA, MARK JOSEPH D
WASIT, RUBELLY V
YAGIN, RHEA DIVINA B
YDEL, CHRISTINE MAE
YPEAR, LINDCELLE JAN P
ZABALA, HARLEY F
ZINAMPAN, JANE SHA MAE T
EXAM COVERAGE
Professional Level (in English and Filipino)
Numerical Ability (Basic Operations; Word Problems)
Analytical Ability (Word Association – identifying assumptions and conclusions; Logic; Data Interpretation)
Verbal Ability (Grammar and Correct Usage; Vocabulary; Paragraph Organization; Reading Comprehension)
General Information (professional and subprofessional levels)
Philippine Constitution
Code of Conduct and Ethical Standards for Public Officials and Employees (RA No. 6713)
Peace and Human Rights Issues and Concepts
Environment Management and Protection
RELEASE DATE
The Civil Service Exam CSE Result March 2022 is expected to be released within sixty (60) days after the examination.
REMINDER
The exam result may be released by the CSC earlier or later than the target date without prior notice.
Examinees shall obtain at least 80.00% general rating to pass the examination. Just visit this website regularly or refresh the page for further updates and information.