This is the Civil Service Exam CSE Result March 2022 CARAGA Passers (Professional).
CIVIL SERVICE EXAM CSE RESULT MARCH 2022 — This is the list of CARAGA passers (professional level) as released by the Civil Service Commission (CSC).
The exam results including the list of passers, top 10 passers, and other announcements related to this will be posted on this website once CSC will release it.
CSC conducted the Civil Service Examination – Pen and Paper Test (CSE-PPT) on March 13, 2022, at testing centers in Metro Manila, CAR, CARAGA, ARMM, and all regional testing centers in the country.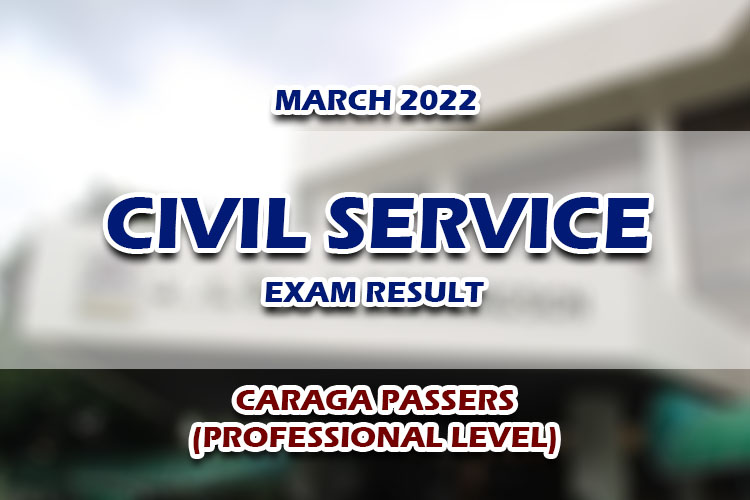 SUMMARY OF RESULTS
Here is the list of passers:
March 13, 2022 CSE-PPT
Professional Level: List of Passers
Civil Service Commission Regional Office No. 15 (CARAGA)
Name
ABARQUEZ, ROCHE JANE A
ABELARDO, JHULIE ANNE B
ABUAN, NEIL ALDRIN M
ACEBU, FELIX CHRISTIAN F
ACEVEDO, ELJAN KYLE C
ADESAS, JEANY P
ADINO, WENDELL JASON
AGALO, JAN DANIELLE C
AGATLAO, JOANN O
AGUELO, JANICE J
AGUILERA, SHERWIN JAMES T
ALEGADO, PAOLO NIÑO G
ALEGRE, ALLENE PELL T
ALEGRE, MA. SHIRMA PELLENE T
ALFEREZ, ERMA T
ALFEREZ, JOJIE MAE T
ALI, ABBUL JABBAR A
ALIMBOYONG, REY A
ALONTO, NORJANNA A
ALVAREZ, JEROLD RIAN J
AMANTE, FRANCIS DENISE C
AMARGA, PRECIOUS NOLBERT C
AMOLATA, DB-MAYLER G
ANCAY, ALEXIS PAUL U
ANDREW, GEORGELYN G
ANDURA, JEAN P
ANIMO, JEROME T
ANTIQUINA, JULIET S
AQUINO, ATHEANA DANA B
ARCEGA, RAMON LESTER L
ARIATE, HANNY GRACE A
ARJONA, CHLOE MAE D
ARLIGUE, JAY P
ARQUIZA, EMIE ROSE KRISTINE O
ARREZA, ALEXI MARIE VIANNEY L
ARROYO, JULIEFEL P
ARTUGUE, DENNIS D
ASTILLO, MARYLOU C
ASTILLO, SHANNIE A
ATOMAR, MAIDA A
AUSA, JERICK ANN D
AUXTERO, AUBREY G
AYATON, ANNE GHEANNIELANE A
AYOSTE, ZEAREX S
BACALTOS, JANETTE S
BACOLOD, ARCHER JAY A
BACOR, JANE B
BACUS, RYAN T
BALBON, JOIKREZSA B
BALBUENA, IAN DANGREE D
BALBUENA, LORELY A
BALIDOY, ERICA MAE N
BALINUYOS, ARCHER FORD B
BANABAN, CALVIN PHILIP D
BANDO, CHRISTIAN JAY EL
BANDOY, JACKIE LYN C
BANDOY, JOE MARK D
BARCELON, GEREMIE L
BAROLA, REY B
BARRETE, KRIZZIA NICOLE G
BARTOLOME, MARIA YRYNE F
BASMAYOR, ROSALIE KAYE S
BAT-AO, LORETO O
BATASININ, GLIEZL ANN
BAYAGA, AILEEN JANE G
BAYLANTAC, WILJEAN S
BELANDRES, MARVIN B
BELORIA, JOHARAH D
BENDOY, KARL CELSIUS G
BENTAYAN, CHRISTINE JANE T
BESANDE, KENNETH P
BESINGA, JAN MICHAEL P
BONOTAN, BONIFE A
BORJA, NAPOLEON V
BOTONA, AILEEN T
BULLO, JAMES STEPHEN L
BUNAL, MARY JEAN S
BURDEOS, HARRIS JOHANN A
BURLAT, LOVELY Y
BUSACO, RUTHIE G
BUSANO, SHARMAINE L
BUSTAMANTE, KIENT RUSSEL Y
BUTAO, LEAH MARIE T
CABANILLA, JOHNEBEL SHANICE M
CABANOS, KINO ROSS C
CABAÑAS, JANERUTH S
CABEROS, JUSTIN RIEL L
CABUG, LEE ADRIAN C
CABUSAO, JOE MARIE Q
CADUNGOG, WILMAR P
CAGAPE, WENDY P
CAHATIAN, JARN GREGORY L
CALE, LI CLAUDIA G
CALUMBA, ERICO C
CALUMPAG, LYKA G
CALUNGSOD, MARK JERZEL M
CANASA, PETER IAN A
CANUSA, IRENE CLAIRE N
CAPADA, SHIELA MAE S
CAPON, JOHNTER B
CARANZO, FATIMA BLESS N
CARCIDO, IVY MAE C
CARCUEVA, KIMBERLY CLAIRE
CARPO, GION
CASTAÑO, STEPHEN NEIL S
CASTRO, JANNEN N
CASTROVERDE, XILCKA MAE
CATUBIGAN, RODEL B
CATURAN, PINKY A
CAYAO, MARC LESTER
CAÑADA, RONALD CHRISAN V
CERNA, NORMAN B
CESAR, MARY ANN B
CHAVEZ, ELEAZAR JR. P
CHIANG, KAISHEK AIDA L
CIDRO, LOVEN ARLO G
CIMAGALA, FAMELA A
CLAROS, JAY MARK C
CLAROS, VANISSA ROSE C
CLOMA, NEIL STEPHEN C
COLETO, JAMAICA
COMPAY, CHARLIE V
COMPLEZA, JAYDEL O
CONCHA, JAMES LLOYD ANTHONY M
CONCHA, JUCHTZ MICHAEL M
CONGRESO, NATHANIEL JR. A
CORAL, KIRK JOHN G
CORTES, PANICE NA T
CORVERA, JOVIEROSE L
COTIANGCO, JAMES IAN T
CRUJE, JENNYFE C
CRUZ, SUNSHINE G
CUADRILLERO, ANGEL JOY A
CUBILLAN, REXJOY N
CUBILLAS, RICKY E
CULTURA, ROMER JOIE U
CURADA, JIRAH B
CURADA, PIA B
DABON, LANCE HUGHIE I
DACERA, JAN LYKA T
DACERA, VAN ACE JOELOU C
DAGA, JUSTIN BUTCH M
DAGARAGA, STEPHANE B
DAGOC, FRANCISCA L
DAHANG, NIZZA EVON B
DAIRO, JOHN MICHAEL P
DALION, RENZON D
DAMASING, RUEL R
DANIEL, DANIEL E
DAO, JUDELAINE B
DE GUZMAN, MARC LESTER L
DE VILLA, SARAH MAE C
DEBERTO, HANNA LOREN C
DEL MAR, KRISTELLE MAE D
DELA CERNA, ELLA B
DELE-A, HUMPHRY Q
DELIGERO, CHRIS JAN G
DELOS SANTOS, TARIQ AHMAD C
DELOSA, JAED G
DELOSO, LELANIE DENIELLE B
DEMETERIO, JOHN PAUL R
DESTAJO, YUL DRAZEN D
DIADULA, ROSANNE U
DINHAYAN, SID VINCENT G
DOMINGUITO, JENNY ROSE C
DUBERTE, JENNY A
DULABAY, DANIEL PAUL G
DUMANCAS, GEORGEN CAMILLE L
DUMAQUETA, JOSHUA M
DURANO, GYMWELL M
ECHIN, KAYLA MICHELLE D
ECUACION, NELSENE FAYE M
EDRADAN, REY JR. E
ELECCION, JAMES MICKEL M
EMPANG, KIER PATRICK A
ENABANGAN, AIEA WAYNE E
ENRIQUEZ, VINCE ABUN C
EPIS, PHOEBE LOU C
ERASMO, SHEENA YVET L
ESCORPION, MARIA KHYLE R
ESPINA, FLORENCE A
ESPINA, KEITH ELYSAH M
ESTRADA, LUCILLE MARIE D
ESTRADA, MA. ALESANDRA CERIA C
FABIAN, KAREN MAE C
FALLADO, KENNETH JANE T
FAUSTORILLA, PAMELA G
FELIPE, SALVADOR JR. P
FELISCUZO, APRIL MAE B
FERNANDEZ, JOCKEY M
FRANCIA, TERENCE G
FUENTES, MARK JOSEPH L
GA-AS, PAUL JONES NA A
GABALLO, MICA L
GABIA, PAULINE MARIE G
GADO, VERONICA D
GALA, MELVIN A
GALINDO, MARINEL G
GALLOGO, JERLYN U
GALVEZ, KEITH NOLI MAE T
GARAY, RODRIGO JR. A
GAWAT, JOMARIE Y
GENDIVE, MARYNETH L
GEPIGA, IRENE P
GERMO, GERARD ANTHONY B
GILAY, ROMAR JAN B
GIPALA, JAN JC ANGELO B
GO, CLOE MARIE A
GOLORAN, JOBERT C
GORTEA, JANIE M
GUARTE, PETER JUPHANIE C
GUATLO, WINCHEL FHEB A
GUILLEN, CHRISTINE KARLA B
GUIRITAN, OSWALD JOSH R
GUMAPAC, RHIYS MARK A
GUMPAY, BRENT ADRIAN Z
HAGONOS, ALJHUN C
HEMPESAO, VINCENT BRYL D
HERAMIS, IVY MYN
HERMOSO, JAMAICA H
HIBAYA, JAN KENNETH M
HUERTE, PHOEBE D
IGNACIO, IGNATIUS S
IGSOC, JULIUS PAUL ICY M
INCHOCO, PAUL VINCENT D
INDOYON, OLIVE SHANNON G
JABAGAT, JENNIFER S
JACQUEZ, JONATHAN D
JAMORABON, HENNECAR GRACE STEPHANIE
JIMENEZ, SHIELA MAE
JIMENO, JAMES HAROLD G
JUGAR, ALBERT D
KHE, SETH G
LACAR, CLEAVAN HOPE P
LACAROON, SHERILYN S
LAGA, SARAH JEAN L
LAGATA, MARJUN G
LANGAMIN, REYNALD DANN A
LANUZA, JOHN SIDNEY C
LANZADERAS, JENESIS B
LAPUT, JUNAS JR. A
LASTRA, WESLEY JAMES A
LAURENTE, BRAIN ACE E
LAURENTE, EIGEN VAL C
LAURENTE, JEZREIL T
LAVADOR, ERALPH JOSEPH T
LAVISTO, DAISY C
LAYAGUIN, ROLLYN M
LAZARTE, DREXJON C
LEYSON, CARL PHILIP O
LICAUAN, JEZREL D
LICO, RICO L
LINGUIS, LENY M
LOFRANCO, EMELROSE B
LOGATIC, JHIAN ROSE G
LOMBOY, JOVIC M
LOPEZ, MYLA F
LOZADA, MAYNARD KAYE MARION E
LUBON, MANUEL III B
LUGO, KASTINE MARY V
LUMANAO, RINA MARIE B
LUMAPAS, RAMDEL DIANNE M
LUMINARIAS, PATRICK OLIVER G
LUNA, TRISTAN P
MABOLIS, AL IGNATIUS F
MABRAS, HANNA NI-A B
MACABUDBUD, ANALEE A
MACAPILI, PRINCESS MAE M
MACARAEG, NICKY SAM Q
MACEREN, LEMUEL D
MADLOS, NEIL HARVEY G
MAHINAY, CLEENE JOYCEE R
MAHINAY, MANUEL JR. T
MAISOG, ABEGAIL D
MAKINANO, RONALD JAMES P
MALAZARTE, CYREL MAE
MALICSE, JAZZRYN A
MANGASEP, RAPHAEL VINCE B
MANGITNGIT, BERN APRIL B
MANGONON, JUSTIN M
MANSINATAO, MEZIEL O
MANZANO, RALPH JEO B
MARCOJOS, JOHNELYN E
MARITAN, DIANE ROSE C
MARTINEZ, JAKE C
MARTINEZ, ROSENDO L
MATIAS, FRELLSIE B
MAZO, PAMELA KAYE A
MEDRANO, CRIS THUNDER E
MENDOZA, ROSTUM L
MENDOZA, SHARA JAN P
MENESES, JORG R
MENIL, PAUL L
MERCADO, AMY C
MERCADO, KYLE ABELARD A
MERLIN, JHON VENANTIUS L
MILALLOS, NEIL MARK C
MILLANES, DARYL IAN B
MIRANDA, REA CHARLYN G
MIRASOL, CHRISTIAN MAY T
MISANES, FRANZ DOMINIC M
MOJICA, QUEENIE U
MOLLANEDA, EDEN CLEO A
MOMO, ALECK BYRON E
MOMO, MARLOU JAY Q
MONTAJES, MARIEL ANTONETTE P
MONTALBAN, NOE V
MONTEDERAMOS, DEXTER JR. M
MONTILLA, HYACINTH C
MORALES, BLANCHE FAYE T
MORALES, RENEL B
MORALES, REY CYRUS DAVE L
MORENO, JOHN ANDREW B
MORENO, JUNELAH L
MORGADO, MARY GRACE ALLENE M
MORON, JILIAN C
MORTA, CRISTIAN JOSEPH M
MOSENDE, JOANNA THERESE P
MURILLO, ANDREA ISABELA A
MURILLO, DANICA M
MURILLO, LARRY PIOUS M
MURILLO, MARK L
MUSA, CARLO M
MUYCO, HALEY JOEL G
MUÑEZ, SOPHIA ROSE A
NAMAN, ROBERT JAY L
NAPARAN, RAFAEL CHRISTOPHER I
NAPOCO, PRECIOUS MAE A
NAQUILA, RONIE JR. L
NARCISO, MARY ANN M
NATAD, TRACY GRACE Y
NAVARRA, RALPH O
NEIS, CARLOS II R
NIOG, CHRIS JASMINE T
NITUDA, MARIBEL Y
NOBLE, CHRISTINE ANGEL P
OBEÑITA, SELINA MAE C
OCITE, RITZ O
ODCHIMAR, ADELINE A
OMEGA, SONY MAR M
OMISOL, CHRISTINE ANN L
ONGAYO, CHARLEMAGNE M
ONGAYO, RENZO M
OPEÑA, NORMAN D
ORGA, DAVE A
ORILLANEDA, KENNETH NEIL O
ORTIZ, JOY CELIENE R
OTERO, ARDEN FRANCIS L
PABLO, CELMAR JEAN S
PACOT, MARVIN JOHN C
PACOT, SANDIFF P
PADEN, REGIELYN R
PAGOYO, JANUAR RHEY M
PAHIT, KRISTEL ANNE C
PALAD, DIVINE MERCY Q
PAMINTA, JOANNE MAE P
PANERIO, DAVE JAY E
PANTILO, JEFFORD A
PANTILO, KITCHIE MAY R
PAQUEO, CYRIL MAE N
PAQUEO, EZER P
PARAGUYA, JASON JON JOSHUA B
PARTOS, ALEXSIS F
PARTULAN, DIOJIMMEL S
PASTOR, JOSEPH LOU A
PATANAO, LYRA JEAN A
PENALES, KEVIN GLINT Q
PEPITO, JULIUS D
PEREZ, ROSELYN L
PEÑAFLOR, CHARMING B
PEÑARANDA, ROWEE KIM T
PEÑAS, VANNIEZA M
PIODO, LEDJIELYN D
PLAMUS, PSYMON T
PLASABAS, FREVY LHANZ T
PLAZA, CARL BRYAN O
PLAZA, CHARLES KLINT B
PLAZA, GEORGEANNE GABRIELLE D
PLAZA, MERRILL D
PORNIA, CRISANTO H
POROL, LEONESA MAE A
PRACUELLES, MARIZ T
PRADAS, JOHN PAUL C
PULIDO, CHRISTIAN P
PULLAN, KEIRF E
QUI-ONEZ, NIEL JOSEPH HILLARY L
QUICO, BENEDICTO JR. S
QUICOS, FRITCHEL MAE C
QUIJOTE, ERIC R
QUIMPAN, CRISTY DIANE T
QUIMPAN, CYRA GRACE A
QUINTANA, ANGELICA J
QUISTO, JIREH MIGUEL P
RADAZA, SAMUEL JED Z
RAMIREZ, JOVHEN G
RAMOS, DAPHNIE LORRAINE V
RAMOS, JAYLORD S
RAMOS, RODULF B
RANAY, ADAM A
RASCO, JONISELURY O
REFORMINA, ELJHEN-AJ G
REMEDIOS, SHERWIN REY J
RIVAS, ANASTACIO III M
RIVAS, JORWEN REY D
RODRIGUEZ, ZACHARY BLISS M
ROLLINAS, JOVANIE A
ROS, CARA LUCILLE D
ROSAL, JARJON T
ROSALES, LIEZEL JOY L
RULETE, LOVELYN S
RUPOL, MARGARET BEATRES R
RUSIANA, ZENAS PIERRE L
SABIO, VAN CHARLZ O
SABUERO, HANNAH LOU C
SALABAO, CYRON C
SALANG, MARK CIELO V
SALVACION, CARL HARRY S
SALVALEON, PRECIOUS
SANCHEZ, CHRISTIAN C
SANCHEZ, DOROTHY ANN R
SANCHEZ, JON CARLO P
SANICO, CYRIL JR. G
SARANDE, JOSEPH HYDYN T
SARMIENTO, MICHELLE ANNE E
SAS, MA. BENELDA T
SATORRE, ALEXIS FAYE L
SEGUERRA, KLYNIE MAE S
SERATE, JAN KARLO D
SILVOSA, VINCE DOMINIQUE T
SIMACIO, CHERRY ANN S
SOLANIA, MATT L
SOLIVEN, FRANNIE JOHN A
SOTTO, JEANNIBEB B
SUAN, KIMBERLY CLAIRE M
SUGANOB, CRIZALDY
SUICO, BAI NORAISA P
SUIZO, SHEENY A
SULLANO, JUDE LUIS L
SUMALINOG, DONALD JAMES R
SUMAYLO, DG FRANZ CEASARIUS S
SUMAYLO, FZ CEASARIE MAY S
SUMAYLO, GERALYN M
TABACON, LOUIE ANNE N
TABANAO, JENNY ROSE T
TAGLUCOP, HANNAH JANICA V
TALISAYSAY, HARVEE B
TAMAYO, GLORADEL T
TAMORITE, LYRA GRACE L
TAN, MYEN FRATZ M
TANDOY, RAMIL L
TANJAY, JOYCE ANGELA A
TAPDASAN, DEBBIE M
TAPERE, MATRONILLO A
TAYAB, CHRISTINE V
TECSON, RITCHEL
TERNORA, J PAUL C
TIMOGAN, CLENT RACINE T
TIU, RAMCES L
TOGONON, CARL FREDRICH C
TOLIBAS, RENCHIE B
TORRALBA, GRACE S
TRIMIDAL, JHON CARLO S
TUBAHON, HEZEL M
TUSO, SHAENA NOVA MYKA D
TUTOR, GEORGIA B
TUTOR, MICHELLE E
UBAS, JESUS NERIO N
VALDEHUESA, MC DOMINIC T
VALDERAMA, JUSTINE VERGIL E
VALLAR, PAULNIÑO P
VASQUEZ, PRINCE PAULO G
VELARDE, JUSTINE G
VETE, GLORY-ANN
VILLAMON, JULIA KATE C
VILLANOY, DENNY LEIGH F
VILLANUEVA, MARIA VISMIN D
VILLAR, ELMAR JANE F
VILLARTA, NELY ROSE P
VILLOTA, RICA O
VIRTUDAZO, REX VINCENT L
YACAPIN, RENANTE JR. L
YBAÑEZ, ELDIZA N
YBAÑEZ, FRANCIS MEL L
YBAÑEZ, JENNIFER P
YEE, GUECIELLE MAE C
YPARRAGUIRRE, CHEL B
YU, JANE BERNADITH V
ZAFRA, JOSE NOVEM
ZAMORA, LEAN LEBIE M
EXAM COVERAGE
Professional Level (in English and Filipino)
Numerical Ability (Basic Operations; Word Problems)
Analytical Ability (Word Association – identifying assumptions and conclusions; Logic; Data Interpretation)
Verbal Ability (Grammar and Correct Usage; Vocabulary; Paragraph Organization; Reading Comprehension)
General Information (professional and subprofessional levels)
Philippine Constitution
Code of Conduct and Ethical Standards for Public Officials and Employees (RA No. 6713)
Peace and Human Rights Issues and Concepts
Environment Management and Protection
RELEASE DATE
The Civil Service Exam CSE Result March 2022 is expected to be released within sixty (60) days after the examination.
REMINDER
The exam result may be released by the CSC earlier or later than the target date without prior notice.
Examinees shall obtain at least 80.00% general rating to pass the examination. Just visit this website regularly or refresh the page for further updates and information.