This is the Civil Service Exam CSE Result March 2022 Region 7 Passers (Professional).
CIVIL SERVICE EXAM CSE RESULT MARCH 2022 — This is the list of Region 7 passers (professional level) as released by the Civil Service Commission (CSC).
The exam results including the list of passers, top 10 passers, and other announcements related to this will be posted on this website once CSC will release it.
CSC conducted the Civil Service Examination – Pen and Paper Test (CSE-PPT) on March 13, 2022, at testing centers in Metro Manila, CAR, CARAGA, ARMM, and all regional testing centers in the country.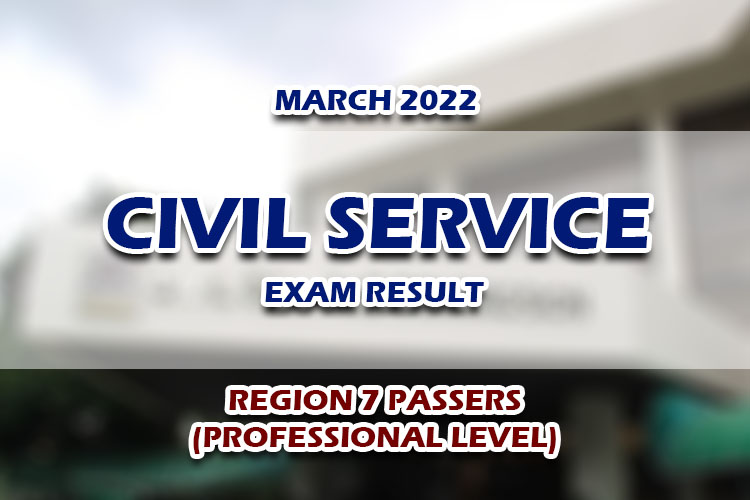 SUMMARY OF RESULTS
Here is the list of passers:
March 13, 2022 CSE-PPT
Professional Level: List of Passers
Civil Service Commission Regional Office No. 7
Name
ABARQUEZ, HARLEY A
ABELLO, JUDY ANNE G
ABNE, REISTER VINCI J
ABOL, ANGHELO D
ABRAZADO, ARCHEL MARIE S
ADVINCULA, EARL STANLEY J
AGUILAR, JASON AL P
ALCALDE, NIÑO M
ALCORROQUE, MARIA LIZA A
ALDE, KATRINA ISABEL B
ALFORQUE, JENNIFER Q
ALIVIO, JERAMIE A
AMBRAD, SHULAMYTE A
ANDALES, JOAN B
ANDOS, JORNEIL M
ANGCON, SHEKINAH D
APIT, JOHN PAULO B
ARBOLADO-SALACUT, MYROE S
ASEÑAS, FRANCES CHRISTI C
BABOR, JAMES
BACAN, JERALD A
BACLAYON, CHRISTOPHER BRIAN R
BAGA-AN, JAYE ROL R
BAGARINAO, JHAMEL
BAHINTING, CARMELA L
BAIS, ARSEBELLE T
BAKIL, JUSTINE JACOB
BALAZUELA, SHERYL V
BANTILES, HANSEL S
BANZUELO, BIGTHAN ROWEL A
BARRAMEDA, CAMILLE KRISTY P
BARRIOS, GILBERT M
BASACA, CAMILO JR. S
BATOMALAQUE, MARY JOY A
BAUTISTA, RHEA MEA D
BAYUCOT, MARK KLENT T
BELCIÑA, AUGUSTUS CAESAR RYAN C
BENDIJO, ROCHE JANE T
BENITEZ, ARTHUR JR. S
BENTULAN, ALMA T
BERNARDO, CLARIZA I
BERONILLA, RUBELYN A
BETCHIDO, LEONERA MAE V
BONO, DEGNI E
BOONE, KERRI DANIELLE DT
BOUFFARD, BREANNE ALTHEA B
BROA, JOMARI Y
BUENO, CLARK KIM B
BUENO, ELMER J
CABAJON, MARIE BERNADINE A
CALBOG, CRIS MARIE A
CAPUTOL, MILDRED JOY G
CARBAJOSA, JONALYN S
CARDEÑO, DONAFE A
CATADMAN, MEL VIKTOR ANDREI O
CATUBAY, JAIZA LEILA N
CATUBIG, MA CARMELA G
CHARCOS, MARIA MARYLOU M
CHAVEZ, GLADEN MARK
CHAVEZ, SHARA MAE C
CIOCON, EDWARD TIM EZEKIEL C
COLANDOG, ANJONETH A
CONDOR, BILLRIZ E
CORDOVA, MA ABIGAIL C
CORTES, ILEANA D
CRUZ, CARL ROBERT
DAGUMAN, JEZZA P
DALOGDOG, ROEL A
DAVIS, FRANCESCA DENISE L
DEL ROSARIO, MARNELLI N
DELA CRUZ, DANIEL S
DELIMA JR, ARMANDO S
DONASCO, EUBERT KEVIN L
DUMDUM, JOEYANN S
ELARDO, CLINT ART L
EMBORES, RIZA A
ENCLONAR, ANA MARIE P
ENOPIA, LORD JOSEPH LANCE G
ESTORBA, TERESA MAE A
ESTRELLA, JEMAR Q
FABROA, RYAN J
FERNANDEZ, JOHN MARK B
FILIPINAS, FAITH HONEY
FILIPINAS, INA MARIS
FUEGO, JOHN MARK ANGELO A
FUENTES, FRANCES MARIE A
GACO, JAYNEFE H
GAGA-A, GADEM N
GAINSAN, JOSEPH M
GALANG, MICHAEL EDWARD B
GELIG, MA GABRIELLE Z
GERARMAN, JASPER F
GLORIA, PAULINE GRACE C
GONZAGA, XENIA LIZ M
HAYO, KRISTY DOREEN A
HINAUT, KYRA MARIELLE M
HORTELANO, HANZ S
HUCAMIS, RANIEL JOSEPH S
HUNGOY, JASLEY L
JABALDE, PAOLA ANNE D
JACABAN, JEANETTE A
JAMOROL, KRISTIAN BERNARD P
JASMIN, MAE THERESE S
JASMIN, MARTIN PAUL S
JEJAN, RICHELLE B
JIMENEZ, JEAN ROCIO D
JONELAS, ROCHELLE M
JUMALON, KENT DARRYL G
JUMAWID, ALBERTO O
LABATOS, DARYL R
LABRA, LEAH M
LAMBOJON, GERALDINE T
LARIDA, LYLE M
LASPIÑAS, GAY LYR MAY F
LOPEZ, ROSETTE
LUMAKANG, JANVIE E
LUMBO, JAHAZIEL B
LUMBO, JEDIDIAH B
LUMOGDANG, LEE BENEDICT I
MACAHIG, MARILIE L
MAGALANG, JOHANA JANE C
MANAYAN, HAROLD GIL A
MAPUTE, MARITEL M
MARCELLANA, RINALYN B
MAYPA, JOHN HARVEY D
MENDEZ, KENNETH JHON C
MENDOZA, JANN MICHAEL R
MERAVILES, DALE DAVEN V
MIJARES, JIM RALPHEALO R
MONDIDO, RALPH LOUISE P
MONTAYRE, GERRYLENE MAE M
MONTAÑA, EMELYN S
MORAL, PAULINE KAYE D
MORITO, JOANA MAE B
MULA, RICHELLE L
NARANDAN, CHIN MARIE M
NAVAJA, ROLAND B
NAVAJA, ROLAND JUSTINE B
NODADO, GENEFRED V
NODADO, KYLE DIRHAM ANTHONY B
NOYA, CIRILO A JR. A
NUDALO, JESSEL CHRISTMA A
OBERES, DEO EDNIQUE C
OBINA, ROLIN C
OIRA, KRIS LEE E
ONDIANO, APRIL ROSE C
OPADA, ERWIN V
OPONE, CHRISTIAN A
PALMA, MICHAEL ANTHONY C
PASTORFIDE, JUNE CYRIL F
PASUIT, GERALDINE B
PATINGA, ROSELYN S
PATRIARCA, DENNIS M
PEREY, MARI KRIZNAH V
PETALLANA, JEISHA MERL RUTH L
PLANDEZ, ANJANETTE L
PLANDEZ, CLARISA L
POLIO, MARJORIE R
PONCE, ELENMIE J
PORQUIADO, DEBIE DIANE S
QUINOL, JAZEL BETH O
RAMA, ABEGAIL N
RAMIREZ, JASPER P
RESPECIA, JOSE GREGORIO F
RESPONTE, MARIA VANESSA B
RETUYA, KRIZZY HYLL S
REYES, PHILIP JOHN R
REYES, TOM LAURENCE G
RICA, ROCHELLE A
ROCERO, CATHERINE SIENE U
ROSAL, IVAN JED T
RUBIO, CHAD IAN A
RUIZ, VANESSA O
RUMOL, FRANCIS NOEL M
SALADORES, GARY P
SALAS, KARL PATRICK G
SANCHEZ, JANINE D
SARDA, VON DIOLINO VINCENT C
SIBUCO, SHEILA MARRIE A
SILVA, ROBIN FRANCIS GRAIG A
SOLARTE, CHRISTIAN JOSEPH R
SON, AXEL JONATHAN V
SUGAROL, JOYCE Q
SY, AIMEE M
SY, JANE J
TACAN, GABRIEL VIRGEL P
TALAUGON, GERLEE B
TALLEDO, JASON G
TAMPUS, MARIA CRISMA H
TANILON, TIGIE JAMES R
TANTOG, JONAH MARIE C
TEMBLOR, VANITY E
TIANERO, EVANRY B
TIROL, MARLOU M
TOLENTINO, ELIZA D
TORRES, JEFF S
TORRES, MILENI L
TUBAC, HAZEL A
TUBALLA, ANJANETTE C
TUBAN, HENRYQUITA B
TUIBUEN, MARVIN LOUIE S
TUMULAK, NEIL D
URSABIA, JOHN RHEU U
VENDIOLA, FRETZIE ANN S
VENERABLE, NOEME G
VERA, GRACE ANN L
VILLAFAÑE, CHERILYN T
VILLANUEVA, LYLE ANDREI M
VILLANUEVA, RAFAILA-LYN L
VILLARANDA, JAN-MARINI O
VILLARANDA, KOBE BRYANT O
VILLARIN, JOHN PAUL C
VILLAVER, HANNA CATHERINE N
VILOS, ALAICA JHOY A
WAGWAG, JEITHRO O
YRAY, JESSICA T
ZAMBRANO, MARIE ARIELLE V
EXAM COVERAGE
Professional Level (in English and Filipino)
Numerical Ability (Basic Operations; Word Problems)
Analytical Ability (Word Association – identifying assumptions and conclusions; Logic; Data Interpretation)
Verbal Ability (Grammar and Correct Usage; Vocabulary; Paragraph Organization; Reading Comprehension)
General Information (professional and subprofessional levels)
Philippine Constitution
Code of Conduct and Ethical Standards for Public Officials and Employees (RA No. 6713)
Peace and Human Rights Issues and Concepts
Environment Management and Protection
RELEASE DATE
The Civil Service Exam CSE Result March 2022 is expected to be released within sixty (60) days after the examination.
REMINDER
The exam result may be released by the CSC earlier or later than the target date without prior notice.
Examinees shall obtain at least 80.00% general rating to pass the examination. Just visit this website regularly or refresh the page for further updates and information.