This is the Civil Service Exam CSE Result March 2022 Region 5 Passers (Subprofessional).
CIVIL SERVICE EXAM CSE RESULT MARCH 2022 — This is the list of Region 5 passers (subprofessional level) as released by the Civil Service Commission (CSC).
The exam results including the list of passers, top 10 passers, and other announcements related to this will be posted on this website once CSC will release it.
CSC conducted the Civil Service Examination – Pen and Paper Test (CSE-PPT) on March 13, 2022, at testing centers in Metro Manila, CAR, CARAGA, ARMM, and all regional testing centers in the country.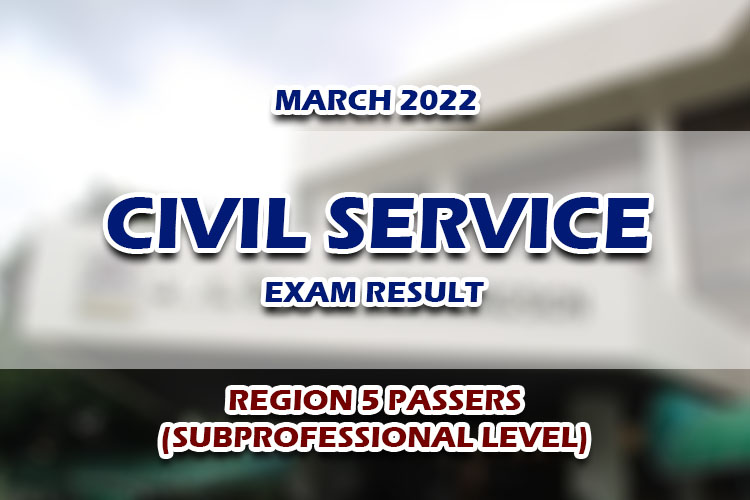 SUMMARY OF RESULTS
Here is the list of passers:
March 13, 2022 CSE-PPT
Sub-Professional Level: List of Passers
Civil Service Commission Regional Office No. 5
Name
ABARERA, CARL ANGELO G
ABLAZA, JENIFFER B
ABUNDO, KRIS Z
ALBA, SHERWIN CHIED B
ALCANTARA, ELZSTER I
ALMAZAN, DIANNE N
ALMAZAN, JETHRO FELIXANDER S
ANDEZA, KRISTINE S
ARCEGA, MA KRISTINA A
ARDALES, JAY A
ARIAS, ROSEMARIE ANNE S
AVILA, JESSA ANN L
AYSON, CAMILLE B
BADONG, MARIA ELIZABETH B
BALANCIO, JOHN ANTHONY G
BALBIN, NOLASCO JR. P
BALLESTEROS, RAMON III D
BANDOLA, CHRISTIAN GREGORY A
BAYTA, WAVHEN P
BELARMINO, RONNILEEN B
BELDA, REY BIEN M
BELGA, GENEVIEVE B
BELLEN, EUGENE B
BELLEZA, BERNADETTE M
BELLO, ROUHA SHYNE B
BERMAL, DAN E
BESIN, SALVACION MYLEN B
BOLAÑOS, GERALDINE A
BONGON, AMIEL JOY D
BORRES, CRISTY A
BOYLES, JIJI S
BREGALA, DIANA KRYSTELLE Q
BRITO, JOGIE MARIE D
BUDY, MA SHARLYNE O
BULALACAO, ROMULO NA
CABALLERO, AL M
CALISING, JUVY S
CALLOS, ARJAY B
CAMELA, GINNY KAREN C
CANUA, RENCY I
CASTINO, JEREMIAH A
CASTROVERDE, SHEILA D
CERENO, HONEY SHANE S
CHAVEZ, ROCHELLE T
CHUA, RENZY PHOEBE B
CLEOFE, CLAIRE ANN R
CORDIS, ROCHELLE D
CRISOL, ROMALYN B
CRUZATA, LENORE ANN O
DANIEL, ROSE ANN S
DAZAL, BABYJEAN V
DE GUZMAN, REYMART M
DELA CRUZ, JOYCE CAROL G
DELOS SANTOS, JESSA FAYE B
DENEROS, MA CECILIA
DIMZON, DENMARK D
DOGILLO, GIRLIE D
DOMINGO, GLENILO M
DORIN, MA SOFIA ANDREY S
DURAN, JAINE BELLE C
DURAN, RYAN P
ELOPRE, MIKAELA MAIE S
ELVIRA, ANGELICA B
ESCANO, AUGUSTO JR. DS
ESPANTO, JULIE B
ESTAREJA, JULIA ANGELIE N
FERNANDEZ, ROLLIE D
FLORECE, ANGELO A
FORNOLES, JOSEPHINE C
GALLARTE, JOHN DHEL G
GILE, JEMMALYN A
GONGONA, JADE V
GONZALES, LEYAN A
GRAJO, VENUS ANGELA A
GUADALUPE, MIA ROSE O
HAMID, HASLINDA BTE
HERMIDA, MILA D
HERNANDEZ, ANDRIAN T
HERNANDEZ, JERYMY L
HERNANDEZ, MARIA LUISA N
HOLLON, JINKY M
HUELVA, PANCHO JR. S
ICALABIS, ANGELICA DQ
ICAWAT, JESSIELE MAE DQ
ILLO, JOSEPH GREGG M
IMPERIAL, RUBY JANE P
IRAOLA, WAYNE BENEDICT V
LAVILLA, FLORENCE E
LAVILLA, KYLA E
LEDESMA, ROY L
LEGARDO, FHILIP JOVIN O
LIRAG, RICHELLE D
LONGARES, NATALY SUE S
MANISCAN, ABEJEAN D
MANZANO, MARY MAY C
MARIBUHOC, KENNETH LAWRENCE L
MASAGCA, RICHIEL A
MASARATE, SHAIRALYN B
MATUBIS, PLINKY YANNI A
MOJARES, ANTHONY NICOLAS B
MONTE, SHAIRA ANNE D
MORA, AARON JAN B
MORALES, GILBERT L
MUSICO, MARY FRANCE M
NACARIO, RAIZA MAE S
NACION, MA ESTHER C
NEBRAO, ANDREA F
NUARIN, KRISTINE JOY A A
NUÑEZ, CINDY A
OJEDA, LOVELY ANN D
OLFINDO, FRANCIS GEROME T
OROLFO, MARK B
OSTRIA, MARY JANE B
PADRIQUE, PRINCESS JANE F
PALCON, GLADYS MAKIE MAE Q
PANTE, JUDY ANNE B
PESUELO, JANICE G
PREAGOLA, ANA MARIE T
QUINTAL, MA JACQUILINE R
RAMIREZ, SHEENA A
REGULACION, DENNIS D
RELATIVO, DON VENANCIO E
RETUERMA, KARL F
REYES, REZ DR
RODRIGUEZ, WILT STEPHEN B
RODRIGUEZA, MIKEE M
ROMERO, JOELYN P
RONE, LAWRENCE L
ROSITA, HANILYN C
SABLAON, MARK DON S
SABOCO, ANNA ROSE R
SALES, RACHELL MAY A
SALOME, SARAH MAE C
SALVA, JILDA C
SAMBO, MARIDEL N
SANCHEZ, ROSE MELCHIE I
SANTELICES, KIELVIN B
SERAFIN, LESLIE R
SIA, WILSON ADRIAN JR. A
SILVA, LOUISA O
SINCERO, VIVIEN PAT H
SOLIVERES, ROSALIE R
SUPNET, RAQUEL A
TAMPOCAO, SHERIELYN L
TOLEDO, JOBELLE E
UCHI, MARCHELLE O
URBANO, ANJANETTE M
VARGAS, ARJAY JOHN G
VARGAS, IRISH JOY B
VELARDE, RICHIE JR. C
VERGARA, BENJAMIN JR. C
VILLALUZ, PILAR MAE C
VILLAREAL, MYRA C
VILLEGAS, RYAN ANTHONY JR. D
VIRTUCIO, RAYMUND A
VISTA, RIZZA C
ZAMUDIO, MATTHEW
EXAM COVERAGE
Subprofessional Level (in English and Filipino)
Numerical Ability (Basic Operations; Word Problems)
Clerical Ability (Filing; Spelling)
Verbal Ability (Grammar and Correct Usage; Vocabulary; Paragraph Organization; Reading Comprehension)
General Information (professional and subprofessional levels)
Philippine Constitution
Code of Conduct and Ethical Standards for Public Officials and Employees (RA No. 6713)
Peace and Human Rights Issues and Concepts
Environment Management and Protection
RELEASE DATE
The Civil Service Exam CSE Result March 2022 is expected to be released within sixty (60) days after the examination.
REMINDER
The exam result may be released by the CSC earlier or later than the target date without prior notice.
Examinees shall obtain at least 80.00% general rating to pass the examination. Just visit this website regularly or refresh the page for further updates and information.