This is the Civil Service Exam CSE Result March 2022 Region 2 Passers (Subprofessional).
CIVIL SERVICE EXAM CSE RESULT MARCH 2022 — This is the list of Region 2 passers (subprofessional level) as released by the Civil Service Commission (CSC).
The exam results including the list of passers, top 10 passers, and other announcements related to this will be posted on this website once CSC will release it.
CSC conducted the Civil Service Examination – Pen and Paper Test (CSE-PPT) on March 13, 2022, at testing centers in Metro Manila, CAR, CARAGA, ARMM, and all regional testing centers in the country.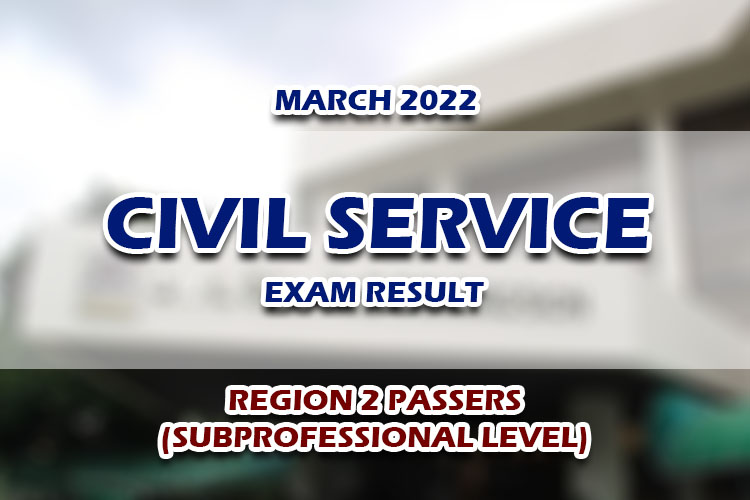 SUMMARY OF RESULTS
Here is the list of passers:
March 13, 2022 CSE-PPT
Sub-Professional Level: List of Passers
Civil Service Commission Regional Office No. 2
Name
ABAD, JOHN HENRY F
ABAD, JULIET C
ABOGADO, JUDY-ANN S
ACEBES, MURITZ Y
ACOB, MARGIE PAULINE S
ADVIENTO, SERGIO JR. V
AGBISIT, KAREN G
AGCAOILI, GIZELLE JOY G
AGCAOILI, GLENN G
AGLUBA, SHEKERSON B
AGPALZA, MARYLEN V
AGTANG, MARK ANTHONY C
AGUDO, GWYNETH G
AGUINALDO, ELLIAH MARIE A
AGUINALDO, HARVEY LORD B
ALADA, SHARA VON MAY B
ALCAIDE, JESSELTON C
ALLAG, LUALHATI FAYE M
ALQUESOR, ARLENE A
ALUETA, KURT CHRISTIAN B
ANCHETA, JIMMY C
ANDES, RONA MARIE F
ANTONIO, JAY-MAR T
ANTONIO, JOCELYN P
ANTONIO, NAOMI B
APIL, KEVIN D
AQUINO, FELICIANO ARTHUR A
ARCEGA, RONNIELYNE MAE S
ASTRERO, ARIANE E
ASUNCION, JONATHAN
BAGALAY, ARLHOT M
BALALLO, NELSON S
BALGOS, RAYMARC JAM R
BALINO, GAYLORD F
BALLESTEROS, KING FER C
BALONSO, PHILIP B
BALORAN, KARLA KATRINA A
BALUBAL, JAYMARC B
BANTAWAN, RHIZEL B
BAUI, JUSTINIANO B
BAUTISTA, VALERINE JOY M
BELTRAN, ANTOLIN JR. B
BENITEZ, ANA CHARISMA M
BERGONIA, MARICEL D
BERLAN, ALVIN M
BERMUDEZ, JAMES PETER
BERNABE, NIDA C
BIDANIA, GLORIA D
BONGOLAN, ME-ANN M
BRIONES, CRISPYBEL A
BULAN, AMILYN Q
CABREJAS, JIHAN M
CABUGAO, ALVIN E
CABUNGCAL, JOANNA DS
CACAL, JEANIE MAY S
CAGURANGAN, MAIZA JOY D
CALMA, RICHARD
CARIAGA, RHONALYN V
CASILLA, FREDIRIC P
CASTELO, JOAN B
CASTILLET, LIGAYA E
CASTILLO, JOYCELYN P
CASTILLO, MEICHELLE V
CATALUÑA, MARICRIS C
CAUILAN, ALLAN C
CHUA, JEFFERSON I
CINCO, JERC C
COLOMA, VICTOR L
COMPETENTE, DAVID JR. M
CONFERSO, GINA P
CORPUZ, RHOY TRISTAN T
CORTES, JANELYN F
CORTEZ, GLADYS MAE O
CUDAL, IVY D
CULILI, JESSABEL A
CUMLAT, GLADWYN R
CUSTODIO, JASMINE PEARL C
DAMASCO, RHYSBETH A
DANAO, ROCHELLE S
DE ASIS, LOVELY F
DE GUZMAN, ARISTON V
DE LA CRUZ, HANANI JOY M
DE LA CRUZ, JAY-AR A
DE LEON, MARICAR G
DEL CASTILLO, CAROL R
DEL MONTE, CYNTHIA D
DELA CRUZ, KRISTLE-LIZ I
DELA CRUZ, ROCHELLE G
DEOLAZO, JOSEPHINE C
DIAZ, NORILYN T
DOLIENTE, ANTONETTE A
DOMINGO, MARIA CECILE G
DUGURAN, MARY GRACE N
DUPAYA, MA LOURDES CORAZON J
EDILLO, JONALD L
ELEJER, PAUL JOHN
ENGAY, APPLE DOMINIQUE S
ESGUERRA, REYVILEN PEARL D
ESPIRITU, JOVILYN C
FERNANDEZ, ARCHIE U
FIDEL, FIONA ANGELIQUE A
FRANCISCO, MHAYIER P
FUENTES, CHERRYL C
GABAS, KRISTIANNE M
GALANAY, KIMBERLY G
GALIZA, REMIGIO JR. U
GALUTERA, JAYMAR C
GALVEZ, VIRGILIO JR. T
GAMAZON, JHELMAR S
GAMBOA, DESIREE L
GAPASIN, ALELI ANNE D
GARCIA, LOVELANE P
GARDUQUE, WEBSTER MARK C
GARLITOS, CESAR P
GARLITOS, JOE CEDRIC P
GERARDO, MARK JAYLORD C
GILO, GELLI C
GINISERAN, RICHARD M
GOMEZ, CHESTER ALLEN M
GUERRERO, NIKKI JOY S
GUILLERMO, ABSALOM U
GULAHAB, HAZEL P
GULAN, EUNICE M
GURAT, ALVIN RICHARD G
GUTIERREZ, KEIO G
GUZMAN, HAYLYN ANNE A
HALIGAO, ANDREA D
IBARRA, ORLANDO B
IMPERIAL, AVERIL ANGELO A
JACINTO, AURELIA S
JOSE, MA ROHAMA M
JUSTO, PAULYN ANSELMA S
LABOG, RACHELLE M
LABORADA, JENALYN B
LABRADOR, KAILAH KRISTIANNE
LACUANAN, REY ANTHONY F
LAZARO, AUBREY A
LEANO, SHEENA LOUVILLE N
LITTAUA, CATHERINE P
LOGRONIO, ROSE GANEMAE A
LOPEZ, ARLENE C
LOPEZ, CHUCKY MARK A
LOPEZ, MARY ANN M
LOPEZ, MAUREEN AVA D
LOPEZ, RODERICK L
LUCAS, EDMARK A
MABILOG, MARK BILLY C
MABLAY, LAARNI M
MAGNO, MAYLENE D
MALAMUG, REIMARK J
MALSI, REMIE L
MANGABAT, SHERYL R
MANUEL, JANELLE MAEVIS N
MARALLAG, ANTONIO III S
MARAMAG, MARGIE S
MARCELO, JHON MICHAEL V
MARIANO, MICHAEL RICHARD T
MARTIN, RICHARD ALDRIN F
MENDOZA, JOAN L
MERCADO, ANTHONY A
MOLINA, THERESA C
MURAO, WILLARD REY M
NABALES, MONICA C
NACION, DEAL BRANDO L
NALUS, TERESE JEMINA N
NARAG, MENANDRO U
NAZARENO, JOANNE E
NICOLAS, JUDITH M
NON, MARIA TERESITA N
NUEVOS, NATHANIEL P
OFRECIO, EDUARDO III J
OLIVAS, RYAN ELIZER V
OLIVEROS, JIMUEL R
ORENIO, REYJENE KRISTEL C
ORRO, JOSIE-ANN U
PADILLA, KYLA NIKKA JOY Y
PADOLINA, NERISSA A
PAGULAYAN, KRISTEL A
PARAAN, MERFRED M
PASCUA, MERLISA A
PASCUAL, JANE ZYRENE A
PASINCA, EDMUN L
PASION, JEFF C
PATES, REDELYN A
PATINO, LEIKA MICHELLE U
PATTUGALAN, RALPH JAMES P
PATUNGAN, ELANIE MAE A
PAYUMO, LERMA JOY G
PAZ, MONIQUE M
PERALTA, RAMISES AARON A
PINGKISAN, JOMAR B
PLANCIA, JOSEPHINE M
PUMANES, ANNA RIZZA A
QUILALA, BAYANI M
RAMOS, LORELIE D
RAMOS, VIDA ALINA P
REY, ROWELLE DOHN P
RIAZONDA, MARY GRACE S
RINGOR, FAITH JORIE L
ROMERO, JOEL B
ROSALES, CAROLYN P
RULLA, DONALIE O
SABADO, FRANCIS A
SABITE, REJELYN D
SALACUP, DEBEE THALIA R
SALVADOR, ZARAH P
SANTOS, MARICEL A
SANTOS, MARK ROGER G
SAQUING, JONAH MICAH I
SEPULVEDA, JIMELEEN L
SERQUINIA, MELBA B
SERVILLON, CHRISTOPHER
SOLIVEN, JANYBOY C
SORIANO, MARIROSE C
SORIANO, SHERWIN D
SUBIA, VALLEY JANE R
SUGUITAN, PAUL BRYAN
TABUZO, IRENE ANTONETTE B
TAGUIAM, ANNAMARIE C
TALAMAYAN, JERICO B
TELMO, ANA MARIA E
TIBURCIO, KATHLEEN JOY L
TIBURCIO, OLIVER WENDELL A
UMALI, MARICAR C
UMBAY, APRIL ANN Q
URBINO, MARICON C
VALDEZ, ANGELICA J
VALENCIA, MARK WILLIAM M
VALIENTE, BRYAN B
VARGAS, MA ISABELLE E
VASOL, CARLO IVAN B
VELASCO, RONALDO S
VELAYO, MARK M
VENTURA, CLAIRE ANNE S
VERTUDEZ, MARICEL R
VILLAROZA, ELLA MARIE P
VINALAY, ROXANE V
WILLIAM, JENILYN L
ZINAMPAN, RANDO M
EXAM COVERAGE
Subprofessional Level (in English and Filipino)
Numerical Ability (Basic Operations; Word Problems)
Clerical Ability (Filing; Spelling)
Verbal Ability (Grammar and Correct Usage; Vocabulary; Paragraph Organization; Reading Comprehension)
General Information (professional and subprofessional levels)
Philippine Constitution
Code of Conduct and Ethical Standards for Public Officials and Employees (RA No. 6713)
Peace and Human Rights Issues and Concepts
Environment Management and Protection
RELEASE DATE
The Civil Service Exam CSE Result March 2022 is expected to be released within sixty (60) days after the examination.
REMINDER
The exam result may be released by the CSC earlier or later than the target date without prior notice.
Examinees shall obtain at least 80.00% general rating to pass the examination. Just visit this website regularly or refresh the page for further updates and information.