This is the Civil Service Exam CSE Result March 2022 Region 12 Passers (Professional).
CIVIL SERVICE EXAM CSE RESULT MARCH 2022 — This is the list of Region 12 passers (professional level) as released by the Civil Service Commission (CSC).
The exam results including the list of passers, top 10 passers, and other announcements related to this will be posted on this website once CSC will release it.
CSC conducted the Civil Service Examination – Pen and Paper Test (CSE-PPT) on March 13, 2022, at testing centers in Metro Manila, CAR, CARAGA, ARMM, and all regional testing centers in the country.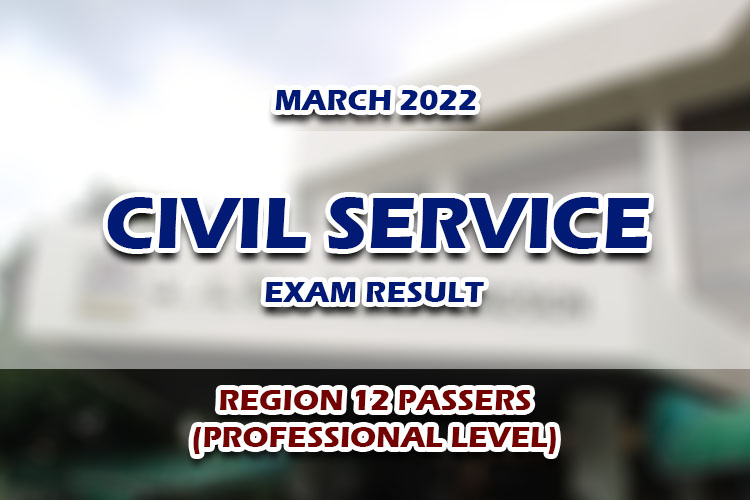 SUMMARY OF RESULTS
Here is the list of passers:
March 12, 2022 CSE-PPT
Professional Level: List of Passers
Civil Service Commission Regional Office No. 12
Name
ABAS, PRINCESS FAHANNA AZZIZAH G
ABDULLAH, ALMIRAH A
ABDULRAHIM, JAFARI T
ABECIA, MARIA KAREN RIO N
ACBAR, MIA-AYEZZA C
ADORACION, SHERYMAE P
ALAGENIO, JHUBERT EFREN N
ALDEA, JOEL A
ALEJADO, TERENCE MARK
ALIDO, CASSANDRA JENN J
ALIM, MOFAHT M
ALISEN, SALJORINE L
ALONZO, CHRISTINE JANE L
ANAB, ABDUL RAFFY A
APELACIO, KEN KARL B
ARBOLEDA, ARCHIE C
ARGUILLES, MENARD JUDE S
ARIGO, ANNA DOMINIQUE B
AROCHA, PHILIP VINCENT L
ATIENZA, KATHERINE P
ATOK, MARIEN D
BACALANDO, GABRIEL M
BALALA, KENNETH DAVE B
BALIGUAT, VINCENT KYNTH J
BARAGUIR, HAKEEM ABDUL RAUF S
BARRIOS, EZEKIEL JOCEL P
BASILIO, ALLAN G
BASON, JILLIAN PEARL S
BAULO, SACRAIN JR. B
BAUTISTA, RUSTIAN C
BAYRON JR, ENRIQUE L
BELGIRA, GRETCHEN S
BENITO, DATU EMRAN M
BESANA, KATHRYNA T
BIADOMA, KENO C
BIADOMA, KLIEN CHED J
BIERNEZA, HALLENE GRACE C
BODIONGAN, VYNSCENT LOVE DG
BOTOGON, RHENALYN E
BREBANTE, EMMA LEE S
BUTALAN, JESSA MAE G
CABANG JR, FLORENTINO S
CABIL, VON BRYAN T
CABRIDO, BRYAN L
CADELINA, JOSH BERNARD H
CADUNGOG, JOY V
CALANZA, APRIL JOY A
CALDITO, KRISTINE MAE C
CALZADO, FARANZ M
CANDA, JANICA A
CANDA, JECELIE A
CASCOLAN, LEI MARIZ L
CATALAN, JESSA CLAIRE I
CATIGBE, KHRISTOFER N
CATUGURAN, LEXCEL M
CEA, JAY L
CENAS, SAMSON O
CENTINO, HANNAH R
COLE, JAYSON B
CORNEJA, MARIA THERESA III M
CORPUS, CRISTIN JOY R
CORPUZ, DANIKKA B
CORPUZ, JUMAR P
CUICO, JARENE LHOU C
DAGANATO, CRYSHA MAE T
DALAYAP, KRISTIANA MARIE C
DANDAN, RUX DENNIEL S
DAR, HENSCHEL MILTON P
DE EYOY, PHILIP ANDREW F
DE LOS REYES, NOEL CARL L
DEGRACIA, LEANDRE MARC M
DELA CRUZ, SHIELA A
DELA CUADRA, JENENA D
DELA FUENTE, LADY SHIENA DAWN O
DEOCADEZ, CHERIE ANN R
DICHOSO, DANTE C
DIMAANO, CHESTER FREUD D
DIRECTO, KARL IMUND Y
DOGOLDOGOL, DERWIN B
DOMINGUITO, MARIANE JOYCE C
DURAN, REYMARK S
EBREO, VICEL NADDEN JANE G
ELEAZAR, MILKY O
ELISEO, PRINCESS D
ERESE, VINCENT MARK B
ESBERTO, TRIXY MARIE T
ESCANER, SHARMAINLY V
ESPILOY, NIÑA E
ESPINA, RENEILLE ADRIANNE L
ESTELLENA, KRISH Y
FAMARANCO, MICHELLE C
FELARCA, CHRISTIAN ROD D
FELISILDA, NES KYRE LOVE B
FILIPINAS, USCHZEBEL B
FIRMALINO, JOSH IMMAN P
FLORES, LEONARD JOHN R
FUENTES, DUKE FRANCIS M
FUENTES, ELIZA DULCE M
GABINETE, SHAIRA M
GABUAT, REINA A
GAMINO, JERWIN C
GAMO, RICHARD V
GANI, AMIRUDDIN I
GARGARAN, JENIBEVE D
GARINGO, MARY GRACE M
GATAN, MARY LEA LOUISE P
GINO, ALEXA SHAIRA PEARL A
GORNES, FRENZ DARYL P
GRAVIDEZ III, AGUINALDO D
GREGORIO, IAN JEVE L
GREGORY, MICHAEL B
GUSTILO, MARK GOEFFREY S
GUTIERREZ, KEVIN B
HADJI NAJEEB, HASSANUL S
HADJINASSER, SHADAM RACHMAN M
HAMBALA, JASTIN F
HERNANDEZ, GREGORIO III G
HIDALGO, ANGELO L
HINAMPAS, RICAH DAIANNAH B
ILDEFONSO, XAVIERY A
ISALOC, RECHELLE T
JACINTO, DIANE WINFREY T
JANCUA, DREXLER DA
JULKANAIN, ALHANUR Z
KARUNUNGAN, DANILO JR. G
KUSAIN, JOHAIRISH APRIL U
KUSAIN, KENNETH J
LAGDAMEN, JESIE I
LAGLIVA, MAE G
LAGOS, REYNAN C
LAMANERO, ZINNIA D
LANGOYAN, NEIL CHRISTIAN L
LECHONSITO, LOURDES B
LEDDA, IRIAN VAN S
LEDESMA, KAREN MAE O
LIBO-ON, JOSHUA B
LIM, CHRISTIAN S
LIM, CLEO MARC S
LINCAY, RYAN B
LISA, JAN RONELL L
LLACUNA, DULCE MAE P
MACABABBAD, JOHN JACQUES D
MAMACO, ABDULLAH M
MAMALATEO, KRISTEL D
MANALO, ZENDRICK T
MANGAOANG, VINCENT A
MANGARON, JEFFREY F
MANTOS, SHEANNE MAE B
MASONG, FLORABELLE P
MASUKAT II, ABDULLAH K
MATULAC, GABRIELLI LOUISSE N
MATUTINA, VINCE Q
MEDINA, DOROTHY JOY D
MIMBALA, ABDUSAMAD L
MIRABUENO, JOSE ALFONSO IGNACIO K
MIRAN, CHRISTNIEL JADE N
MONTERO, ANGELICA DANNIELE A
MORALES, GIANCARLO C
MORALES, VINA C
NAVARRO, ZENAIDA E
NERI, JAYSON JOHN ROGELIO
NERONA, JULIENNE KRYSTINE M
NIELES, DONITA ROSE S
OCTAVIANO, DEZZA JOY L
ODONG, JEN PRINCES M
OLMOGUEZ, CHESSA ELAINE B
OMPOD, DARYL JAMES T
ORDOÑEZ, REY A
OYAO, PREDJIE MARIE B
PABILLAN, MC ERSCHAD D
PACETE, NICOLO BERNARD BRYLE M
PADERES, ABEGAIL M
PADUA, MA SARAH A
PAGUNTALAN, KRISTINE D
PAJELA, PATRICK JAMES G
PALAO, LADILYN G
PARCON, RAMAYANAH L
PAREÑO, KENNETH D
PARREÑAS, HONEY BE N/A
PASCUA, ARNALD CLYDE A
PASCUA, IZAH JANE M
PASCUA, ROCHIEL S
PENETRANTE, JOLLY B
PESCUELA, ALLAINE DELL I
PEÑAFIEL, IAN PAUL S
PEÑOL, JAYNARD A
PINEDA JR, BERNARDO N
PINEDA, DALE MATTHEW C
PINTO, JOHN LLOYD L
PLANTIG, MARY JOY J
PO, KENNETH C
PRIO, MELODEE GRACE V
PROTASIO, RICA B
PUNLA, JELL IRELANN R
QUIAMCO, ROCHELLE MAE T
QUIZON, ROCHELL T
RACHMAN, MEEJAN AILAH M
RAMOS, IVY S
RAMOS, JESSA MAE N
RAMOS, JONNAVIE L
RANARA, REIAN MARLOWE G
RANO, RAMON JR. H
REVILLA, GIOVANNE C
REYES, RICKY O
ROJO, LUROBE JR. G
RONCESVALLES, REX LOUIS P
ROQUE, KRISTINE CINDY P
RUSIANA, RONILYN M
SAAVEDRA, ALJOHN JAY L
SAAVEDRA, KENETH JOY C
SAEK, VLADIMIR Q
SALAC, IRIS G
SALANIO, ROMEL A
SALAZAR, FRANCIS QUADREN FEB B
SALEM, SITTIESHAINA S
SALUDES, RUBEN A
SAMSON, AUBREY COLLAINE M
SOLANO, MARILOU E
SOLDEVILLA, CASEY ALYKA L
SOLIS, PATRIC LIN B
SUAREZ, RAVEN DAVE R
SUBERE, ALVIN JOSHUA V
SUCALDITO, EFREN JR. S
SUERTE, LYRA SHAGNE M
SUNGAN, SAJEDDEN S
SUYOD, CARLOS D
TABANAO, JOEMAR M
TABILLA, NEHEMIAH PAUL M
TABINGO, KARL MIKE B
TAMAYO, INA MARIE V
TAMPUS, RAINEIR P
TAN, KRIZNA L
TAN, SITTIE SAIRA A
TEMPLADO, JIEDE BEA J
TENTENA, REJANA M
TIMAN, NUR WALID K
TINACO, HONEY GRACE S
TIPAY, DARYLL C
TONGO, CYRUS JOHN P
TORMON, NATHANJONS J
TRAJANO, JANNO MARC C
UCHI, FRANCES DAYLE P
UNOS, AL-JEHAD K
UNOS, ANSARE K
UNOS, HAKEEM S
USMAN, BAI RAINAH S
UTRERA, GIRWIL O
UY, NIL JOSEPH F
VACIO, IVY P
VASQUEZ, ANFERNEE T
VASQUEZ, IAN P
VELAS, NORRYL JOY A
VILLAMATER, SHEENA L
VILLANUEVA, JANICE R
VILLANUEVA, JERRYMEL A
VOTACION, GERALD P
WICO, BRYAN JAMES
YAÑEZ, EULA GWYNN A
YEE, RIZALINO A
YPARRAGUIRRE, AARON PETE S
YSULAT, KIT JOSHUA M
ZAFRA, GIDEON S
ZONIO, JOHN ELDIE A
EXAM COVERAGE
Professional Level (in English and Filipino)
Numerical Ability (Basic Operations; Word Problems)
Analytical Ability (Word Association – identifying assumptions and conclusions; Logic; Data Interpretation)
Verbal Ability (Grammar and Correct Usage; Vocabulary; Paragraph Organization; Reading Comprehension)
General Information (professional and subprofessional levels)
Philippine Constitution
Code of Conduct and Ethical Standards for Public Officials and Employees (RA No. 6713)
Peace and Human Rights Issues and Concepts
Environment Management and Protection
RELEASE DATE
The Civil Service Exam CSE Result March 2022 is expected to be released within sixty (60) days after the examination.
REMINDER
The exam result may be released by the CSC earlier or later than the target date without prior notice.
Examinees shall obtain at least 80.00% general rating to pass the examination. Just visit this website regularly or refresh the page for further updates and information.