This is the Civil Service Exam CSE Result March 2022 Region 3 Passers (Subprofessional).
CIVIL SERVICE EXAM CSE RESULT MARCH 2022 — This is the list of Region 3 passers (subprofessional level) as released by the Civil Service Commission (CSC).
The exam results including the list of passers, top 10 passers, and other announcements related to this will be posted on this website once CSC will release it.
CSC conducted the Civil Service Examination – Pen and Paper Test (CSE-PPT) on March 13, 2022, at testing centers in Metro Manila, CAR, CARAGA, ARMM, and all regional testing centers in the country.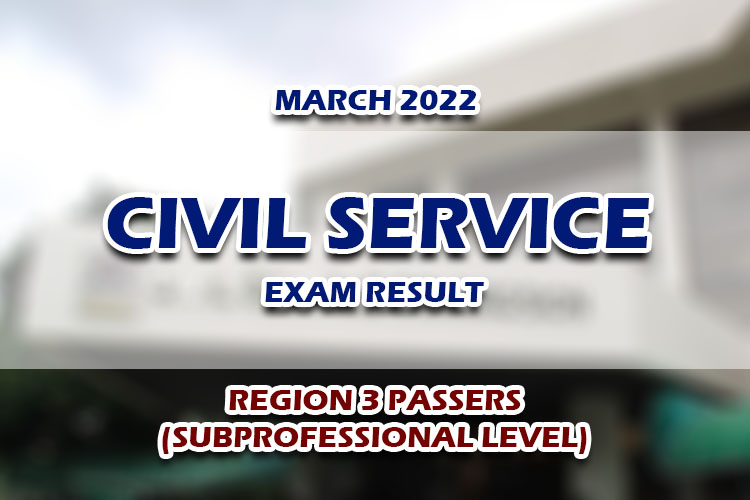 SUMMARY OF RESULTS
Here is the list of passers:
March 13, 2022 CSE-PPT
Sub-Professional Level: List of Passers
Civil Service Commission Regional Office No. 3
Name
ABELLA, MICHELLE JOY M
ADUNAY, NEDIE S
AGASA, LOUIE JAMES B
ALARCON, RODOLFO JR. C
ALEGORA, SHEILON V
ALTOBANO, LANI C
ANASTACIO, ANNE SHANETTE C
ANDRES, CLAIRE JEAN C
ANGELES, JULIUS RYAN L
ANGULO, ARNELLIE R
APOSTOL, ANGELINE E
AQUINO, KHRIZZA DIANE M
ARANGEL, MARIANGELI P
ARARAO, ANGEL B
ARBOSO, ARVIN A
ARELLANO, PATRISSE SHAYNE M
ASTRERO, KARLA C
ATIENZA, MA CAROLINA F
AUSTRIA, NICHO BRYAN D
AVELLANOZA, MARIO JR. A
AVENDAÑO, RONALDO M
BACUNGAN, MARIA YSABELLA S
BALBUENA, FRANCIS S
BALDONADO JR, FRANKLIN A
BANGCO, MELISSA P
BARTOLOME, BERNALYN M
BASILIO, MARIA REGINA M
BATE, RUSSELL JASON T
BATIN, MARY ANN B
BAUTISTA, ARLENE JOY G
BAUTISTA, MARY JOYCE A
BRILLO, NIÑA MICHAELA S
BUATIS, ALLAN B
BUENAVISTA, MARIAN S
CABACUNGAN, JOHN JEMUEL V
CABUANG, RONALYN M
CABUSO, IVY GRACE C
CALIGUIA, MIAMOR DA
CALIMBAS, ANTHONY G
CALMA, DENNIS P
CAPATI, APRIL GRACE
CARGAMENTO, DENNIS G
CARRILLO II, ARTEMIO DEXTER M
CARSON, ALBERT JASON T
CASTAÑEDA, CRISELLE A
CASTILLO, DALE LEONARD R
CASTILLO, MARK D
CASTILLO, MARY ANN M
CASTILLO, RACQUEL LYN S
CASTILLO, ROSELYN M
CAWIGAN, SARALYN D
CAYANAN, ROY F
CAYME, AIRRISH JOY F
CELIS, PRINCESS DEAN I
CERENO, MYREEN O
CEREZO, KEVIN RALP L
CHUA, GEZIEL S
CLARITO, WALFREDO R
CONCEPCION, OSCAR MARIO C
CONSTANTINO, MARIA PATRICIA R
CORDOVA, MARIE JOYCE S
CORNEJO, CONRAD JAMES N
CORONEL, RONIE B
CORPUZ, KATHLEEN S
CRUZ, JESUS SANTOS C
CRUZ, JOSEPH PAOLO P
CUDIA, RYAN PAUL A
CUNANAN, APRIL JOIE T
DAGDAG, LORALIE B
DAQUIS, JENNIEFER L
DARAO, CLARO MAR C
DATU, JOSEPH TONIE N
DAVID, GRACE P
DAVID, KARREN D
DAVID, MARY ALYSSA M
DE GUIA, MARICRIS E
DE LEON, DIANA LESLIE A
DE UMANIA, BERNADETTE C
DELA CRUZ, DARWIN A
DELA CRUZ, JULIUS M
DELA CRUZ, TRISHA ANN Q
DELA PAZ, MARY GRACE R
DELA TORRE, GERRY V
DELOS REYES, JENIFER V
DIONES, RODEL H
DIWA, JESTINA S
DIZON, JESSICA MAE M
DORO, REIMAR BLESS D
DORUPA, BONBILLY R
DUNGCA, ARTLEN JANE T
EBBA, RETCHIE O
EFONDO, MICHAEL JHAY H
ELEFANE, KHEY S
ENRIQUEZ, ELLEN S
ERACHO, LORENZA ANNA B
ESPERIDA, MARJORIE D
ESPINOSA, CATHERINE A
ESPIRITU, NELSON DG
ESTEBAN, JOSELITO E
ESTIPULAR, KARIELLE EVE V
ESTRABAS, JOSEPHINE D
EVALLE, AILEEN L
FAJARDO, EMMANUEL J
FANTONE, LEE MELVIN E
FEDERICO, PRECIOUS MAE ANN S
FERNANDEZ, FAIRY MAY L
FERNANDO, MARNIE GRACE P
FERNANDO, PAUL MICHAEL R
FLORES, JUSTINE ROY M
FONTANILLA, ROMMEL F
GADOS, RUTH JOY T
GALLARDO, ALDRIN PATRICK E
GALLARDO, ANDREA LOUISE R
GALVEZ, CHERRY F
GALVEZ, CRISTINA M
GARCIA, JESS ZEL V
GARCIA, JOSEPH REY D
GARENGO, DIADEM M
GASPAR, FRANCIS JECSON F
GATDULA, TEODORICO JR. A
GAUDIA, SUNSHINE M
GOMEZ, ARTHUR M
GOMEZ, JOSEPH B
GONZALES, AERYLL CAMILLE B
GRAVE, ANTHONY H
GROSPE, ALLENSON E
GROSPE, KRISSY MAE Z
GUERRERO, MARK JONNETH D
GUEVARRA, ALICIA R
HERNANDEZ, CRISTINA G
IGNA, JOMAR T
INFANTE, TRINA F
ISIDRO, ARNEL C
ITLIONG, JASMIN L
JAVIER, ARIEANNE NAOMI A
JAVIER, HENER MIGUEL B
LABRADOR, RAFFY B
LACSINA, BOBBY B
LACSON, DORINA M
LAPIRA, RUBY ANN M
LIGISAN, EDGARDO S
LISING, CZARINA P
LISING, JOHN MARK M
LIWANAG, MARGIN C
LLANZA, CHARLONE C
LOPEZ, MICO FROY G
LOZANO, CATHERINE R
LUBAO, DAPHNIE LOREN S
LURIZ, RAY MARK M
MAGUDDAYAO, MARK IAN
MANAHAN, JANIÑA M
MANARANG, LIMMUEL MOISES M
MANDIA, JOCELYN C
MANIO, JUSTINE LESTER P
MANJARES, MELIZA SP
MANLAPAZ, PEE JAY L
MANZANO, DANA LISA A
MARCIAL, KRYSTAL JANE S
MARCOS, ANGELINE S
MARDO, MARIELLE S
MARIÑAS, RODEL D
MARTIN, JOHN NICOLE F
MENA, JOHN ALLEN M
MENDOZA, JAY-AR A
MENDOZA, MARK KENNETH E
MENESES, JAZELLE P
MENESES, PAOLO I
MENESES, VIVIAN H
MINA, PRECIOUS A
MOLINO, MARK PHILIP M
MONTEVIRGEN, GERALDINE T
MORALES, JOHN CLEFORD S
MORELOS, SHIELA MARIE P
MUTUC, RON JEFFERSON V
NASTOR, JANINE YVES S
NAVARRO JR, MARIANO A
NAVARRO, DELAMERCED L
NAVARRO, ROBERT NEIL C
NOOL, JAYSON M
OLARCOS, ALICE P
OLIS, FORTRESS
ORTOMIO, MARIA GELINA S
PAGALING, MARY JANE B
PANGAN, BABYLYN DL
PANGILINAN, ELDAN G
PANGILINAN, LANCE RENDELLE A
PASCUA, ADELINA D
PASTOR, KIMBERLY M
PAULE, MARIA BELINDA B
PEREZ, JOYCEL D
PEREZ, JUSTINE A
PINEDA, DANIEL AARON M
POBLETE, TWEETY D
POLINTAN, BRYAN M
PURIFICACION, MILLER E
QUIWA, ABIGAEL T
RAMOS, JEFF T
RAMOS, JOHN CARLOU I
RAQUENO, MARICHU B
RESUMADERO, MARK P
REYES, JEFREY M
REYES, MIKAELA NICOLE P
SABUGO, RIZA C
SACLOLO, REINA KATRINA M
SAGUN, ALLEN DALE G
SALAZAR, ROBERT M
SAN PEDRO, JUDE TRISTAN V
SANCHEZ, MARC JOSEPH N
SANCHEZ, MARVIN V
SANTE, JUMA LEAH L
SANTIAGO, SHIREE ANN CLYNAH C
SANTILLAN, MARJEA C
SANTOS, JUSTINE B
SARMIENTO, JESAMIN E
SAYO, JOSE JOEL B
SEBASTIAN, KRIS ANNE B
SEVILLA, JOHN ROMMEL A
SICAT, DANILO F
SISON, CHARMAIGNE M
SOLIMAN, CLARION KATE C
SOSA, EDMAR M
SUMILE, JAN WAYNE T
SY, MARC STEVEN DL
TALA, JENNIFER A
TALLARA, RIA T
TAN, RENNEL A
TANECO, JET P
TANIO, ELISEO C
TANJUAN, RENZEL E
TANTOCO, LAIZA D
TAÑON, BENJAMIN III B
TEJADILLA, JOHN CARLO O
TOBIAS, JAZELLE V
TOLENTINO JR, ROLANDO N
TOLENTINO, REYNALDO JR. V
TORRES, MELVIN E
TRIA, GENEBEL CELINE B
TRINIDAD, SILVESTER A
VELASQUEZ, FLOCERFIDA F
VERGARA, JAY AR M
VICTORIA, BYRON A
VILLANUEVA, JOMAR G
VIOLETA, MARILYN N
VISTRO, LORD DARIUS P
YANGO, RICARDO JR. S
YUTIGA, IRISH-ANNE S
ZAPATA, MARY JOYCE F
EXAM COVERAGE
Subprofessional Level (in English and Filipino)
Numerical Ability (Basic Operations; Word Problems)
Clerical Ability (Filing; Spelling)
Verbal Ability (Grammar and Correct Usage; Vocabulary; Paragraph Organization; Reading Comprehension)
General Information (professional and subprofessional levels)
Philippine Constitution
Code of Conduct and Ethical Standards for Public Officials and Employees (RA No. 6713)
Peace and Human Rights Issues and Concepts
Environment Management and Protection
RELEASE DATE
The Civil Service Exam CSE Result March 2022 is expected to be released within sixty (60) days after the examination.
REMINDER
The exam result may be released by the CSC earlier or later than the target date without prior notice.
Examinees shall obtain at least 80.00% general rating to pass the examination. Just visit this website regularly or refresh the page for further updates and information.