This is the Civil Service Exam CSE Result March 2022 CAR Passers (Subprofessional).
CIVIL SERVICE EXAM CSE RESULT MARCH 2022 — This is the list of CAR passers (subprofessional level) as released by the Civil Service Commission (CSC).
The exam results including the list of passers, top 10 passers, and other announcements related to this will be posted on this website once CSC will release it.
CSC conducted the Civil Service Examination – Pen and Paper Test (CSE-PPT) on March 13, 2022, at testing centers in Metro Manila, CAR, CARAGA, ARMM, and all regional testing centers in the country.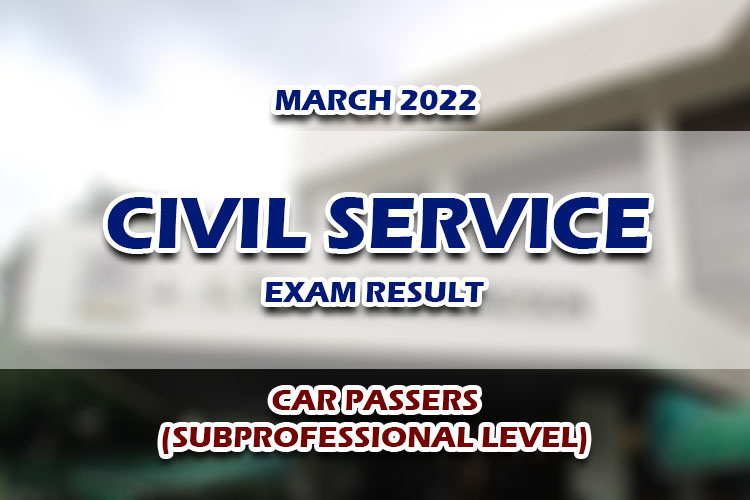 SUMMARY OF RESULTS
Here is the list of passers:
March 13, 2022 CSE-PPT
Sub-Professional Level: List of Passers
Civil Service Commission Regional Office No. 14 (CAR)
Name
ABAD, ANGELIE F
ABUAN, RICHANE JOEY C
ACACHANG, MICAH S
ACNAM, DEO DAVID M
ADIAN, LEIGH ANNE D
AGPAWA, JUNAVY B
ALGAS, CHEDELYN R
ALICOY, SHERYL G
ALIWADANG, RUELLA C
AMOLOT, MARITESS S
ANACIOCO, ROSS ARIANE A
ANDRES, ELIJOHN R
ANENGYAO, NOVINE C
ANGA-ANGAN, ZALDY VAL G
ANGCAWAY, HIROSHI WARREN D
AQUINTEY, NELI L
ARMADA, SHIRLYN KATE E
ASPILAN, ESTIE M
ATIWAG, LEIZYL V
AUCENA, ROGELLI ANN G
AWINGAN, BRENDA B
AYAOAN, RAQUEL M
AYUP, MICHELLE T
BABILA, JILLIAN MAE M
BAGGAO, MELODY L
BAGSANGI, MEENA P
BALAWAS, SHANNONE GREENNE B
BALLESTEROS, LIZETTE L
BANGIBANG, SHEILA MAY D
BANGISAN, JOSIAH KEITH A
BANGLAYAN, JUDEA JADE M
BANGLOY, KIMBERLY CESS M
BANYA-AO, HAZEL CLORISE B
BENITO, MICAH D
BERMOS, MERLYN B
BOCARILE, FLORDEMIN B
BRAVO, JESSEN JOY T
BUGTONG, FELJUMAY S
BULANADI, EDZON B
BUSLIG, MELANIE S
CAMILING, MAEVELYN KATE P
CASIGAY, JOEL JR. P
CATULIA, JOSHUA M
CAWAYAN, JONATHAN G
CAWILAN, JONA L
CHA-OS, ROSEMARIE JOY C
CHAPDIAN, CONNER J
CIANO, PAUL VINCENT C
COLINARES, SHERWINE V
COY-OM, KIMBERLY P
DACYON, XYRAH DIANE GRACE C
DANAO, DEAN PAUL G
DANIPOG, RONALD D
DAO-AYEN, JERHYLLE KIM A
DAO-INES, KIMBERLY D
DAOWAG, ROXANNE T
DAVID-BISCOCHO, KAMILLE DAYE M
DAY-EG, KIMBERLY G
DE GUZMAN, ELMER JR. M
DECANO, NICOLE JOHN B
DELA PEÑA, ANA MAY N
DINGGO, JONALYN CYNTHIA S
DIOCARES, VIVIAN SCARLET B
DOCTOLERO, JOBERT B
DONATO, ASTRYD GAILE P
DOYAOEN, GYPHER LORD C
DUMANSI, JOANA L
DUMO, JOHANNE JOSHUA B
ELEYDO, STEPHANIE LOUISSE F
ESLAVA, PEIRRE POP-EYE A
ESTRELLADO, RICHARD ALLAN L
FAVORITO, DAN CHRISTER A
FIGUERRES, KAREN G
GAANO, GIANNE M
GALLARDO, QUIKE MAY D
GANADEN, ROJAN BERT B
GARNACHA, SHANA MAE M
GONNAWA, MARGIE I
GONZALES, BRENDA FRANCE R
GONZALES, JAYSON G
GUDAREN, GERNALYN M
GUHIC, DONNALEE C
GUINSAD, HAZEL S
GULLOD, ELSA S
GUMNED, ROLANDO JR. L
HALOG, RAYMUND D
HEPPOG, CRISEL JOY C
JANGOLAN, CYRIL S
JULIAN, CHERRY ANN P
KACAYON, LIGMAYA M
KAWI, RAIZA K
KAY-YANG, SIERRA MAE O
KIAT-ONG, MARK ANTHONY C
LACEBAL, JIREH GRACE G
LAGABAN, JUSTINE C
LAGMAN, SYDNEY C
LARDIZABAL, YVONNE CHARIELLE B
LAROYA, DIANA F
LAWANGEN, PENELOPE A
LAY-AT, BRICCIO B
LENGWA, BENLYNE F
LIBALIB, MELANIE HOPE W
LIGOS, ARIEL D
LIIS, NENITA P
LOPEZ, AMIRA B
LOPEZ, MARIFEL C
MAGARSO, PAMELA JOYCE G
MAGNO, ARGEE LEE G
MALONDON, JHERRY MAYNE W
MAMENTA, AHMED L
MANGANAG, JAYMART P
MANGGALIS, JIZELLE BLANCHE M
MANGOYOB, JOENEL B
MANIPON, CHRISTIAN M
MARTIN, JUCZAR NEPH B
MASCAY, ERYL KATE C
MEANA, MANZEL B
MENDOZA, ADRIAN CARL D
MENDOZA, JOAN L
MOCO, MANELINE W
MOLINA, CARLOTA L
NAOE, ZARAHMAE V
NAVARRO, VICTOR LESLIE P
NGOLAB, RALPH CHRISTIAN M
NICOLAS, MARIO JAY M
ODDOC, NOVEN JOWELL V
OGUES, MILAGROS T
OLARTE, JIRAH JOY S
PACAPAC, MELODY P
PACSOY, RESMIE M
PADSICO, MARY ROSE S
PAGANDIYAN, JULIE PEARL N
PAJULIO, MILLICENT LOUISE L
PANG-OT, ESCARLET M
PANGANIBAN, CAROL JOYCE A
PEEL, KANA S
PELOGNA, MELANIE C
PENINGEO, KEVIN CHAD F
PESCOZO, KAYLYN L
PICPICAN, RENEE RIO B
POLANO, CLAYMARK G
PONGDAD, ALPHA MAE L
PORSUELO, LARA MICHELLE J
PUDOL, JULIET P
PUNAY, JAYPEH JU D
QUITALIG, LORIE M
RARANG, RAINA MARIE L
RECILE, FEMMA LYKA S
REYES, ROCHELLE ANN N
RINGOR, ALAIN DELON D
SAGANDOY, STERNEL L
SALABAO, JANET E
SALIPAN, ALLAN L
SALTING, DEBRALIZ FLOR S
SAY-OCAO, ZHENREN FAITH C
SEGUNDO, AZENITH D
SIANO, CRISTY C
SIBAYAN, RODELA R
SORIA, KRYS IVONNE JOY P
SORTEJAS, MANUELITO D
SUCGANG, LEAH MAE E
TABACO, JEREMIAH JEFFREY B
TAMONDONG, PAUL C
TARONA, MARIA CAMILLA JANNE E
TATPI-IC, AIZA T
TIFANG, JORAMIE LEE L
TON, IRISH YVONE T
TOYENG, ABSALOM D
TOYOKAN, FAITH D
TUBBAN, ELVIN JR. B
TUDLONG, ELAINE F
TUL-ING, ESTEPHANIE MAE S
VALERA, JEYA REIZEL B
VARGAS, JOVALENE G
VIDOR, JANE P
VILLEGAS, ERIKA B
VINUYA, ANGIELYN G
VIRAY, JAQUILYN C
WAKIT, JOVER M
WALIS, HARTZEL B
YAGUI, ROWENA G
EXAM COVERAGE
Subprofessional Level (in English and Filipino)
Numerical Ability (Basic Operations; Word Problems)
Clerical Ability (Filing; Spelling)
Verbal Ability (Grammar and Correct Usage; Vocabulary; Paragraph Organization; Reading Comprehension)
General Information (professional and subprofessional levels)
Philippine Constitution
Code of Conduct and Ethical Standards for Public Officials and Employees (RA No. 6713)
Peace and Human Rights Issues and Concepts
Environment Management and Protection
RELEASE DATE
The Civil Service Exam CSE Result March 2022 is expected to be released within sixty (60) days after the examination.
REMINDER
The exam result may be released by the CSC earlier or later than the target date without prior notice.
Examinees shall obtain at least 80.00% general rating to pass the examination. Just visit this website regularly or refresh the page for further updates and information.