This is the Civil Service Exam CSE Result March 2022 Region 1 Passers (Subprofessional).
CIVIL SERVICE EXAM CSE RESULT MARCH 2022 — This is the list of Region 1 passers (subprofessional level) as released by the Civil Service Commission (CSC).
The exam results including the list of passers, top 10 passers, and other announcements related to this will be posted on this website once CSC will release it.
CSC conducted the Civil Service Examination – Pen and Paper Test (CSE-PPT) on March 13, 2022, at testing centers in Metro Manila, CAR, CARAGA, ARMM, and all regional testing centers in the country.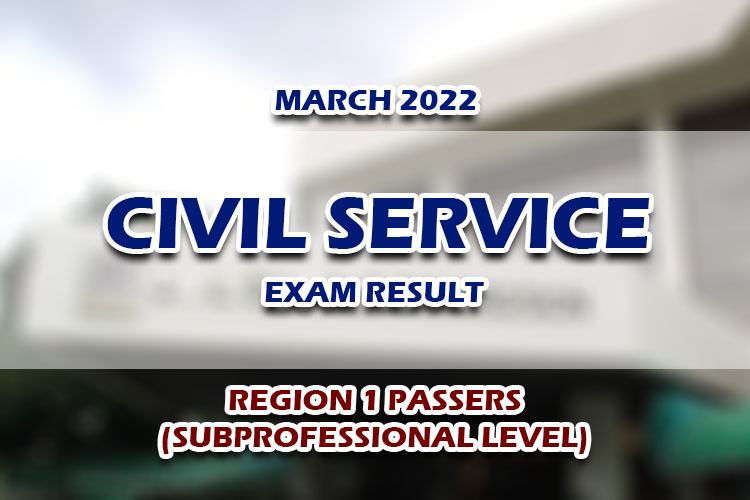 SUMMARY OF RESULTS
Here is the list of passers:
March 13, 2022 CSE-PPT
Sub-Professional Level: List of Passers
Civil Service Commission Regional Office No. 1
Name
ABELLON, GREGG JOHANESS S
ADRIATICO, JOHN PATRICK F
AGORILLA, EMMANUEL JOHN D
AGUSTIN, MARK ANTHONY B
ALBEZA, ASTRID D
ALEJO, CHRISTIAN B
ALEJO, RENNIER MARK M
AMIGABLE, IVY SHAYNE B
AMINDALAN, JOVEL CHRISTINE E
ANGELITO, RIA D
ANIPOT, ROSALIE R
ANTIPORDA, CHARLOTTE T
AQUINO, JULIUS Z
AQUINO, KAREN C
ARGUILLES, JIO SCHNEIDER F
AYSON, NORIELYN B
BALA, ARNOL JOSEPH III P
BALAAN, MARK LESTHER R
BALANON, JOYLENE F
BALANTAC, DANA MARIE R
BALLARES, GLEN ROY C
BALOLONG, JONATHAN C
BALUDO, JASMIN A
BAMBAO, GLADYS MAY C
BAMBAO, JOSEPH C
BARNACHEA, JOMAR M
BARTOLOME, ADRIAN J
BATAYEN, SHIERA MAE P
BAUTISTA, JOLINA R
BAUTISTA, NEIL PAOLO B
BAUTISTA, RUSSELL JOHN A
BENIGNO, DUANE P
BENZON, CHARILEN F
BERGONIO, KRISTINE HAZEL B
BIASCAN, JED T
BORJA, BLANCHE MARGO A
BORJA, PETER ANDREI A
BRILLANTES, RICARTE R
BUSWILAN, EDI JOY E
CABAYA, SONNY C
CABUCOL, JOY G
CABUNIAS, ALVIN CRIS A
CALIVO, JADE
CAMAGAY, PETERSON A
CARBONELL, MARY ANN CATALINA M
CARIÑO, PAUL JOHN G
CARSOLA, ROSE BELEN M
CASUGA, JELYKA MONIC D
CATABAY, BENNALYN L
CAYABYAB, ZYREN JOY L
CONDE, HAZEL KAYE H
CORPUZ, GERALDINE Q
COSTALES, BREAH MAE E
CREUS, MARJORIE P
CU, KAREN GAY A
CUMLAT, RAZEL T
CUSTODIO, KEZIAH KRYSTEL R
DAGUIMOL, FRANCES KRISTY A
DAZ, NADIA MARIELLA H
DE GUZMAN, DEMETRIO JR. F
DE GUZMAN, FREDERICK D
DE VERA, JESS AMBROS E
DELA CRUZ, JONABILLY Q
DELOS SANTOS, KRISTINE JOY C
DIEZMA, CHRISTINE J
DIMAGUILA, MARY JOY A
DIOLAZO, MOANA ALEXIS JILL C
DION, LEO JHESTER R
DIPIT, KEVIN A
DOMINGO, MARIA ABIGAIL D
DRILON, MARITHES B
DUNGAN, RAFAEL JOSE L
EGALLA-MADIAM, KIMBERLYN L
ENLISE, JENNY RUTH D
ESTILLORE, JAEFANIE H
FELIX, MARY ANN D
FERNANDEZ, ALMERA R
FERNANDEZ, NORMAN ANTHONY N
FLORES, FLORENCE N
FRAGANTE, HEDELIZA D
FRIAL, ADEL A
FRUTAS, WILHEM P
GABUTEN, BEVERLY A
GALANG, EMELY R
GALVEZ, RALPH ARVIN F
GARCIA, ERIC JAYSON T
GARCIA, WILLIAM IV R
GONZALES, ALVIN VINCENT T
GRANDE, JEANILYN B
GUIRA, LENIE JOY B
GUTIERREZ, ARLJOHN F
IDDO, REYNANTE B
IGAMA, CAROLYN C
JIMENEZ, ROSE ANN D
LACHICA, ARESEL LOUISSE G
LACUATA, MARY JOYCE D
LAGRANA, ALFREDO III M
LARDIZABAL, EVANGELINE F
LAURETA, JEZZ LEINE A
LAYCO, EVELYN L
LAZO, ROSE MAY C
LIMKUL, RINDA V
LIRA, WYNTER EDELBURGA T
LONGGAT, MAUREEN JOY C
LORENZANA, CAESAR EDISON S
LORESCO, HAZEL B
LUBONG, KAY ANN F
LUCERO, REVIN KYLE ARTEMIS D
LUGA, CESAR ANTONI R
MADIAM, MARIE JOY P
MAGGAY, IRISH GRACE B
MANAOIS, VANESSA D
MANUEL, ANGELICA A
MARARAC, EDMAR L
MARIANO, JAY D
MARTINEZ, LUIGI NOEL D
MATEO, ZENAIDA C
MEJIA, ALVIN JOHN M
MEJIA, JESSIE JR. A
MENDOZA, MADONNA C
MENDOZA, ROSE MOANA P
MENESES, CLARISSA C
MENOR, ANGELICA C
MERCADO, JOHN RAINIER B
MERCADO, MAY CHANDA O
MICUA, JASMIN M
MONTEMAYOR, MARICRIS B
NIEVA, YESSAMIN D
NISPEROS, ROVELLE M
NOCES, CHRISTIAN LEE A
OCLAY, SITTI SAIZAH JANE D
OLESCO, BLAZER C
ORIA, LOVELY P
PACNIS, NATALIE R
PADUA, MARINA L
PANELO, DIANA ROSE M
PASAMIC, MARIAH S
PERALTA, CEDRIC ALAN G
PICAR, JAY RANNIER P
PINGUL, MICHAELA F
POLI, MARIA CECILE A
PONCE, ERWIN T
PUNIO, ROSELIE P
PUYOT, RONALYN S
QUEROL, RAISA T
QUERUBIN, ARCHIE JAN N
QUILAL-LAN, ANNIELLE THERIZ A
QUINDAY, HAYDEE U
RABANAL, EMILYN C
RABE, MARY GRACE A
RANADA, JOSE FRANCISCO JR. R
RAS, MICHAEL ANGELO F
REYES, JACK LORD L
REYES, JESSICA M
REYES, JOCEL ANN T
REYES, MANUEL JR. A
REYES, VLADIMIR MARX V
ROMERO, JUDEA MIKKA M
ROSARIO, JEKKA JOMIL A
ROSARIO, RENEE NOREEN C
ROSARIO, RIANNE NICOLE C
RUBIO, DONIFEL M
RUBIO, JANICE B
RULLODA, DANICA MAE D
SALAZAR, BEVERLY ANN T
SALAZAR, PRINCESS MAE A
SALTAT, LADY LYNE F
SAMANIEGO, JAY R
SAMONTE, ALEXANDRA N
SAN JUAN, DANILO L
SANTIAGO, ELAMAE F
SANTOS, FLORENCE NERRY B
SEVILLA, MANUEL JAN MAVERICK A
SHAGOL, AMMEL T
SIBAYAN, HANNIE ROSE T
SILLATOC, JANET R
SOMES, MELYMAR A
SULIT, K-MAR S
SURATOS, TEODORO JAN R
TABANGCURA, LEVHIE ANNE M
TABLADA, JADE J
TABUYO, FEVIE ROSE E
TACAY, JULIE ANN Q
TACTAQUIN, JOHN RYAN D
TADIFA, WINNIE O
TAMONDONG, ABBY JULIANNE M
TAMONDONG, TANYA GRACE M
TERSOL, CELY NITA R
TINIO, LADY AIMEE LLYN R
TOMELDAN, MARNIE G
TORRES, STANLEY A
UBUNGEN, JOAN E
UMAGUING, VIVIAN C
UY, KHANDY A
VALDEZ, LORENZO FRANCIS R
VALDRIZ, DIANE G
VELASCO, ELLAINE JANE O
VIDAL, AIN ISRAEL P
VIERNES, LOUELLA BIANCA Z
VILUAN, AEROL C
WENCESLAO, REYNALYN B
ZABLAN, JASMIN P
EXAM COVERAGE
Subprofessional Level (in English and Filipino)
Numerical Ability (Basic Operations; Word Problems)
Clerical Ability (Filing; Spelling)
Verbal Ability (Grammar and Correct Usage; Vocabulary; Paragraph Organization; Reading Comprehension)
General Information (professional and subprofessional levels)
Philippine Constitution
Code of Conduct and Ethical Standards for Public Officials and Employees (RA No. 6713)
Peace and Human Rights Issues and Concepts
Environment Management and Protection
RELEASE DATE
The Civil Service Exam CSE Result March 2022 is expected to be released within sixty (60) days after the examination.
REMINDER
The exam result may be released by the CSC earlier or later than the target date without prior notice.
Examinees shall obtain at least 80.00% general rating to pass the examination. Just visit this website regularly or refresh the page for further updates and information.