This is the Civil Service Exam CSE Result March 2022 Region 4 Passers (Subprofessional).
CIVIL SERVICE EXAM CSE RESULT MARCH 2022 — This is the list of Region 4 passers (subprofessional level) as released by the Civil Service Commission (CSC).
The exam results including the list of passers, top 10 passers, and other announcements related to this will be posted on this website once CSC will release it.
CSC conducted the Civil Service Examination – Pen and Paper Test (CSE-PPT) on March 13, 2022, at testing centers in Metro Manila, CAR, CARAGA, ARMM, and all regional testing centers in the country.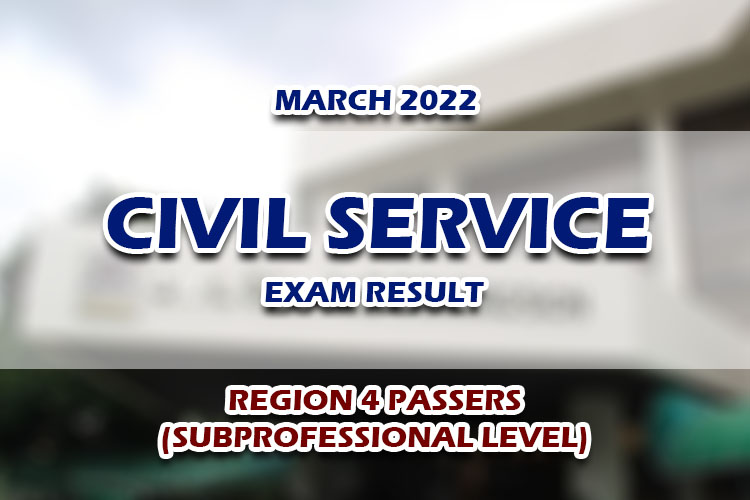 SUMMARY OF RESULTS
Here is the list of passers:
March 13, 2022 CSE-PPT
Sub-Professional Level: List of Passers
Civil Service Commission Regional Office No. 4
Name
ABADILLA, RODERICK C
ABAJA, AROLD KEANU C
ABAN, RAMON M
ABAS, ANTHONY JORDAN G
ABE, VAN CHRISTIAN LEE C
ABESTADO, ELEAZAR C
ABETRIA, MYUNG GEM R
ABOROT, ARNEL B
ACEBEDO, MARK ALVIN C
ACEDERA, DARWIN B
ADEL, RITCHEL MARIE C
AGLIHAM, JHERVIE MHAE A
AGOJO, GERALD P
AGUIRRE, EDILBERTO JR. L
AGULTO, JENNELA B
ALA, ALVIN O
ALANO, ISABEL A
ALARCON, PHILIP B
ALCALA, CLINT F
ALEGRE, ROSE ANN B
ALEJANDRO, MYLENE M
ALMONTE, NOVELYN C
ALVARADO, MARY JANE A
AMIGO, GLADDYS P
AMPE, MARDINARD A
ANIT, CRISANTO E
ANTAZO, ROCHELLE C
ANTHONY, LEA MONIQUE B
ANTINERO, MARIEL R
ANTONIANO, LAILA S
ANTONIO, ALMA A
ANTONIO, PERCIVAL I
APORADO, PEARLY ANN P
AQUINO, CHRISTOPHER M
AQUINO, JANICE F
ARBES, MIKO JOMEL B
ARENIO, RONA G
ARGUELLES, PRINCE PHILIP N
ARMEDILLA, WENDELL VON NIKKOLAI K
ARRAVEZ, MELODY H
ARTEZA, JEROME M
ARVIOLA, MARJORIE JOYCE B
ASI, JOZIEL ANNE C
ATIENZA, ABEGAIL M
ATIENZA, KIM U
ATIENZA, MARIA CRISTELLE ANN F
ATIENZA, RJAY A
ATO, JERICO B
AUSTRIA, RICO
AVELLANO, NEIL ANDREW B
AXALAN, MARK CHRISTOPHER G
AYOS, JOEL M
AYUNAN, JEZRAEL D
AÑONUEVO, ROANNE F
BAASIS, ARNIE R
BAGTAS, MATTHEW S
BAHIO, BOBBY R
BALDOVINO, DARRYL A
BALTOLARE, VICTORIA S
BAMBA, MARIBEL A
BANAAG, JOCELYN F
BANDERADA, CAMILLE A
BASAS, ALVIN M
BASCON, MARIA TERESA CONSUELO C
BATALLA, ELEANOR P
BAUTISTA, HARVEY JOHN P
BAYONA, AGNES G
BAYUGO, ARLENE M
BEGUINA, CHARMINE M
BELINO, NORMAN DT
BELZA, LAURIANO III P
BERCE, MARK ALVIN G
BERNARDO, ELVIN M
BLAS, RALPH ANTHONY N
BONEO, MARYJANE P
BONZA, JOHN VINCENT J
BORJA, CREN MARIE P
BORJA, MARICAR P
BRIONES, AIMEE GRACE H
BUENVIAJE, MA THEA JEIEL R
BUMATAY, JASMIN DG
BUNO, JINKY A
BUROG, GLENDA M
CABAHUG, MONA LIZA A
CABRAL, GEONIVER S
CABRAL, MARIA BRIDGETH T
CADAPAN, MIKE LEO P
CAHAYON, MARK JUN A
CALANDAY, SHELA A
CALISAAN, BARBIE P
CAMARADOR, CHERRY T
CANALS, DELIA L
CANARIO, JOY-ANN S
CANILLAS, CRISSY LEI C
CANILLO, KHYRA MEI F
CAPUNITAN, GENESIS JOYCE H
CARANDANG, JOLEAN F
CARANDANG, RONNEL M
CASAÑA, CLARISSA G
CASTILLO, CHRISTIAN B
CASTILLO, GLENN G
CASTILLO, PAUL NEVIO R
CASTILLO, ROMA ANGELYN F
CATAJE, ROCHELLE T
CATAMPUNGAN, REANA SUZITTE B
CATAPAT, ANGELU A
CELERIDAD, DANILO V
CEQUEÑA, HANNA LHYN T
CERDA, CATHERINE A
CHAMORRO, MARILOU B
CHAVEZ JR, ADOLFO M
CHULVO, RAYMUND B
COMO, LUDELYN M
COMPAS, JOAN M
CORNEJO, JHON VHEL L
CORTEZ, RACHELYN B
COSTALES, PRINCESS MARNY JEWEL M
CRIZALDO, SHARMINA G
CRUZ, CARL JHOMER M
CRUZ, REYNAL F
CRYSTAL, RONAN H
CUSTODIO, JOSE ANTONIO M
DALAG, FRANCIS KENNETH L
DAR, JENNIE GRACE F
DATUMANONG, JOHN LEXTER A
DATUR, JACQUELINE V
DAUBA, ROCELYN N
DAÑEZ, SHEILA A
DE BORJA, DOROTHY P
DE CASTRO, MA JEANELLE B
DE CASTRO, REHJELL C
DE CASTRO, ROMELLA A
DE CHAVEZ, ANNA MARIE P
DE CHAVEZ, GEN MAR K
DE GUZMAN, RAZEL V
DE GUZMAN, REYNALDO Z
DE LARA, ANGELI LORRAINE P
DE LEON, DORAINE P
DE LUNA, JESTER S
DE LUNA, KAREN D
DE RAMOS, LOVELY H
DEL MUNDO, ALDRIN P
DEL ROSARIO, CHARMAINE A
DEL ROSARIO, JANELLE ERIKA P
DELA CRUZ, NARISSA B
DELIMA, JOSELITO C
DELOS SANTOS, PHIL MAE ANN A
DESTOR, JANICE A
DICEN, LEANDRO DJ
DICHOSO, MUTYA T
DIMACULANGAN, LEA ROSE G
DIMARANAN, JERIH MATHEW B
DIMAYUGA, JEF JAIRO M
DIOLA, GINA A
DIOSO, CLARISSEL E
DOMINGUEZ, ABBEY GAYLE V
DONES, JONABELLE H
DUMANGAS, ANNE CERES A
ERSANDO, ANNA PATRISHA N
ESCALONA, JORMON M
ESCOBAÑEZ, FREDA MAY O
ESGUERRA, MA THERESA F
ESPAÑOLA, KATHERINA L
ESQUINAS, EXEQUIEL D
EVANGELISTA, ACE J
FAJARDO, JOY ANN B
FAJILAN, JANEIL P
FERAER, LAARNI C
FERANIL, EDLY JANE F
FERNANDEZ, STEPHANIE PRAISE T
FERRANCO, MARRY ROSE ANGEL D
FERRER, JOAN JOY M
FERRER, LOU ANGELA C
FIDEL, GIBELLE ANN R
FLORES, DANIELA
FLORES, PATRICIA ANNE M
FOJAS, MICHELLE C
FRANI, ARIES P
GABALFIN, NEIL AUGUSTUS R
GAJON, MARJORIE C
GALEMA, MYRONE RAY P
GALES, JENELYN SHEVENA S
GALINGANA, CESAR DG
GANDIA, JOLIE FE L
GARCIA, BENIFE D
GARCIA, KATHLEEN MAE A
GATON, LUCILIE G
GELLE, MA RAQUEL P
GO, KRISTINE JOY T
GO, LOU MARIAM R
GONZAGA, PRINCESS C
GONZAGA, RENALYN A
GONZALES, ALLAN P
GONZALES, MA ANJENETTE N
GOYENA, JERSON LOUIE C
GUERRA, LORIENA T
GUMBA, RHONA MAE H
GUPO, GINA G
GUTIERREZ, CAROL S
GUTIERREZ, MA ALLYSA ROSE C
GUYAGON, ROWENA A
HERNANDEZ, FRANCIS A
HIPOLITO, RAMIL JR. R
HOFILEÑA, JOREL M
HOLGADO, MAPHY J
ILAGAN, RINA G
ILAGAN, SHAINNA AMOR R
IMPAS, JERALD L
JACALNE, BEBILYN T
JACINTO, APRIL ROSE B
JACOLBIA, CHRISTIABELLE C
JAYNO, JANCARL ROMANO B
JORILLA, MARY ANN G
LAGARDE, LEVEE BETINA MARIE A
LAGDAMEO, MARIA ESPERANZA S
LALUNIO, PATRICIA LOIS S
LAPLANA, EMMA R
LAPUZ, DENNIS EDWARD L
LARA, MARIA ANUNCIASION C
LAROZA, MAAN B
LASAC, JEZREIL ERNESTO H
LEDESMA, ALONICA C
LEE, LEONARDO JR. G
LETRAN, ELMUND DAVE L
LEYNES, CHARMAINE V
LINDAYAG, JENIFER C
LINIS, ANNA LAUREN F
LLACER, LAURENCE OLIVER
LOPEZ, JHON LESTER A
LOPEZ, MERYLL MARIAN I
LUARCA, EDMAR M
LUBIGAN, JOHN KIM E
LUCAÑAS, MIKE ALVIN D
MABILOG, RYCHWELL G
MABULAY, AIMEREEN A
MACALINDONG, FELICISIMA D
MACANDA, CHERRIE JEAN P
MACAPAGAL, JESSELLE Z
MADLA, JUAN PAULO DG
MAGAS, PAMELYN HOPE C
MAGBANUA, MEG DENNEB P
MAGDALI, EVANGELINE M
MAGPANTAY, FRANK JOSEPH I
MAGTIBAY, LORENA O
MALABANAN, MAXEST T
MALICDEM, MARICEL P
MALILOM, REA M
MALIMBAN, LAURICE D
MALINAO, JUVIC G
MALINIS, ANNE MAE R
MALLARI, JEFFREY S
MALUBAG, MARVIN V
MAMINTA, GILBERT D
MANALO, MA NEVILLE A
MANAOG, ALYZA C
MANDRIQUE, ROSE ANN A
MANGLICMOT, MARIEL MILMOORE M
MANGUBAT, RONIEL C
MANGURALI, IAN M
MANIO, MA YSABEL M
MANLANTAO, HAZEL L
MANSALAPUS, CARLA N
MARASIGAN, MAE ANN A
MARASIGAN, ROMUALDO D
MARIGONDON, MON CARY O
MARQUEZ, BONIFACIO DL
MARTINEZ, MA SHERYL C
MASANGCAY, JONAS M
MASANGKAY, ACE RALPH T
MASANGKAY, JOHN ALBERT S
MATEMATICO, JOSHUA C
MATUSALEM, RUPERTO JR. T
MATUTE, ARMALYN B
MAYCACAYAN, MARIA CRISTINA DJ
MENDENILLA, MA FATIMA A
MENDOZA, DENIELLA ANNE A
MENDOZA, FLORENCE V
MENDOZA, LAX JUNNEL DV
MENDOZA, VIVIEN THEA C
MERCADO, MARLON M
MEÑEZ, MARUJA Q
MIADO, GLYZELL JOLINE B
MIJARO, JAYNE NICCA VIANCA M
MOLDOGO, ELOISA F
MONDERO, CHARLES DEXTER P
MONSANTO, RENNIER M
MONTES, KAREN MAE G
MORA, KRISTINE G
MORONG, ALEX R
MORTELL, MANUEL C
MOTOL, SHERLY ANN P
NACA, JASTIN DANIELE ALI L
NARSOLES, ELEE NATHESA G
NATO, EJ SHARMINE C
NEBRES, MA DOLORES CORAZON A
NOLLEDO, AMEIL VER V
NUESTRO, GIECEL F
NUEVA, JANICE U
NUÑEZ, RALPH LAUREN T
OBIAL, KRISTINE CRIZANDRA P
OFLARIA, RONIEL D
OLAVARIO, RHOANN M
OLOTEO, NORILYN T
OLYMPIA, FROILAN JR. C
ORALLO, JEWEL ANN D
ORTEGA, AARON RAM N
ORTEGA, MELAN CARLA L
OSORIO, RENZY L
PABIEN, CHARLOTTE JEAN T
PABILONIA, PAMELA M
PADILLA, MARICAR Z
PAGLICAWAN, FRANCO CEASAR O
PAGUINTO, MARVIN P
PALATINO, EDUARDO A
PALOMO, GLAIZA D
PAMATIAN, MARY JOY S
PAMPLONA, JENNIFER L
PANGILINAN, ABIGAIL L
PANGILINAN, LILIAN E
PANSOY, VILMA W
PARCO, IRMA FE D
PARUMOG, GLORIA V
PAZ, JOYLEENE GRACE D
PEDROSA, SHANE MARNILOW C
PELEGRINA, KIMBERLY V
PEREY, MADEL ANN C
PERIDO, JAYVIE A
PEÑAMORA, LAILA A
PEÑAOJAS, LICEL U
PIGUERRA, ROBERT R
PINES, GENIEROSE R
PITAGAN, LUCIA B
PLATA, GRACIELLA S
POBLETE, ARJELYN B
POBLETE, QUEENELYN DL
POBLETE, RENJIE B
PRIVADO, JHON FIEL P
QUEBRATA, TONYROSE O
QUINTO, JAMES LOUIE D
QUITORIO, SHERYL Q
QUIZON, RYAN JOSEPH S
RABANG, JOSE ARIEL B
RALA, JENNELYN L
RAMIREZ, DIANA-LYN R
RAMIREZ, ROBYMHAR PRINCE J
RAMOS, ELLA MAE B
RAMOS, GIRLIE F
RAMOS, MARIETA N
RAMOS, NELIA A
RAQUIZA, JOANNA MAE B
RAYMUNDO, DIANA JEANE B
RAZ, MARIA KATRINA A
RAZON, JOHANNE MAE J
REA, AQUILINA B
REANZARES, PAULA BIANCA F
RECAHUERTA, AIZA S
RECINTO, MARIZA L
REDUBLA, ROXANNE V
REDUBLO, MARY JANE S
REGALA, RECHEL C
REGIS, RAFAIM L
RENCIO, JUSTINE MAE DR
REYES, AYRAND KENNETH T
REYES, GIERONE LIANNI A
REYES, KRISHIA CAMILLE M
REYES, MARIA VIELA M
REYNOSO, REINA IZA LOBELL DL
RICAFRANCA, MARK ANTHONY M
RIVERA, MARIA GRACIA C
RIVERA, ZHARRY KEESLAIR V
ROCABERTE, SHERYL V
ROCO, AILYN M
RODAS, SHENNA R
RODERO, GRACITA A
RODIL, CYRIL NJ M
RODRIGUEZ, NORALYN M
ROM, MARIES D
ROSANO, ROWEENA LYNN P
ROSAS, MELANIE P
SABEJON, JESSABEL A
SADICON, JONNABELLE Y
SAEL, JONALIZA F
SAGARAL, RONEL L
SAJUL, ADNEXA B
SALAMATIN, MACRIN G
SALAZAR, BRIAN C
SALCEDO, SHIELA M
SALIGUMBA, JHOMMEL V
SALVANERA, PRECIOUS P
SALVATIERRA, ROSE JEAN V
SAMONTE, CELINE KARMANN C
SAN DIEGO, ROMEO R
SAN JOSE, MA HEIZEL C
SANCHEZ, MA CELESTE A
SANCHEZ, ROCELLIN D
SANTIAGO, RAYMARC L
SANTOS, ALDRIN P
SANTOS, BERNADETTE N
SANTOS, GRACE M
SANTOS, RAD DT
SARMIENTO, LADYLYN JAY A
SEBIO, SABRINA J
SELGA, MIZCHEL A
SERAD, EDJARA M
SESE, ALEXIS T
SEÑO, MELGEANE D
SILAN, JEMARIE A
SILVESTRE, ANGELOU G
SOLER, ROBELYN N
SOLOMON, VICTORIANO JR. R
SORIANO, MAILA C
STA ANA, LEA S
STO DOMINGO, PAUL ANDRENE L
SUMILANG, RYUNICO RAY C
TABANG, REALYN J
TABOR, GERALDINE T
TALATALA, DIANA MAE C
TAN, EMMANUEL A
TEAÑO, JENERLYN J
TOMAS, LORENZ T
TORRES, KARINA M
TRAQUEÑA, JHOANNA MARIE J
TUMALIWAN, ANNE F
UBOD, HAMZA S
UMALI, CHRISTIAN A
UNLAYAO, MA NESTLIE M
URBANA, DIANNE AIRA B
VALDEZ, VIA D
VALENZUELA, AHREEN KAYE R
VALLES, CHERRIE ANN M
VALLESTERO, PRINCESS C
VARIAS, CAROLYN LEI V
VARRON, NIKKO A
VELASCO JR, RODOLFO V
VELASCO, EURAINE L
VELASCO, JOHN RANDOLF M
VELORIA, ALLEN R
VENTURA, FLORECAR V
VILLALUNA, CLIFFORD JILL T
VILLALUZ, FRANS JOSEF B
VILLAMOR, JESUSA A
VILLANUEVA, JANU G
VILLANUEVA, JOSA BERNADETTE C
VILLAROSA, COLEEN RENCEL DL
VIVAR, EDWARD E
YEPES, JAY MARK O
YNIETO, JERELLE G
ZARAGOSA, JOHN ALBERT G
ZORILLA, YLIEZIA JYRONNE E
EXAM COVERAGE
Subprofessional Level (in English and Filipino)
Numerical Ability (Basic Operations; Word Problems)
Clerical Ability (Filing; Spelling)
Verbal Ability (Grammar and Correct Usage; Vocabulary; Paragraph Organization; Reading Comprehension)
General Information (professional and subprofessional levels)
Philippine Constitution
Code of Conduct and Ethical Standards for Public Officials and Employees (RA No. 6713)
Peace and Human Rights Issues and Concepts
Environment Management and Protection
RELEASE DATE
The Civil Service Exam CSE Result March 2022 is expected to be released within sixty (60) days after the examination.
REMINDER
The exam result may be released by the CSC earlier or later than the target date without prior notice.
Examinees shall obtain at least 80.00% general rating to pass the examination. Just visit this website regularly or refresh the page for further updates and information.