This is the Civil Service Exam CSE Result March 2022 Region 6 Passers (Subprofessional).
CIVIL SERVICE EXAM CSE RESULT MARCH 2022 — This is the list of Region 6 passers (subprofessional level) as released by the Civil Service Commission (CSC).
The exam results including the list of passers, top 10 passers, and other announcements related to this will be posted on this website once CSC will release it.
CSC conducted the Civil Service Examination – Pen and Paper Test (CSE-PPT) on March 13, 2022, at testing centers in Metro Manila, CAR, CARAGA, ARMM, and all regional testing centers in the country.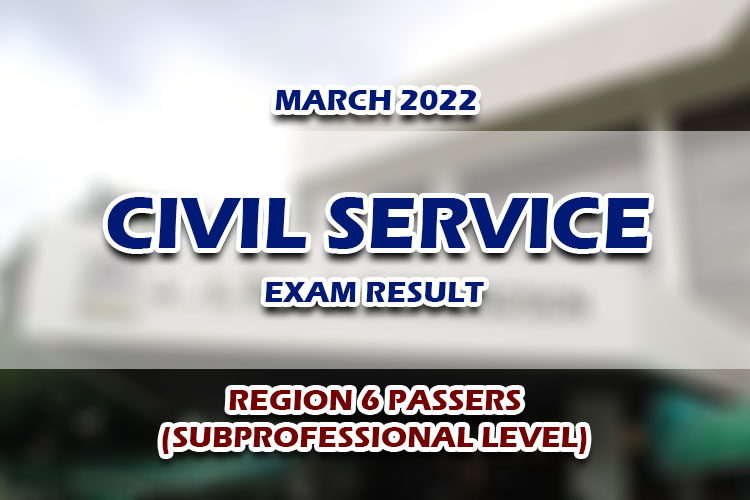 SUMMARY OF RESULTS
Here is the list of passers:
March 13, 2022 CSE-PPT
Sub-Professional Level: List of Passers
Civil Service Commission Regional Office No. 6
Name
AARON, MARY GRACE C
ABAO-AN, CHARLYN M
ACUÑA, ARNYLE P
ADIONG, JOY CHRISTIE B
AGRAMON, RAUL RYAN G
AGRAVIO, ALLIAH KAYE J
AGUILAR, IRIS M
AGUINALDO, VICKY V
ALAYON, ANGEL ROSE S
ALDEFOLIO, JUNEL S
ALEMAN, RICYL Z
ALIMON, MAYBELLE F
ALIMONSURIN, NEO JAN B
ALOJEPAN, BEVERLYN C
ALONZO, BEA T
ALVAREZ, DENNISE SHANE P
ALVAREZ, LIAN KRYCEL E
ANDOG, CRISANTA T
ANDRADE, HANZEL V
ANDRADE, JUNALIE GRACE D
ANGUSTO, NICTHER P
APURA, LEELA ANNE T
ARABIA, VANESSA M
AREGLADO, JOSEPH JR. T
ARELLANO, MA DOLORES A
ARNADO, NIKKA A
AROSTIQUE, VINCENT ANTHONY C
ARQUIOLA, CRISTINE CHARRIE B
ARSENAL, DENNIS S
ASIGNACION, CECILE V
ASPAN, BERNICE ANGELA
ATIDO, GEE A
BACALANGCO, ROSEMARIE B
BACLAY, CZAR ANTHONY O
BACTUNG, LAYRA MARIE C
BALIDIO, DANIELLA P
BANTAY, JULIE D
BARCE, DANA JO B
BARCOMA, HELEN B
BARGO, KENNY P
BARIACTO, KRISTINA C
BARTOLO, DONNA JEAN P
BARTOLOME, MARY ANTONETTE M
BAUL, MICHELLE B
BELDIA, KIM IAN T
BELLONES, CONNIE ANN M
BENJAMIN, JOHN MICHAEL T
BENLOT, MARK CHRISTIAN B
BENO-ELOS, NOAJHEN D
BERNALES, JOHN RYAN B
BESIÑO, KEN DOMINIC B
BEUP, GLEN P
BORDAN, JENELYN A
BORNALES, CHRIST ANN O
BORRES, JERONE B
BUGNAR, JENNIFER C
BUÑOG, JOY V
CABALUNA, GLORY JOYCE A
CABIA, DANICA L
CABUCOS, LIEGHANNE J
CABUGUASON, IRIS MAE G
CAGALCAL, REGIE M
CAGALCAL, RIZZA M
CAHILIG, PAMELA ANN P
CAJABAN, CORA H
CALVEZ, KASSANDRA G
CANONG, IRISH MAE D
CAPORAS, MA LORENA T
CARMAN, MARIA WENCHELLE B
CARNAJE, LESTER JOHN M
CASIANO, JESSE S
CASIPE, JENNIFER T
CASTRO, JONALYN D
CELESTE, JENNY B
CELESTIAL, JESSA JANE T
CENAL, KRISTEL JOY A
CERBO, THERESE G
CHAVEZ, JOSEPH V
COLASISANG, DANEZA MARIE M
CONLU, MARIA ROSELIA V
CORDOVA, MARK ACE L
CRISTALES, HEN-REY M
CUSTODIO, IZRAH JANE D
DALUMPINES, DAVID ANTHONY A
DANIEL, JOSARIL MARK F
DARIA, WILMAR CHRISTOPHER M
DAVID, SARAH MAE N
DE JUAN, NEMCEL A
DE LA RAMA, JUN MAR Z
DE LOS SANTOS, KENT C
DECENILLA, ARDEN A
DEGUMA, ANGEL JOY F
DEJERO, ROCHEL LUCILLE M
DEL ROSARIO, CHRISTINE JOY A
DEL ROSARIO, JIEZEL MAE C
DEL ROSARIO, RIZZA JOY C
DELA CRUZ, CRIS DALLE N
DELA CRUZ, MARK NIÑO A
DELANTE, MYLEN B
DELAY, JAYCEL D
DEVILLES, JHONA MAE R
DIAZ, JADE M
DICHOSON, ALSON REY D
DIESTRO, MARICAR G
DIOCSON, GEN C
DIONIO, DUCHIS JADE L
DORMIS, ANNA NICOLE
DUREZA, STEIFEN O
ECHALAR, RUTCHELL T
ELLORAN, ALEXIS LOUIE B
ESCAÑO, JESSICA ELAINE G
ESCAÑO, MICHELLE T
ESCUTIN, GIDEON JOHN S
ESMALLA, EDZEL J
ESMAÑA, PEARLY G
ESPARTERO, ABNER A
ESTACION, JENNIFER L
ESTIOSO, JOYCE FE Q
EZAR, YZA BRENIELLA R
FABELLO, JENNY LYN F
FARINAS, MICHAEL C
FAVILLA, MARIA VIOLETA R
FEBRERO, SHIELA MAE O
FELICIO, STELLA M
FERANIL, LLUVIE MARIE B
FERNANDEZ, CHRISTINE M
FERNANDEZ, JUDY ANN L
FLAVIANO, JELYN E
FLORES, MICHELLE O
FRANCISCO, VIA C
FULGENCIO, KRISHA MAE F
GABALES, LYNETTE G
GABAYOYO, CHRISTINE JOY Y
GABINO, DANICA D
GADUYON, STEVEN M
GAITAN, RHEA G
GALIA, LOREN A
GALLEGO, MARY MAE G
GALLENTES, RICARDO JR. G
GALLETA, BRIAN HERSON C
GANANCIAL, JENILYN N
GARCESA, JERNIE VI S
GARCIA, JENNIE GEE R
GARIN, MA REIZL ANN T
GATON, JOVEMIL S
GELONGO, JUDITH A
GENOLOS, ANGEL KATE A
GEPES, IAN L
GIMARANGAN, HOPE GRACE T
GIMARANGAN, NANE JOSHUA T
GONZALES, GLENEY MAE L
GORANTES, JOSELLE T
GOTERA, ANGELA CHRISLYN M
GRANDE, ANDREW LLOYD B
GUANCIA, JOSHUA J
GUELOS, STIFANY S
GUEVARRA, REGGIE SHUZZANE N
GULMATICO, JOANNA J
HECHANOVA, NOELA G
HOFILEÑA, DANICA ANN V
HULGUIN, JOY A
ICHIKAWA, EYVIN C
JACILDO, REYNALYN F
JAGDON, JUNEE JEEN P
JALANDO-ON, MARK LESTER A
JALBUNA, FRITZ VAL S
JARANILLA, SHAYNE ANNE L
JARDIOLIN, MARY GRACE V
JOMOCAN, REYNANTE JR. A
JUANILLO, JADE P
JULITO, JOHN BERT T
JUSTALERO, JUSTANE J
KIDLAT, CHRISTIAN A
LABIAGA, NOREEN A
LABTO, KEZHA KAYE M
LACHICA, NICHOLAS III E
LACSON, MARITES A
LACUAS, DAIREL JOY P
LAGUNDAY, RAY ZAN A
LANDRERO, JOSETTE ANNE T
LAPUS, WELLA JEAN Y
LAURENCIO, JANICE O
LAURINO, LENNIELYN L
LEGAJE, ANGELIE D
LIRAZAN, GLADYS L
LOPEZ, ESTER S
LUCENCIO, NECOLE D
MADJOS, JURVIN JIM B
MAGAPAN, KRAZZEL A
MAGBANUA, JAY LORD O
MAGBANUA, MARVIENN D
MAGBANUA, TRICIA P
MALAPIT, YVONNE KAYE P
MANGOTARA, OMBAWA JR. A
MANGUITO, TESSIE MARIE A
MARIANO, JUDEN R
MENDOZA, SANDER C
MEÑEZ, MICA R
MOLANO, DONA JANE N
MONTELIBANO, PELEIAH B
MORO, MARY IVY T
MORO, MARY JOY T
MOSURA, ASTRID GRACE T
NABOR, ALEVIR NIÑO R
NALDO, APRIL JOY F
NECOR, MICHAEL JAN A
NGALONGALO, LILY GRACE S
NONO, HAZEL JOY M
NOVILLA, JACKIELYN G
OBSINA, MARY CLAIRE V
OCAMPO, CHARLES NICHOLE M
OCCEÑA, MARK VALENTINE S
OCTAVIO, IRENE M
OLAVERE, DIANA MAY A
OLIPENDO, MIA P
ONATO, MA SWETTIE A
ORCASITAS, SHYLA LAINE C
ORO, MARY GRACE B
ORTEZA, HOLDEN ROY L
ORTIZ, MERRY GRACE F
OYCO, MIKKI PAULA L
PABIONA, MARJORIE G
PACARDO, SOPHIA LOREN C
PADILLA, ROLLY JR. C
PAGUNSAN, PAUL JOSHUA G
PALAD, MARC KEVIN A
PALMA, SARAH D
PASPIE, ALOYSIA RANDI Q
PEDERO, JENNY N
PELAEZ, YVETTE MAE D
PELINGON, ZANDRA S
PORTADO, DIANA ROSE P
PROLOGO, MA JENNETTE A
RAMOS, DANIEL N
ROBLES, VENICE YUSILKA B
ROJO, MA CHLOE BILLE V
ROMBINES, MARIA NIÑA B
ROMERO, TREENA DAWN A
RUELES, HANNAH JANE J
SACANLE, QUEENLYN V
SAITON, REZEL JOY C
SALAZAR, MAE ANN J
SALMO, APRIL ROSE P
SAMILLANO, FRANK JOHN D
SAMSON, GLYCEL P
SANTIAGO, KRIS ANNIE A
SANTOS, MARVIN C
SARABIA, MA ANGELIQUE C
SECONG, JIKKO HANROD M
SEJAS, JOBELLE M
SEVILLE, NOHR LYSLY A
SO, JOHN WOLFGANG T
SOBREVEGA, ANNA LIZA L
SOLIGUEN, CATHERINE B
SONIO, JOHN PATRICK C
SUMILIG, KRISMALYN T
SUYOM, SHENA MAE B
TABAQUE, KRISTINE JOY J
TACARDON, LIZBETH F
TALIDANO, JUDY ANN S
TAMAGOS, VINCENT JAMES G
TAMAYO, MATTHEW T
TENERIFE, JOSE RAFAEL P
TOBILLA, STEPHANIE S
TOLENTINO, JOSHUA S
TOLENTINO, MA TERESA L
TOLENTINO, PAULINE KATE R
TOPACIO, CERILO F
TORDESILLAS, JEANNY N
TORIANO, JEWEL FAITH M
TUASON, JULY MAE M
UNABIA, JAMAICA D
VALDEVIESO, ARMI JOHN C
VALERIO, ROBELYN G
VARGAS, MA CARMEL C
VELADO, INAZEL L
VERGARA, JOHN CHRISTOPHER B
VICTORIANO, ACE D
VILLANUEVA, JOHN SHELOU L
VIPINOSA, STEPHANIE JANE F
VISTAR, LORINA M
VIVAS, CLARESSA C
YASOL, NIÑO ALDRIAN R
YOCOGCO, DOLY PEACH ANNE P
YORO, PETER CLYDE M
ZAFE, MA VINA D
ZAMORA, BATZ D
ZOLINA, RAW SIENA S
ZULUETA, JOSE PAOLO L
ZULUETA, JULES DOMETH E
EXAM COVERAGE
Subprofessional Level (in English and Filipino)
Numerical Ability (Basic Operations; Word Problems)
Clerical Ability (Filing; Spelling)
Verbal Ability (Grammar and Correct Usage; Vocabulary; Paragraph Organization; Reading Comprehension)
General Information (professional and subprofessional levels)
Philippine Constitution
Code of Conduct and Ethical Standards for Public Officials and Employees (RA No. 6713)
Peace and Human Rights Issues and Concepts
Environment Management and Protection
RELEASE DATE
The Civil Service Exam CSE Result March 2022 is expected to be released within sixty (60) days after the examination.
REMINDER
The exam result may be released by the CSC earlier or later than the target date without prior notice.
Examinees shall obtain at least 80.00% general rating to pass the examination. Just visit this website regularly or refresh the page for further updates and information.