This is the Civil Service Exam CSE Result March 2022 Region 5 Passers (Professional).
CIVIL SERVICE EXAM CSE RESULT MARCH 2022 — This is the list of Region 5 passers (professional level) as released by the Civil Service Commission (CSC).
The exam results including the list of passers, top 10 passers, and other announcements related to this will be posted on this website once CSC will release it.
CSC conducted the Civil Service Examination – Pen and Paper Test (CSE-PPT) on March 13, 2022, at testing centers in Metro Manila, CAR, CARAGA, ARMM, and all regional testing centers in the country.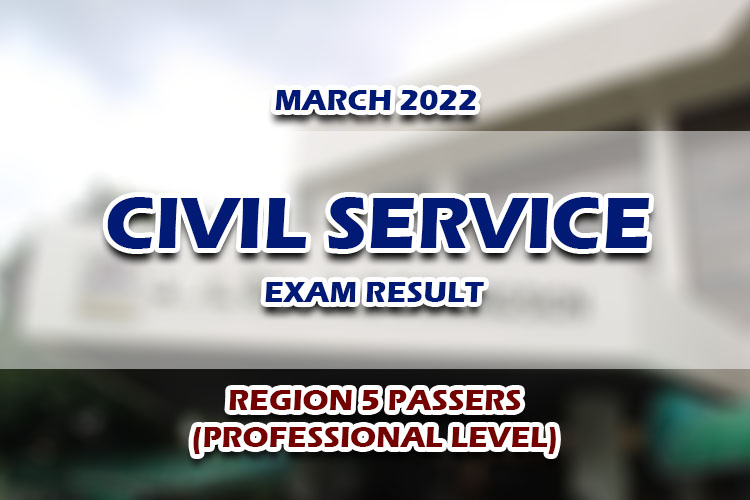 SUMMARY OF RESULTS
Here is the list of passers:
March 13, 2022 CSE-PPT
Professional Level: List of Passers
Civil Service Commission Regional Office No. 5
Name
ABAINZA, LUZ B
ABANTE, JELANIE A
ABEJUELA, ACE M
ABELINDE, JENNY ROSE S
ABIAS, MARGARITA V
ABINAL, MAIA NOREEN KAYE D
ABONITA, EMMANUEL A
ABORDE, KENNY P
ABUNDO, CAMILLE ROSE S
ABUNDO, SER KARLO V
ACHACON, DAVID X B
ACOJEDO, ROSE ANN P
ADIGUE, CHRIS JO A
ADILLE, JEMMARIE S
ADINA, CHARM B
ADINO, CORA P
ADIQUE, JASON C
ADOLFO, BLESSED GEM H
AFABLE, LAURENCE C
AGONOS, CAMILLE P
AGRADE, MARVIN T
AGUILAR, ANDREA MAY A
AGUILAR, LADY LYN C
AGUILAR, SHERELL A
AGUILAR, VERONICA P
ALAM, BERNARD ALLAN P
ALAMER, PAULA E
ALANIS, JOSHUA A
ALANO, SEAN MATTHEW D
ALAURIN, JOBELLE D
ALBAR, ABEGAIL G
ALBAY, DIAN E
ALBURO, ARGIE R
ALCANTARA, CHRISTOPER RICHARD R
ALCANTARA, ELEONOR P
ALDAVE, MARK LAWRENCE G
ALIANZA, MARIA MARIES M
ALIS, ABELARDO C
ALIVEN, PORTIA G
ALIÑO, AGOSTO E
ALMAZAN, BRYAN D
ALMELOR, SERGIO JR. T
ALUZAN, RELLIE JAKE P
AMARANTO, RIALEX M
AMATOSA, LUIS JR. S
ANAVE, RICHARD A
ANDALIS, MARREY CLAIRE A
ANDES, FEREZZE MIRIELE A
ANDEZA, FLORENZHA A
ANDO, ART ALDOUZ J
ANDRADE, JOHN MICHAEL I
ANGELES, RONALD A
ANIL, EDALYN G
ANSANO, JANNCELLE E
ANTIOQUIA, JHONA CHARIZE C
APELLADO, KRISTIAN JOY A
APINADO, MAVEL B
APOLENTISIMA, JOANNE G
APRECIO, EDLYN A
ARAGON, RALF IAN A
ARAOJO, ALECZA E
ARCILLA, REYNATO JR. T
ARCILLA, ROSE ANN M
ARCUENO, MA CECILE C
AREJOLA, ARNELFA P
ARELLANO, DANICA ALEXA T
ARGUELLES, LOMEL A
ARIOLA, GLENN P
ARIÑAVO, ALLEN L
ARNESTO, ROGENE M
ARTUZ, JHON REY T
ASARES, ANGELICA MAE D
ASEBUQUE, HAZEL JOY B
ASIADO, JEAN PAULINE R
ASUNCION, ANGIE J
ASUNCION, RODESSA R
AUXILIO, MARIA AGNES N
AVILA, JONNA MAY B
AVILA, JOSE ANGELO M
AYDALLA, CHRISTINE L
AYEN, WENE JANE R
AZARES, JOY O
BABILA, MIA KHOURIENE F
BABOR, MARLYN L
BACUNAWA, MA ALEXANDRA L
BAGASINA, ELLA P
BALAYBOA, ISAAC MOSES N
BALBIN, MEDIATRIX M
BALBUENA, ELYZA NICOLE P
BALBUENA, MARY-LOU A
BALDEMORO, DANTE JR. C
BALICTAR, MARICRIS G
BALLARAN, REA ROCHELLE B
BALLON, MARK JUDE N
BALOLOY, JOMAR A
BALUETA, JOEL B
BALUTE, JOSEPH V
BANIA, RAQUEL S
BANTE, CARMEE E
BARBA, BRYAN L
BARBA, CLAUDINE BERNADETTE L
BARBA, VERONICA T
BARBERO, BRYAN ARTHUR B
BARCE, CYRIL N
BARCELA, JEAN B
BARCELA, ZARAH LYN ROSE R
BARCENA, LEONARD F
BARDINAS, JUDGEN JR. G
BARRIOS, MARCIAL S
BARRUN, ROSE A
BARTOLATA, ALDWIN N
BARTOLATA, ANTHON JOHN R
BASAS, EFREN FRANZ A
BASILAN, RENZ MARRION G
BASMAYOR, REX B
BATALLA, KRISTINE MAY P
BAYAGA, APOLLO A
BAYOLA, RAVEN B
BAZAN, JANEPHRAIN F
BAZAR, GENIEVEVE B
BAZAR, HADJIE B
BAÑARIA, CINDY B
BAÑARIA, JENILYN B
BAÑARIA, ROSE MAE M
BEJO, LARRY V
BELARMA, RUSSEL JOHN M
BELARMINO, JOANNE HERZL LOUISE D
BELGICA, REY ALVIN B
BELLO, SHENNA B
BELTRAN, JOVEN C
BENAVIDEZ, ODESSA A
BERALDE, MA KRISTINE B
BEREN, MIRLA M
BERINA, DENNIS C
BERMEJO, FRANZE MARIE M
BERNAL, KRISTINE GRACE V
BERNAL, SENANDO B
BETCHAYDA, BEVERLY R
BIARES, ANALIZA C
BIBE, JAYBEE JUSTINE A
BIEN, CHRISTINE PHOEBE C
BILLONES, JUDY LYNN M
BISA, ALEM R
BO, ARVI ZYRA A
BOALOY, FRAMILA IVY P
BOLA, GREGORIO MARI M
BOLAÑOS, SHANE V
BONGON, CZARINA V
BONIFACIO, MAC ALVIN M
BOQUIRON, STEPHANEI GLENN R
BORAL, JEFFERSON N
BORELA, JOHN MARK C
BORGONIA, MARK JOHN ALEXIS O
BORJA, MARITES O
BOTOR, YSIDORE NICK B
BRAVO, LEAH CZARINA
BRINGINO, JHOFFREY P
BRISENIO, EMMANUEL D
BRIZUELA, ROGENE B
BUENA, BEA BIANCA R
BUENA, JONAH MAE P
BUENAFLOR, JOHN CARLO M
BUQUID, CHAREBEN FHILJIE C
BUQUID, GEORGIE A
BURCE, YMBERV LOWELL FIRST C
BUTALON, EDCEL MARK R
CABALLERO, KJELD S
CABRERA, ROWENA M
CABRIA, APRIL JOY L
CADIZ, MARC JOSHUA A
CADIZ, WILFREDO A
CAHILIG, EDGAR ALLAN T
CALMA, BRIAN A
CAMACHO, GILES MARTIN S
CAMATA, ALVIN REX B
CAMPOSANO, ROSE D
CANARIA, LUDWIG MOISES P
CANDELARIA, MARK KEVIN P
CANILLO, JORUS ANGELO P
CANONOY, MARK JUSTINE T
CARABALLE, DAVID PAUL L
CARDEL, MA JEAZELLE M
CARILIMDILIMAN, MARICHELLE SJ
CASTILLO, CHARM O
CASTILLO, ELMER JR. R
CASTRO, CHERRY ANN D
CAÑARES, MARIAN NELL C
CAÑAVERAL, JOSE LEO L
CERDEÑA, GINALYN B
CHANCOCO, KEVIN V
CHAVEZ, FERD ANTHONY T
CHAVEZ, MARY GRACE V
CHAVEZ, WILFRED T
CLEMENTE, ALBERT G
CLETE, JENNIFER B
COLUMNA, ISAAC MATTHEW N
COMERCIASE, CHRISTINE ROLAINE M
CONDOR, CELEDONIO MANUEL III D
CONSORTE, ARIANNE P
CONTE, HONEY SHAYNE A
CONVENCIDO, JOEL M
CORPORAL, MARY CRISTY ANN B
COSTALES, CHRISTIAN JAKE T
COTANTE, JINALYN L
CRIBE, EMMANUEL B
CUADRO, CHRISTINA F
CUBA, JINA A
CUTIONGCO, ALYSSA FAE JUDE A
DACOCO, CRISTOPHERE T
DAIT, ROEZELLE B
DAMES, ANGELYN B
DANCALAN, RHEAY JOSHUA F
DARIA, JUN-JUN O
DATO, MAE ANGELINE B
DATO, POL DEXTER M
DE LA CRUZ, RALPH HANZEL C
DE LEON, CARLYN D
DE LEON, GUIA D
DE LIMA, JAYCEL I
DE LOS SANTOS, JESSICA V
DE LUNA, GLORIA CLAUDINE A
DE MESA, MARITES P
DEALCA, RUBY I
DEJUMO, MARK JOEY B
DEL ROSARIO, MARY JOY S
DEL ROSARIO, RUSSEL ANDREW C
DELA PEÑA, MA JENNENA D
DELA ROSA, ROMANO F
DELUSTRE, MARLON JAY A
DEMETILLAR, JOSHUA B
DERES, NOAH GABRIEL C
DESPABILADERAS, OLIVER D
DIANO, RENELYN B
DICEN, LAIZA A
DICHOSO, MARIA ELMA L
DIMAANO, MARLA CHRISAL A
DIMABAYAO, SHARMAINE C
DIMAUNAHAN, KENNETH L
DOLENDO, SIMON GERALD S
DOLLESIN, CECEL L
DOMINGUEZ, FRANZ JOSEPH T
DONATO, JOHN CHRISTIAN V
DURANTE, TRICIA MONIQUE P
DY, PAUL BRYAN S
EBUENGA, MA ELOISA M
ECHEVERRIA, JOSEPH L
EFA, SHEENA S
ELADIO, MARLON S
ELEP, OLIVIA P
ELPEDES, MILDRED B
EMBESTRO, RENATO T
ENAJE, JOEL F
ENCARNACION, JESSEL T
ENTERIA, MARK LUIS L
ERESTAIN, MARVIN J
ESCANDOR, PAMELA L
ESCARDA, FRANCIS C
ESCUETA, BRYAN F
ESCURO, JESSIBEL L
ESPALDON, ANGELI H
ESPARAGUERA, SYLVIA C
ESPARES, MARY GRACE T
ESPAÑO, JESUS III P
ESPERIDA, VICTORIA STEFAN C
ESPILOY, JAWO P
ESPINO, LINDBERGH I
ESPINOSA, CHRISTINE M
ESPIRITU, JOYCE ANN A
ESPLANA, MARIA LOURDES J
ESPONILLA, ROWEL A
ESTADILLA, OLIVE AUSTIN M
ESTALLO, JESSA MAE M
ESTALLO, MICHAEL P
ESTRAVEZ, JENNIFER ROSE D
EVANGELISTA, JOAN V
FABRICANTE, JHUNE N
FABRICANTE, JOEY C
FAUSTINO, CLARISSE V
FEDERIS, JERRY IVAN R
FERMO, CHRISTIAN PAUL L
FERRER, MARCK LESTER A
FERRIOL, MARY ANE JOY P
FLORALDE, CHARLENE MAE
FLORES, CLAIRE T
FLORES, JULIO JR. A
FLORES, RODOLFO
FOO, KEIN B
FORNOLES, MARK ANTHONY P
FORTADES, MARK ALLAN V
FORTES, CHARMAINE G
FORTES, KARLO S
FRANCISCO, GEOVANNI D
FRIAS, JAEKA DENISE T
FRUTO, CEZAR IRVIN L
FULAY, ZYRA T
GAMORA, JASTINE JOY E
GARAY, JOEMAR S
GARCERA, MARVIN S
GARCHITORENA, SHEENA B
GARCIA, HECTOR JR. Q
GARCIA, MYSIL E
GARGANTA, RUSTY V
GEROBIN, HONEY LYNNE L
GESMUNDO, RAYMOND JEFFREY G
GIANAN, MARK ANTHONY B
GODINEZ, JOSE CARMEL M
GOLPEO, BIENVENIDO B
GOMEZ, GLADINA M
GOMEZ-LIQUIDO, KHAY L
GONGONA, RUTH V
GONOWON, MA IRISH P
GONZAGA, NOLILON O
GONZALES, RODEN P
GRAGEDA, DARIUS LORENZ D
GRAGEDA, MEL ANTHONY N
GRAZA, JASMINE
GUADALUPE, MARK MICHAEL P
GUERRA, JOHN NICHOL N
GUERRERO, MARK GREGORY V
GUEVARRA, MARY ANN D
GUIRIBA, JOY V
GUNAY, LEONISA M
HALCON, RACHELLE ANN M
HERMOSO, MARLON R
HERNANDEZ, EPIFANIA D
HERNANDEZ, FRANZ LOUIE N
HERNANDEZ, JANELLE SALVE A
HERNANDEZ, JERAHMEEL L
HONA, MARIA SARAH KRISHELLE O
HUENDA, ZAREX D
HUYO-A, KARL AQUINS B
IBARRETA, MECHAELA V
IBARRONDO, ALDREN PAUL L
IDANAN, MIKE JOHNSON A
ILANO, JOHN PATRICK D
ILUSTRISIMO, ARIES A
INFANTE, ANGELICA G
INSIGNE, JOHN SEVE G
INSON, MELODY B
INTERNO, JOSHUA D
INTIA, AIZEL ANN B
ITURRIOS, WYNETH R
JANABAN, JAY JAMES L
JAPSON, MARK ANTHONY D
JAZMIN, JOANNA O
JULIANO, ANGELICA GHEA G
JUNIO, ABEGAIL C
JUNIO, CZARINA ROSE R
LABAN, MANUEL JR. G
LABIDO, OSCAR JR. L
LABORDO, GUIA ANN F
LABORTE, JULIE FE S
LABRADOR, MELANIE A
LACHANEBRE, MARY JOY E
LAGANZON, ROMELYN L
LAGATIC, ROSE ANN S
LAGATIC, ZEUS KENT D
LAGING, JESSA M
LAGUILLES, LANCE CEDRICK B
LAMELA, TED A
LAMSEN, MARK CHRISTOPHER S
LANDAGAN, NISSA B
LANUZA, JOHN PAUL A
LANUZO, RENZO PAULO B
LARESMA, KAREN L
LAUSIN, DAISY JANE U
LAWAGON, MORWIN L
LAYNESA, JASPER O
LAYONES, CHRISTIAN
LEGASPI, ROWEL W
LERIT, MARK ANTHONY E
LIM, LENNIE F
LIM, MARIA ERRICA M
LLABAN, LEI ANN MAE L
LLACUNA, ANGELO M
LLAMOSO, AUBREY V
LLAVE, GAVIAN B
LLORCA, RHEO ANNE B
LLORIN, DIARA MAYE LL
LLORIN, RONALD J
LOCAÑAS, SHIELA M
LOGRONIO, RALPH ANDREW A
LOMA, STEPHEN N
LOMALLO, MARK DARYL J
LOMERIO, JASMIN M
LOPERA, NAP ROBERT P
LOPEZ, ALTHEA MARIE D
LOPEZ, EMMANUEL P
LOPEZ, JONALYN B
LOPEZ, MARJOROSE T
LOPEZ, PEARL HONEY A
LORENZO, JOHN WILTER T
LORILLA, JEANNA B
LORZANO, JESSIE FAUSTINE E
LORZANO, MERVIE MAE T
LOVENDINO, RYAN A
LOZANO, DONNA DAWN A
LUBIANO, CHRISTINE MAE M
LUCMAYON, JORDAN F
LUMABI, KEVYNN CHRISTIAN B
LUNA, JEANNETTE D
LUNA, MYRA D
MACATANGAY, RICA D
MADRELEJOS, LOURDES M
MAGANA, SHENNA B
MAGAYANES, LEO VINCE V
MAGDAMIT, GAIL G
MAGLAQUI, JOSE MIGUEL S
MAGNO, LENARD N
MAGNO, MAGNO R
MAGTAGÑOB, JOEY C
MAGTANGOB, JAMILLE ANN D
MAHOR, KEYSED IAN V
MALLORCA, LIMUEL MARI T
MANANGAT, MA THERESA S
MANGAMPO, KARLO MARTIN S
MANLANGIT, ARNOLD T
MANOGUID, ALYSA ASHLEY B
MAR, MA KATRINA C
MARAÑO, MARBELEN A
MARCILLA, CHRISTOPHER JO A
MARCO, DOMINIC B
MARILAG, SHERYL B
MARINAY, MARY JOY Q
MARIÑAS, VAN EIMAREEN D
MARONILLA, PHILIP MARTIN V
MARTINEZ, MICHELLE C
MASALUNGA, MARIAN YSABEL B
MASANGCAY, BENZ T
MASOLABE, PAUL JOSHUA P
MATZA, MARK LUIS S
MECEDA, MARICOR S
MEDIAVILLO, REY CARLO M
MELITANTE, SUREN JOHN B
MENCHAVEZ, JANE S
MENDADOR, ELVIS M
MENDEZ, JUSTINE P
MENDEZ, MERCY T
MENDIZABAL, CRISTY F
MENDONES, ROBERT JASON M
MENDOZA, CHRISTOPHER N
MENDOZA, DARYL GENE A
MENDOZA, KRISTINE MIE
MESA, RAYMOND JOHN C
MIJARES, KRYSS DEXTER P
MIRABETE, MECHEIL M
MIRABUNA, ANGELY M
MOICO, AILEEN LL
MOJAL, FARA MIA B
MOLINA, CARLO SANTIAGO G
MOLINA, CECILLE AUREA P
MONSALVE, BABELYN L
MONSALVE, DANIEL B
MORA, DONNA N
MORADA, SALVE EUROSE L
MORADO, KAREN JADE A
MORALES, FATRICIA ANN T
MORAN, JUAN CARLO O
MORATALLA, JAMES M
MORAÑA, JOYCENE A
MOROS, BERNARD DEXTER M
MORTEGA, JOHN DON A
MORTEGA, RALPH JOSEPH M
MUJAR, AUDREI O
MUNALIM, MARK LEVI L
MURILLO, JOSE ALBERT A
MUSA, AIRA R
NACION, JOSELA D
NACION, YVETTE
NAGALES, ALEX J
NAGRAMPA, RENIEVHE B
NAING, SONNY M
NANTES, JOEMAR P
NARVAEZ, IANA BIANCA P
NATAÑO, AIDA S
NAVARRO, MADONNA T
NAVARRO, MARLKEN B
NAVIDA, MARY KEHN
NEBREJA, FRANKLYN DEO M
NECIO, JOHN LOUISE D
NEPTUNO, CRISTELY B
NEVERIO, FULGENCIO R
NG, WENZEL ANN B
NICERIO, JAR ROMSAL N
NIEVA, MARY JOY
NOBLEZA, ALJHUN O
NOSARES, KRISTINE N
OBERO, LARA BETINA
OBIASCA, RESSIE MAE A
OBIERNA, JULIE FAYE V
OBIS, ALDRIN JOSEPH S
OBUSAN, EVELYN M
ODAVAR, JANNELLE L
ODEJAR, MARIA LORELEI L
OGENA, AMILOU KRISTINE A
OLARVE, FRANCIA LOURDES L
OLIQUINO, HENDRIX Q
OLIVER, RYAN D
OLIVEROS, HAZZEL N
OLLERES, AISA JAYNE S
ORCALES, JOSHUA B
ORDOÑA, JOY ANTOINETTE G
ORLANES, PAUL ALJHO Z
ORLINA, SHYRYL P
OROGO, MAJAL-LHYNNE
ORTEGA, CHRISTINE C
ORTEGA, JUNALYN O
OTURDO, JULIE ANN T
PABLO, MICHAEL V
PACHECO, IRENE B
PADERANGA, MARY ANNE
PADILLA, EDGAR L
PADILLA, YASMIN T
PAGHUBASAN, WINEFREDO JR. Q
PAHUYO, THERESE SAMANTHA V
PAJARILLO, KLYSTRON VAN M
PALACAY, JOMARE B
PALAYPAYON, MERCY B
PALIMA, NIKKI ANN P
PAMORADA, MARIA ERVIE CEDEL M
PAN, WILLIAM IV C
PANA, MARY JOY P
PANALIGAN, JOAN GRACE D
PANIS, CATHRINE ROSE L
PANIS, QUENNILYN ELLA L
PANISTANTE, MARICEL I
PANTE, CHRISTOPHER P
PANTI, JOHN LANDER A
PANTINO, CHRISTIAN PAUL T
PANTINO, ELVIRA MEA T
PANUGAO, DOQUISA C
PARICO, JENICCA ROSE C
PASCUAL, JUNIESEL C
PECUNDO, MARIA CHRISTINA C
PELAYO, IRENE D
PELIN, JETHRO IVAN V
PERALTA, RAY DANIEL G
PEREZ, NAOME C
PETILOS, STEPHANIE J
PEÑA, RUBY C
PEÑARANDA, IVY O
PEÑAREDONDO, YAZMEEN B
PEÑAVERDE, EDELYN G
PILI, KATRINKA LYKA M
PILLEJERA, ANGELICA A
PITOY, JONI SARINE V
PLACER, JENNY D
PLOTADO, ROSE ANN D
PONTANAL, HUCKY VERFINN R
PONTANAL, MARK ANDRIAN D
PONTILLAS, BRENT LOUIE H
PROPOGO, KELVIN JAE M
PRUDENTE, JOELLE MARIE P
PUCHE, HAZEL JOY P
PUNAY, SHEILA M
PURA, PRECIOUS F
PUSO, ALDRIN S
QUIDES, AILEEN Q
QUINTANAR, MARQUEZ G
QUISMORIO, HANNAH KRISTY E
QUIÑONES, NISSA E
RAGOS, ABIGAIL M
RAMIREZ, JADE MATTHEW F
RAMIREZ, JOSHUA CARL R
RAMIZARES, MARIE JOY L
RANGEL, DIANA ROSE S
RAQUION, RAPHAEL B
REALCO, JOSE MIGUEL S
REBANA, SALVACION V
REGIS, AGNES A
REGISTRADO, ROWENA A
REJUSO, JONATHAN JR. L
REJUSO, RONALD GENELY N
RELEVANTE, NICOLE P
REQUIZ, KENNETH L
RETRITA, MARIANNE ROSE C
REYES, ELOISA MAE B
REYES, GERINA NIÑA N
RIBAS, KRISTOPHER CARLOS T
RIBAS, LUTH PETER E
RODRIGUEZ, JULIE ANNE A
RODRIGUEZ, LORIEBETH
RODULFA, HAZEL T
ROJO, VINCENT JENUS O
ROMERO, JESSIE R
ROMERO, LOURENCE JOHN B
ROMERO, RJAY N
RONAN, BABY CLOE JOY R
ROSAL, JOHN KENDRICK P
ROSALINAS, MARY JOY L
RUBIO, MARK ANTHONY T
RUBIO, MARY ANTONETTE S
RUIZ, ZOILUS AURELIUS Q
SALAO, SHARMAINE A
SALCEDO, JERICK O
SALEN, JOHN ERIC O
SALES, CARLOS ANTONIO L
SALIBIO, MARY JOYCE E
SALONGA, BON CARLO D
SALVIDAR, MONALIZA A
SAMAS, JOHN VER M
SAMSON, JAYMARK D
SAN BUENAVENTURA, RODILENE C
SAN LUIS, ALJON N
SANCHEZ, CYRACEMIE C
SANTOS, ARIANE GISELLE C
SAPUSAO, MELVIN JOHN S
SAREMO, JOHN IRVIN H
SAREMO, LOVE KUHREEN B
SARGENTO, LADY LEE D
SARIOLA, JAIME B
SARMIENTO, AILA MARIE B
SARMIENTO, AIRA V
SARMIENTO, ELMO NIÑO T
SARMIENTO, RONALD A
SARON, CARMELA GABRIELLE A
SARZA, SERALYN R
SASPA, ANGELYKA C
SAÑO, CHARLOTTE B
SEBASTIAN, EUNICE BLANCA L
SEGARRA, MICHAEL ANGELO N
SEPTO, LOVELY N
SERILLANO, ALYSSA L
SERMONA, ROY L
SERRANO, CHARRISMA R
SEVILLA, JENIFFER R
SIBUYO, KEVIN ROEDEN A
SICAD, MARK KEVIN C
SILVA, MARY GRACE C
SILVANO, KATE S
SISNO, JUNGIE D
SOCAO, JOBERT T
SOLIMAN, SHINER JEAN O
SOLIVEN, CHRISTINE MAY B
SOLLEGUE, FRANCIS LODUVICO C
SOROAN, KAREEN MAE B
SOTO, BILLY JONES A
STA CATALINA, BERNADETTE I
STO DOMINGO, JULIE ANN A
SUMANGID, SHEILA D
SUMATRA, JANNOEL A
SURTIDA, PATRIZIA LOUISSE A
SURUIZ, ELLA MAE P
TABIAN, FRANCISCO CARMELO
TABLIGAN, KRYSS CLYDE T
TABLIZO, AVE V
TABO, JUSTINE
TABUZO, NIKKI M
TACORDA, EDSEL T
TADEO, MARIA ROWENA J
TAGONGTONG, JANICE MARIE
TAGUIAM, JANE F
TALANIA, ZAMANTHA CLAIRE V
TALENTO, ALYSSA MAE E
TAN, ALVIN JR. G
TANGTANG, JO ANNE T
TAPALLA, EDITH I
TAPEL, ARJAY M
TAPEL, MA ELENA T
TARROBAGO, MAENARD T
TARTACON, RODIL O
TATARO, MARIA VENUS C
TAÑAMOR, MARY JOY P
TEAÑO, DONITA MAE T
TEJERERO, MARITES B
TELEB, LEAHLYN H
TEMPLONUEVO, DELMARK T
TIABA, JEZREL Q
TIMBAL, RENATO JR. T
TIONGCO, JOYCELYN V
TITONG, MARNEL M
TIZON, CHRISTIAN JOSEPH R
TOLOSA, JARELL VON P
TOMANGLAO, JENNIFER M
TORNILLA, JESTHER G
TUCIO, BENNYMEL M
TUD, MARIE ANTOINETTE C
TUMBAGA, GENESIS A
TUQUERO, EDSEL V
UBALDE, JULIUS O
UVERO, VERONE A
VALDEZ, ARNOLD P
VALENCIA, ARCHIE B
VALLEDOR, DANIEL V
VECILLES, CAROLINE I
VECINA, LLOYD B
VELASCO, JOSE GENARO I
VELASCO, MARK ANTHONY M
VERANO, JUSTINE MARIELLE E
VERGONIO, APPLE KEITH M
VERIN, NIKKA VERONICA A
VICERA, ANALIZA M
VIDAL, LEONEL M
VILLALON, JAYSON B
VILLAMER, EDISON A
VILLAMER, ICYL ANN D
VILLANUEVA, JAYLEV C
VILLAR, GERALYN P
VILLAR, RODAN MICHAEL T
VILLARINO, MARY GRACE P
VILLASEÑOR, FRANCIS DOMINIC N
VILLAVICENCIO, JOSHUA ELIJAH R
WARDE, GEIL ELAINE B
YAZON, JAYCEE A
YBAÑEZ, SOLOMON JOHN B
YU, ANTONIO III C
YUSON, CHARLOTTE A
ZARA, ADRIAN P
ZARAGOZA, RAM JOSEPH S
ZULUETA, JUAN JR. E
EXAM COVERAGE
Professional Level (in English and Filipino)
Numerical Ability (Basic Operations; Word Problems)
Analytical Ability (Word Association – identifying assumptions and conclusions; Logic; Data Interpretation)
Verbal Ability (Grammar and Correct Usage; Vocabulary; Paragraph Organization; Reading Comprehension)
General Information (professional and subprofessional levels)
Philippine Constitution
Code of Conduct and Ethical Standards for Public Officials and Employees (RA No. 6713)
Peace and Human Rights Issues and Concepts
Environment Management and Protection
RELEASE DATE
The Civil Service Exam CSE Result March 2022 is expected to be released within sixty (60) days after the examination.
REMINDER
The exam result may be released by the CSC earlier or later than the target date without prior notice.
Examinees shall obtain at least 80.00% general rating to pass the examination. Just visit this website regularly or refresh the page for further updates and information.