Andrea Torres shared some random facts about herself.
ANDREA TORRES — The actress and content creator recently shared some random facts about herself in her new vlog.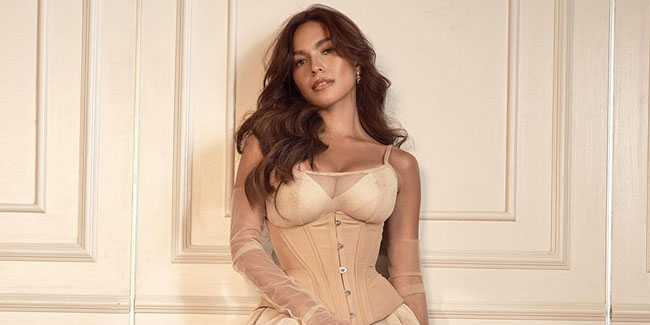 Andrea has officially launched her own YouTube channel and featured a vlog where she revealed some random, interesting, and not-so-well-known facts about herself.
Released last Friday, Andrea's new vlog entry featured herself in a purple dress as she sat down and shared some intimate and personal details. Here are some facts about Andrea as mentioned on the vlog:
Andrea's greatest fear is "It" — the character from the Stephen King novel. She shared that she learned about the evil clown after watching a particular scene when she was a child, adding that she had already gotten rid of her fear of clowns but not of "It".
The actress revealed that she can drink up to 6 cups of coffee per day and prefers to drink "plain, black" coffee. She also shared that she's "very old-fashioned" as she loves pen and paper, has a small notebook planner and a journal, and even keeps copies of physical receipts.
According to her, it's not unusual for her to be 30 minutes to 1 hour early for a scheduled activity.
READ ALSO: Kylie Padilla Gives Andrea Torres Heartwarming Birthday Greeting
When it comes to the one thing she and her mother can't agree on, she shared that she likes to walk barefooted at home.
"Mahilig ako mag-paa sa bahay," Andrea said. "Napaka-komportable kasi at gusto ko lang iyong feeling ng floor."
Andrea also revealed her resourceful and creative side, saying that she likes buying "basic and plain" clothes because she cuts them up for future work engagements.
The actress also recalled that she felt bad about one of her long dresses, thinking that she couldn't use it again because some people had already seen her wearing it. She then decided to cut off its sleeves, turn it into a mini skirt, and use it for another TV guesting.
Andrea's number one trivia about herself was that she loved doing household chores. According to her, she does the cooking and the cleaning when she's at home with her family.
In the vlog's video description, Andrea shared that she's "usually a private person" but she would like to share some snippets of her life.
Meanwhile, the actress released her "VLOG NUMBER ONE" where she had a special "play shoot (a professional photoshoot done just for fun)" with her glam team.
Thank you for visiting Newspapers.ph. You may express your reactions or thoughts in the comments section. Also, you may follow us on Facebook as well.