Business class flight for "Fifi"
BUSINESS CLASS FLIGHT – A dachshund from Hong Kong has become an internet sensation after a video of the dog traveling to Turkey in business class flight became viral.
The world is becoming more pet-friendly, and many people now want to take their furry friends with them when they travel. This has resulted in a surge of animals traveling by plane. Airlines have adapted to this trend by creating specific policies and protocols to ensure the safety and well-being of pets on board.
If you're considering traveling with your pet, it's important to research the airline's rules and regulations concerning pets. Different airlines have different requirements for pet travel, such as the size and type of carrier, and specific documentation.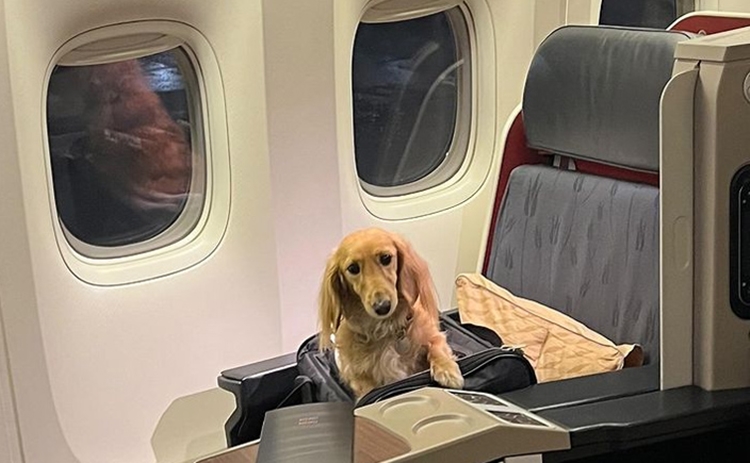 When choosing a carrier for your pet, it's essential to select one that meets the airline's size and safety requirements. The carrier should be large enough for your pet to stand up, turn around, and lie down comfortably, with sufficient ventilation.
During the flight, pets are usually placed in a separate compartment of the aircraft. However, some airlines allow small pets to travel in the cabin with their owners. It's important to note that some pets may be more comfortable in the cargo hold than in the cabin due to the noise and turbulence experienced during the flight.
Speaking of which, netizens wish they were like a dog who traveled from Hong Kong to Turkey in comfort on a business class flight. A four-year-old dachshund named "Fifi" has been making waves online after a video of her on a business class flight went viral.
The video shows Fifi in her own cubicle on the plane alongside other passengers. She is seen calmly sleeping on her bed with a blanket and pillow. According to Fifi's furmom, Helen Rosalie, her pet remained "calm and collected" during their 11-hour flight. Rosalie, a British national, adopted Fifi when the dog was only one year old.
What can you say about this article? Share your thoughts or insights in the comment section below. For more news and the latest updates, feel free to visit Newspapers.ph more often as well as our Facebook page and YouTube channel.