Halsey responded to her fans after tweeting an unintentionally "bad joke" about One World Trade Center. She said it was "clearly a misunderstanding."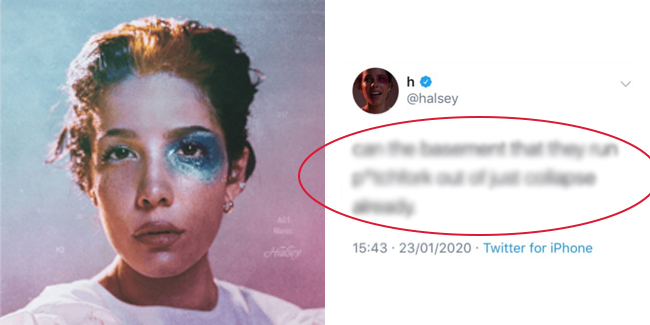 This, after Pitchfork, an online music magazine, slammed Halsey's latest album, Manic, saying that her album "sounds like the amorphous pop. Pitchfork rated 6.5 to Halsey's album.
She then responded to Pitchfork with "a joke" on Twitter. Halsey was, unfortunately, unaware that Pitchfork, an online music magazine, also operated out of One World Trade Center.
In response to Halsey's tweet, reporter Ben Kesslen tweeted that he was losing his mind thinking about the person on her team who wanted to tell Halsey "she just called for the collapse of one world trade."
After reading Kesslen's remark, Halsey replied to Ben that she deleted her tweet after realizing Ben's tweet. She also said that she intended to make a joke out of Pitchfork's tweet.
.@Halsey clarifies her Pitchfork tweet, says it was a misunderstanding:

"was just trying to make a joke! Intended zero harm. Just figured I could poke at them back with the same aloof passive aggression they poke at artists with! Clearly a misunderstanding ❤️" pic.twitter.com/vgdv9IGSMV

— Pop Crave (@PopCrave) January 23, 2020
She then immediately deleted her post after responding to Ben's tweet.
Thank you for visiting our website. We hope we have helped you with regard to this matter. You may keep coming back for more informative guides. You can now subscribe to our YouTube channel for Top 10 videos.
READ ALSO | Meet Romeo Reyes: The Oldest Runner Of Negros Occidental