The divorced client requests a refund from the wedding photographer
LANCE ROMEO – A wedding photographer was profoundly shocked when one of his former clients reached out to him, requesting a refund for the fee they had paid for his services.
The client informed Lance that she had recently separated from her husband and no longer wished to keep their wedding photos. Lance had been responsible for capturing their wedding ceremony in 2019, and he chose to share the text message exchange between him and the client by posting screenshots on his Twitter account on April 12, 2023.
The client claimed that Lance had conducted a photo shoot for her and her husband during their wedding in Durban, a city in South Africa.. He then inquired, "How may I be of service?" The client proceeded to explain that she was now divorced and declared, "And those pictures, I and my ex-husband don't need them anymore."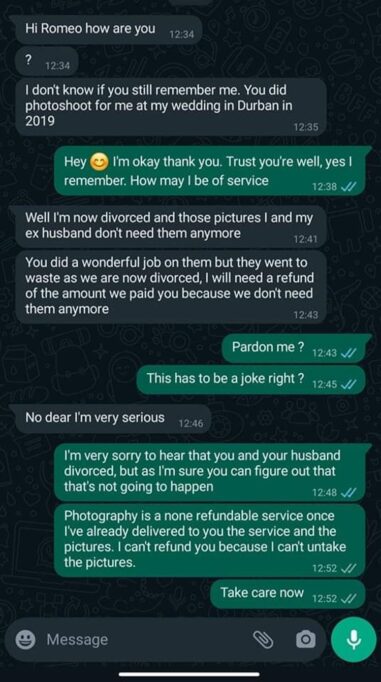 She acknowledged the beauty of Lance's photographs but deemed them worthless now that she and her spouse were no longer together. Stressing her point, she firmly requested a refund for the amount they had paid Lance, as they had no use for the pictures anymore. Lance, taken aback, responded incredulously, "Pardon me? This has to be a joke, right?" However, the divorced woman insisted that her request for a refund was "very serious."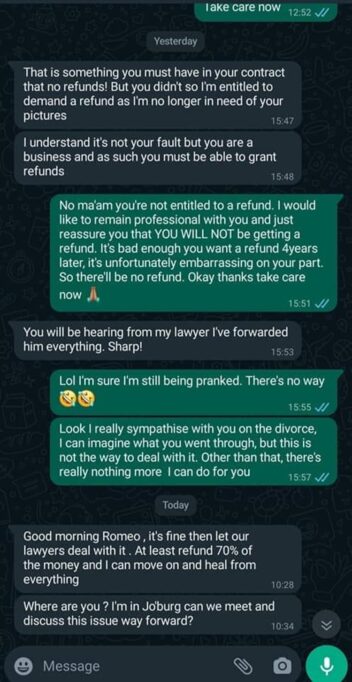 She argued that Lance's photography services lacked a non-refundable policy specified in the contract, which she believed entitled her to seek reimbursement. Disagreeing with the woman's perspective, Lance aimed to maintain professionalism in their exchange and emphasized that he would not comply with her refund request.
"It's bad enough you want a refund four years later, it's unfortunately embarrassing on your part," Lance expressed his sentiment. The divorced woman indicated that their respective lawyers would handle the matter, suggesting that legal action might be pursued.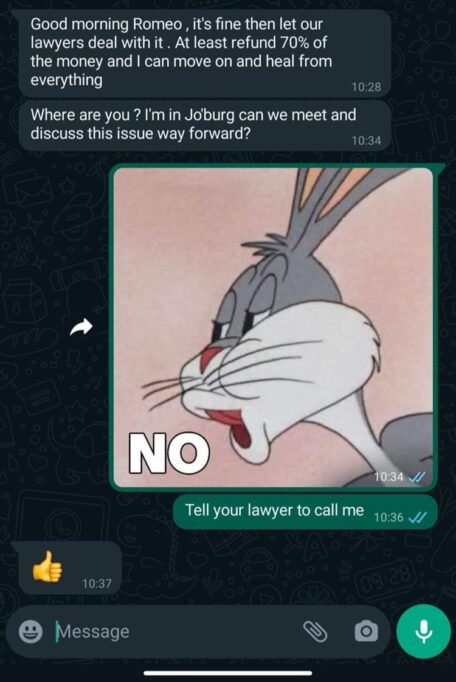 Furthermore, she proposed that a 70 percent refund of the amount paid to Lance would be satisfactory, with the hope that it might help mend her wounded heart. In response, Lance advised the woman to instruct her lawyer to contact him directly. Ultimately, the photographer still harbored the belief that he was being pranked by his former client, despite the seriousness of her refund demand.
What can you say about this article? Share your thoughts or insights in the comment section below. For more news and the latest updates, feel free to visit Newspapers.ph more often as well as our Facebook page and YouTube channel.