Here is the MedTech Board Exam Result January 2022 List of Passers (S-Z)
MEDTECH BOARD EXAM RESULT JANUARY 2022 — Here is the list of passers (S-Z) as released by the Professional Regulation Commission (PRC).
The exam results including the list of passers, top 10 passers, top performing and performance of schools, and other announcements related to this will be posted on this website once PRC will release it.
PRC conducted the Medical Technologist Licensure Examination (MTLE) on January 15-16, 2022 at testing centers in Metro Manila, Baguio, Cagayan de Oro, Cebu, Davao, Iloilo, Legaspi, Lucena, Pampanga, Rosales, Tacloban, Tuguegarao, and Zamboanga.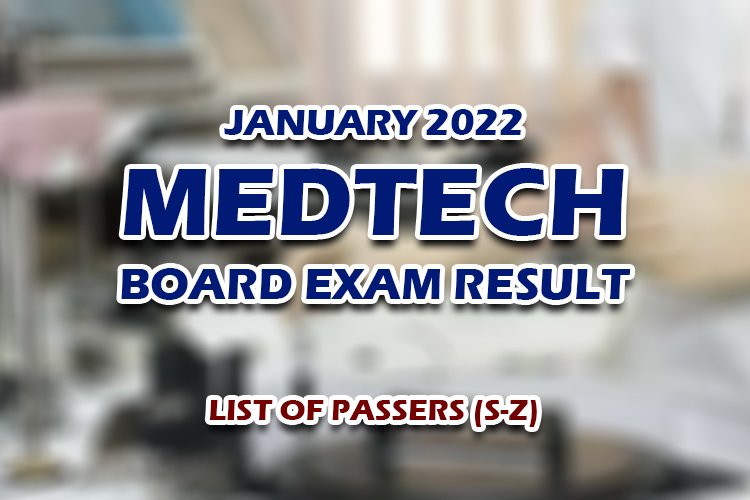 PRC Board of Medical Technology Chairman Dr. Marilyn A. Cabal-Barza and members Ms. Marilyn R. Atienza and Ms. Marian M. Tantingco administered the board examination.
SUMMARY OF RESULTS
Here is the list of passers:
Roll of Successful Examinees in the
MEDICAL TECHNOLOGIST LICENSURE EXAMINATION
Held on JANUARY 15 & 16, 2022 Page: 24 of 28
Released on JANUARY 24, 2022
Seq. No. N a m e
1073 SABADO, MARIMAR CAMCAM
1074 SABALBERINO, DARA MARIE EMPERADO
1075 SABILE, JANINE CLAIRE NICOLE GATAN
1076 SABUSAP, JOZELLE MARIE RONQUILLO
1077 SACANAY, SHAYNE NIKKY CABALQUINTO
1078 SAGGE, ELLAIDIA COLLADO
1079 SAGGOT, DELIGHT TAGUITAG
1080 SAGUM, FRANCIS HANNAH CARALIMAN
1081 SAGUM, HARVEY JOSHUA VALDEZ
1082 SAGUN, JAMIE TUMANENG
1083 SAHABAT, SITTIE NUR-IZA LIMGAS
1084 SAJONIA, MA CHARIZ BANGOT
1085 SALABE, EUNICE GALORIO
1086 SALAIN, ABUBAKHAR MUSA
1087 SALAMANCA, CLARISSE ANN SY
1088 SALAMANCA, PETER JOHN ALLADO
1089 SALAZAR, PAMELA PARUNGAO
1090 SALCEDO, JUSTIN KYLE DE LEON
1091 SALIBAD, QUEENEE JARAMILLA
1092 SALOMON, ESTREL MARIE DELA CRUZ
1093 SALONGA, FLORENCE TINA NAVAT
1094 SALUNGA, KELVIN TANGLAO
1095 SALVADOR, ESTELA MARIS BERGUNDO
1096 SALVADOR, JOHNNY RAY DORMIDO
1097 SALVADOR, SIMONE KENDRICK ONG
1098 SALVAÑA, VICTOR FRANCIS ABASOLA
1099 SAMAR, RUBEN DELA PAZ
1100 SAMIA, REYMOND IN-UYAY
Roll of Successful Examinees in the
MEDICAL TECHNOLOGIST LICENSURE EXAMINATION
Held on JANUARY 15 & 16, 2022 Page: 24 of 28
Released on JANUARY 24, 2022
Seq. No. N a m e
1101 SAMSON, KATRINA YSABELA LOZADA
1102 SAN ROQUE, ARIANNE MAE RAMIREZ
1103 SANCHEZ, MAYLYN CONCEPCION
1104 SANDIGAN, HENDRA SUKOL
1105 SANDIGAN, MERRY KRIS DIANO
1106 SANDOVAL, MARIAN MIRANDA
1107 SANGCAP, YVONNE DARYL BINONDO
1108 SANTAMARIA, GINELLE HADLOC
1109 SANTIAGO, BENJAMIN JEREMIAH SY
1110 SANTIAGO, BRODERICK CARRANZA
1111 SANTIAGO, DANICA JANE BOÑON
1112 SANTIAGO, KIMBERLY PUBLICO
1113 SANTOS, AARON CHRISTOPHER SAN PEDRO
1114 SANTOS, ABEGAIL GALMAN
1115 SANTOS, GLENDELLY ALVASAN
1116 SANTOS, SHANE HANNAH LEIGH SOLIMAN
1117 SANUT, JUDY-ANN RUMBAOA
1118 SAPE, CHRISTINE MAE NAPIONTEK
1119 SAPIOC, PRINCESS JOY CRESENTE QUIDANGEN
1120 SARABIA, FAITH CATIPAN
1121 SARAO, MARIA KATRINA YSABEL VILLAJIN
1122 SARIMOS, PRINCESS JANNIE
1123 SARMIENTO, KENT ANGELO AGUSTIN
1124 SARMIENTO, WINNIE ANNE JOAQUIN
1125 SATURNIO, HERSHELYN
1126 SAYONG, LEANDRO JOSEPH PASIL
1127 SE, MA KATRINA LAGAREJOS
1128 SEGNABEN, JENNY WINNIE
1129 SELGA, KESLEY JOIE OLA
1130 SENGCO, TYFANIE JOY DUMIGPI
1131 SENO, KATE THERESE YTOK
1132 SENO, VINCENT VIC CUYOS
1133 SEPE, JESSAMARIE TORIBIO
1134 SERIÑA, SHELOAH EMMANUELLE VERDADERO
1135 SERRANILLA, ALVIN JOHN VILLAMER
1136 SERRANO, CHUSTINE JANE LAXAMANA
1137 SERRANO, CREED JOHN SILVEO
1138 SERRANO, MARIA MERCEDEZ ANGELA JUMAWAN
1139 SEVERINO, MARIA FATIMA CHOCYAGAN
1140 SEÑORA, FEABELLE IYN CONQUILLO
1141 SIA, CHRISTINE JOY MADRIAGA
1142 SIA, REINIEL MARIE SANTOS
1143 SIBLAG, INNAH MYRNA ORDONIO
1144 SIDECO, JUSTIN BAGTAS
1145 SILVESTRE, BIANCA ROSALES
1146 SILVESTRE, CARMELA MAE AMERILA
1147 SIMTIM, SHIELAH MAE MATERNAL
1148 SINARIMBO, MICHAEL JR BACANTO
1149 SITON, XAVIER IAN SALVAN
1150 SOBERANO, MARK ANTHONY MANIPUD
Roll of Successful Examinees in the
MEDICAL TECHNOLOGIST LICENSURE EXAMINATION
Held on JANUARY 15 & 16, 2022 Page: 25 of 28
Released on JANUARY 24, 2022
Seq. No. N a m e
1151 SOLANTE, ALITHEA MIANNE BUENO
1152 SOLERA, PATRICIA BEATRICE AYAG
1153 SOLERO, KATELYN ANNE LACAY
1154 SOLIMAN, MARICAR NIEVES
1155 SOMACUM, JEHANISAH TIARDE
1156 SORIA, KATE NICOLE GONZALES
1157 SORIANO, AUBREY GANOTICE
1158 SORIANO, DANICE MAE VIZCARRA
1159 SORIANO, GAMALIEL CABAUATAN
1160 SORIANO, KEZIA FAITH BULLECER
1161 SORIANO, MARTTIN JACOB PEROLINO
1162 SORIENTE, SHYNE NICOLE ALIMEN
1163 SORIO, JOHN DOMINIC REYES
1164 SOTELO, KASSANDRA CLARISSE OMBAC
1165 SOTELO, PATRICK DANIEL ELAURIA
1166 SOTTO, IRISH PHOEBE CLARIN
1167 SUAVERDE, KAYCIE CAREANE MANA-AY
1168 SUBALA, SYRYL FAE GAMMAG
1169 SUERTE FELIPE, RACHEL VICENTE
1170 SULLA, JUNNAH LOUISE CAYUNDA
1171 SULTAN, SAOSAN MIRA-ATO
1172 SUMAGUE, LAWRENCE BENITEZ
1173 SUPIEZA, JOHN DELBERT COSADIO
1174 SURMIEDA, JUSSARAH FAYE RIANZARES
1175 SUSON, MARNEL ALAVANZA
1176 TABIGUE, CELESTE JOY PAÑA
1177 TABOY, VALERIE ESTAVILLO
1178 TABUTOL, JANE MAYO
1179 TACIO, ANGELINE FAYE GACAYAN
1180 TAFALLA, HOWARD KENT PAJUELAS
1181 TAGARDA, SEBASTIEN RITZI ROXAS
1182 TALLA, THEA THALIA MIRANDA
1183 TAMISAN, KATE NICOLE GONO
1184 TAN, JOEMAINE TOLENTINO
1185 TANAUAN, GILLIAN MARVEL LLEGO
1186 TANG, RICA JOY GALLARDO
1187 TANGUILAN, ANNA MARIE GANNABAN
1188 TANOY, AUBREY MAE ESLAO
1189 TANUAN, SIDRA HERMANOS
1190 TANUCAN, JOANNA MAE LUMOGDANG
1191 TANZO, MARY CYRINE JOY CADAYUNAN
1192 TAPEL, YLLON JOHN BALO
1193 TAPIA, CLARISSE JOY PASTOR
1194 TAPING, CARMILA MAY NAVARRO
1195 TARIGA, JEDIDEOH RONQUILLO
1196 TATARO, SITTIE FATMAH ALI
1197 TEE, IVAN RHYAN BALACANIA
1198 TELIAKEN, JHOEMI CUPIDO
1199 TENORIO, MIKO YAP
1200 TIANGCO, MIKA ANGELA LODEVICO
Roll of Successful Examinees in the
MEDICAL TECHNOLOGIST LICENSURE EXAMINATION
Held on JANUARY 15 & 16, 2022 Page: 26 of 28
Released on JANUARY 24, 2022
Seq. No. N a m e
1201 TIBULE, ALTHEA MAE DECANO
1202 TICYADO, PRINCESS PORSHA MAE LOMBOS
1203 TIIN, FRANCIS MARK ORIÑO
1204 TILLES, KATHLEEN JUMAGDAO
1205 TIMAJO, CHRISTINE JOY CADAUCAN
1206 TIMAJO, EDRIEN ISABELLE BILON
1207 TINAMBACAN, EDEN ROSE JAMISOLA
1208 TINDOY, ROSEBEL DACASIN
1209 TINIO, CLAIRE RIO VISAYA
1210 TINO, KIM MARCO ABOC
1211 TIQUE, SHAINA BLAUTA
1212 TIRADO, SAVANNAH UNSRI
1213 TOLEDO, DIANNE ELPIE CRUZ
1214 TOLEDO, LEA MENDOZA
1215 TOLENADA, APPLE JEAN BALTAZAR
1216 TOLLINO, FEBBIE JANE AMMADANG
1217 TONGSON, ERLA MAE DETAL
1218 TORRE, TED ADRIAN GARCIA
1219 TORREJOS, ARCELYN BANAYOS
1220 TORRES, BERNADINE HONA
1221 TORRES, DIANA MAY MARINAY
1222 TORRES, JOHN VINCENT PANTOJA
1223 TORRES, KYLA PATRICIA LOUISE BUGARIN
1224 TRASADAS, CHERRY DYAN BUERON
1225 TRASPADILLO, MICAH KRISTEL ABADA
1226 TUBANG, MARIA NITA AGANG
1227 TUGADE, BERNADETTE MAREGMEN
1228 TUMANENG, PAUL KARL AMADEUS ARELLANO
1229 UBALDO, KIMBERLY ANNE TENORIO
1230 UBUGAN, GLADYS JOY ALMANON
1231 ULGASAN, ROSEBELLE MAE PAGSIAT
1232 UMAYAM, JEREMIE KATE NICOLAS
1233 UMAYAN, BERNICE BEVERLY CABRERA
1234 UNGAD, NORSHAINA SAMAD
1235 URBIEN, JOSHUA DANIEL FABICON
1236 URBINO, CRYSSA MAE LACAR
1237 URTAL, GAIL NICOLE OLIGAN
1238 UY, MARC DANIEL PACHECO
1239 VALDEZ, ERYN LEONILA ECHEVERE
1240 VALDEZ, JANILLA ROSS PADUA
1241 VALDEZ, JENNIE-VI OGANIA
1242 VALDEZ, JULIE ANNE SORO
1243 VALDEZ, LYNDEE CELO
1244 VALENCIA, CARMELA VILLEGAS
1245 VALENCIA, RHAEL MAE SALVADOR
1246 VALENZUELA, SHEENA REYES
1247 VALLES, MARY GRACE VELADO
1248 VAQUILAR, JOHN CHRISTIAN TAN
1249 VARGAS, REY MATTHEW ABINALES
1250 VARQUEZ, JODEL FUERZAS
Roll of Successful Examinees in the
MEDICAL TECHNOLOGIST LICENSURE EXAMINATION
Held on JANUARY 15 & 16, 2022 Page: 27 of 28
Released on JANUARY 24, 2022
Seq. No. N a m e
1251 VASQUEZ, GABRIELLE ANGELO SAMPOTON
1252 VELASCO, KAREN JOY MARTINEZ
1253 VELASCO, KISHA ANNE ARAFILES
1254 VENENCIANO, KRISNA MAE CABAIS
1255 VENTURA, CHIN-CHIN BUCO
1256 VENTURA, KEIKO CONSORCIA RIVERA
1257 VERDADERO, HANNAH SHANE MANALO
1258 VERGARA, MA PATRICIA LOUISE ORDINARIO
1259 VERGEL DE DIOS, CHRISTIAN JESUS BRILA
1260 VERSOZA, PAMELA ANGELICA NAVATA
1261 VICENTE, CHRISCA BALGUNA
1262 VICTORIA, ALECSANDRA NICOLE FAUSTO
1263 VIDALLON, GWYNNETH ALYANNA ESLAVA
1264 VILA, CHARIE MAE PRIDAS
1265 VILLABITO, JOVEN MONDARES
1266 VILLAFRIA, PRINCESS ICHE NISAN RODRIGUEZ
1267 VILLAHERMOSA, EDITH ANNE SUROPIA
1268 VILLALUZ, DANLIZAE LABRADOR
1269 VILLANUEVA, CARLO BERUNIO
1270 VILLANUEVA, JACQUELINE MARIE MARTINEZ
1271 VILLANUEVA, NINA ERIKA VALERIO
1272 VILLANUEVA, RHODESSA MARIE CALIMAG
1273 VILLAPAÑA, KIMBERLY QUIJANO
1274 VILLARANTE, JOANNE PAULA BAGARES
1275 VILLARUEL, CARMELA DAWN ASIÑERO
1276 VILLARUEL, MILKY MARIE ALOTA
1277 VILLEGAS, JANSHER MARFIL
1278 VINARAO, BIANCA ARIANNE NICOLAS
1279 VINLUAN, LESLIE GRACE VALDEZ
1280 VIOVICENTE, GIANNE ALEXA IBALIN
1281 VISANDE, JUDY ANN ALVARADO
1282 VISBAL, KIER JOHN BATO
1283 VITA, PAOLO ABEL SACABON
1284 VITASA, CLAIRE NICOLE AQUINO
1285 VIVO, JANZ RENEE MARIUS MANIEGO
1286 WABE, JOHN MEYNARD BONGADO
1287 WACLIN, MERYLL CACHERO
1288 WALLANG, RUTH NAOIME CERDON
1289 WENCESLAO, JAN CELINE INDEFENZO
1290 WIGAN, KRISHA TUGUINAY
1291 YANA, ORZEL JOHN OÑADA
1292 YAP, ALEXIS NICOLE MOSQUITO
1293 YAP, MUELANIE DEBBIE INDOSO
1294 YAP, ROSE CAMILLE SEVILLENO
1295 YASIN, ABDURAHIM IMLAN
1296 YATCO, SAMANTHA VIDA
1297 YBAÑEZ, KIMBERLY LEYR LUMONGSUD
1298 YEE, KATH LEEN MICOLE POLIQUIT
1299 ZABALA, AUDREY DEGANO
1300 ZABALA, KARLA GRACE RAMOS
Roll of Successful Examinees in the
MEDICAL TECHNOLOGIST LICENSURE EXAMINATION
Held on JANUARY 15 & 16, 2022 Page: 28 of 28
Released on JANUARY 24, 2022
Seq. No. N a m e
1301 ZABANAL, JOVEL LEE GRACE NAMIA
1302 ZABLAN, IRISH GAIL FERNANDEZ
1303 ZACARIAS, VICKY CAGAOAN
1304 ZAMORA, LEE ROD YANGA
1305 ZAPATA, JANINA CARLA OTCHENGCO
1306 ZENAROSA, AILEEN KATRINA GARCIA
1307 ZINAMPAN, MICHEL ZALUN
NOTHING FOLLOWS———————-
EXAM COVERAGE
Clinical Chemistry
Microbiology and Parasitology
Clinical Microscopy
Hematology
Blood Banking and Serology and Hispathologic Techniques
Cytotechnology
Medical Technology Laws
Related Laws and its Implementing Rules and Code of Ethics
RELEASE DATE
PRC is expected to release the Medical Technologist MTLE board exam result within 5 working days after the last day of the examination.
REMINDER
The exam result may be released by the PRC earlier or later than the target date without prior notice.
REQUIREMENTS
Notice of Admission
Duly accomplished Oath Form
2 pieces of passport-sized ID photos in white background and with complete name tag
2 sets of documentary stamp
1 piece short brown envelope
Aspiring medical technologists can visit the official website of the Professional Regulation Commission and use the verification page for the results of the board examination passing rate.
Examinees will be required to provide their full name, birthdate, application number, exam name, and date of examination.