Here is the MedTech Board Exam Result January 2022 List of Passers (G-L)
MEDTECH BOARD EXAM RESULT JANUARY 2022 — Here is the list of passers (G-L) as released by the Professional Regulation Commission (PRC).
The exam results including the list of passers, top 10 passers, top performing and performance of schools, and other announcements related to this will be posted on this website once PRC will release it.
PRC conducted the Medical Technologist Licensure Examination (MTLE) on January 15-16, 2022 at testing centers in Metro Manila, Baguio, Cagayan de Oro, Cebu, Davao, Iloilo, Legaspi, Lucena, Pampanga, Rosales, Tacloban, Tuguegarao, and Zamboanga.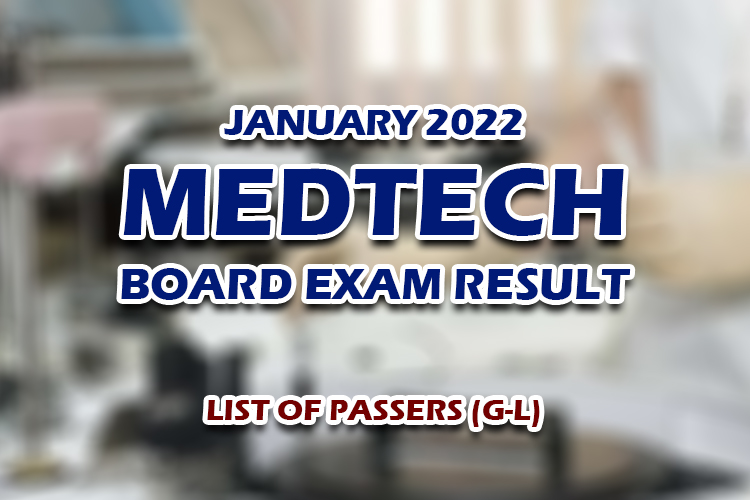 PRC Board of Medical Technology Chairman Dr. Marilyn A. Cabal-Barza and members Ms. Marilyn R. Atienza and Ms. Marian M. Tantingco administered the board examination.
SUMMARY OF RESULTS
Here is the list of passers:
Roll of Successful Examinees in the
MEDICAL TECHNOLOGIST LICENSURE EXAMINATION
Held on JANUARY 15 & 16, 2022 Page: 13 of 28
Released on JANUARY 24, 2022
Seq. No. N a m e
543 GA-AS, BRENT CHRISTIAN MANINGO
544 GABUNAS, MA ANNE THERESE BAYONA
545 GACOD, YVES CAESAR SIAGO
546 GADDI, HOWELL ISIP
547 GAERLAN, CATHERINE DIZON
548 GAGAN, JEMIMAH MAY MACABANTAD
549 GALANG, JIREH MASICLAT
550 GALANZA, JAVE PANANGUI
Roll of Successful Examinees in the
MEDICAL TECHNOLOGIST LICENSURE EXAMINATION
Held on JANUARY 15 & 16, 2022 Page: 13 of 28
Released on JANUARY 24, 2022
Seq. No. N a m e
551 GALASINAO, MITCHIE GAIL CANAYA
552 GALAY, LYKA DELA ROSA
553 GALDO, MIA ARRIESGADO
554 GALGANA, ANGELIKA LOUISE ALIVIO
555 GALIMBA, FLORENCE CYRIL FUA
556 GALLA, MARIE FRANSEL KATE SAGUDANG
557 GALLEON, EDMARL CEARLENE SINFUEGO
558 GALLER, CHRISTIAN SARMIENTO
559 GALVEZ, PATRICIA MAE CRUZ
560 GAMAO, JOANNA GRACE CONSUL
561 GANAL, VINEZA GAY CALDERON
562 GANAS, GWENETH PEREZ
563 GANASON, LORRAINE LOUISE AUDITOR
564 GARCIA, CAMILLE CASTAÑETO
565 GARCIA, GILLAN BEATRICE SALAZAR
566 GARCIA, JIAN SHERYNNE SAMONTE
567 GARCIA, JILLIAN JOY ROSARIO
568 GARCIA, KRYSSLA LINGATONG
569 GARCIA, RIQQA MARZAN
570 GARCIA, WEENAH COLEEN ESTABILLO
571 GARDIOLA, JOSEPH ARTNEIL CADACIO
572 GARIFE, MARIA SAMANTHA MORATA
573 GARMA, STEPHEN VUELTA
574 GAROLACAN, MAELYNE GAMILONG
575 GATA, LARS ANDREILLE ROXAS
576 GATDULA, DENVEE PANGILINAN
577 GAVINO, LOUISE ANN ADION
578 GAYADON, DRANREB DUGUIANG
579 GAYAS, LYNNE JANE GESTA
580 GAYON, JUSTINE TACHADO
581 GAYOSO, ALAIZA NICOLE
582 GAYRAMA, KYLIE CHLOE JUNTILLA
583 GAZLEY, MARK ANTHONY CREDO
584 GELIDON, MARESTELL BALITON
585 GENERALE, ANGELICA JOY NATNAT
586 GERMINO, KATHRYNE MARIEL EVANGELISTA
587 GESON, GLAIZE JANE LOREJAS
588 GICALE, MARIA IVANNE INOT
589 GICANA, CYCAMIL JANE OLMEDO
590 GLORIA, GABRIELLE ALYSSA ALMORADIE
591 GO, ELLAINE ALTAGRACIA
592 GOLEZ, ELOISE JANE BIGOY
593 GOMEZ, IRENE HERMOSURA
594 GOMIAL, JENA MAE PALTINCA
595 GONGOB, RHODA LEE LEONAR
596 GONZAGA, DAWN CAPUYAN
597 GONZALEZ, CLARIZ PATRICIA PARDILLA
598 GONZALEZ, JANN VENISSE REGIO
599 GORDONCILLO, ETHYL MAE TABIO
600 GRECIA, MARJORIE JOY BRIOLA
Roll of Successful Examinees in the
MEDICAL TECHNOLOGIST LICENSURE EXAMINATION
Held on JANUARY 15 & 16, 2022 Page: 14 of 28
Released on JANUARY 24, 2022
Seq. No. N a m e
601 GUANSING, COLEEN MANUEL
602 GUANZON, GLORY BULADACO
603 GUBATON, LORENZO MIGUEL OPEÑA
604 GUCE, RAM HERNANDO
605 GUEVARRA, CHENLENE MARALIT
606 GUIAL, ROMEO QUIÑO
607 GUIEB, DANILYN ABELLA
608 GUIEB, LYKA JESWINDER VILLALOBOS
609 GUINTU, RAVEN MARK MANLUTAC
610 GUIRA, JANAEVA VALENCIA
611 GULAM, YUSHNIAH TARATINGAN
612 GUTIERREZ, CHELSEA MANAOIS
613 GUTIERREZ, SHEMAEA ESPINOSA
614 HAGNAYA, CAMILLE TRISHA VILLACRUEL
615 HALLARES, MARY KRYSHA GUAY
616 HAMBALA, ALLANA MIA THERESE GURREA
617 HAMILIT, MICHAEL JAROD CAYAS
618 HARRISON, SUMAIYA SURAIN
619 HASAN, ABDEN NISAR HUSIN
620 HASSAN, TARIEF-ALNASRE AMILBANGSA
621 HERAMIS, JENNIFER GUNZAO
622 HERNANDEZ, ALEXANDREA PATRON
623 HERNANDEZ, BERNIECE MARIELLE AQUIPEL
624 HERNANDEZ, SEAN JEREMY FANTASTICO
625 HERNANDO, BRYAN JAY LLAGAS
626 HERRERA, BEATRICE BETINA CASTILLO
627 HIDALGO, VIHEA NALLA BLANCHE ANDRES
628 HIERS, AMANDA ACE BALISI
629 HINOLAN, ARIELLE GRACE
630 HISHINUMA, MASAMI DEL ROSARIO
631 HISULA, JESSAMAY IDULSA
632 HOPINALDO, JIREH THEODORE MARQUEZ
633 IBARRA, FHASHIERRE GENNEREICH ABANGGAN
634 IBAÑEZ, RICARDO CORPUZ
635 IBRA, MAHA DIRON
636 IFURUNG, GAIL NIKOLE LA ROSA
637 IGNACIO, JOAQUIN RODRIGUEZ
638 IGNACIO, SAMANTHA NICOLE NODALO
639 IGUICO, JAN CONRAD DRIO
640 ILAGAN, JUSTINE RAIN SANCHEZ
641 ILAO, RANDELL JARRED DE RAMOS
642 INTING, VEEN DALLY SAGUITAN
643 INUMERABLES, ZOE EUNICE DELA CRUZ
644 ISICAN, CASSANDRA PALIGAN
645 ISIP, MARIE RICAMEL BEA SOTTO
646 ISRAEL, APRIL JOYCE TRESENE
647 JABAGAT, DOMINIC BASUEL
648 JACILDO, MICOLE ARQUITOLA
649 JACINTO, RIANNE DEXTER SUBA
650 JAHAK, SITTIE RAHMA SADIKAL
Roll of Successful Examinees in the
MEDICAL TECHNOLOGIST LICENSURE EXAMINATION
Held on JANUARY 15 & 16, 2022 Page: 15 of 28
Released on JANUARY 24, 2022
Seq. No. N a m e
651 JARDELEZA, COLEEN LOUISE ESCLAMADO
652 JARDINEL, RAVEN ANN GREGORIO
653 JARLIGO, BLAINE
654 JAVELOSA, JAVIE FREDELYN RAZAL
655 JAVIER, MIGUEL CRUZ
656 JAYCO, RHEALYN JOY CALGO
657 JERUSALEM, ERICKA MAE PANZO
658 JOSE, CRIZALY BAUTISTA
659 JOSOL, JESSALYN JAMALUD
660 JOVES, YASMEEN MALICDEM
661 JULIAN, MARYANN OCAMPO
662 JUMARANG, AIDEN MYCAH PLATA
663 JUMDANI, FATIMA NASREEN BALUAN
664 JUNAIDE, ABDULLA BAUTISTA
665 KALAW, GABRIELA MANGUIAT
666 KASTULAN, KHADIJA MAHADALI
667 KELLY, KARL MANNO
668 KHOO, JANSEEN AINA JOAQUIN
669 KOH, KENNETH PAULO DEL ROSARIO
670 KULLALUL, SITTI FARHA GULAM
671 LABE, SHAIRA JOY FACTON
672 LABORADA, ANNA MARIE BATE
673 LACAP, LAUREN ISABEL CASTILLO
674 LACAY, JUSTIN PIRING
675 LACERNA, JOHN PHILIP LUCENA
676 LACORTE, ALICE GRACE LUBIS
677 LACSON, MARDEE FRANCINNE MUNDA
678 LACUANAN, KIM BASIL RUGAYAN
679 LACUESTA, MICHAELLA MYLES GALLEGO
680 LADORES, FLORENZ ANGELICA ORTEGA
681 LAGAHIT, REY LORENZO OBSEQUIAS
682 LAGRANA, MARY JOY LANCIAN
683 LAGUDA, LADY MAE BARRIDO
684 LAMAG, ALLIAH KAYE CHA-ALAN
685 LANSANG, JYSSA MAE CABANAS
686 LAPE, JEAN LENDYL BAYLOSIS
687 LARA, ALEC LOUISE RAMOS
688 LARA, HERNANDO II MANIPOR
689 LARDA, RAVEN JERICHO DIAZ
690 LASQUETE, JUSTINE NICOLE HERNANDEZ
691 LATAYAN, SEAN PATRYK ALTAMIRANO
692 LAUREL, SHIEVA CLAUDETTE TUNDAAN
693 LAVADO, DANIELA MAE ALVARO
694 LAYA, JONATHAN II CARIASO
695 LAYGO, ALEXIS JIRAH MATEO
696 LAYON, ELLE MAE MANZANAS
697 LAZARO, ALYSSA DENISE MURILLO
698 LEE, SEUNGYE
699 LEONGSON, SOPHIA DAWN NUGUID
700 LESACA, ANNA MARGARITA TIMBOL
Roll of Successful Examinees in the
MEDICAL TECHNOLOGIST LICENSURE EXAMINATION
Held on JANUARY 15 & 16, 2022 Page: 16 of 28
Released on JANUARY 24, 2022
Seq. No. N a m e
701 LEYSON, CHARNELLE ELOISE DE LA VICTORIA
702 LIBAO, CARA DELL ISHIDA
703 LIBERATO, JOHN LESTER ALMEYDA
704 LIBORIO, CATHERINE DANGPAS
705 LICAYAN, MYRA ANGELA BAQUIRAN
706 LIM, DAN HAGGAI GUMBA
707 LIM, JUSTINE LARIZA
708 LIM, LLOYD MICHAEL REPOLONA
709 LIM, OLIVER GERONA
710 LIMON, DIANA ROSE CABULA
711 LINTAG, JOANNA MARIE LAXAMANA
712 LINTAN, YVES ORLANDO MABLAY
713 LLAMERA, MARY LOUISE LIM
714 LOBO, MARY JOY LUYUN
715 LONDRES, GESTER IANNA MARIE BALLAO
716 LOOC, ROLLEN GRACE BUSMION
717 LOPEZ, ANGELO RAPHAEL FRANCO
718 LOQUINARIO, JENNEFER PUIG
719 LOVINO, ANA MAE VANESSA SUMAGANG
720 LOZANO, CHALDEA LOEJ SHEMARIEH CACAL
721 LU, AIHZA ESMAEL
722 LUALHATI, TYRIAN MEG CASTRO
723 LUCENA, QUENNIE REVILLA
724 LUCIO, KARL JAN ACUPANG
725 LUPAO, KAREN GOM-GOM-O
726 LUZAME, MARIEN LLEGO
EXAM COVERAGE
Clinical Chemistry
Microbiology and Parasitology
Clinical Microscopy
Hematology
Blood Banking and Serology and Hispathologic Techniques
Cytotechnology
Medical Technology Laws
Related Laws and its Implementing Rules and Code of Ethics
RELEASE DATE
PRC is expected to release the Medical Technologist MTLE board exam result within 5 working days after the last day of the examination.
REMINDER
The exam result may be released by the PRC earlier or later than the target date without prior notice.
REQUIREMENTS
Notice of Admission
Duly accomplished Oath Form
2 pieces of passport-sized ID photos in white background and with complete name tag
2 sets of documentary stamp
1 piece short brown envelope
Aspiring medical technologists can visit the official website of the Professional Regulation Commission and use the verification page for the results of the board examination passing rate.
Examinees will be required to provide their full name, birthdate, application number, exam name, and date of examination.