Here is the MedTech Board Exam Result January 2022 List of Passers (M-R)
MEDTECH BOARD EXAM RESULT JANUARY 2022 — Here is the list of passers (M-R) as released by the Professional Regulation Commission (PRC).
The exam results including the list of passers, top 10 passers, top performing and performance of schools, and other announcements related to this will be posted on this website once PRC will release it.
PRC conducted the Medical Technologist Licensure Examination (MTLE) on January 15-16, 2022 at testing centers in Metro Manila, Baguio, Cagayan de Oro, Cebu, Davao, Iloilo, Legaspi, Lucena, Pampanga, Rosales, Tacloban, Tuguegarao, and Zamboanga.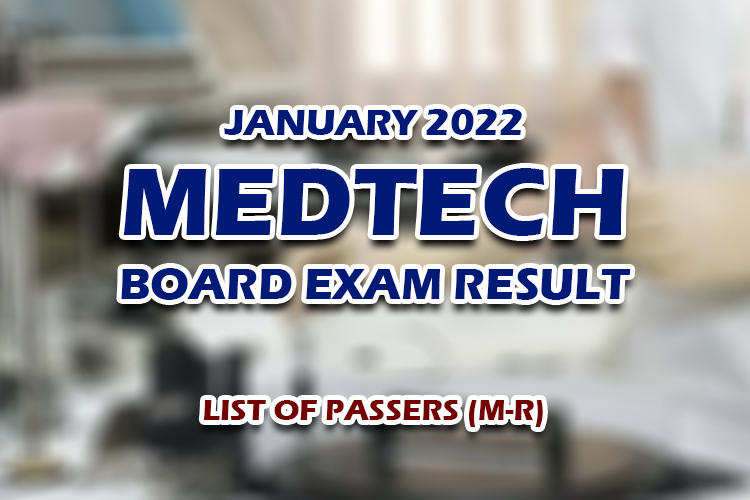 PRC Board of Medical Technology Chairman Dr. Marilyn A. Cabal-Barza and members Ms. Marilyn R. Atienza and Ms. Marian M. Tantingco administered the board examination.
SUMMARY OF RESULTS
Here is the list of passers:
Roll of Successful Examinees in the
MEDICAL TECHNOLOGIST LICENSURE EXAMINATION
Held on JANUARY 15 & 16, 2022 Page: 17 of 28
Released on JANUARY 24, 2022
Seq. No. N a m e
727 MABBORANG, CHASEY TECSON
728 MACALABA, DANYAH MENOR
729 MACALANDA, DENNISE MAE FRANCISCO
730 MACALISANG, ANA LEAH AMIHAN
731 MACARAEG, FIONA SHANE SUMAYANG
732 MACARAEG, GIAN IVY FABIA
733 MACARAEG, SHYLA JHOY GONZALES
734 MACARAYA, ROWELA KYLE MANAGBANAG
735 MACARIOLA, MA ANDREA VALERIO
736 MACATULAD, ALLIAH POLICARPIO
737 MACAUBA, GLENN ARPIA
738 MACHICA, MARY SU ODULLO
739 MADARANG, SHEENNAH BORJA
740 MADINO, ROXANNE CAMILLE ASTRERA
741 MADLAHUDDIN, SARAH BAGGATO
742 MADREDIJO, DIXIE MAE TAGALOG
743 MADRIAGA, ERICA JOY SEVILLA
744 MADRIGAL, ANTOINETTE DENNEL VINALAY
745 MADULA, CYRILENE HABER
746 MAGALLANES, PRINCESS ALBERT MALAZARTE
747 MAGAN, KHRYSCIELLE GRACE BACAOCO
748 MAGAN, KHRYSTAL GEM BACAOCO
749 MAGAT, PETER NUQUI
750 MAGBUO, IRA NICOLE UMALI
Roll of Successful Examinees in the
MEDICAL TECHNOLOGIST LICENSURE EXAMINATION
Held on JANUARY 15 & 16, 2022 Page: 17 of 28
Released on JANUARY 24, 2022
Seq. No. N a m e
751 MAGISTRADO, KYLE PATRICK RIVERA
752 MAGLAJOS, MAYBELYN BARCOS
753 MAGLALANG, RICHELLE LIZA FANGON
754 MAGNAYE, CRISTINE DELA GUERRA
755 MAGNO, RHEA PERALTA
756 MAGSINO, DOMINIC CAMED
757 MAHANLUD, RANDELL LOPEZ
758 MAHILUM, RIMAR
759 MALALUAN, NICOLE ANGELA BOLOR
760 MALIG, KATE ARIENE INFANTE
761 MALLARE, KRYSTEL VANN TULAGAN
762 MALONZO, LAURA FAYE PERALTA
763 MAMARIL, FREDERICK ALDWIN HIPOLITO
764 MANACIO, MARY GRACE GALLEON
765 MANALAO, KINANAH MOHAMMAD
766 MANALAYSAY, CZEROLYN JOY NARCISO
767 MANALO, CAMILLE OCAMPO
768 MANALO, THEA PUNZALAN
769 MANANSALA, APRIL JOY SILVANO
770 MANAOIS, EMMIE KATHLEEN DELEÑA
771 MANARES, GEENA JEAN SEARES
772 MANDREZA, RITCHELA CALUBAY
773 MANEJERO, JANBIEN SLANCE
774 MANGAOANG, JOSHUA RAMON APIGO
775 MANGAWANG, JOHN JACOB SALVADOR
776 MANGSAT, ASHLEY JOY ALMOITE
777 MANGUERRA, MICHELLE ANN ANGEL
778 MANLAPAZ, CLOIE MAE RAYTOS
779 MANLAPAZ, RYAN CHRISTIAN ROXAS
780 MANLULU, HAZEL EVE SANTIAGO
781 MANOS, CRIS MARIE BARDON
782 MANUGAS, JEFF MICHAEL ALCOS
783 MANUGAS, JOSE ALFONSO GALICIA
784 MANUPAC, JUFFALI CALALAGAN
785 MANZANO, ARL AIRA MILANO
786 MARAJAN, JEHAN PANTA
787 MARANAN, MA ROSARIE RAZOTE
788 MARASIGAN, CHRISTINE JANE DIOSO
789 MARASIGAN, JANINE CURA
790 MARAVILLA, PATRIK JIMWELL HERNANDEZ
791 MARAYAG, KARLO IRA ACOSTA
792 MARCA, JACQUELINE RUBIO
793 MARCA, JOHN DENVER TORCUATO
794 MARCELINO, JAN HENESSY PICONES
795 MARCELO, CHARLES JOSEPH VILLAFUERTE
796 MARCELO, RUTH ANN RAMOS
797 MARCOJOS, RICAMAE DEXIE AVISO
798 MARCOS, KIM RAMIL DATUIN
799 MARIANO, JAMINA JOI SIBUCAO
800 MARIANO, JENELYN MEDES
Roll of Successful Examinees in the
MEDICAL TECHNOLOGIST LICENSURE EXAMINATION
Held on JANUARY 15 & 16, 2022 Page: 18 of 28
Released on JANUARY 24, 2022
Seq. No. N a m e
801 MARIQUIT, JOHN PAUL GONATO
802 MARQUEZ, JERI MAE DEBIL
803 MARTILLANA, CINDY HOPE TINGCOY
804 MARTIN, ALEXANDREA JOYCE ATIENZA
805 MARTINETE, CHRISTIAN RAMOS
806 MARTINEZ, ALEXA BEATRICE SENGSON
807 MARTINEZ, HILLARY DIANE PEREZ
808 MARTINEZ, SHAIRA MAE LIGYASI
809 MARTINO, JV BOY ROLLO
810 MARUNDAN, JULLIANNE GRACE PULMONES
811 MATEO, ROSE ANNE CAO
812 MATIAS, DIANA JOY TEGUIHANON
813 MATINONG, JASPER JOHN MELGAR
814 MAULANIN, AIRA MAE JAMITO
815 MAYO, ROXANNE MAE AGAD
816 MAYOL, FRANCIS REGIN HOLIVA
817 MEDESTOMAS, RAY ELLISON EBARLE
818 MEDINA, CELINE ROCHELLE HERNANDEZ
819 MEDRANO, SHERYLENE JORDAN
820 MEGOTE, CRIZEL VENTURA
821 MEJIA, MA ANGELICA KYLE DACANAY
822 MELCHOR, MA CRISTINA MONETH PASCUAL
823 MEMAN, JUDITH MARIE ZIPAGAN
824 MENDEZ, KENNEL MARC KILAT
825 MENDEZ, SWITZEL GRACE ROMO
826 MENDOZA, IANA CHRISTINE LONTOC
827 MENDOZA, JONEZA CACAYURAN
828 MENDOZA, KRISTEL COLEEN VERGARA
829 MERACAP, MA MARINEL NAVARRO
830 MERCADER, SHIERA LOU GUJILDE
831 MERCADO, ALYSSA PRANGAN
832 MEREZ, ALLIAH SANTIAGO
833 MICLAT, ALYSSA JOY AGUSTIN
834 MICULOB, YLAIZA MAE
835 MIDTIMBANG, JALDON MIDTIMBANG
836 MIGUEL, MARIEL FERNANDEZ
837 MILLAN, DANA AUDREY MENGUITO
838 MILLAN, DEANDRE JAN MADRIAGA
839 MILO, YUNI SHARA ADACI
840 MIRANDA, REGGIE MAE FERAER
841 MOCSIR, AISAH ANGGO
842 MOGAMOG, TRISHA MAE STO DOMINGO
843 MOLINA, CLINT ROY JAMES CUTARAN
844 MONROY, DANLYN GULA
845 MONSADA, CHRISTINE LEAH CADIZ
846 MONTALBAN, QUENNIE BASTASA
847 MONTEFRIO, MUTYA VILLANUEVA
848 MONTERAS, COLLEN FAYE JIMENO
849 MONTERO, JAIRA MARIE AREGLO
850 MORA, KATHLYN JIME CAOILI
Roll of Successful Examinees in the
MEDICAL TECHNOLOGIST LICENSURE EXAMINATION
Held on JANUARY 15 & 16, 2022 Page: 19 of 28
Released on JANUARY 24, 2022
Seq. No. N a m e
851 MORAGA, DON JERAMIEL MENDOZA
852 MORAL, MYRISH ARCILLA
853 MORALEJA, JAPHET FLORES
854 MORALES, MARITONI FABULAR
855 MORALITA, LEA MAE RICOTE
856 MORANO, CLAIRE ANN ROCABO
857 MORENO, ALFIER RX RAM POTESTADES
858 MORENO, GRACE ANDREA LINSANGAN
859 MORENO, JAMES IVAN BOSTON
860 MORGADO, KIM MHERCKY VELASCO
861 MORILLO, GERALD PETILLA
862 MORTIZ, MOANA IRENE MALIMIT
863 MOSENDE, KRISHA MAY CHING
864 MUCO, MOHAMMAD BAHQRIE JAMIRUDDIN
865 MUNDO, MARY ABIGAIL QUIZANA
866 MUSNI, SIERENE MAE TIQUEZ
867 MUTIA, GILDRED CHRISTIAN LACATAN
868 NACARIO, MARY DIEHL LORRAINE RAMOS
869 NACIONAL, GISSELLE ARIZ
870 NACIONAL, MARJORIE BARLAAN
871 NACUA, JOHN DARYLL RAFOLS
872 NAMO, LADY JOY DEL ROSARIO
873 NAPOLES, MA SHEIMITCHI REAZO
874 NARCISO, JAY MAGALONG
875 NARIO, WILFRED LESTER TUMOLVA
876 NATIVIDAD, BENAZEER PINERA
877 NAVACILLA, ENYA GILLERA
878 NAVARRO, MARY ANN SALAC
879 NEPOMUCENO, CARIL ANNE CONCEPCION
880 NEPOMUCENO, CRIZZIA
881 NEVADO, ALEXIA CARMELA USON
882 NG, ESTEPHANIE IRIS TAN
883 NGAOSI, NOEHLYNE DUNAG
884 NICOLAS, JUSTINE ANN RAMIREZ
885 NOGOY, GAIL CHRISTIAN LINA
886 NOLASCO, ABEGAILE ELFA
887 NOTO, JUSTIN MAT VENOYA
888 OANES, DANIELLE DE GUZMAN
889 OBARCO, ZARCI MARIE OLASIMAN
890 OBEJERO, ALEXIA RESANE
891 OBENA, IRISH JOY DUMO
892 OBOSA, JANELLE TAYAMORA
893 OCHINANG, MARIE JOY DRES
894 OLAEZ, JEWEL ADRIENNE INFANTE
895 OLAZO, NICOLE DOMINIQUE DUMA
896 OLIMPAIN, SITTIE AMAIRAH MASLA
897 OLIS, JESSAMIN VARGAS
898 OLPOT, MARINELLA CABANGON
899 ONG, ADELVON BUHAIN
900 OQUENDO, NELISSA MAE OCAÑA
Roll of Successful Examinees in the
MEDICAL TECHNOLOGIST LICENSURE EXAMINATION
Held on JANUARY 15 & 16, 2022 Page: 20 of 28
Released on JANUARY 24, 2022
Seq. No. N a m e
901 ORANIO, GLENNIS MARIE TIROY
902 ORCALES, CHRISTIAN JAMES MARCOS
903 ORILLA, PATRICIA CONCEPCION NAVARRO
904 OROCAY, HENRY JR MADERA
905 OROLFO, SAMUEL HABIG
906 ORTALIZ, MARY NHEL
907 ORTEZA, MARIMAR QUIMSON
908 ORTIZ, ANGELICA MAE CHIPE
909 PAASA, MARIELLE TAGUIAM
910 PABION, MICHELLE ANNE TIMOTEO
911 PABUSTAN, ERIKA DE JESUS
912 PACALDO, DHOEBE MAY MARIQUIT
913 PACOMO, VIANCA HERBIAS
914 PACULABA, TIMOTHY FRANK MIJARES
915 PADAYAO, VIEN MARC SINFUEGO
916 PADERES, DENISSE JULIENNE PERALTA
917 PADILLA, ALEXIS CLYDE OMAMALIN
918 PADOLINA, JAMES CARLO PALLARCA
919 PAGTEILAN, DARLENE FAITH ALMOZA
920 PAGUIA, DANIEL JOSHUA
921 PAGUIGAN, LAIDIN FAITH ESTEBAN
922 PALATAN, DIVINE GRACE BINALAY
923 PALENCIA, LYRA ANNE PINPIN
924 PALLASIGUE, MICOLL LAPUZ
925 PALMEJAR, TIMOTHY ALVIN POLOYAPOY
926 PALMES, RAZELLENE INOJALES
927 PAMILARAN, JOHN EARL PADA
928 PANALIGAN, JEUS MUGOT
929 PANCHO, SHEILA DAYMIEL
930 PANDAIN, NUR-AIN MESTIOLA
931 PANGILINAN, ALEXANDRA
932 PANGILINAN, CRISTINE JOY GARCIA
933 PANGILINAN, JENNIFER ENRIQUEZ
934 PANLILIO, PRINCESS NATHALIE BURANG
935 PARDO, DANIELLE MANDADO
936 PAREDES, AARON MARRERO
937 PAREDES, MARIAH MARRERO
938 PAREÑAS, ERNESTO JR DE VERA
939 PARILLA, CHRISTIANREY LAHAY-LAHAY
940 PARONGAN, ARGIE FERNANDEZ
941 PARRA, CHARLES VINCENT ANTONIO
942 PARTOSA, TROY CLIVE RIO
943 PASAFORTE, SARAH MAE OYANGORIN
944 PASAMONTE, JERINE FONTE
945 PASAMONTE, MARIA MIKAELA BORINAGA
946 PASARABA, JAN ANDRE' RIVERA
947 PASCUA, JESSICA CODO-OG
948 PASCUA, KATHLEEN GAY RAMOS
949 PASCUAL, ANGELICA KEITH TAN
950 PASCUAL, JOSHUA LANCE DIZON
Roll of Successful Examinees in the
MEDICAL TECHNOLOGIST LICENSURE EXAMINATION
Held on JANUARY 15 & 16, 2022 Page: 21 of 28
Released on JANUARY 24, 2022
Seq. No. N a m e
951 PASTOR, DAVID IVAN ALBERTSON BUTUHAN
952 PASTORPEDE, LEIZEL
953 PASTRO, MARIVIC CASIDSID
954 PATIL-AO, CLIFF CHARLZON FAROL
955 PATINDOL, CHAREN ROSE
956 PECSON, BARBARA RENEE BACANI
957 PECSOY, MICAH DUALO
958 PELAYO, KYRIE GONZALES
959 PELLARADA, JUDELYNN THEA DOLIPAS
960 PELOBELLO, BEVERLY RODRIGO
961 PENEZA, SHARLMARIE ENRIQUEZ
962 PENSOL, NINFAFIL CAPANING
963 PENTECOSTES, NICOLE PAULINE JUBAN
964 PEPITO, MONIERA GUTOBAT
965 PERALTA, FAHREN KAYE DE GUZMAN
966 PERALTA, KENETH BRYAN QUEZON
967 PERDIZ, ALYSSA MAE PASCUAL
968 PEREGRINA, JEANE PAULA BERNAL
969 PEREZ, JOSE CEDRIC DANAO
970 PESCADOR, KOBE ESPERON
971 PESCUELA, ANGEL JENNETH EBALDONI
972 PEÑAFLOR, ROJAMMA RUTH MORALES
973 PEÑAFLORIDA, JUDEE ROCHER CHAN
974 PEÑERO, JOVELYN ANN CAJANO
975 PICHON, NIKKI MAE LAMANILAO
976 PIEDAD, BIANCA COLOBONG
977 PIEDRAGOZA, KRISTINE VALENZUELA
978 PIELAGO, LEE CAMILLE ESPINOSA
979 PILAPIL, DEBBIE ANNE ARGOTE
980 PILOR, ABEGAIL JOYCE LIWANAG
981 PINAROC, JOANA ROSE BANTA
982 PINEDA, MICHAEL JOHN AGRIPAN
983 PINEDA, REINA KATRINA GUEVARRA
984 PITONG, CARMIROSE RAMOS
985 PONCE, MARNEL VINCE CABANIT
986 PORE, VARBRA SABILLO
987 PORTUGAL, ANNE SHEMIRA SANCHEZ
988 PUHOT, RHEA KAYTE BALLATONG
989 PULMANO, PIA LOUISE BAGASOL
990 PULUTAN, ALYSSA ASHLEY REYES
991 PUNDOGAR, FAIZA MAGANDIA
992 PUNO, LUJIE ANN AMARACO
993 PURISIMA, MARAIAH CINDY GO
994 QAZI, OMAR JUSTO
995 QUIACHON, KENAN CARL TRINIDAD
996 QUIAMBAO, BLANCA MANANSALA
997 QUIAMBAO, KIM ARON VERGARA
998 QUILAB, MEVELYNE OSORIO
999 QUILALA, REGIS ELIAV SOBERANO
1000 QUILIT, RENEEKA SIRIBAN
Roll of Successful Examinees in the
MEDICAL TECHNOLOGIST LICENSURE EXAMINATION
Held on JANUARY 15 & 16, 2022 Page: 22 of 28
Released on JANUARY 24, 2022
Seq. No. N a m e
1001 QUIRANTE, JANEANE MARCENA
1002 QUIZZAGAN, FRANK LESTER AGAS
1003 QUIZZAGAN, MARIA TERESA MELENDEZ
1004 RABBON, MARIFER CORPUZ
1005 RABE, JONAHMIR FAITH RUIZ
1006 RABENA, GIOVANI RYAN RAPING
1007 RABINO, CHELSEA FAYE PEREZ
1008 RABOR, BERLYN ARDEÑA
1009 RABULAN, DAVID RAFAEL BENDAÑA
1010 RACELA, JAYVEE LADRILLO
1011 RACHO, GERALD PAUL COTILLON
1012 RACHO, MARC JASON MAYMAY
1013 RADAM, RICSOON LESTER PHI
1014 RAFAL, GEORGE ERIC RAPACON
1015 RAGASA, AURELI ANNE ROLA
1016 RAGOJOS, JERVIN JENNELLE FLORES
1017 RAGUINE, JANAICA DIAMAL
1018 RALLONZA, DANIELLE REYNOSO
1019 RAMIREZ, JOHANNES MICHAEL CARVAJAL
1020 RAMIREZ, MICHELLE REUSORA
1021 RAMOLETE, RICA MAY WANDAS
1022 RAMOS, DANA ARMINA JIMENEZ
1023 RAMOS, GLYZZA MAE SICENA
1024 RAMOS, KAREN CARRANZA
1025 RAMOS, KARIZA IRISH SANTIAGO
1026 RAMOS, RAMON BLAS VASQUEZ
1027 RAMOS, STEFFANY VALERIE REGIS
1028 RAMOS, VENICE MAUREEN DOMINGO
1029 RAPANUT, CLYNIE MAE KC
1030 RAQUEL, RIZALYN RODRIGO
1031 RASONABE, DAVID I SAN MATEO
1032 RAVELO, DONABEL DIGOL
1033 RAYMUNDO, MARTIN MARCELO
1034 RAÑOA, REJEANNE MAE BELDAD
1035 REAL, FRANCE EDEN YVYTTE INTONG
1036 REAS, GELLEAN BIANCA MIRABUENOS
1037 REBLANDO, MELLISA MILLA
1038 REBOTE, XANDREL MATTHEW CAPUCHINO
1039 REGALA, BIANCA SOPHIA SANTIAGO
1040 REGALADO, JAN RAVEN RICARDO
1041 REGULACIO, NICOLE BALUYUT
1042 RELANO, RACHELLE MALE
1043 REMIGIO, TRISHIA MAE ZAMUDIO
1044 RENDAL, RUFINO III SALOMON
1045 RESPICIO, ARTHUR JOSEPH JR DUCDUC
1046 RESPICIO, RIANNA AGUILAR
1047 RESULTAN, KRISTELA IRIS DE GUZMAN
1048 RETUERTO, KAREN CHLOE CONCHA
1049 REVILLE, NATHANIE ABELLO
1050 REYES, ELLA MARIE DARAY
Roll of Successful Examinees in the
MEDICAL TECHNOLOGIST LICENSURE EXAMINATION
Held on JANUARY 15 & 16, 2022 Page: 23 of 28
Released on JANUARY 24, 2022
Seq. No. N a m e
1051 REYES, ERICA BETH RAMOS
1052 REYES, FAITH CHERISH DE LEON
1053 REYES, GABRELLE OLIVER AGUSTIN
1054 REYES, JOHN MARK MORFE
1055 REYES, MARIA INA TEO
1056 REYES, RALLYANI KAE ARANDIA
1057 RIDAD, KARL MARK DILLA
1058 RIGUCERA, NIÑA ERIKA TAYAO
1059 RIOS, LUCIENE MARI KASALA
1060 RIVERA, BRILLIELE YHEEN ESPIRITU
1061 RIVERA, BRYAN-JAMES SAGADRACA
1062 RIVERA, ROWELSON LAROZA
1063 ROBIÑOL, NICOLE SHANE RABIT
1064 ROMARATE, JANELYN DABAN
1065 ROMERO, EBB HERSHEY DEMILLO
1066 ROQUE, NIÑA ANGELICA BALUYUT
1067 ROSAL, ROSAS FE OCANG
1068 ROSARIO, ABEGAIL PADLAN
1069 ROSAS, CHRISTINE MAE DEL VALLE
1070 ROSELO, AASAC JOHN TEODOSIO
1071 RUEDAS, AARON JAMES DE GUZMAN
1072 RUIZ, KIMBERLY
EXAM COVERAGE
Clinical Chemistry
Microbiology and Parasitology
Clinical Microscopy
Hematology
Blood Banking and Serology and Hispathologic Techniques
Cytotechnology
Medical Technology Laws
Related Laws and its Implementing Rules and Code of Ethics
RELEASE DATE
PRC is expected to release the Medical Technologist MTLE board exam result within 5 working days after the last day of the examination.
REMINDER
The exam result may be released by the PRC earlier or later than the target date without prior notice.
REQUIREMENTS
Notice of Admission
Duly accomplished Oath Form
2 pieces of passport-sized ID photos in white background and with complete name tag
2 sets of documentary stamp
1 piece short brown envelope
Aspiring medical technologists can visit the official website of the Professional Regulation Commission and use the verification page for the results of the board examination passing rate.
Examinees will be required to provide their full name, birthdate, application number, exam name, and date of examination.