Here is the MedTech Board Exam Result January 2022 List of Passers (A-F)
MEDTECH BOARD EXAM RESULT JANUARY 2022 — Here is the list of passers (A-F) as released by the Professional Regulation Commission (PRC).
The exam results including the list of passers, top 10 passers, top performing and performance of schools, and other announcements related to this will be posted on this website once PRC will release it.
PRC conducted the Medical Technologist Licensure Examination (MTLE) on January 15-16, 2022 at testing centers in Metro Manila, Baguio, Cagayan de Oro, Cebu, Davao, Iloilo, Legaspi, Lucena, Pampanga, Rosales, Tacloban, Tuguegarao, and Zamboanga.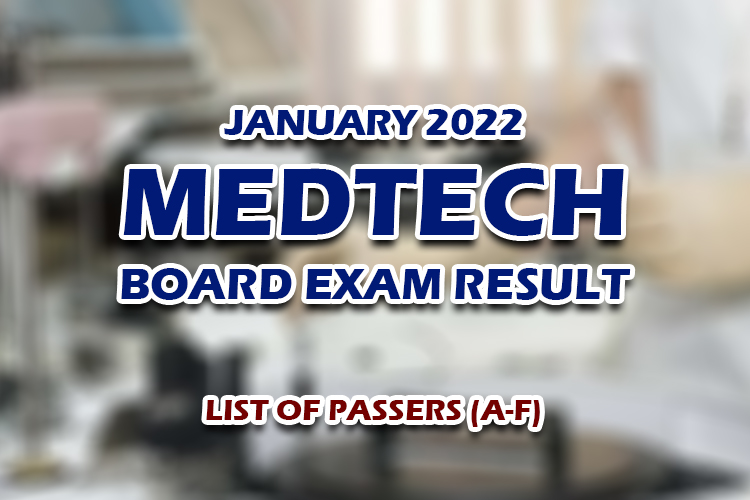 PRC Board of Medical Technology Chairman Dr. Marilyn A. Cabal-Barza and members Ms. Marilyn R. Atienza and Ms. Marian M. Tantingco administered the board examination.
SUMMARY OF RESULTS
Here is the list of passers:
Roll of Successful Examinees in the
MEDICAL TECHNOLOGIST LICENSURE EXAMINATION
Held on JANUARY 15 & 16, 2022 Page: 2 of 28
Released on JANUARY 24, 2022
Seq. No. N a m e
1 ABAD, KRISTALYN JOY MASE
2 ABADILLA, BENIDICK ARNOLD GALICIA
3 ABALOS, RENEE KATRINA DUCUSIN
4 ABARCA, MARY MICHELLE VILLANUEVA
5 ABATAYO, MARIEL DIANO
6 ABBURAN, CATHERINE PAGARAN
7 ABENDAÑO, PRIMROSE MADRONA
8 ABES, KYLEEN PIDLAOAN
9 ABILLO, VACY JELL BAAY
10 ABLOG, MA RAIZZA MAE DANCEL
11 ABRAN, EVA GELYKA CABARDO
12 ABRAZALDO, MARIA KATRINA BORON
13 ABRIGO, DIANA CLEO ARGOTE
14 ABRIGO, JOVEL MANGSAT
15 ABRUGENA, MA FRANCES KIANE CARAAN
16 ABU, SHARLEEN ALEA CADAVIDA
17 ABUAN, DEANNE CATE CALICA
18 ABUAN, JULIE PEARL PARINGIT
19 ABUEG, MARIELA RENAFIN VALLO
20 ACAPULCO, ANGELICA ANNE ARANGO
21 ACASIO, CARL ANDRES CATIMBANG
22 ACASO, DANNICA ROSE
23 ACHA, MARY ELIZABETH DEL CASTILLO
24 ACHAS, POJUER CENIZA
25 ACOSTA, DARYLL AGATHA TALIDONG
26 ACOT, NERISSA LABIS
27 ACOTANZA, ALEXIS DIANNE GUERRERO
28 ADISON, JOY ADRIANNE JIMENA
29 ADRIAS, PAULA MAE MENDIOLA
30 ADRIATICO, JASMIN REOTORIO
31 AGANON, FRANZ CAMILLE PRIETO
32 AGARRADO, JANICA MARI SAMSON
33 AGASANG, CARISSA SISTER
34 AGBAY, VENUS JANE ROGERO
35 AGBAYANI, SHIELA MAY VALDEZ
36 AGLOSOLOS, JANELA MANGLINONG
37 AGOD, PHOEBE GRAIL FERNANDEZ
38 AGOSTO, JONAFEL MONTAÑO
39 AGTAY, ANGELLE MELISE ARCILLA
40 AGUBAN, ASHLENE CURAMENG
41 AGUIRRE, JERRYSHANE SACSACPA
42 AGUSTIN, ARA VANESSA ABALOS
43 AGUSTIN, MICHAELLA JOY ABELLANIDA
44 AJIJI, REHANA ABU
45 AJUNAN, MICHELLE BANAAG
46 ALAGANO, TRISTAN JED SAHAGUN
47 ALANO, JOANNAH MAE DIATRE
48 ALARILLA, RICKPAUL VINCENT ALEJANDRO
49 ALBA, JIREH BEA UDAL
50 ALCAIDE, FAITH ELYNNE LIMPIN
Roll of Successful Examinees in the
MEDICAL TECHNOLOGIST LICENSURE EXAMINATION
Held on JANUARY 15 & 16, 2022 Page: 3 of 28
Released on JANUARY 24, 2022
Seq. No. N a m e
51 ALCALA, CHRISTINE ANN IRAN
52 ALCANTARA, KRISTEA CLYR MORALA
53 ALCANTARA, MA KHAZANDRA ARELLANO
54 ALCANTARA, SAPHIRE ALCANTARA
55 ALCANTARA, VAN AARON NATAVIO
56 ALDEN, LEIZA JACOB
57 ALDERETE, VLESHIE JOY GUILLEN
58 ALEJANDRO, DANICA MAE SIBULO
59 ALIGA, FREA
60 ALIH, MARDIA ARBISON
61 ALINA, JETHRO LATOZA
62 ALJAS, MICA JUMAWAN
63 ALKUINO, GIAN SEARLE SY
64 ALLADO, IMMIE PRINCESS JOY REBUCAS
65 ALOS, SWEETZEL ELAINE CUSTODIO
66 ALQUEZA, INA MARIE BARTOLAY
67 ALVAREZ, ALAINE BALINGIT
68 ALVAREZ, AYRA
69 ALVIAR, FAYE VALERIE BONDAME
70 ALWAN, AMINA HASAN SOLANOY
71 AMADOR, MICHAELA GABRIELLE TAMAYO
72 AMAMIO, MIKYLA MACELLONES
73 AMANDY, CHELSEYA VALLE
74 AMARO, VANESSA CASANDRA ESTEFANI
75 AMBROCIO, KRISTINE ROMAN
76 AME, ZACHERY FRANCHETTE AYO
77 AMOLAT, TRISHA LAURENT GARCIA
78 AMOLO, FAYE ERRYL LEANDER
79 AMOÑGOL, CYRIL LOIS PEDRO
80 ANCHETA, JEN CHELSEY MILAN
81 ANDA, ANGELU LORAINE TURINGAN
82 ANDRADA, EDDIE GREG DUYAG
83 ANDRADA, HAZZEL TAGGUIG
84 ANDRADA, MARIAH LYNNETTE BOMITIVO
85 ANDRES, KRISTEL JOY IGNACIO
86 ANG, ELAINE JOYCE TENG
87 ANG, NICOLE IRA SHANE CHANCO
88 ANGAYANGAY, ANN HANICA FERRER
89 ANGELES, JASON OLIVER SIMBULAN
90 ANGELES, JOHN EDUARD ALMONDIA
91 ANTEG, ANGEL VICKY LAYGO
92 ANTONIO, GILIAN ESPINA
93 ANTONIO, JANE GISELLE FLORES
94 APEPE, QUEENIE MAE NABALES
95 APOLONIO, RONA MAE FAUSTINO
96 APOSTOL, ARJEAN SOMERA
97 APRODA, MARIAH KRISTINE YANOLA
98 APUNAR, ROSE JENINE NOCON
99 AQUINO, CLARISA JOYCE MANALESE
100 AQUINO, DENCEL DIETHER CALUNGSOD
Roll of Successful Examinees in the
MEDICAL TECHNOLOGIST LICENSURE EXAMINATION
Held on JANUARY 15 & 16, 2022 Page: 4 of 28
Released on JANUARY 24, 2022
Seq. No. N a m e
101 AQUINO, JASON LEIGH NAVARRO
102 AQUINO, NATHALIE SAIKA MIRANDA
103 AQUINO, ROLAN CHRIS MARANDE
104 ARAMBULO, JOHN MIGUEL GATLABAYAN
105 ARANA, KRISTENN DANA OCAMPO
106 ARAÑAS, JONALYN MARGE ENCIERTO
107 ARBAN, LHEAN ANGELA ABELLANA
108 ARCELLANA, JAY EMIL TOMONGTONG
109 ARCENAL, GLENN CARLO HENLEY ABORDO
110 ARELLANO, KOBE BRYAN BICALDO
111 ARIOLA, JHON PATRICK PADERNAL
112 AROMIN, KATRINA ELAINE ALEJANDRINO
113 ARRIETA, CEANNE CARYLLA MARIE JORNADA
114 ARRIOLA, DOROTHY CLEMENTE
115 ARTACHO, ALYSSA JOY BUENDEVER
116 ARUGAY, JONAS PREJILLANA
117 ARUYAL, MA ISABEL CABONCE
118 ASCAÑO, FLORIE VIC VIERNES
119 ASUNCION, DYNA SABADO
120 ASUNCION, SHERWIN IAN HODREAL
121 ASUNTO, ZAIRAH MAY MACAPANGAL
122 ATOLBA, AIRA ADONIS
123 AUNZO, EDLLENE MICHELLE SAGAYNO
124 AVES, SHAIRIN MATEO
125 AVILA, DORINA MAE CARBON
126 AYSON, KRISHA YVETTE GOMEZ
127 AÑONUEVO, ALWIN KIRT IDULOG
128 BACAKEO, MELODY BOLEYLEY
129 BACANI, MICHELLE ANNE REYES
130 BACARICAS, JHUNE CARLO ANCIADO
131 BACARISAS, DANIEL LLANARES
132 BACLEA-AN, ZHAYNE BACCAY
133 BACOLOD, BIANCA CLAIRE MACAYA
134 BACULO, KIM JEFFERSON CELESTIAL
135 BACUS, MOIRA KEI APARRI
136 BADUA, KATRINA MONICA PATUNGAN
137 BAGANIAN, ASHREYA KASIM
138 BAGAS, JOEY ANN BALLOS
139 BAGASOL, IVY JADE MOLINA
140 BAGSAN, MARICAR APALING
141 BAGSICAN, ERMELYN FAE SABLAS
142 BAING, SHYNES ADUAN
143 BAJA, KRISTINE CECILE LOPEZ
144 BALBARES, OELCH ESTHER BACERO
145 BALDERAS, KATE ANDRIANE FRANCIA
146 BALDIVINO, QUEEN APRIL CAJULAO
147 BALDOMERO, CORINA DAQUITAN
148 BALEROS, ALECSIS DARLENE TAMAYO
149 BALGUA, LADY JOY TOLENTINO
150 BALIDIO, SHEILA MAE MUTYA
Roll of Successful Examinees in the
MEDICAL TECHNOLOGIST LICENSURE EXAMINATION
Held on JANUARY 15 & 16, 2022 Page: 5 of 28
Released on JANUARY 24, 2022
Seq. No. N a m e
151 BALISI, MARC STEPHEN PANAGA
152 BALITAAN, BERNADETTE ANABELLE PETRASANTA
153 BALLAD, LESTER JOSEPH MORA
154 BALLENTOS, MA KATHRINA
155 BALLERA, DONABEL TORRES
156 BALLESTEROS, BRITANEE BELLE CATACUTAN
157 BALLUGO, ARVIL VALERIE JOY DE VERA
158 BALT, HAZRA JANNAH MULOK
159 BALUYUT, CHERRY MAE BATAC
160 BALUYUT, FRANCES AIRIZ JIMENEZ
161 BANAAG, ANNA MARIE DE JESUS
162 BANCOD, FRANCIS BIEN ORLANDA
163 BANDONG, NAOMI THERIS VALENZUELA
164 BANGAAN, VALERIE SANTONG
165 BANGANAN, CLAIRE BALDAS
166 BANGLOY, BRENNAN CATUBAG
167 BANIAGA, ELFA GUZMAN
168 BANIAGA, JANNEAH SHANICE REPAREJO
169 BAQUIRAN, SHEENA MAE ALCURAN
170 BARELA, MA ROGENA NICOLLE DE GUZMAN
171 BARHAMA, NOR-UZMA TAHIL
172 BAROL, GLORY DEN SINGANGAN
173 BARQUE, LARA ISABEL
174 BARROGA, VEA MARIEL DACUMOS
175 BARRUGA, ABIGAIL TRAJE
176 BARTE, MA KATHERINE MAZON
177 BARTOLOME, ANGELA LOIS TOMACRUZ
178 BARTOLOME, KEVIN KURT AGORILLA
179 BARTON, MIKAELA GRACE MOLDES
180 BASALLO, JESUSA MARIE JOSEPHINE SUAVERDEZ
181 BASCO, ANGELIQUE DE LEON
182 BASIBAS, TERESA ELLAMAE SON
183 BASSIG, PAUL JOSHUA DAGAN
184 BATINGAL, SHARLENE RAPEL
185 BATULAN, COLEEN JOY PAJARA
186 BAUDEN, AIRAH BALACDAO
187 BAUDI, ELMEERA CZAIRA ROQUE
188 BAUTISTA, LEIRA LEE EDNACO
189 BAUTISTA, MARY JOY SOROÑO
190 BAYANI, JOHN ALLEN II CATACUTAN
191 BAYANIN, CARLO LUIS CUETO
192 BAYLE, JAMAICA CHRISTINA RECHETA
193 BAÑAGO, LEONARD MATTHEW PERALTA
194 BELGIRA, NESJEAN RHEA ANATAN
195 BELLECA, FREDERICK PALEAN
196 BELLECA, KYLE BERNADETTE ABRERA
197 BENDEBEL, MEIRA LEE YNTIG
198 BENGUA, JEHU JACOB SALGO
199 BENIN, JULIA ANN TORRES
200 BERGONIO, ALDRICH NOVENO
Roll of Successful Examinees in the
MEDICAL TECHNOLOGIST LICENSURE EXAMINATION
Held on JANUARY 15 & 16, 2022 Page: 6 of 28
Released on JANUARY 24, 2022
Seq. No. N a m e
201 BERGONIO, DEAN MAVERICK GERVACIO
202 BERINGUEL, RHAINE CATHERINE BALDEO
203 BERIÑA, SELAH ELENA BALDESCO
204 BERMUDEZ, JUNNE PEARL COSIO
205 BERMUDO, MA RHISTINE JESSA ATANOSO
206 BERMUNDO, MYLYN QUINITO
207 BERNARDINO, ELIEZER JOHN REYNON
208 BERNARDINO, SAMANTHA COLEEN SENARILLOS
209 BERNARDO, KIMVERLY MAY MASIGLAT
210 BERNARDO, MARY GRACE LANSANGAN
211 BESA, GUILE MARCO ESCOBAR
212 BESA, JAMES MEIGHEN ODI
213 BILOY, LINDY GRACE SUMANAL
214 BINANG, HOSRIYA ISMAEL
215 BINARAO, VALERIE LAPING
216 BITANGA, GLORY SAPNGAD
217 BITERA, PAMELA MAE ODULIO
218 BLANCO, HANNAH MAE POLIDO
219 BOGNOT, MARY NICOLE TOLENTINO
220 BOHOL, PAUL MARTIN ZAMORA
221 BOISA, JOHN PAUL VINCE PAGALILAUAN
222 BOLANIO, COLEEN GERALDINE BERNARDO
223 BONIFACIO, JOHN CHRISTOPHER BIGLANG-AWA
224 BORILLO, MARLYN BUEMIO
225 BORJA, ROYCE JULIUS DURAN
226 BORRES, PAULA FAYE MARIANO
227 BOSE, MARK ALLEN RAMOS
228 BRAZIL, SHANTY MARINIEL NACARIO
229 BRIONES, DOMINIQUE PHOEBE ZINGABO
230 BUAN, NATHANIELA LISCANO
231 BUCAO, CHRISTIAN JAY ABIEN FABIAN
232 BUCU, CHRISTOPHER ALVIN BESANA
233 BUDOMO, KATHLEEN JOY PILLOS
234 BUGAIS, ANDRO GONZALES
235 BUHAY, GENEVIEVE JOSEPHINE GOCO
236 BUKING, ARIANNE BASILIO
237 BULAN, CHRISTIAN MACADANGDANG
238 BULAN, LEONARD MASA
239 BULLO, NECK JAMES INTANO
240 BUMANGLAG, JANE NICOLE CALIMLIM
241 BUNA, KIM ALYSSA INTING
242 BUNAGAN, ARWEN MAY ROSALES
243 BURCE, ALMIRA ZYRRA CORTEZANO
244 BUSCATO, JOCE MAE DELA CRUZ
245 BUTAC, PRINCESS DULAY
246 BUYCO, AIZA BELLE NICOLE BAGATELA
247 CABACANG, NUCEL ABBY ESQUILLO
248 CABACAS, MELVIN DE VERA
249 CABADING, ARNEL TABLATE
250 CABADING, BEA MYAN TORRES
Roll of Successful Examinees in the
MEDICAL TECHNOLOGIST LICENSURE EXAMINATION
Held on JANUARY 15 & 16, 2022 Page: 7 of 28
Released on JANUARY 24, 2022
Seq. No. N a m e
251 CABAGNOT, RGEE-LIAH OCOT
252 CABAJES, FRANCIS BASILIO
253 CABALLERO, BERENICE ALTHEA CABAHUG
254 CABALO, VANN ALLEN ANDREI HELERA
255 CABANSAG, JOSE MIGUEL FLORENTINO
256 CABARO, MAJALEAH SALIK
257 CABARON, GEA CLARISSE PEREZ
258 CABARSE, KATRINA BADAYOS
259 CABAY, ANTONETTE BAY-AN
260 CABERTO, PATRICIA ANNE JULATON
261 CABRERA, ALAISSA ESTEBAN
262 CABRERA, MARINER TORRES
263 CABUHAT, JEZIEL ABRENICA
264 CACHAPERO, TROY BALISTOY
265 CACHUELA, KAYHLA MARIE OMAMBAC
266 CADAOAS, ANJAH PATRICIA PALAFOX
267 CADAVOS, HAVANNA VYNGEL DAMALERIO
268 CADIENTE, JASPER SELGA
269 CADIGAL, TANYA LOU VALENDEZ
270 CADLAON, YVONNE PEÑAFIEL
271 CADSAP, JEAH SOCALO
272 CAGUIA, FRANCES LOIS TANAEL
273 CAGUISA, MILKA ROSE SIMBAJON
274 CAGURANGAN, MERVA DELLA
275 CAJANO, SUNSHINE REBUCAS
276 CAJUDAY, CONNIE JOY MARQUEZ
277 CALAGUIO, SHAIRA BALOLONG
278 CALATRAVA, DARREN VILLANUEVA
279 CALDEA, ROXAN DANNY PUNZALAN
280 CALIBUSO, THEA AMABELLE PIROS
281 CALIMAG, CHICKLET NICOLAI DELA CRUZ
282 CALINGO, KYRA MAE CHAN
283 CALIS, RHEA DINGWASEN
284 CALIT, JAN ELTSEN NARONA
285 CALIWLIW, FERDINAND DARYL RICAFRENTE
286 CALLEJO, LADYLYN AQUINO
287 CALUBAYAN, KATE RONIELLE CORTEZ
288 CALUCAG, COLEEN JAE ANCHETA
289 CAMACHO, RHAYMON RALPH ORDOÑA
290 CAMAL, VENUS APA
291 CAMINERO, LEICYL CATUBIG
292 CAMORISTA, MARK KEVIN MERIDA
293 CAMPADO, EUREKA CLAR ISA NAPOLES
294 CAMTUGAN, VONN DANIEL MANGINGA
295 CANALEJA, JOHN FLORES
296 CANAMA, JULE VANGEN SARITA
297 CANARIA, MARIA KAREN DATIO
298 CANDOY, OLGA WILLAS
299 CANG, MICHAEL DENNIS SIANGCO
300 CANILLAS, JENNA EVE IMPROSO
Roll of Successful Examinees in the
MEDICAL TECHNOLOGIST LICENSURE EXAMINATION
Held on JANUARY 15 & 16, 2022 Page: 8 of 28
Released on JANUARY 24, 2022
Seq. No. N a m e
301 CANLAS, MA ANN-GELLENE DELA CRUZ
302 CAPANAN, JEZLAIAH ATTABAN
303 CAPANGPANGAN, CATHY YATA
304 CAPAPAS, JASON MARK SOLIDUM
305 CAPARAS, JEWEL MARISSE CATHERINE REYES
306 CAPISTRANO, VINCE MAYNARD ABROGAR
307 CAPULONG, MARY JANE BUNA
308 CARACHO, ACE GERALD RAYOS
309 CARAMAT, PATRICIA LOUISSE SICAT
310 CARAMBAS, CLARENCE BAGASOL
311 CARANTO, JESUMARIAE CUSI
312 CARBONELL, MARC ANGELO MENDOZA
313 CARDENAS, ERIANE JANE MABIDA
314 CARIÑO, NOAH
315 CARLOS, ALYANNE LEI REYES
316 CARLOS, DANIELA MARIE FERRER
317 CARREON, PRINCESS JAZMINE MACARAEG
318 CASAMAN, ENOCH AARON JOSEPH TITOY
319 CASAPAO, HARRIET JANNIE MALIKSI
320 CASEÑAS, CELINE JUNE TAN
321 CASTILLO, EANA JOYCE TULIO
322 CASTILLO, KRIS DANIELLE JOCSON
323 CASTILLO, MARIE ANTOINETTE ROCA
324 CASTRO, TRISTAN CONDOL
325 CATAPANG, MA JESSICA CARITATIVO
326 CATIMBANG, RYAN AREOLA
327 CATORES, ATHENA MAY ELYZEL CLEMENTE
328 CAUILAN, HANNAH EDWINA CAMAYANG
329 CAWAS, KEN RENDELL MANIMTIM
330 CAYABYAB, MOHNICA BEATRIZE ABEL
331 CAÑADILLA, KRISTINE MAE ADVINCULA
332 CEPEDA, DONNA MAE ARNALDO
333 CERVANTES, ARIEANNE EDEN SAET
334 CHAPAP, JESSALYN TAO-EY
335 CHEN, CHARLENE KYLE PELMONTE
336 CHEN, CHUN WEI JR CACHERO
337 CHIU, CHARLES MAGSAYO
338 CHUA, CHARLYNNE JULIA ESQUIVIAS
339 CHUA, MERYL JACQUELINE LLAMAS
340 CHUA, PB KATE PEARL PAGUTE
341 CHUA, SAMANTHA KATE CATALAN
342 CHUA, YESHA NICOLE MANAO
343 CIMATU, KARYLL ANN MARTINEZ
344 CINCO, PATRICIA MAE CABIGTING
345 CLARIN, CIARA MAE RAMIREZ
346 CLAUR, AYLA DAWN REYES
347 CLEDERA, CLYDE CIRUJALES
348 CO, PHIL ISAIAH CHEUNG
349 CODORNIZ, JAMES ISAIAH MENDEZ
350 COLLANTE, KAYE BARTOLABAC
Roll of Successful Examinees in the
MEDICAL TECHNOLOGIST LICENSURE EXAMINATION
Held on JANUARY 15 & 16, 2022 Page: 9 of 28
Released on JANUARY 24, 2022
Seq. No. N a m e
351 COMEDIA, ALYSSA MARIE CONDE
352 COMILA, CRISSA PIS-O
353 CONDE, VANESSA GRACE TAMPUS
354 CONDRADA, JEREMY CLARE CAMPANERO
355 CORONEL, JANNELLA CHRISTIE BOLADO
356 CORTEZ, ROSE GAIL RIVERA
357 COSEP, KRISTINE ANN REDONDO
358 COSTALES, BERNAHDETTE CLARENCE CAGDAN
359 CRISTOBAL, MYKA BRILLIANT RABANAL
360 CRUZ, CHRISLIA MAULLON
361 CRUZ, ISABELLA DE LOS SANTOS
362 CRUZ, LORENZO BRYLL LOFRANCO
363 CRUZ, MAXINE LYANNE DE GUZMAN
364 CRUZADA, ANGELICA REYES
365 CU, NATALIE REGINA KWAN
366 CUA, AIMEE BODEGON
367 CUDIAMAT, ARIANNA RODRIGUEZ
368 CUELLO, JASMYNE CLAIRE JAMORA
369 CUERDO, ALYSSA LYANNE ORILLOSA
370 CUEVAS, JULIAN ALECSON ALDOVER
371 CUEVO, PRINCESS JHESIERIE CREUS
372 CUPINO, KIARA YUTUC
373 CUTI, KRYSTEL MARIE DUGAO
374 CUYANGAN, JESSIBELL ALAWIS
375 DACASIN, FREDERICK DAGUIDAG
376 DAET, SHELA RHOSE MANGAYA
377 DAGONDON, ELAINE YBAÑEZ
378 DAGONDON, TRIXIA YBAÑEZ
379 DAGUIO, SARAH MARICONE MAE COSIDON
380 DALUPING, LAYAN ROSE AGPAD
381 DAMASCO, JEOJOHN CHARMAINE MAPULA
382 DAMASO, MAY FLOR BALAG
383 DANGAYO, KRISTIN JOY DATONG
384 DANGILAN, JOHN SPENCER BUMANGLAG
385 DANGUECAN, KIMBERLY ROSE SANTOS
386 DARANG, CAMILLE ROSE AMIT
387 DARLO, CHESTER TITONG
388 DASALLA, LOREN AURA JONEDINE CUISON
389 DATU, RALPH CHRISTIAN ARCEO
390 DAVID, ELISSE DANIELLE SABILE
391 DAVID, JOSE PAOLO BAUTISTA
392 DAYOT, CATHERINE DEGOLLACION
393 DE GRACIA, MA GRACIA FERRER
394 DE GUIA, QUEENIE LYN UNAY
395 DE GUZMAN, CONRAD CENTENNO LAGURA
396 DE GUZMAN, MA KAYE BAUTISTA
397 DE LA CRUZ, KATHLEEN ANDAY
398 DE LEON, HAZEL MIE ADINIG
399 DE LEON, TRISHA MAE YPANTO
400 DE OCAMPO, IRISH JANELLE SANTIAGO
Roll of Successful Examinees in the
MEDICAL TECHNOLOGIST LICENSURE EXAMINATION
Held on JANUARY 15 & 16, 2022 Page: 10 of 28
Released on JANUARY 24, 2022
Seq. No. N a m e
401 DE VERA, GABRIEL ISAAK LORENZO CABANAS
402 DE VERA, MARY AMYLEN SUMAYO
403 DE VERA, RAVEN MARAMBA
404 DE VERA, TONI FRANCHESKA MORAL
405 DE VILLA, KATHLEEN JAYE PALER
406 DEANANEAS, HUENDELL MARC LLUZ
407 DEANG, PATRICIA MARIE DE GUZMAN
408 DEBALOS, JESRIELLE MAY FRANCISCO
409 DEGUILMO, ANN CANDRINE FELIPE
410 DEL CASTILLO, HANNAH JANE ROQUE
411 DEL MUNDO, AIRAM VIEN JAMAIS LABAY
412 DEL MUNDO, CHANE ABY RODEO
413 DEL RIO, LOUISE YVONE VILLAFUERTE
414 DEL ROSARIO, KIM DIZON
415 DELA CERNA, RACHELLE ANN PARAME
416 DELA CRUZ, ADRIAN KRISTOPHER MUERONG
417 DELA CRUZ, BERRYL MUSCA
418 DELA CRUZ, CHARLES NELSON BARRETTO
419 DELA CRUZ, DENISE NICOLE MIJARES
420 DELA CRUZ, GEM EDQUITAO
421 DELA CRUZ, MICAH ANGELLA MANUEL
422 DELA CRUZ, RENEE HOPE SUMANG
423 DELA PEÑA, SWEETCELL MATAWARAN
424 DELOS REYES, DARLA YSAVEL VALENCIA
425 DELOS REYES, JEROME VICENTE
426 DELOS REYES, KIARA GRACE NATIVIDAD
427 DEMETRIA, ZEPHANIE JAN ANDAYA
428 DEOGRACIAS, PATRICK ROSARIO
429 DIANA, KYLE AUSTIN PINEDA
430 DIAZ, AILEEN MANALOTO
431 DIAZ, COLLEEN IZZA JUNSAY
432 DICO, BERNIE JOEFRIE PAHUGOT
433 DIEGA, LARA VITA ZULUETA
434 DIESTA, MARIELLE CREENCIA
435 DIGMAN, ALYSSA MAE BAHOD
436 DIMAANO, ALYSSA ASHLEY OBRA
437 DIMACULANGAN, JOSE RANIEL LAMPA
438 DIMAO, JOHAINA KATE ALCORIN
439 DIMARUCUT, ROGIEWEL CARREON
440 DIN, JACQUELYN PASIA
441 DIOG, JOHN REY GALINADA
442 DIOQUINO, KRISTENE MHAE VERAN
443 DIQUIT, SHARIE ROSE CALIXTERIO
444 DISTAJO, MARY LOIS BECO
445 DISTOR, PINKY ANNE AGUNOD
446 DIWA, CRIS DAVID OCAMPO
447 DIZON, ALEXIS JEAN CABERTO
448 DIZON, BERNADETTE TUNGPALAN
449 DIZON, PRECIOUS KAYE QUINOVEBA
450 DOCTORA, JOEY CALUGAY
Roll of Successful Examinees in the
MEDICAL TECHNOLOGIST LICENSURE EXAMINATION
Held on JANUARY 15 & 16, 2022 Page: 11 of 28
Released on JANUARY 24, 2022
Seq. No. N a m e
451 DOLAOTA, ANGELINE RANOCO
452 DOLOROTA, LEANNE BELANDRES
453 DOMINGO, JULIA YANOS
454 DOMINGUEZ, NIÑA XANDRA ALIPIO
455 DRILON, JOHN IVAN DORONILA
456 DUATIN, JAMAISA MAIRA ARGUS
457 DUBLA, ERISH BON BENJOK
458 DUCUSIN, ARCHEL ANN TABANIAG
459 DUEÑAS, QUEENIE ROSE CHAVEZ
460 DULAY, ALIANA FUSILERO
461 DULAY, CHRISTIAN PAUL MONTAOS
462 DULNUAN, MARIEL GAIL NARIO
463 DUMANGENG, CHADRENE TAKINAN
464 DUQUE, ARA MAREY FRANCISCO
465 DUQUE, DANIELLE SALEN
466 DURAN, CHRISTINE JOANNA BELLEON
467 DURAN, MA GABRIELLA BALATICO
468 DURANGO, VINCE ROSETTE MIRAFLOR
469 DY, MARX JUSTINE SANTOS
470 EBIN, RUTHESSA JOYCE CORREA
471 EBRON, ERNEST GLEN DELOS SANTOS
472 EDA, JED NICHOLE CLEMENTE
473 EDRADA, BEATRICE MIKAELA CANLAS
474 EDRALIN, A VIRTUOUS HEART BATAY
475 EGCAO, TRISHA ALMERA MOHAMAD
476 EJIDA, SOFIA MARIE BACUS
477 ELEM, NICOLE SHAYNE MORIN
478 ELIZARDE, VANESSA ANDRIN
479 EMMANUEL, ICY GONZALES
480 EMPHASIS, LEANA BEL GOLINGAY
481 ENCABO, JIEZL LOVE NOBIERES
482 ENCLONA, JENLYN CEBU
483 ENRIQUEZ, JANE SHYREL MONTECALBO
484 ENRIQUEZ, SHEINA ANDREA REGODON
485 ESCALON, MARJO MAE SAGUN
486 ESCALONA, EIRAM MAE DEL MUNDO
487 ESCALONA, LEONARDO III PESIGAN
488 ESCORPION, JOHN KENNETH PRISCO
489 ESGUERRA, JOHN PAUL OLINAREZ
490 ESGUERRA, MA MONICA BAUTISTA
491 ESIC, VANEEY ROSE TIAUSON
492 ESPALTERO, CONNETH GRACE PITOGO
493 ESPAÑO, AHLEA PATRICIA DE GUZMAN
494 ESPINOSA, AMOS PEREGRINE ALCANTARA
495 ESPIRITU, AXEL JAE AGUISANDA
496 ESPIRITU, BEATRIZ GARCIA
497 ESPIRITU, MARIAN LIZZELE JAVIER
498 ESPOSO, CARMELA PEREZ
499 ESTACIO, VEBS TRISINIO
500 ESTAÑA, ANGELENE ESTEVES
Roll of Successful Examinees in the
MEDICAL TECHNOLOGIST LICENSURE EXAMINATION
Held on JANUARY 15 & 16, 2022 Page: 12 of 28
Released on JANUARY 24, 2022
Seq. No. N a m e
501 ESTIGOY, EDRIAN RAZIEL CARREON
502 ESTOCE, CATHY SANTACERA
503 ESTRADA, DEXTER JOHN ERIVE
504 ESTRADA, ERIKA FAYE FRANCISCO
505 ESTRELLA, ALLISON ANGEL DONAIRE
506 ESTREMERA, TRIXIA ESTEVES
507 ETIC, BRAINZEL ROSE ABAN
508 EUKAN, NICHOLE IRA SALIO
509 EVANGELISTA, LAWRENCE ALBERT LAURENTE
510 EVANGELISTA, NIÑA CHARISSE GAVINA
511 FABROA, ROCHELLE ANNE DEL ROSARIO
512 FABROS, PAULO NICHOLAS DELOS REYES
513 FACTOR, DIVINE GRACE VENGAZO
514 FAJILAN, DIANE ALEXIS YORO
515 FARNAZO, LORENZ ALLAN REGGIE CABUGA
516 FEDERIS, YURI LAINE MAGNO
517 FELIA, JAPHET CLAIRE FORCADO
518 FERMA, HONEY JOY FERNANDEZ
519 FERMIN, ANGELICA MERYL MATRO
520 FERMO, JOHN MARK ANGELO GARCIA
521 FERNANDEZ, CLAUDINE CORPUZ
522 FERNANDEZ, NOELLE XAIRA CATUDIO
523 FERRER, CARMINA FABIA
524 FERRER, JUDAH MICKAELLA CALUGAY
525 FERRERIA, ARIANNE MOVIDO
526 FERRY, ARMAN JOHN BAGGAYAN
527 FLAVIANO, ANGEL MYKHELLE NAVARRA
528 FLAVIER, OLLIE MAY OCTAVIANO
529 FLORENDO, RAMON WILSON JR DUAZO
530 FLORES, CHRISTIAN JAY AGUILLON
531 FLORES, IVY GAE ACEDO
532 FLORES, KEVIN ROI CENTILLES
533 FLORES, NINA BEATRIZ REYES
534 FLORES, SEAN CAIN TOLENTINO
535 FONTANILLA, MARIE LOUISE DUNGCA
536 FORMARAN, JEARWEINE CORDA
537 FRANCISCO, RIO ANNE MONARES
538 FRIAS, ETHAN JED CASTAÑEDA
539 FRUTO, ROBERT JOHN DELGADO
540 FUGGAN, JOANNA MAE LABANG
541 FULGAR, JHENNIEJFET ANDRES
542 FUNTELAR, DENREI OLIVA
EXAM COVERAGE
Clinical Chemistry
Microbiology and Parasitology
Clinical Microscopy
Hematology
Blood Banking and Serology and Hispathologic Techniques
Cytotechnology
Medical Technology Laws
Related Laws and its Implementing Rules and Code of Ethics
RELEASE DATE
PRC is expected to release the Medical Technologist MTLE board exam result within 5 working days after the last day of the examination.
REMINDER
The exam result may be released by the PRC earlier or later than the target date without prior notice.
REQUIREMENTS
Notice of Admission
Duly accomplished Oath Form
2 pieces of passport-sized ID photos in white background and with complete name tag
2 sets of documentary stamp
1 piece short brown envelope
Aspiring medical technologists can visit the official website of the Professional Regulation Commission and use the verification page for the results of the board examination passing rate.
Examinees will be required to provide their full name, birthdate, application number, exam name, and date of examination.