President Duterte knew that people in Davao City were upset with him because of the lack of infrastructure projects.
On Tuesday, President Rodrigo Duterte said that he's aware that people in Davao City were upset with him because of the lack of "appreciable infrastructure" there.
The President even said that "one girl" was one of those who were angry at him for the same reason.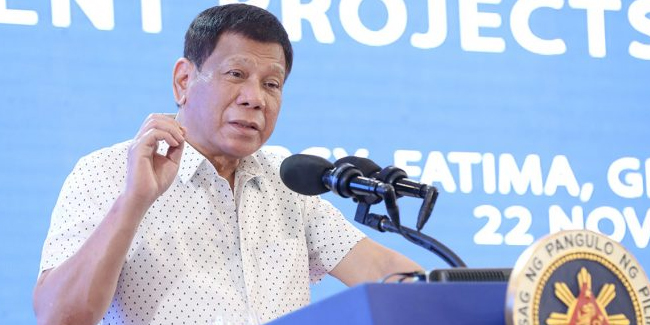 During his pre-recorded "Talk to the People" public briefing on late Tuesday night, the President said that he knew a lot of people from Davao City have pain in their hearts toward him and he knew of "one girl" who was almost angry at him as well.
"If you happen to be in a place where there are some public works going on, you do not want to be criticized as one that's–inuuna mo yung…iyo, yung iba huli na lang," President Duterte said. "So ang ginawa ko, ang sabi ko, unahin niyo, pinapahuli ang Davao."
The President also recalled his remarks during the first meeting he had with his Cabinet officials.
Although the President didn't mention the name of that "one girl", the context provided by his speech at the new and improved General Santos City Airport last November 22 clearly indicated that he was alluding to Davao City Mayor Sara Duterte.
"Alam mo, ang anak kong babae may sentimento 'yan. Alam mo gusto niya ang airport niya — eh kasi mayor siya eh — gusto niya ang Davao," the President said during the inauguration rites at GSC Airport.
READ ALSO: President Duterte Tells LGUs To Feed Those Getting Vaxxed At Fast Food Chains
The Bicol International Airport (BIA) was another airport recently opened under the Duterte administration's "Build, Build, Build" program and one that President Duterte was proud of.
President Duterte will end his term on June 30, 2021 — roughly seven months away — and there's little left in terms of both time and funding for infrastructure projects in Davao City.
Based on his anecdote, he learned this "them before us" attitude from former Davao Governor Vicente Duterte, his late father.
"kayong mga taga-Davao, alam ko masakit loob niyo, walang appreciable infrastructure dyan. Ano lang kayo, yung relax lang," President Duterte said.
The President vowed that he won't be shy in asking for infrastructure projects once the next administration took over for the benefit of Davao City.
Duterte served as mayor of Davao City for more than 20 years before being elected president in 2016.
For more news and updates, you may feel free to visit this site more often. You may also visit Newspapers.ph via our official Facebook page and YouTube channel.