President Duterte told Senator Gordon to let go of Philippine Red Cross
President Rodrigo Duterte said that Senator Richard Gordon should give up his post in the Philippine Red Cross if he wanted to continue serving as a senator.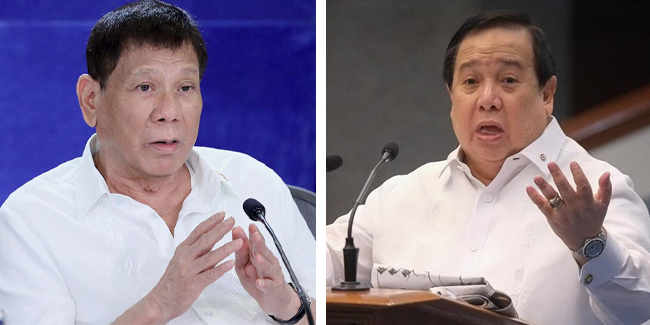 In his second Talk to the People address this week, President Duterte once again blasted the senator, who was leading the Senate probe on the alleged irregularities in the government procurement of medical supplies, for having a "dual personality".
"Do not say that you and the Red Cross are separate identities. You are a dual personality which is banned or prohibited by the law," President Duterte said, referring to Gordon's position as a senator and as the chairman of the Philippine Red Cross at the same time.
READ ALSO: President Duterte Says No More Face Shields Outside Except In Closed, Crowded Places
President Duterte also noted that Cabinet officials and government lawyers can't be officers of companies and corporations, "or even an owner of a business entity that deals with the government".
According to the President, Gordon holding the two positions went against the fundamental principle of the Philippine Red Cross – neutrality — so that the Philippine Red Cross will "continue to enjoy the confidence of all" and that the movement "may not take sides in hostilities or engage at any time in controversies of a political racial, religious or ideological nature."
The law, according to a report on Inquirer, prohibited anyone from holding two concurrent positions in the government or another position in a private company that could give rise to a conflict of interest.
"Bawal talaga iyan… I will insist that you give up one because you cannot be both," President Duterte said.
The President also threatened to file charges against Senator Gordon over allegedly misused funds while he's still the chairman of the Subic Bay Metropolitan Authority (SBMA).
According to him, the senator has yet to return around PHP 140 million that had been flagged by the Commission on Audit (COA). President Duterte encouraged the senator to "kindly settle or I will personally see to it that a case would be filed against you".
For more news and updates, you may feel free to visit this site more often. You may also visit Newspapers.ph via our official Facebook page and YouTube channel.