Son of Claire dela Fuente Speaks on Mother's Death, Recent Experiences
CLAIRE DELA FUENTE – Gigo de Guzman, the son of Claire, revealed that sometimes the singer would appear in his dreams.
Upon the entry of the year 2021, the death of a flight attendant identified as Christine Angelica Dacera caught the public's attention. She was found dead in a hotel in Makati City.
Christine was with her friends at the hotel then to welcome the new year. They also met some people because of a common friend. The autopsy showed that she died of a ruptured aneurysm but her family's not convinced that it was a natural death.
One of the names that were dragged in the issue was Gigo de Guzman, the son of the late singer Claire dela Fuente. According to him, he was just invited to the New Year's party by one of the friends of Christine.
Claire was visibly supportive of her son and his friends all the way. She even built a connection with Gigo's friends as they fought and assert their innocence from the accusations against them.
Sadly, a few months after the incident took place, Claire died. She tested positive for COVID-19 and died of a heart attack while she's being treated.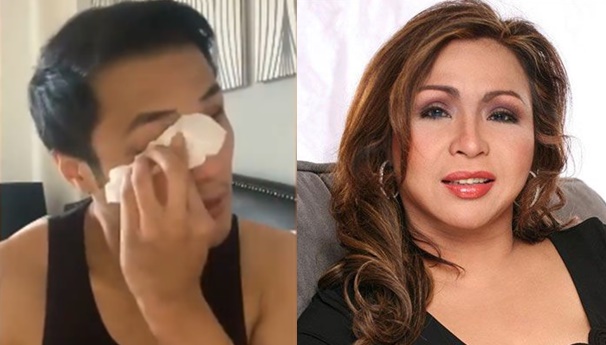 Recently, Bandera was able to catch up with Gigo de Guzman at the story conference of the upcoming film "Moonlight Butterfly". He is one of the casts of the movie and the storycon was also held at the restaurant owned by Claire dela Fuente in Pasay City.
According to Gigo, there are times when Claire would appear in his dreams and showed him that she is happy. He also revealed that sometimes the late singer would remind him to let of the things that are burdening him.
"Let go of things na mabigat sa puso, parang pinagagaan niya ang pakiramdam ko, mga ganu'n," he said.
Based on the report, Gigo de Guzman cannot say that he has already moved on from everything that happened but he assured that he's taking things "step by step". The son of Claire dela Fuente stressed that he and his sibling are doing their best and they are grateful for the support and love they get from the people around them.
You may also visit – Claire dela Fuente: Yam Concepcion Reveals Last Conversation w/ the Singer