President Duterte: "Vaccine nationalism must end"
On Friday, President Rodrigo Duterte called on members of the Asia-Pacific Economic Cooperation (APEC) to end "vaccine nationalism".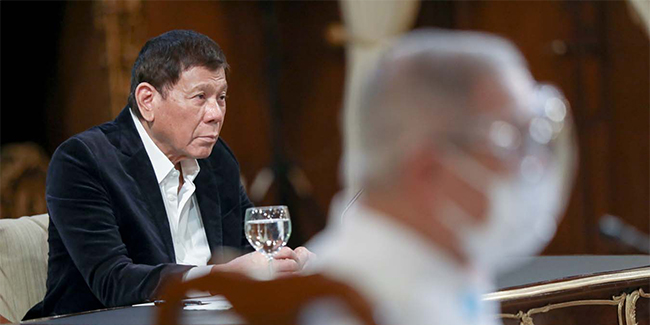 President Duterte recently expressed concern about a great imbalance in access to COVID-19 vaccines, saying that the coronavirus pandemic had become an "unforgiving race to immunity" because of the lack of bold, collaborative responses to the situation.
During the virtual summit, the President expressed concern about the situation, saying that the Philippines was yet to fully contain COVID-19 as comprehensive recovery remained elusive and Filipinos continued to suffer.
President Duterte also cited the imbalance in COVID-19 vaccine access that led developing countries to wait for the much-needed COVID-19 vaccine doses.
"We are aware that more than 80 percent of COVID-19 vaccines have gone to rich countries, leaving the rest of us in the developing world with so little to get by. This great imbalance in vaccine access needs to be rectified. Vaccine nationalism must end," President Duterte said in his intervention at the APEC Informal Leaders' Retreat.
President Duterte reiterated the country's call for equitable access to safe and effective COVID-19 vaccines, saying that global economic recovery hinged on an effective and efficient mass vaccination worldwide.
READ ALSO: President Duterte To Shoot New Infomercial On COVID-19 Vaccination — Palace
Also, President Duterte said that the APEC must do something in order to ensure that COVID-19 vaccines will reach countries all over the world. President Duterte likewise cited the need to democratize COVID-19 vaccine manufacturing and development.
The President also asked his fellow leaders how countries can have stockpiles of destructive weapons but not life-saving COVID-19 vaccines that can be shared with many nations.
"I say this in earnest: we must get our priorities straight. How can nations have stockpiles of weapons that can destroy us all but not have ready reserves of life-saving vaccines and medical supplies for sharing that can save us all?" President Duterte said.
President Duterte's statement came as he participated in the Asia-Pacific Economic Cooperation (APEC) Informal Leaders' Retreat on Friday evening (Manila time).
You can read the full text of the President's intervention at the APEC Informal Leaders' Retreat through this link.
The Philippines had reported 1,496,328 coronavirus cases with 1,421,372 recoveries and 26,476 deaths to date.
President Duterte had always lamented how the Philippines didn't have enough supply of COVID-19 vaccines because of rich countries getting the bulk of the global supply.
For more news and updates, you may feel free to visit this site more often. You may also visit Newspapers.ph via our official Facebook page and YouTube channel.