Vice President Robredo shared her experience after receiving her first dose of COVID-19 vaccine.
Vice President Leni Robredo recently took to social media as she shared her experience after receiving her first dose of COVID-19 vaccine.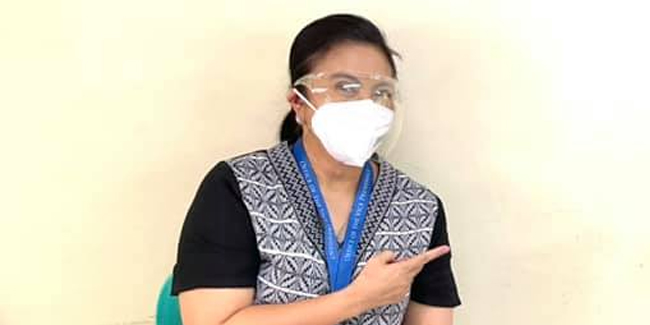 On Thursday, Robredo posted an update about her COVID-19 vaccine experience on her Facebook account as she shared that she didn't experience side effects after receiving her first dose of AstraZeneca COVID-19 vaccine at a vaccination site in Quezon City.
Robredo's daughter Tricia, a medical frontliner, earlier received her first dose of the AstraZeneca COVID-19 vaccine. Her daughter reported that she experienced fever and chills after receiving her first dose.
However, Robredo didn't experience the same side effects as her daughter and so she went on with her regular duties and also monitored her office's Bayanihan E-Konsulta threads.
In her post-vaccination update, Robredo shared that she was only able to sleep at about 2:00 a.m. and woke up five hours later with "no chills, no fever".
"Even my left arm didn't feel heavy. I started texting our staff to check on them. Everyone who was with me yesterday was reporting fever, chills, body pains (of) varying degrees. So I guess, the side effects being experienced vary from person to person," Robredo shared.
READ ALSO: VP Robredo Receives the First Dose of AstraZeneca COVID-19 Vaccine
Robredo was even able to attend a speaking event on Wednesday from 5:00 p.m. to 6:30 p.m.
While the Vice President was feeling a little sleepy before the speaking engagement, she also shared that she felt more energetic during the question-and-answer portion.
Even though she felt fine, she said that her daughters advised her to stay at home for today because her immune system was "supposed to be down after the vaccination".
Robredo then took time to get inoculated because previously, there's only a meager supply of COVID-19 vaccine doses when the vaccination of the A3 category started.
She said that she'll reconsider getting vaccinated since there were already over 7 million COVID-19 vaccine doses available in the Philippines.
For more news and updates, you may feel free to visit this site more often. You may also visit Newspapers.ph via our official Facebook page and YouTube channel.