Joe Biden was sworn in as the President of the United States.
Democrat Joe Biden on Wednesday was sworn in as the 46th President of the United States and assumed the helm of a country reeling from a battered economy, deep political divides, and a coronavirus pandemic that had killed over 400,000 Americans.
With his hand on an heirloom Bible, Biden took the presidential oath of office just after noon (1:00 a.m GMT+8), vowing to "preserve, protect and defend the Constitution of the United States".
The presidential oath of office was administered by United States Chief Justice John Roberts.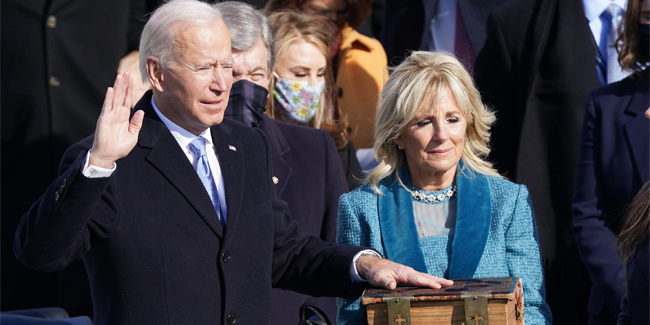 At the age of 78, Biden became the oldest United States President in history.
Top Republicans — including Vice President Mike Pence and the Republican party's congressional leaders — attended Joe Biden's inauguration. Former U.S. Presidents George W. Bush, Barack Obama, and Bill Clinton were also present at the inauguration as well.
Kamala Harris, Joe Biden's running mate who was the daughter of immigrants from India and Jamaica, became the first Black person, first Asian-American, and first woman to serve as the Vice President of the United States after she was sworn in by United States Supreme Court Justice Sonia Sotomayor – the court's first Latina member.
Harris used two Bibles — including one Bible that was owned by Thurgood Marshall, the first Black United States Supreme Court Justice.
READ ALSO: US President Joe Biden Receives COVID-19 Vaccine
GMA News Online reported that Biden took office at a time of "deep national unease", with the country facing what his advisers had described as four compounding crises: the coronavirus pandemic, racial inequality, economic downtown, and climate change.
He had promised an immediate action — including a raft of executive orders — on his first day in office as the President of the United States.
Biden, who has vowed to "restore the soul of America," would call for an American unity at a time of crisis in his inaugural address, according to his advisers.
In a report on GMA News Online, Biden had vowed to bring the full weight of the federal government in order to bear on the crisis as his top priority was a USD 1.9 trillion plan that would enhance jobless benefits and would provide direct cash payments to households.
However, it would require approval from a deeply-divided Congress wherein Democrats hold slim advantages in both the House and Senate.
For more news and updates, you may feel free to visit this site more often. You may also visit Newspapers.ph via official Facebook page and YouTube channel.