US President-elect Joe Biden received a COVID-19 vaccine live on television.
In a campaign to boost the confidence of Americans in the jabs, United States President-elect Joe Biden on Monday received a COVID-19 vaccine live on television.
This, as Biden received the COVID-19 vaccine from Pfizer and BioNTech at the Christiana Hospital in Newark, Delaware. Jill Biden also received the shot earlier, according to the presidential transition team.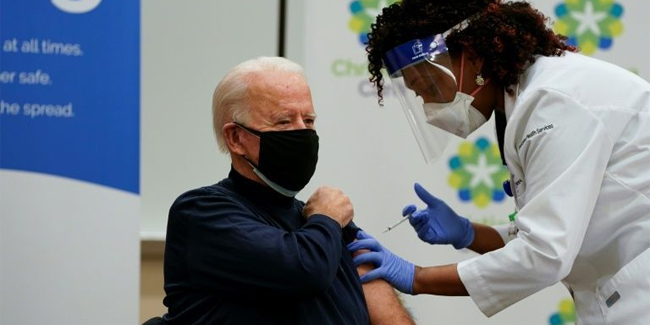 Biden, 78, told Americans that there's nothing to worry about when they got vaccinated and that in the meantime they should keep wearing their face masks and "listen to the experts."
He also thanked healthcare workers and also offered praise and an elbow bump to Tabe Mase — the nurse practitioner who administered Biden's first dose of COVID-19 vaccine.
Joe and Jill Biden were the latest high-profile political figures who publicly joined the first wave of inoculations aimed at stopping a coronavirus pandemic that had killed almost 318,000 Americans.
On the other hand, Vice President-elect Kamala Harris and her husband was scheduled to be vaccinated next week.
READ ALSO: US Vice President Mike Pence Gets COVID-19 Vaccine
Meanwhile, US Vice President Mike Pence and his wife — together with Dr. Anthony Fauci and Surgeon General Jerome Adams — got vaccinations last week.
According to Pence, he didn't feel a thing after getting vaccinated.
Aside from them, House Speaker Nancy Pelosi and Republican Senate Majority Leader Mitch McConnell received a COVID-19 vaccine on Friday.
However, US President Donald Trump has yet to take part in the vaccination drive. Instead, he had made clear that he wasn't planning to take the vaccine imminently as he cited the belief that his recovery from a "brief but severe" bout of COVID-19 had given him an immunity.
For more news and updates, you may feel free to visit this site more often. You may also visit Newspapers.ph via official Facebook page and YouTube channel.