Duque could face graft charges if proven that he mishandled Pfizer vaccine deal, according to Senator Pangilinan.
Senator Francis Pangilinan on Thursday said that Health Secretary Francisco Duque III could face graft charges should it be proven that he mishandled the Pfizer vaccine deal.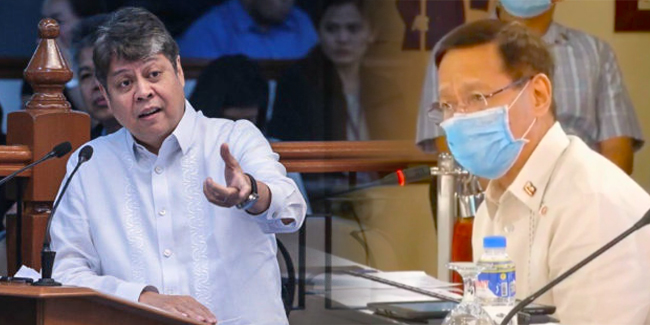 In a message to reporters, Pangilinan said that cases of gross and inexcusable negligence under the anti-grant law can be filed if it's true that the Department of Health was negligent.
Pangilinan also hoped that the "dropping of the ball" on the Pfizer vaccine procurement wasn't an issue of "kickvacc".
Senator Panfilo Lacson on Wednesday said that the Philippines would have secured the delivery of 10 million doses of COVID-19 vaccines from Pfizer and BioNTech as early as January 2021 had Duque worked on necessary documentary requirements, namely the CDA or the confidentiality disclosure agreement.
This, after Foreign Affairs Secretary Teodoro Locsin Jr. said that somebody "dropped the ball" on the Pfizer vaccine deal which botched the January 2021 delivery of the COVID-19 vaccines.
READ ALSO: Roque Slams Dr. Leachon For Questioning Govt's Vaccine Priorities
In a separate statement, Pangilinan said that the Section 3e of the Anti-Graft Law would apply if it could be established that there's an "inexcusable failure to act that has led to injury either to the government or any party".
On the other hand, Pangilinan said that the Section 3f of the Anti-Graft Law applied if it could be proved that the refusal to act within a reasonable time was "intended to favor another party".
READ ALSO: Filipino Businessman Confirms Unauthorized COVID-19 Vaccination In PH
The Senate Committee of the Whole would be looking into the executive department's COVID-19 vaccination plan. According to Pangilinan, Duque would be invited to the hearing.
"This is precisely why convening the Committee of the Whole is a critical next step. These allegations of negligence or incompetence in the procurement of vaccines must not be left unchecked if we are to prevent a failure in the massive vaccine rollout," Pangilinan said.
Pangilinan also stressed the importance of the Committee of the Whole hearing in securing the needed information for an effective, safe, and corruption-free COVID-19 vaccine program.
For more news and updates, you may feel free to visit this site more often. You may also visit Newspapers.ph via official Facebook page and YouTube channel.