UP Diliman was offering "K-drama" as an elective subject, according to a report.
The University of the Philippines (UP) Diliman was offering Korean drama (K-drama) as an elective subject for this semester, according to a report.
This, as the Philippine Star reported Saturday that the likelihood of taking up K-drama as part of an academic study had stimulated the interest of netizens — Iskos and non-Iskos alike.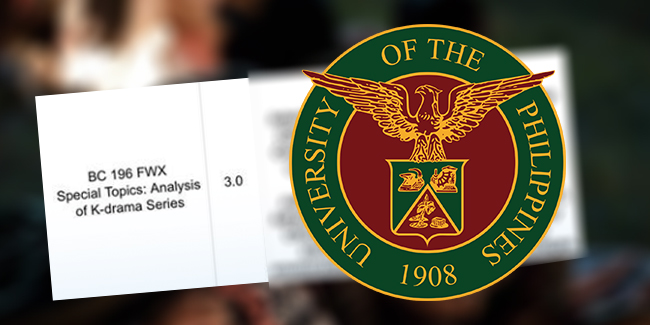 As seen on the UP Computerized Registration System (UP CRS) site, the said subject with Class Code 29828 was referred to "Special Topics: Analysis of K-drama Series" and was offered by the university's College of Mass Communication.
In addition, Philstar Global reported that the said subject had a total slots of only 20 students.
Other Stories
Abigail Boiser, a BA Journalism student at the UP Diliman who was an avid watcher of Korean drama series, told the Philippine Star that it was more than just "blindly consuming" the entertainment media.
In reaction to the new elective class, Boiser said that they also need to consciously regard the contents as "socio-cultural products" and mapped out its presence in a "big picture of cultural globalization".
Meanwhile, Gabriel Joseph Barroso — an incoming junior of BA Philippine Studies at the UP Diliman — told the Philippine Star that he's interested in taking the said subject in order for him to know the historical context of Korean dramas and to better understand the sociological origins of their cultural interaction with other emerging cultures from different Asian countries, particularly in South Korea.
Students from the UP Diliman campus who were interested in taking the K-drama elective class were required to have a stable internet connection, any video conferencing apps, and an access to any Korean drama streaming sites.
For more news and updates, you may follow the Philippine Newspaper on Facebook!