Here is the BAR Exam Results November 2019 list of passers (R-Z).
This is the BAR Exam Results November 2019 list of passers (R-Z) as released by the Supreme Court.
The official list of passers and top 10 lawyers for the November 2019 BAR Exam will be available on this site as soon as the SC will release it.
Supreme Court of the Philippines Chairman, Hon. Estela A. Perlas Bernabe, Associate Justice, and Office of the Bar Confidant headed by Deputy Clerk and Bar Confidant Atty. Ma. Cristina B. Layusa administered the examinations on all Sundays of November 2019 (3, 10, 17 & 24).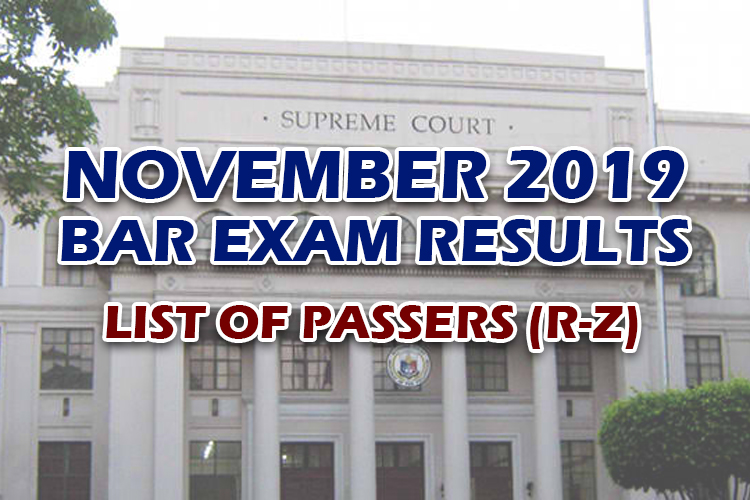 SUMMARY OF RESULTS
Here is the list of passers (R-Z):
List of Successful Examinees in the 2019 Bar Exams
Held on NOVEMBER 3, 10, 17 & 24, 2019
Released on APRIL 29, 2020
Passing Rate: 27.36%

RABANG, John Christian S.
RABINO, Stefanio Andrenicus A.
RACCA, Mary Antelope F.
RADOVAN, Althea Therese T.
RAFAEL, John Rommel V.
RAFAEL, Kristine Denise C.
RAGILES, John Paul A.
RAMEL, Ezra Denise L.
RAMIREZ, Cristian Lee R.
RAMIREZ, Karen Tatiana C.
RAMIREZ, Rachelle Mae A.
RAMIREZ, Rosylyn L.
RAMON, Razel May M.
RAMOS, Angela Lorraine S.
RAMOS, Dan Christian E.
RAMOS, Israel M.
RAMOS, Jan Gabriel M.
RAMOS, Jeni Eunice A.
RAMOS, Marivic S.
RAMOS, Mary Louise M.
RAMOS, Mikhail Ivan G.
RAMOS, Patrecia A.
RAMOS, Rexford P.
RAMOS-GOMEZ, Kimberly N.
RAPISTA, Neil Michael B.
RASALAN, Mark Darel S.
RAVANES, Klive Erick D.
RAZ, Strawberry H.
RAÑESES, Raziele R.
RAÑOLA, Allysa Ria C.
REAL, Jess Archee R.
REALIN, Reuel Angelo P.
REBLORA, Ana Carmela Erika V.
REBURIANO, Antonette R.
RECILLO, Christine Edelane M.
RED, Sunshine S.
REFORMINA, Giovanni Edrose T.
REGALADO, Anna Regina C.
REGALADO, Franco Antonio F.
REGALADO, Mica Janine B.
REGENCIA, Lyle Ariane M.
REGIS, Faye Michelle L.
REGONDOLA, Antonio Lorenzo F.
REGONDOLA, Rechelle C.
RELEVO V, Vertillano C.
REMOROZA-PARCON, Emi Rose S.
RENON, Mary Grace L.
REOJA-BONITA, Ana S.
REONICO, Charmaine T.
REOTUTAR, Ma. Theresa L.
REQUINA, Daisy F.
RESTAURO, Cyrus I.
RESULTAN, Mary Kathleen G.
RESURRECCION, Glorybelle C.
RESURRECCION, Quenee L.
RESURRECCION, Rica A.
REVADILLO, Clarence Gabriel D.
REYES, Abigail T.
REYES, Eduardo L.
REYES, Ervin John R.
REYES, Jan Dennis S.
REYES, Katrina N.
REYES, Lorenz Vergil T.
REYES, Ma. Celina Noreen D.
REYES, Regine Constance C.
REYES, Ruby Mae F.
REYES, Samantha
REYES, Shiela G.
REYES, Teoti N.
REYES, Xandra Jizelle Q.
REYES, Zaire Xandra M.
REYNANTE, Maria Luisa M.
RIBUYACO, Janah Erika C.
RIEGO, Jake Jefferson S.
RIEGO, Jofrank D.
RIGUERRA, Paolo Miguel G.
RILLO, Paul Michael D.
RIVAS, Mark Anthony B.
RIVERA, Francis James T.
RIVERA, Jared S.
RIVERA, Juan Rafael G.
RIVERA, Richelle Joi F.
RIÑA, Mercedita A.
ROA, Annamhel Monique C.
ROA, Ma. Ina G.
ROA, Vonn Aurelius C.
ROBIS, Lorraine Grace M.
ROCK, Sheila L.
RODIS, Raymond Clarence Y.
RODRIGUEZ, Aira Marielle R.
RODRIGUEZ, Alena Marie A.
RODRIGUEZ, Fatima Miana J.
RODRIGUEZ, Lila B.
RODRIGUEZ, Stefan Henry P.
ROJAS, Chilzia T.
ROJAS, Jun Dexter H.
ROJAS, Keisha L.
ROJAS, Leonila Rosario J.
ROJAS, Rina G.
ROJO, Katrin Anthea R.
ROLDAN, JR., Rolando A.
ROLEDA, Manuel M.
ROLUSTA, Oliver Jay A.
ROMANO, Diannee B.
ROMERO, Rea Kristina C.
ROSALES, Annie Rose B.
ROSALES, Louie Leister I.
ROSALES, Sarah Dominic G.
ROSARIO, Hannah Jezel I.
ROSARIO, Karine Joy M.
ROSILLO, Ronnil C.
ROXAS, Francis Arwin R.
ROXAS, Rosanne Veronica M.
RUDELA, Jeroshie P.
RUERAS, Gilbert Allan M.
RUFINO, Cherish G.
RUIZ, Steven Charles R.
RUMUSUD, Johnlee M.
SAAVEDRA, Emmanuel L.
SABANDO, Angelito
SABANDO, Fydah Marie B.
SABIDO, Armand Rey P.
SABILI, Francis Meynard P.
SABLAN, Justine Abigail C.
SABLAON, Mary Karrel Nicollete L.
SABRIDO, Julian Rey S.
SAGSAGO, Jeldawn Jacel Nairra C.
SALATAN, Hannalet Jemy D.
SALAZAR, Demrev C.
SALAZAR, Jastine Faye M.
SALDIVIA, Guia Karla V.
SALES, Daryl Matthew A.
SALES, Marnelli A.
SALES, Vito Gerardo R.
SALES IV, Manuel B.
SALINAS, Karis Dawn M.
SALISA, Gadzmin I.
SALOMON, Emmanuel K.
SALUDSOD, Kathryn Zyra N.
SALURIO, Maria Catherine G.
SALVACION, Julienne Therese V.
SALVADOR, Aices P.
SALVADOR, Jheraldine Mae T.
SAMILLANO, Geline Joy D.
SAMONTE, Lora Althea M.
SAMONTE, Michevelli B.
SAMPIANO, Christine B.
SAMSON, Zeth Lorenzo Z.
SAN AGUSTIN, Kevin Timothy T.
SAN DIEGO, Rachel Mae M.
SANCHEZ, Cherry May B.
SANCHEZ, Jessa Carmela C.
SANCHEZ, Rodmarc P.
SANCHEZ, Severino Miguel B.
SANDIALAN, Bai Sandra U.
SANDOVAL, Anthony B.
SANDOVAL, Christopher SJ.
SANGALANG, Carmina Marie M.
SANTIAGO, Maureen Monlore T.
SANTIAGO, Pamela F.
SANTIAGO, Reymar H.
SANTIAGO, Senando Angelo R.
SANTIAGO, Tj G.
SANTILLAN, Ralph Kevin H.
SANTOCILDES, Isobelle Ann E.
SANTOS, Aaron Gabriel H.
SANTOS, Alexander, Jr. G.
SANTOS, Aloi Renz P.
SANTOS, Burnt Edmond C.
SANTOS, Carmela B.
SANTOS, Dianalyn P.
SANTOS, Earl Mark Johnson C.
SANTOS, Ihna Alyssa Marie O.
SANTOS, James Clifford T.
SANTOS, Joseph Gilbert P.
SANTOS, Katrina Mae C.
SANTOS, Lorelie M.
SANTOS, Ray Paolo B.
SANTOS, Xamantha Xofia A.
SANTOS-JAVIER, Lee Anne L.
SANTOS-LOPEZ, Anna Maria M.
SAPON, Fritz G.
SARABUSING, Jeffrey B.
SARACANLAO, Rachel Jellan R.
SARIBONG, Joana Krissle C.
SARMIENTO, Arian Vina L.
SARMIENTO, Ulpiano Z.
SARMIENTO, Victor Greg C.
SARSOSA, Rochelle Marie S.
SARUCAM, Shayanne J.
SATUITO, Manuel C.
SATURNINO, Anjelo D.
SAYO, John Andrew A.
SAYSAY, Erick John Paul P.
SAYSON, Catherine G.
SAYSON, Richard L.
SAÑADO-BELLEZA, Jezah Frannie S.
SAÑEZ, Siegfried Kiel B.
SEGUNDO, Jennica C.
SEGUNTO, Milagros B.
SEMBRANO, Ira Mari J.
SENDAD, Sandy B.
SENIQUE, Alyssa Paulina R.
SERVITO, Bounteous M.
SEÑERES, Franchesca Marie S.
SIBAL, Lea Marie Anne N.
SIBAYAN, Shawn Michael A.
SICAT, Maricel T.
SICCUAN, Jan Boris A.
SIDNEY, Sherryl Wynne B.
SIGUENZA, Crystaline A.
SILOS, Michelle U.
SILVA, Juan Rafael Antonio Gerardo S.
SILVA, Marben B.
SILVA, Maria Patricia T.
SILVA, Michelle Josephine Eden M.
SILVA-KO, Kecealyn B.
SILVESTRE, Marlon Obispo
SINGAYAN, Ariestedes P.
SINGSON, Jean Ben G.
SIOCO, Demetrio Ronaldo L.
SISON, Flor Marie Carmeli Y.
SISON, Jaulyne Tyndyl S.
SISON, Marjo Marie B.
SOCRATES, Tomas Iñigo P.
SOGUILON, Andres C.
SOLIS, Jesse Pauline B.
SOLIS, Jose Miguel B.
SOLIVA, Francis A.
SOLON, Sheila Marie O.
SONGCO, Angelica A.
SOPOCO, Allen Adrian M.
SORIANO, Federico C.
SORIANO, Gienah M.
SORIANO, Le Belle A.
SORIANO, Veronica Regina C.
SOTTO, Joge Nelson Czar M.
SUACO, Rod Ryan S.
SUAN, Bea B.
SUAN, Marry Megalith F.
SUBIJANO, Alex Christopher M.
SUDARIO, Jane Claire P.
SULLANO, Gawriil June S.
SULTAN, Joharey L.
SUMEDCA, Daniel P.
SUMIOG, Lyndon Melvi C.
SUNDIAM, Samantha Marie C.
SUNGA, Anna Gabrielle L.
SUNGGOD, Norfatimah D.
SUNIO, Reno T.
SURALTA, JR., Agapito L.
SURLA, Kristine Angela M.
SUYOSA III, Philemon Romualdo S.
SUYU, Ricky James L.
SY, Sophia L.
SY, Steven Angelo Michael C.
TABANGIN, Rene Emil L.
TABARREJO, Vincent Banjo C.
TABAS, Regine Karla G.
TABAÑAG, Ivy Noreen F.
TABOADA-OLEDAN, Venus Faye G.
TACUGUE-LOPEZ, Irene May M.
TACULOG, Mark Bernard S.
TADEO, Justine Phillip O.
TAFALENG, Ferdinand N.
TAGAO-MORALES, Renmarie F.
TAGLE, Renz Arwyn B.
TAGUBA, Jasmine M.
TALI, Sarah Jean Zerossa A.
TALIB, Elvie P.
TALIÑO, Thaddeus Darius V.
TAMAMA, Alladin S.
TAMBANILLO, Mary Rose Ann R.
TAMBAOAN, Jemelle Louise Anne Q.
TAMORO, Jeanelle Reina V.
TAN, Benedict Alexander C.
TAN, Charles Jason G.
TAN, Clyde E.
TAN, Divine Grace A.
TAN, Estelle Marie R.
TAN, Iris Jane A.
TAN, James Bryan J.
TAN, Jeth Lester A.
TAN, Juan Carlos Miguel B.
TAN, Rudejane S.
TAN, Tess Marie P.
TANDOC, John Karol D.
TANGGOR, Al-nashier S.
TANGO, Christine Faith M.
TANGONAN, Karen Ann F.
TANTUICO, Kathleen Felise Constance D.
TAPEL, Amelea L.
TARAN, Katherine Alexandra R.
TAYAG, Reynaldo Dennison L.
TAYAO, JR., Alfredo S.
TAYO, Amor Leilani M.
TE, Ma. Julienne Ysabel T.
TEC, Natasha Kim R.
TEE, JR., Antonio M.
TEJADA, Ernest Godfrey L.
TEJANO, Daryl Noel Q.
TEJANO-SOLATORIO, Shieryl C.
TEMANIL, Antoinette G.
TENORIO, April Grace M.
TERRE, Gena Myrtle P.
TERUEL, Ma-yr-zar Martin B.
TIANSAY, Don Josef L.
TICAO, Pacifer Victorino C.
TILOS, Charliemagne A.
TIMBANCAYA, Gabriela Victoria A.
TIMTIM, Kimberly Loide A.
TINDUGAN-PEREZ, Karen S.
TINGA, Fraulein D.
TINIO, Junnel Q.
TINSAY, Jeorgia Marie T.
TIPAN, Jorela Marie F.
TIU, Glen Marvin Y.
TIU, Kim Ivan B.
TOLEDO, Enzo Emmanuel P.
TOLENTINO, Alexander S.
TOLENTINO, Jeffrey Roy R.
TOLLINO, JR, Ireneo O.
TOLOMIA, Paul P.
TOMARONG, Camille Annalyn M.
TOMAS, Brian Mey R.
TONGOL, Javier Benjamin M.
TONGSON, Aldous Maru R.
TORAL V, Carlo Valeriano H.
TORAYNO, Marc Van Andrew A.
TORMIS, Butch Jason C.
TORMIS, Crystha Joyce Marie S.
TORRENTE, Krishna Thea A.
TORRES, Aivan Charles A.
TORRES, Nicole Patricia P.
TORRES, Niño C.
TORRES, Rosette Joy DF.
TRESVALLES, Kris G.
TRIA, Joylyn I.
TRIA, Justine Mikaela M.
TRINIDAD, Nathaniel Laurence C.
TRINIDAD, Rey-an N.
TUASON, Jannelle J.
TUASON, Patricia Gianina C.
TUAZON, Danilo A.
TUAZON, Mitchel Q.
TUBAL, Michael Jordan M.
TUBOG, Rishel A.
TUDAYAN, Vincent Jan N.
TUICO, Erica U.
TUMAGAN, Leopoldo T.
TUMULAK, Raisah Divina Ignacia P.
TUNGOL, Regina Anne S.
TUPAS, Re Charles P.
TURO, Francine P.
UAYAN, Jasonmer L.
UBAY-UBAY, Princess Kimberly V.
UCKUNG, Maeriam S.
UDARBE, Jeffrey George T.
UJANO, Carmela Ann L.
UMOSO, Harley T.
UNABIA, Mara Genina C.
UNGAB, John Majed M.
UNIDAD, Arnold Bolkiah V.
USMAN, Keen John T.
USMAN, Norhainie J.
UY, Allen Justin DR.
UY, Arjay L.
UY, Bemareyna E.
UY, Ma. Lailanie A.
UY, Richard Brett S.
UY, Ronne Kendrick C.
VALDEZ, Myra I.
VALENCIA, Emmanuelle Nicole L.
VALENCIANO, Aylwyn Maria S.
VALENZUELA, Charry Mae B.
VALENZUELA, Sharmaine G.
VALERA, Lendy J.
VALERIANO, Ma. Felichie Ericka P.
VALEROZO-GARCIA, Maria Leah D.
VALLEJO, Danica T.
VALLES, Carmel-mae M.
VARDELEON, Crizedhen N.
VAREZ, Vanithie Clare V.
VARGAS, Alfonso Roel D.
VARGAS, Clydinne Denise I.
VARONA, Maria Beatriz R.
VEA, Cristopher C.
VELASCO, Vanessa Elaine V.
VELASQUEZ, Diorella A.
VELUYA, Gilda Patrizia A.
VERDOGUILLO, Lee Anthony T.
VERGARA, Maria Francesca S.
VERMAS, Angel P.
VERONA II, Alfred Thomas G.
VERTUCIO, Jed Warren F.
VERZOSA, Mirela A.
VERZOSA, Neldon Jay F.
VIAGEDOR, Jay L.
VIBANDOR, Jo Marie Angeli P.
VICENTE, Ira Christele G.
VICENTE, Mario Antonio M.
VICTA, Christian P.
VICTORIANO, James M.
VIERNES, Brenda G.
VILLA, Robie V.
VILLACORTA, Brenda Q.
VILLADOLID, Carla Angela D.
VILLADOLID, Martin Alfonso B.
VILLAFLOR, John Paul G.
VILLALOBOS, Czarmaine Angeli T.
VILLALON, John Rey L.
VILLANUEVA, Charlemae Z.
VILLANUEVA, Gerardo A.
VILLANUEVA, Jhoeben Bienvenido B.
VILLANUEVA, Julius Voltaire S.
VILLANUEVA, Krisha F.
VILLANUEVA, Kristoffer Joseph D.
VILLANUEVA, Marlouize E.
VILLANUEVA, Phil Edward M.
VILLARICO, Ma. Vida Malaya M.
VILLAROSA, Milagros Mae B.
VILLAVIRAY, Marlone Niño M.
VILLEGAS, JR., Jerry C.
VILLORDON, Kathleen Stacey P.
VILORIA, Hanna Joy S.
VIRGINES, Ray Emmanuel M.
VIRREY, Bernadeth P.
VIRTUCIO, Marc Angelo S.
VITUG, Marianne Crielle G.
VITUG, Mary Anne G.
VIZCARRA, Jose Vincenzo A.
WALAJAN, Benjamin M.
WANASON, Sandra A.
WAYAS, Editha T.
WEE, Nicole Stephanie A.
WENCESLAO, Maria Carmela C.
WYCOCO, Violaine C.
YABUT, Frederick Matthew G.
YABUT, Lee Anne Therese E.
YALONG, Eliza Louise G.
YAMAS, Regine A.
YAMAT, Alineth S.
YANDOC, Allyssa Marie P.
YAP, Bianca Patricia P.
YAP, Catherine N.
YAP, Josecarlo Anton R.
YAP, Roxani Agnes M.
YAPSANGCO, Rizyl M.
YBAÑEZ, Ma. Chrisyl C.
YEE, Jenine Rochelle V.
YEE, Timothy Francis T.
YEUNG, Mark John T.
YGRUBAY, Marites U.
YU, Christianne Smile P.
YU, Mary Antonette M.
YU, Renson Louise C.
YU, Stevenson S.
YU, Timothy Joseph C.
YÑIGUEZ, JR., Ricardo C.
ZABAT, Kelvin S.
ZASPA, Fritzie V.
ZULUETA, Eunice M.
RELEASE DATE
The BAR Exam Results November 2019 is expected to be released within five months or on April to May 2020.
REMINDER
SC may release the results earlier or later than the expected date without prior notice.