Here is the BAR Exam Results November 2019 list of passers (A-H).
This is the BAR Exam Results November 2019 list of passers (A-H) as released by the Supreme Court.
The official list of passers and top 10 lawyers for the November 2019 BAR Exam will be available on this site as soon as the SC will release it.
Supreme Court of the Philippines Chairman, Hon. Estela A. Perlas Bernabe, Associate Justice, and Office of the Bar Confidant headed by Deputy Clerk and Bar Confidant Atty. Ma. Cristina B. Layusa administered the examinations on all Sundays of November 2019 (3, 10, 17 & 24).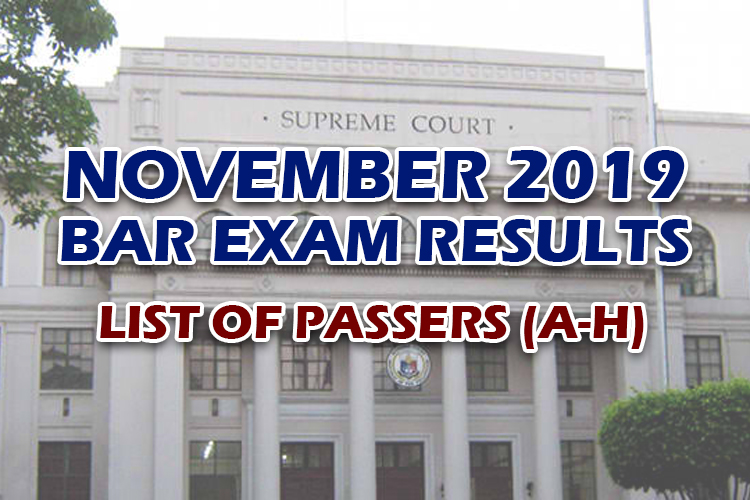 SUMMARY OF RESULTS
Here is the list of passers (A-H):
List of Successful Examinees in the 2019 Bar Exams
Held on NOVEMBER 3, 10, 17 & 24, 2019
Released on APRIL 29, 2020
Passing Rate: 27.36%

ABABAN, Jade S.
ABAD, Bridget R.
ABAD, Eunice Ann
ABAD, Isaihlene Jyhl E.
ABANGAN, JR., Richard C.
ABAS, Maria Danise Ranchelle
ABAS, Michael Andrew G.
ABATA, Marivir G.
ABATEN, Wilson M.
ABCEDE, Josephus M.
ABDULCALIM, Amira Alyssa G.
ABDULHALIM, Jamela Jahaira M.
ABDULJALIL, Ahmad U.
ABDURAHIM, Hassanal H.
ABELEDA, Marie Eugenie Lourdes B.
ABELLA, JR., Frederick M.
ABENOJA, Nenani Rose S.
ABING, Patrick I.
ABIS, Kim Ranielle E.
ABLAZA, Dreiann B.
ABNASAN, Janine Grace B.
ABOLUCION, Diane M.
ABOT, Leo Francis F.
ABRAHAM, Justin Mikhael B.
ABRAZALDO, Donn Joseph M.
ABRERA, Haydee M.
ABRIGO, Yassen Jo Martin J.
ABRIL, Dennis Aran T.
ABRINA, Joshua L.
ABRINICA, Ronie G.
ABUT, Paula P.
ACABADO, Mark Nico A.
ACCAD, Clarisse B.
ACERDEN, Karyl Trinidad C.
ACLETA, Jessica Samantha D.
ACORDA, Ernesto B.
ACOSTA, Mabelle E.
ACUARIO, Gretch Mary B.
ACUESTA, Sherlyne A.
ACUROS, Mel John E.
ACUSAR, Daniel V.
ADAJAR, Esron Joseph L.
ADTOON, Meve Shyral B.
ADVIENTO, Tristan Juveniño U.
AFAN, Ma. Elizabeth R.
AGAPITO, Joselito
AGBAYANI, Dyrol Cesnan A.
AGCAOILI, Joeshua Kaye Q.
AGCAOILI, Karlyn Mae E.
AGEAS, Henrik T.
AGITO, John Carlo R.
AGOD, Marigold Adarlyne P.
AGOOT, Joy D.
AGRAMON, Wayne Justine D.
AGUILANA, Carlo Nico B.
AGUILAR, Ara Lou Margaret A.
AGUILAR, Charmaine G.
AGUILAR, Chrisel H.
AGUILAR, Joses Niño G.
AGUILAR, Verona D.
AGUILAR, JR., Carmelo R.
AGUILAR-NOCEDA, Cherry Kerr P.
AGUILON, Marie Gene D.
AGUIRRE, Edrese O.
AGUSTIN, Chrissete C.
AGUSTIN, Elreen Pearl A.
AHMED, Jude Fayaz A.
ALAGOS, Hernalie D.
ALARAS, Marichie B.
ALARILLA, Mark Ellison S.
ALBA, Ma. Angela Beatriz P.
ALBA, Mary Anne S.
ALBAO, Myk Gregory L.
ALBARRACIN, Roby Anne L.
ALBAY, Miami Frianz F.
ALBAÑO, Charles Augustine R.
ALBAÑO, Phoebe Charis A.
ALBESO, Odessa P.
ALBESTOR, Saviya Basille O.
ALBRECHT, Reinhard Dietrich A.
ALBURO, Rachel G.
ALBUTRA, Jerbee F.
ALCAYRO, Paul Nikon T.
ALDABA IV, Victorino M.
ALDEZA, Daniel Francis C.
ALEGADO, Glory Jane A.
ALEGRE, Andrea Y.
ALEJANDRINO, Michelle S.
ALEJANDRO, Flora May L.
ALFARO, Maria Aileene A.
ALFARO, Rennette Joy G.
ALFECHE, January M.
ALFILER, Lorah Marie Nhel M.
ALI-ARUMPAC, Jehan A.
ALIH, James Bryan Ibrahim A.
ALIMON, Jose Jireh T.
ALIMPOLOS, Irish Jhade G.
ALINSOD, Joseph R.
ALIUDEN-MUA, Fahleah M.
ALMADEN, Rosalie S.
ALMAREZ, JR., David S.
ALMERINO, John Anthony F.
ALMINAR, James A.
ALMOJUELA, Justine Ria M.
ALO, John Arjie T.
ALONZO, Angelica S.
ALPARAQUE, Earvin Jay I.
ALTOBANO, Myra C.
ALVIARNE, Aprille S.
AMADO, Joselito E.
AMAGO, Jann Claudine M.
AMAGO, JR., Florencio C.
AMANTE, Ana Karmela S.
AMANTE, Kevin Q.
AMBIDA, Jonathan, Jr. C.
AMBOLARIO, Mariphi C.
AMBROSIO, Stephanie L.
AMBULO, Wenzel Kenn D.
AMISTAD-ZOZOBRADO, Michelle C.
AMOR-FORMILLEZA, Flouellen M.
AMPARADO, Margarita C.
AMPARO, Nestle M.
AMPUAN, Kevin John D.
AMUAN, Nicole Marie I.
ANCAJAS, Menchu P.
ANCERO, Van Allen M.
ANCHETA, Eros Freuy B.
ANDALES, Samantha D.
ANDAYA-BORJA, Catherine Mae B.
ANDRES, Inna Camille C.
ANDRES, Jhorolar N.
ANDRES, Mary Grace D.
ANG, Jefferson G.
ANG, Monique B.
ANGAS, Riezyl Reen P.
ANGELES, Sigfred P.
ANGELES II, George S.
ANGELES III, Fernando E.
ANGIT, Christine G.
ANGOT, Ladylou G.
ANIEL, Jeramil C.
ANTALA, Jeff Kevin D.
ANTALAN, Carlo Mayo P.
ANTENOR, Maria Joycelyn M.
ANTIOJO, Kriska R.
ANTONIO, Joseph Mark A.
ANTONIO, Nathalie Hiroko T.
APACIBLE II, Tomas C.
APOSTOL, Jinny M.
APUYAN, Kaye Patrice A.
AQUILIZAN, Zyra Frances P.
AQUINO, Ar-reb B.
AQUINO, Jonina Marie Q.
AQUINO, Leona Isabelle A.
ARABE, Edward Francis M.
ARADO, Jerome T.
ARAGO, Jez Charlemagne
ARANAS, Janine Karla A.
ARAYA, Urie R.
ARBIOL, Christian Adrianne M.
ARBIOL, Kress Ryan P.
ARCE, Aya M.
ARCE-MARCELINO, Arvie Joy O.
ARCEO, Reginald M.
ARCHIVAL, Lorenil A.
ARCILLAS, Klarissa U.
ARENAS, Christine Marie L.
ARENAS, Jackie Lyn M.
ARENAS, Janine Aira D.
ARENGA, Mary Ann U.
ARES, Marie Bernadette P.
AREVALO, Angeline F.
AREÑO, Chiles Megan M.
ARGUELLES, Anvari F.
ARGUEZA, Darwin P.
ARIAS, Earvin Joelet B.
ARID, Hannah Mhae G.
ARIENZA, Ellen Lovea J.
ARIOLA, Louella C.
ARITCHETA, Mycel C.
ARIZ, Jamaica F.
ARNAEZ-LLABAN, Clarisse Joy C.
ARPIA, Kathleen V.
ARPON, Marco O.
ARPON, Seguncencia S.
ARREOLA, Renz Homer S.
ARREZA, Jerame A.
ARUGAY, Lorman T.
ASENSI, Ma. Triscia Giebon D.
ASERON, Xavier Alexen R.
ASIDOY, Cyruz Generey G.
ASPILLA, Lanie Joy M.
ASUNCION, Elias Pacifico L.
ASUNCION-PANTALEON, Farah Lurdez R.
ATAS, Celeste B.
ATIENZA, Lovelyn M.
ATIENZA, Sarah S.
AURE, Mark Lester L.
AURELIO, Mikaela Armina L.
AURELIO, Pristine Amber C.
AURO, Ian Deo A.
AUSTRIA, Cyrelle A.
AUSTRIA, Dan Oliver M.
AVENDAÑO, James Lee N.
AVILA, Anton Luis A.
AVILA, Neil M.
AVILA, Roxanne B.
AVIÑON, Fidelis T.
AYENTO, Paul Sidney D.
AYSON, John D.
AYSON, Paul Jonathan L.
AYUBAN, Violeto D.
AZANZA, Raiya Angela M.
AZARCON, Ronel M.
AZIS, Sittie Najliah A.
AZORES, Mae Diane M.
AÑONUEVO, Jon-jon V.
AÑONUEVO, Paolo Daniel Rolando R.
BAACO, Gellian Grace B.
BABALCON, Gee Colleen D.
BABAO, Anniza M.
BABIANO, Kim Marie R.
BACANI, Alson John S.
BACANI, Cecilia F.
BACANI, Krystle Marie C.
BACATAN, Abundio A.
BACCAY, Marc Aldous C.
BACLEA-AN, Albert B.
BACOSA, Shelly Kate M.
BACTOL, Elijah B.
BACULI-BUDADEN, Cynthia D.
BADULIS, JR., Reynaldo R.
BAES, Kaye F.
BAESA, Marc Edwin S.
BAGA, Noel C.
BAGAOISAN, Jillian Ira L.
BAGUIO, Nichol John B.
BAGUIOEN, Mark Jacob G.
BAIDDIN-LIM, Seraina M.
BAJAMUNDE, Maree Louise Bianca R.
BAJAO, Michael P.
BALAD, Vincent A.
BALAGASAY, Eden Ivy Rose V.
BALAGON, Beverly Anne F.
BALAGOT, John Lester M.
BALANAG, Justine Marie R.
BALANAY, Mae Niagara M.
BALANAY, Rendel Bryan L.
BALANQUIT, Nikki Isabel G.
BALBIN, Veronica Grace S.
BALBIN II, Edgardo M.
BALDERAS, Danika Blin M.
BALDUGO, Michael Justin T.
BALICAS, Whyte Roy S.
BALINGASA, Gerlin Myca S.
BALINGASA, Mary Angeline S.
BALINO, Danica T.
BALISI, Jessica Cassandra Leen C.
BALLARTA, Ian John D.
BALLESTEROS, Theodore S.
BALLON, Anjelyn C.
BALLUNGAY, JR., Nelson C.
BALONDA, James Horace A.
BALUBAL, Kristy Joy B.
BANA, Maria Kristina Jihan C.
BANDAL, Aldrin F.
BANDIOLA, Dawna Fya O.
BANDOLIN, JR., Rudy A.
BANGALAN, Maricon D.
BANGCOLA, Ashyanna Alexine Adia Amira-labi A.
BANTAO, Mohhamad Ali M.
BANTUAS, Alyannah V.
BANZUELA III, Prospero B.
BAQUILOD, Ma. Carmel M.
BARANDA, Myra M.
BARBARONA, Erika Q.
BARCENAS, Benedict Rey B.
BARCENAS-SERGIO, Catherine F.
BARLOLONG, Vanessa G.
BARRANTES, Hannah R.
BARRE, Alyanna Mae A.
BARRIETA, Sheen Joshua B.
BARRINUEVO, Jonas C.
BARRION, Dennis P.
BARRIOS, Janmar
BARRIOS, Ronifelle L.
BARROT, Riorose Mair Q.
BARTOLATA, Hazel Marie A.
BARTOLOME, Jose Rafael A.
BARTOLOME, Rajin Ellis B.
BASADRE, Den Krystian C.
BASALLAJE, Jose Bernard V.
BASAY, Analyn Grace Y.
BASER, Wilson Kyle S.
BASILLA, Jomari Ace V.
BASILONIA, Ma. Bernadette B.
BASUNGIT, Waylan L.
BATAC, Eliza Pauline R.
BATAC, Karlo Gonzalo G.
BATACAN, Maria Ayra Celina S.
BATALLA, Balsy J.
BATALLA-NOCOS, Jinky B.
BATOON, Em Epsan M.
BATTUNG, Pauline Ruth T.
BATUCAN, Kristine Joyce F.
BATUGAN, JR., Jamael U.
BATUL, JR., Sunny A.
BATULAN, Krizza Mae L.
BATUNGBACAL, Roberto N.
BAUTISTA, Ephraim A.
BAUTISTA, Joseph Raymund I.
BAUTISTA, Joshua E.
BAUTISTA, Mark Joseph T.
BAUTISTA, Noe M.
BAUTISTA, Roland Dave S.
BAUTISTA, Ruphy Anne A.
BAUTISTA, Sheryl Y.
BAUTISTA, Soliman Allen V.
BAUTISTA, Vanessa A.
BAYA, Jayvee Wilfred C.
BAYANI, Alyanna Dia Marie B.
BAYLON, Jocelyn H.
BAYUCAN, Melfort Girme M.
BEHIGA, Sarah Jane F.
BEJA, Nielgem S.
BELGICA, Andrew A.
BELLO, Jecko G.
BELLOGA-EDROSOLANO, Shane Marie C.
BELO, Clarisa
BELOSO, Darlene Mae P.
BELTEJAR, Mervan Calie T.
BENCIO-ANAS, Aiza
BENEDICTO, Ana Victoria Therese M.
BENEDICTO, Camille S.
BERAD, Brandon L.
BERBAÑO, Kevin Joseph C.
BERBERABE, Farah Fides T.
BERDUGO, John Paul F.
BERECIO, Gervien T.
BERGUIA, Paul Jordan T.
BERMAS, Ralph Erik B.
BERMAS, JR., Wilfredo F.
BERNABE, Jayson B.
BERNALDEZ, Joshua T.
BERNARDES, Marianne Gail L.
BERNARDEZ, Jairus Vincent Z.
BERNARDEZ, Loreto Placido Rudov E.
BERNARDINO, Ellaine Anne L.
BERNARDO, Eljay M.
BERNARDO, Jessa G.
BERNARDO, Mark Ebenezer A.
BESA, Tristan Ray I.
BESARES, Alyanna Mariz C.
BIADO, Kia A.
BIAGO, Mary Jane R.
BIASE, Sheron C.
BIGALBAL, Jesselle DC.
BIGORNIA, Joanna Ursula S.
BILLONES, JR., Leonardo B.
BILOG IV, Gregorio R.
BINALAY, Lenina Dyanne D.
BINOYA, Mark Adrian C.
BISDA, Jemimah Faye I.
BOLILAN, Vina A.
BOLINAO, Victor Enrique G.
BOLO, Vincent Dannie B.
BONCAY, Lester John R.
BONCAYAO, Paty Karie C.
BONDOC, Franz Vico M.
BONDOC, Jan Michael A.
BONIEL, Cerfranz A.
BONITE, Kim Kervin B.
BONOS, Sarah Esther H.
BONRUSTRO, Sandra Mae B.
BONTAGEN, Jessa M.
BORBON, Ma. Jennifer Y.
BORCES, Jo David Z.
BORROMEO, Carlo Raphael C.
BOSLENG, Myrene A.
BOTE, Karina Ana P.
BRAVO, Anna-patricia C.
BRAVO, Giovanni J.
BRAÑA, Brigette M.
BRIGOLI, Charmaie G.
BRIONES, Fatima Dennise D.
BRIONES, Andrea D.
BRIONES, Ma. Cristina M.
BRITANICO, Camille Astrid O.
BRIZ, Sharmaine C.
BROLAGDA, Raphael Carlo D.
BRUAL, Nico Allen A.
BRUNO III, Teodoro Jose M.
BUAQUEN, Aleli C.
BUCANG, Rizza Mae M.
BUCTUAN, Faizal June T.
BUCU, Lorelei Joselle H.
BUEMIO, Mark Darryl P.
BUENAVENTURA, Louben D.
BUENDIA, Frances Juliene Marie A.
BUENVENIDA, Necelle Y.
BUENVENIDA, Ria S.
BUENVIAJE, Iñigo R.
BUERGO, Rhowee D.
BUHISAN, Jay Patrick R.
BUISON, Elgieraydolph Y.
BULALACAO, Rudito D.
BULAONG, Karl Anthony SA.
BULDA, Ma. Zillah G.
BULFANGO, Audrey Louise T.
BULLANDAY, Lawrence T.
BULLO, JR., Edron T.
BULOSAN, Marx Erson R.
BULOTANO, Kevin J.
BUMANGLAG, Aldette Eve V.
BUNAGAN, Mack Hale E.
BUNDOC, Russel Anne C.
BUNIEL, Emmy Tessalu S.
BUNOAN, Marivic Q.
BUNQUIN, Danielle D.
BUNYI, Maria Paola C.
BURGOS, Dabuimar
BUSTAMANTE, Jessica Sharla G.
BUTALID, Vince Patrick L.
BUTANTAN, Oberly Mae T.
CAADAN, Julie Anne I.
CABACANG, Maria Tanya P.
CABACUNGAN, Trisha Jesica R.
CABACUNGAN-ESBRA, Marianne M.
CABAHUG, John Dexter P.
CABALLERO, Rhonalyn M.
CABANSAG, Rex Mark M.
CABARDO, Joime Ann A.
CABATUANDO, Mari-nessa N.
CABAUATAN, Chary Kae V.
CABILDO, Josephine Ivane V.
CABILES, Riza R.
CABILI, Safrali S.
CABLING, Carolyn M.
CABRAL, Jan Louie Antonni S.
CABRAL, Ma. Angela Francesca Y.
CABREDO, Edsel Marquino P.
CABRERA, Christian C.
CABRITO, Carlo Angelo D.
CABSON, Claire B.
CABURAL, Alyssa Marie C.
CACHA, Zara Janella M.
CACHERO, Noel D.
CADIENTE, Daphne Tricia G.
CADLEY-FANGKINGAN, Salome P.
CADORNA, Jerekko A.
CAGANG, Ranielle Marie G.
CAGOCO, Anna Kristine L.
CAIDIC, Zina D.
CAIGAS, Joyce Ann A.
CAINDAY, John Kelly B.
CAJAYON, Ella Cecilia A.
CALA, Ellen Charmane S.
CALAGUI, Glenda (jay Gee) T.
CALANO, Kathrine Jessica G.
CALATRAVA, Kim Lorenzo G.
CALBE, Norhaisah A.
CALIGDONG, Dexter Sejm L.
CALIMAG, Racquel L.
CALIMLIM, Jeninah A.
CALIWAN-GASPAY, Cherrylyn A.
CALLANTA, Margaret H.
CALLANTA, Robelen-ann G.
CALVAN, Althea Samantha A.
CALVARIO, Arven E.
CAMALIG, John Robert A.
CAMANSO, Nicky Joy M.
CAMEYENG, Sheena Seemba D.
CAMITAN, Michaela L.
CAMPILAN, Krissette Grace F.
CAMPOS, Melissa A.
CANDOLITA, Therese Anne S.
CANLAS, Camille Victoria F.
CANLAS, John Dairen U.
CANLAS, Pauline Monica A.
CANONIZADO, JR., Edwin M.
CANTOS, Leula Dianne G.
CAOILI-MARCELO, Deness Louise G.
CAPADOCIA, Merchadel O.
CAPAL, Ronaleen Giselle A.
CAPALUNGAN, Jaycee M.
CAPARANGA-BONACUA, Jollee L.
CAPARAS, Aaron Sage R.
CAPELLAN, Glecie Suzanne T.
CAPILI, Arlene C.
CAPISONDA, Claire Iris J.
CAPULONG, Christopher A.
CARAAN, Krisppina Krissanta A.
CARAANG, Joanna Marie G.
CARABIDO, Jay-rom R.
CARAGGAYAN, Noemi S.
CARAMTO, Carlo Stephen D.
CARBONELL, Cherryl G.
CARIAGA, Arianna L.
CARILLO, Jane Marie Bianca B.
CARINGAL, Elaine A.
CARINGAL, Joshua Angelo A.
CARLOS, Maria Elena B.
CARO, Monica Celine A.
CARPESO, Kevin R.
CARPIO, Arlene B.
CARPIO, Emilyn Carmela Y.
CARPIO, Lisanie O.
CARPIO, Micah Celine S.
CARRASCO, Marlo Karlo T.
CARRIDO, Mark Joseph M.
CASAN, Johari P.
CASAÑARES, Arianna C.
CASER, Allan Bryan A.
CASQUEJO, Charmaine Fhaye C.
CASTAÑEDA, Maria Patricia L.
CASTELLANO, Kristina S.
CASTELO, Yves Mikka B.
CASTILLO, Aleczandra M.
CASTILLO, Maria Victoria M.
CASTILLO, Miguel M.
CASTILLO, Rio Star B.
CASTILLO, Roman George P.
CASTILLO, JR., Renato S.
CASTILLON, Eurika Jessa D.
CASTILLON, Kristel Anne D.
CASTRO, Joana Arilyn T.
CASTRO, Kathrine Celine R.
CASTRO, Levi Mae N.
CASTRO, Marhen ST.
CATAMCO, Ed Manuel P.
CATIPAY, Ralph Ronald S.
CATOLICO II, Robert F.
CAYABAN, Roseann L.
CAYABYAB, Kristine Alma T.
CAYOSA, Domingo Angelo F.
CAÑETE, Francis C.
CAÑETE, Theamer Niña S.
CEBALLOS, Celeste June R.
CEDIÑO, Kristine Mae A.
CELESTE, Kazel C.
CENIZA, Gio Raymond P.
CEPEDA, Maria Luisa J.
CEPEDOZA, Paul Vincent O.
CEREZO, Pearl Angeli R.
CERIACO, Jeremae Ann T.
CESANTE, Royce Nikko J.
CHAGUILE, Brix Paul B.
CHAN, Johanna Celine Mari A.
CHAN, John Psalmuel V.
CHAN, Tiffany G.
CHAVES, Consuelo G.
CHAVEZ, Eunice V.
CHAVEZ, Kristine P.
CHAVEZ, Ma. Katrina Daniella B.
CHIN, Christine Lily Angely T.
CHING, Apple Kris J.
CHING, Ryan Omar D.
CHOI, Anthony Ernest D.
CHU, Alecsandra Deniece D.
CHUA, Dane Larieze L.
CHUA, Edward King L.
CHUA, Johnn Hanson D.
CHUA, Joseph Welson F.
CHUA, Lodelyn S.
CHUAHIOCK, Brian Q.
CHUN, Celinka Morgan L.
CHUN, Tatiana Elaine L.
CID, Cedric Michael B.
CIMAFRANCA, Horace E.
CIPRIANO, Linden C.
CLARIN, Nikka C.
CLARITE, Benjo E.
CLAUDIO, JR., Norberto C.
CLEMENTE, Darwin D.
CO, Anne Lorraine P.
CO, Christine Joy G.
CO, Francis Salvador B.
CO, Selynn Alexis S.
COLINA, Alexander Abraham P.
COLINA, Judd Marx C.
COLIPANO, Joey Ann T.
COLON, Edzel Anthony G.
COMETA, May Anne S.
CONCEPCION, Edwin Roberto L.
CONCHA, JR., Romulo V.
CONDE, Mae Kristine A.
CONEJERO, Marijo Angela T.
CONFESOR, Kristine G.
CONSERVADO, Sheena Marie V.
CONSTANTINO, Edgar Noel V.
CONTRERAS, Fabian A.
CONTRERAS, Samantha Marie V.
COOPERA, Scarlette Joy N.
COPIA, April John Ray F.
CORDERO, Andrewfer D.
CORDERO, Kimberley Ionne Y.
CORDOVEZ, Mary Gertrude O.
CORPUZ, Jose Miguel A.
CORPUZ, Lina Flor D.
CORPUZ, Shiela Joy B.
CORTEZ, Arvin Paolo D.
COSMOD, Dennis G.
CREDO, Kenneth Louie R.
CRISOSTOMO, Judy Anne S.
CRISOSTOMO, Rafael Rufo B.
CRISTOBAL, Darlene Ciara G.
CRUZ, Bea Angela C.
CRUZ, Hershey T.
CRUZ, Lean Richard T.
CUA, Japheth B.
CUANAN, Jodelle Chris G.
CUBELO, Jose Jello S.
CUENCO, Julius Anthony R.
CUTAMORA, Algene May O.
CUTOR, Michael L.
DABA, Albert Wences Iii C.
DABAO, Alexa Monica P.
DABATOS, Drixel Jann S.
DACARA, Charlene Mae C.
DADANG, Sheen Leigh J.
DADIVAS, Ma. Louise B.
DAGAERAG, Micah Stefan B.
DAGATAN-SALVADORA, Juliebeth M.
DAGDAG, Lex Vincent P.
DAGUMAN, Jennifer G.
DAJAO, Lalaine A.
DALAYAP, Marvinson Mark B.
DALIS, Shalini Kristy S.
DAMALERIO, Glemarie S.
DAMASCO, Alaine Joyce O.
DAMAYO, Jovany A.
DANGATAG, Brandon B.
DANGLOSE, Denize C.
DANSAL, Angelica Krystle L.
DARAGANGAN, Nor-ainah M.
DATUDACULA, Boy Omar G.
DAVAD, Airah S.
DAVID, Archimedes M.
DAVID, Maria Angelica D.
DAVID, Maria Clara Theresa C.
DAVID, Ronaldo E.
DAVID, Vincent Paul C.
DAVILA, Ernest Benz S.
DAYAO, Sabrina Victoria M.
DAYAP III, Rafael B.
DAYOS, Kim Patrick P.
DAYRIT, Daryl Kenneth R.
DE ASIS, Camille Anne P.
DE ASIS, Juris Giovanni A.
DE BELEN, Charles Fredricksson O.
DE CASTRO, Ana Kathrina Rose I.
DE CASTRO, Ian Paulo M.
DE CASTRO, Lindolf F.
DE GUIA, Jon Robert Raymond H.
DE GUZMAN, Alden V.
DE GUZMAN, Beatrice Anne DC.
DE GUZMAN, Dino Roel J.
DE GUZMAN, Erika Bianca S.
DE GUZMAN, Jorielle Dave G.
DE GUZMAN, Joseph Martin A.
DE GUZMAN, Maria Elisa C.
DE GUZMAN, Maria June Gelian M.
DE GUZMAN, May DL.
DE GUZMAN, Miguel Rico E.
DE GUZMAN, Pamela Jane P.
DE GUZMAN, Samantha C.
DE GUZMAN, Sarrah B.
DE GUZMAN, Victor V.
DE JEMIL, Marvin E.
DE JESUS, Leigh Anne DL.
DE LA CRUZ, Judee Anne C.
DE LA CRUZ, Mary Astrid T.
DE LA CUESTA, Joseph Adrian A.
DE LA ROSA, Marie Elizabeth G.
DE LA TORRE, Lovely L.
DE LARA, Claudette Abigail B.
DE LEON, Anthony Nash O.
DE LEON, Beatrice Mae C.
DE LEON, Phoebe Ruth T.
DE LEON, Vanessa Arrha A.
DE LEON-GUZMAN, Kristelle Hannah M.
DE LEON-SERRAN, Lorelie D.
DE LOS SANTOS, Katrina Q.
DE LUNA, Rudolf Conrad G.
DE MATA, Annamarie Junel G.
DE TORRES, Rhodylyn B.
DE VERA, Mark Anthony B.
DE VERA, Mary Ann A.
DE VEYRA, Grace Anne B.
DE VEYRA, JR., Eric L.
DE VILLA, Cecille M.
DECIN, Ronick P.
DEGOLLACION III, Manuel F.
DEGOLLADO, Patricia Jillianne P.
DEIPARINE, Jan Meryll M.
DEJAÑO, Lady Victoria M.
DEL CASTILLO, Aida Mae F.
DEL MUNDO, Angelo Raphael B.
DEL ROSARIO, Clement M.
DEL ROSARIO, Dan Marco R.
DEL ROSARIO, Julienne Angela B.
DEL ROSARIO, Keren Michelle P.
DEL ROSARIO, Zandra Jane J.
DELA CRUZ, Adela T.
DELA CRUZ, Adrian M.
DELA CRUZ, Carel Brenth Z.
DELA CRUZ, Christian M.
DELA CRUZ, Emmanuel F.
DELA CRUZ, Juan Miguel C.
DELA CRUZ, Kimberly D.
DELA CRUZ, Lourdes Anna A.
DELA CRUZ, Maria Margarita B.
DELA CRUZ, Paul Arwin A.
DELA CRUZ, Reyan Vincent D.
DELA PEÑA, Micaela T.
DELA ROSA, John Paul A.
DELFIN, Daniel Al B.
DELFIN, Erna A.
DELGADO, Shekinah Kitta H.
DELOS REYES, Belynjohn T.
DELOS REYES, John Richard A.
DELOS REYES, Miles R.
DELOS SANTOS, Joel P.
DELOS SANTOS, Riemann J.
DEMDAM, Abigael S.
DENNA, Giovani C.
DEPRA, Jupet S.
DEREQUITO, Cherry Laine A.
DERI-ON, Ma. Jonnalie A.
DERRAMA, Hyacinth Kate A.
DESALISA, Aybel Joice D.
DESCALLAR, Frisian Gail B.
DESTAJO, Pierre Honcel Angela T.
DESUASIDO, Grace Lilac F.
DEVESA, Roy C.
DEVORA, Romeo Alexis B.
DIAMITAS, Jan Erik B.
DIANGCA, Saniarah U.
DIAO, Edsel Marc E.
DIATO, Jea Mari D.
DIAZ, Jose Rodolfo Y.
DIAZ, Karen Cadez P.
DIAZ, Kirstie Mae Dianne V.
DICO, Reymar E.
DIEGO, Bryan Anthony C.
DIETA, Ma. Carmela L.
DIEZ, Emelie Marie T.
DILANGALEN, Czaressia C.
DIMAANO, Juvy Lyn A.
DIMACULANGAN, Ramon Jose A.
DIMALIGALIG, Karl Joseph V.
DIMAO, Sittee Junaira B.
DIN, Ma. Ethel Christine S.
DINO-POBLETE, Ma. Katrina Loris D.
DINOPOL, Mona Lisa M.
DIOLA, Gail Ann C.
DIONEDA, Sheena M.
DIRAGEN, Mona B.
DISOMANGCOP, Yacob-ali T.
DITCHELLA, Jay-ann S.
DIVA, Joanna Sarah T.
DIVINO, Argelique M.
DIWAG, June C.
DIWAS, Chiquito P.
DIZON, Jenine Andrea D.
DIZON, Pamela Domenique M.
DIZON, JR., Alfred A.
DOCE, Toche Vic B.
DOCENA, Robbin S.
DOJILLO, Lex N.
DOLLESIN, Jouvani I.
DOLOR, Cyril James V.
DOMASING, Jasreel A.
DOMINGO, Ala Mei T.
DOMINGO, Calvin Patrick P.
DOMINGO, Kristine Leigh G.
DOMINGO, Lucky Joy A.
DOMINGO, Rozette DM.
DOMINGO, Zarah Donna S.
DOMINGUEZ, Victor John L.
DONAIRE, Michiko N.
DONATO, Lionell L.
DONES, Paulo Enrico M.
DOSIL, Mark Julius V.
DOÑA, Rose Anne C.
DRIO, Constantino D.
DUERO, Ian C.
DUEÑAS, Kevin Lester T.
DULAY, Nicole Bernadette M.
DULAY II, Sofronio C.
DULDULAO, Pauline Rose T.
DULNUAN, Gloria Diana C.
DUMANCAS, Denyri R.
DUMAOG, Katrina F.
DUMAPIAS, Gay S.
DUMAYAS, Mitzi I.
DUMDUMA, JR., Judy M.
DUMLAO, Aristotle T.
DUMMANAO, Adrianne Marie P.
DUMOL, Aubrey Maris A.
DUMORAN, Marlon L.
DUNGO, Mark I.
DUQUE, Duchess Aleksei B.
DUQUIATAN, Joel B.
DUQUILLA, Zaira Nancy N.
DURAN, Noreen Rose A.
DURON, Krizea Marie K.
EBAJAN, Ma. Jennielyn Milagros F.
EBERSOLE, Philip F.
ECALDRE, Rudmar Angelo L.
EFONDO, Joseph Val M.
EGIPTO, Kathlyn Jaylou T.
EISMA, Ma. Denise Jolyn T.
ELAMPARO, Jeo Angelo C.
ELARDO, Ma. Krishna Athena G.
ELEGINO, Adams Ralph Jordan S.
ELNAS, Arjay J.
ELUMBA, Fiona B.
EMNACE, Neoven Patrick C.
ENATE, Chris Za Bea E.
ENCABO, Cara Maria T.
ENCARNACION, Rafael Enrico H.
ENCARNADO, Marvie Kate T.
ENCINAS, Jade
ENDOZO, Aurea Jeicelle A.
ENRIQUEZ, Ephraim T.
ENRIQUEZ, Flourence Kathrine S.
ENRIQUEZ, Flourence Marie S.
ENRIQUEZ, Keir Cedric L.
ENTENA, Verlin A.
EQUIZA, Janil Jay S.
ERNI, Maureen Dyan D.
ERUM, Margaret Anne C.
ESCALA, Joan M.
ESCANLAR III, Ricardo E.
ESCASURA, Manuel Martin C.
ESCOBAR, Jillian Danielle M.
ESCOBIA, Aleisha Merryl Z.
ESCOL, Hanzel Grace
ESCORPIZO, Rick Angelo C.
ESCUADRA, Chris G.
ESGUERRA, Mary Grace E.
ESONGA, Jenelle M.
ESPARRAGUERRA, Karen R.
ESPERACION, Angelica Marie
ESPINO, Yzabel Renee R.
ESPINOSA, Aimee Rose A.
ESPINOSA, Frederick V.
ESPIRITU, Marie Angelica C.
ESPIRITU, Mark Lee B.
ESPIÑO, Rosanna E.
ESPORMA, Laila Veronica S.
ESQUIVEL, Shiela Camile S.
ESQUIVIAS, Michelle Anne P.
ESTAYO, Lalaine A.
ESTEBAN, Reziene I.
ESTERON, Frances Adele U.
ESTILLORE, Lizette Kaye F.
ESTIMO, Andrew M.
ESTIOKO, Mary Therese Gabrielle B.
ESTIOKO, Robert Charles P.
ESTOQUE, Julius Jefferson S.
ESTRELLA, Elaine N.
ESTRELLA, Mara Clara M.
EVANGELISTA, Danica C.
EVANGELISTA, Jorolenlou Marie T.
EVANGELISTA, Ma. Clara G.
EVIDENTE, Fiel Aldous A.
EVIOTA, Alyssa V.
FABELLO, Jocelyn B.
FABIAN, Janry V.
FABROS, Christopher Lambert M.
FAJARDO, Claudine Dominique R.
FAJARDO, Mica Joy S.
FAJARDO, JR., Luis A.
FAJILAN, Emmanuel L.
FAJUTAG, Ardy F.
FALCONITIN, Tomas Justine M.
FALCOTELO, Diane Kristel E.
FAMOR, Jewel Jade M.
FANG-ASAN, Joma Sagummay D.
FAUSTINO, Ma. Theresa G.
FAVOREAL, Myleen Joyce R.
FELICIANO, Michael Angelo G.
FERAREN, Francheska Laurent L.
FERIL, Samantha Famae M.
FERNANDEZ, Anna Kathrina C.
FERNANDEZ, Carlos Alipio Serafin T.
FERNANDEZ, Eusabel C.
FERNANDEZ, Jyrevi Mae A.
FERNANDEZ, Rechel A.
FERNANDEZ, Therese Marie L.
FERNANDO, Alexandria B.
FERRER, Joel P.
FERRER, Princess Vanessa L.
FERRER-LABARDA, Jennelyn R.
FLORDELIZA, Janella Carla C.
FLORENDO, Rose Stephanie D.
FLORES, Janet Rocca C.
FLORES, Jherod David G.
FLORES, Kamille Monica B.
FLORES, Kerven G.
FLORES, Lloyd Marc Vincent M.
FLORES, Marie Camille Allen C.
FLORES, Marjorie Camille A.
FLORES, Nastassja Nicole J.
FLORES, Ninna Beatrice S.
FLORES, Steffi Nicole P.
FONACIER, Ronald Jay L.
FORONDA, Franzine F.
FORTUN, Maria Selena Golda R.
FORTUNA, Shannine C.
FORTUNATO, Moises L.
FORTUNO, Gissandra L.
FRANCISCO, Imee Ruth T.
FRANCISCO, Jo-ann C.
FRANCISCO, Ma. Concepcion C.
FRANCISCO, Migmar Bernped S.
FRANCISCO, Princess Joy B.
FRANCISCO, Sarah Camille G.
FRANCO, Manuel Joseph U.
FRIAS, Anton John Vincent M.
FRIAS, Helen May M.
FRONDOZO, Princess Jezrael A.
FUENTES, Andrea Justine V.
FUENTES, Ralph Christian L.
FULGAON, Laures L.
FULGUERAS, Philip Gerald S.
FUMERA, JR., Jesus J.
FURIA, Juliet Czarina V.
GABA, John Elland C.
GABRIEL, Julio Agustine A.
GABRIEL, Roselle A.
GACAL, Glenn Francis E.
GACUTAN, Marifren C.
GACUYA, May Argentina B.
GADDI, Ralyana Knushara M.
GADOR, Moses Keith B.
GAFFUD, Adrian Jared M.
GAGATE, Ross Werle Bryan P.
GAGATIGA, Regilyn C.
GAITE, Danielle Joanna C.
GAITE, Rhio Angeline T.
GAJETE, Xyra Krezel I.
GALAMGAM, John Carlos T.
GALANG, Ruth Hazel A.
GALAS, Eden Mae E.
GALES, Joane Therese B.
GALIA, Leizyl Mae R.
GALLARDO, Kenneth Charisse I.
GALLO, Vevirlie O.
GALVEZ, Jean Claudette L.
GAMARO, Winzel V.
GAMBOA, Leolita Isabell M.
GAMBOA, Rica Rae C.
GAN, Precious Rochelle O.
GANDAMRA, JR., Saidali A.
GANDINGCO, Ma. Jillian C.
GANDOLA, Faith Therese P.
GANGAN, Miguel Angelo T.
GAOIRAN, May Encarnina P.
GARANZO-APUHIN, Leonie Vee N.
GARCES, Wennonah Marie R.
GARCIA, Coco Chanel G.
GARCIA, Dustin Michael H.
GARCIA, Greta Almina C.
GARCIA, Hazel G.
GARCIA, John Ray M.
GARCIA, Judylyn O.
GARCIA, Kathleen Mae N.
GARCIA, Kris Vermie T.
GARCIA, Maria Jose C.
GARCIA, Raymond Joseph S.
GARCIA, Shirly C.
GARCIA-NATIVIDAD, Kris Dianne D.
GARINGO, Vanessa Q.
GARVIDA, Philip Victor G.
GASPI, Alandia May D.
GASTARDO, Justtine Joel Vincent U.
GATCHALIAN-GALVEZ, Aimi Frances B.
GATMAYTAN, Aileen P.
GAUNA, Ma. Patricia Paula S.
GAYO, April Valerie B.
GAYO, Raymond Ruther C.
GEALON, Jo-al Y.
GEMANIL, Sarah Marie S.
GENERALAO, Iresha Lou C.
GENTAPAN, Shienah Mae C.
GERERO, Monica S.
GERNALE III, Sulpicio Lee L.
GERONA, Monica B.
GERONGA, Ralph Benedict M.
GERONIMO, Jenny Joy B.
GESTA, Ma. Vanessa R.
GEVERA, Ma. Bernadette S.
GIMANG, Mary Rose G.
GINGCO, Ray Mark C.
GO, Alfonso Jose B.
GO, Josephine Grace M.
GO, Stefanie Ann B.
GO, Vanessa Jane J.
GO-CASTRO, Kathleen Jennifer Y.
GODINO, Juan Lorenzo D.
GOLEA, Ma. Consorcia A.
GOMEZ, Anica Angela G.
GOMEZ, Eflynne F.
GONZAGA, Nigel Angelica M.
GONZALES, Audreylyn D.
GONZALES, Cynthia O.
GONZALES, Jefferson S.
GONZALES, Leonard Bryan DG.
GONZALES, Trixie Carmela J.
GONZALES, Van Angelo G.
GONZALEZ, Jana Felice P.
GONZALEZ, Jed Nathaniel M.
GOOPIO, Kim A.
GRAN, Renz Gerald J.
GRANDE, Jonicocel M.
GRESUNES, Jessie Kris L.
GUADALUPE, Sydney Hershey C.
GUANZO, Jezabel D.
GUAY-DELOSTRICO, Rouella S.
GUAZON, Junn Justice O.
GUECO, Jean Paul Marie R.
GUERRERO, Jaime N.
GUERRERO, Philip Frantz T.
GUEVARA, Carlo C.
GUEVARA, Lawrenz Matthew L.
GUEVARRA, Archie D.
GUEVARRA, Jhaypee D.
GUEVARRA, Marc Darryl K.
GUILING, Asnia G.
GUILONSOD, Joanna Karla P.
GUINDO, Johayveer S.
GUINGONA, Francesca Angela C.
GUIUNTAB, Lizzette Ann R.
GULLA, Brian Edward P.
GUMAL, Maria Romina B.
GUMBAN, Ro Ann Marie H.
GUMBOC, Maria Katherina L.
GUMILAB, Rafie S.
GUTIERREZ, Jenina Ysabelle M.
GUTIERREZ, Nikki Manuel T.
GUZMAN, Kent Alvin L.
H. ABDULKARIM, Yasmin M.
HABIJAN, Ma. Reina F.
HADLOC, Maria Angelica J.
HALILI, Dominic Oswald C.
HAMOR, Arvin D.
HAO, Guenavere J.
HAO, Tristan Jeremy S.
HERAMIZ, Alvin B.
HERBOSA, Angelo Francesco F.
HERMOGENO, Ma. Rizza S.
HERNANDEZ, Janeth G.
HERNANDEZ, John Kevin R.
HERNANDEZ, Joseph Nelson A.
HERNANDEZ, Maria Isabel S.
HERNANDEZ, Wilbert R.
HILASGUE, Ma. Ju Elaiza B.
HIPOLITO, Mary Grace G.
HIPOLITO IV, Raymundo L.
HIRANG, Leomarie F.
HORTILLOSA, Kim S.
HUAN, Roxanne Gayle A.
HUEVOS, Giuseppe Christian M.
RELEASE DATE
The BAR Exam Results November 2019 is expected to be released within five months or on April 29, 2020.
REMINDER
SC may release the results earlier or later than the expected date without prior notice.