Here is the BAR Exam Results November 2019 list of passers (I-Q).
This is the BAR Exam Results November 2019 list of passers (I-Q) as released by the Supreme Court.
The official list of passers and top 10 lawyers for the November 2019 BAR Exam will be available on this site as soon as the SC will release it.
Supreme Court of the Philippines Chairman, Hon. Estela A. Perlas Bernabe, Associate Justice, and Office of the Bar Confidant headed by Deputy Clerk and Bar Confidant Atty. Ma. Cristina B. Layusa administered the examinations on all Sundays of November 2019 (3, 10, 17 & 24).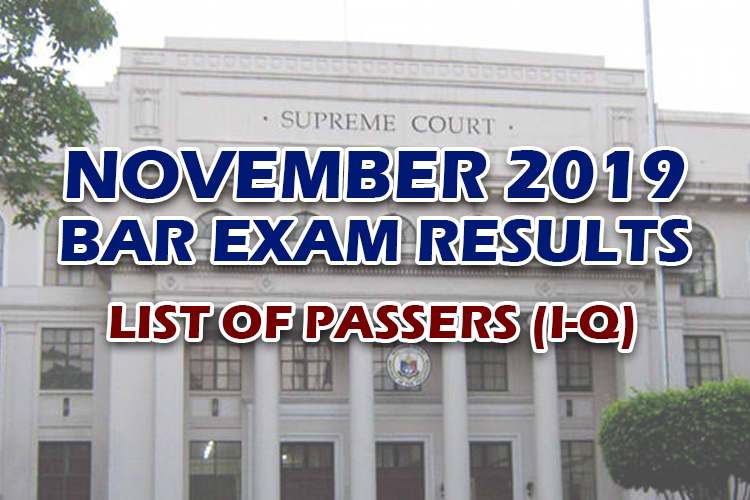 SUMMARY OF RESULTS
Here is the list of passers (I-Q):
List of Successful Examinees in the 2019 Bar Exams
Held on NOVEMBER 3, 10, 17 & 24, 2019
Released on APRIL 29, 2020
Passing Rate: 27.36%

IBANEZ, Jim Louis V.
IBAY, Yasmine A.
IBAÑEZ, Patricia D.
IBBA, Sharmaine A.
IBUS, Mark Jim S.
IGNACIO, Mervin Kenneth C.
IGNACIO, Tristan Gabriel DP.
ILAO, Mikael Gabrielle E.
ILAYA, Gabriel L.
ILEDAN, Ray Jan I.
IMPORTANTE, Bernard Joseph V.
IMPROGO, Ryan Joseph D.
IMPROGO, Wengie B.
INCISO, Ma. Bernadette T.
INCISO, Yasmin Soleil M.
INDINO, Ivan Justin B.
INFANTADO, Bianca Nerizza A.
INGUILLO, Mary Louisse S.
INOCENCIO, Mary Frances D.
INOFERIO, Ma. Dina Danielle D.
INOVEJAS, Deurod Joe C.
INTIA, Liz Angela A.
INTUD, Roland B.
IRIBERRI, Cyril Ann Q.
ISNANI, Harradier P.
ISRAEL, John Patrick A.
ITAO, Mary Krizia B.
IWAKI, Mariko C.
JABAL, Jasmin Micah R.
JABAL, Joel Malcolm D.
JACINTO, Ma. Christine Joyce A.
JACOBO, Stephen Rey A.
JALA, Charmaine I.
JALUAG, Kristine T.
JAMIAS, Maria Abigail A.
JAPOS, Kristine Mae P.
JARDINEL, Hannah Cyndall V.
JARETA, Jirah L.
JARON, Marie Antonette N.
JAVIER, Elojra Carmiel D.
JAVIER, Mary Grace R.
JAVILLONAR, Eugene Albert O.
JAYME, Rene G.
JEREZA, Veronica Louise B.
JERRERA, Karla S.
JERUTA, Kris Sarah M.
JIMENEZ, Joeriel E.
JIMENEZ, Joseph James I.
JIMENEZ, Leryhc Andrei T.
JOAQUIN, Marione Ann C.
JOE, Haibe M.
JORE, Ma. Jovi P.
JOVELLANOS, Jamie B.
JUAN, Domer Ed A.
JUAREZ, Andrea Filipina B.
JUAREZ, Rowelle Sheena J.
JULIAN, Stephen C.
JUMALON, Ben Zedrick B.
JUMLAIE, Zharmaine Cynara C.
JUSTOL, Maria Thaisa D.
KADJIM, Mohammad Annesir I.
KALAW, Mariliza V.
KAUFMAN, John Jacob D.
KONG, Marchini Sandro C.
KYAMKO, Ricky S.
LABADOR, Maylane N.
LABALAN, Jonalyn A.
LABOG, Miraquel A.
LACADIN, Anna Raeza A.
LACHARON, Vanessa Lane C.
LACIDA, Niña Viola G.
LACPAO, June Antonette C.
LACUATA, Venezia Maxinne P.
LADEZA, Dominic Amon R.
LADICA, JR., Jose Elcid C.
LADORES, Trina Faye D.
LAGRADA, Raemman M.
LAGUIALAM, Lyzzaik L.
LAIGO, Gilda Maria D.
LALUSIS, Leo Anselmo LV.
LAMANILAO, Egwin L.
LANGNGAG, Claris E.
LANGOMEZ, Claire B.
LANZAR, Julie Tanya P.
LANZUELA, Roxanne B.
LAO, Ariff A.
LAO, Jill Kathryn S.
LAO, Joshua G.
LAPAAN, Roxanne Daphne O.
LAPLANA, Kristine Marciana L.
LAPU, Ana Grace E.
LARA, Ronald C.
LARGOSA, Beverly J.
LARIOS, Mikhail Andrei F.
LAS MARIAS, Shawn Michael R.
LASAC, Margarette G.
LASUDEN, Henrietta T.
LATIP, Jordanna I.
LATORRE, Alan Emmanuel R.
LAURE, Rheo Ringo P.
LAURO, Aimee Flor A.
LAVARES, Danielle Frances D.
LAVERINTO, Jeoy G.
LAXA, Chloe Chrysilla A.
LAYGO, Erick John Rae M.
LAYNO, Vianca Mariel V.
LAZARO, Aprille Keith M.
LAZARO, Charissa Elaine B.
LAZARO, Krizia Lissa C.
LAZARO, Miragrace S.
LAZO, Lovely Anne Joy C.
LEAÑO, Chrismund A.
LEAÑO, Gabriellee A.
LEAÑO, Jasmine P.
LEAÑO, JR., Samuel C.
LEE, Bea Veronica M.
LEE, Owdylyn L.
LEGASPI, Maryann Lorraine M.
LEGITA, Sophie Joyce P.
LENIZO, Joan Karl L.
LENTEJAS, Grafer-carl D.
LEONARDO, Andrew Lewis Ephraim M.
LEONARDO, Mary Louise P.
LETABA, Richard Reyan L.
LIBERATO, Suzette Ria T.
LIBERTAD, JR., Nonilo V.
LIBOON, Princess Rexille V.
LIBRES, Miles M.
LICAYAN, Joseph Jebon S.
LICUP, Kimberley N.
LIGGAYU, Mc Anthony M.
LIM, Clark Jay M.
LIM, Constance Marie C.
LIM, Danielle Lauren K.
LIM, Elver P.
LIM, Frederick Xavier R.
LIM, Nikki Joanne A.
LIM, Rapunzel Grace T.
LIM, Redmond Alejandro B.
LIM, Sashin Mae M.
LIM, Shalma Mariae M.
LIMBARING, Lowela Aileen T.
LIMPAO, Zainaldin D.
LINGAN, Karl Erik M.
LINGBAWAN, Garri G.
LINTAO, Jude Erwin P.
LIONG, Kimmy D.
LISING, Ieuan C.
LLANOS, Jhun Louys B.
LODIAS, Rey John L.
LOMEDA, Dan Allen D.
LOMOD, Mark Paul T.
LOPEZ, Katrina Isabel L.
LOPEZ, Mischelle A.
LOPEZ, Noele Anne B.
LOPEZ, Rachella Marie G.
LOPEZ, Viveka C.
LOPINA, Zenith Julio S.
LOQUERE-SINGSON, Ivy Loudanie B.
LORENZO, Jade A.
LORENZO, Jeffrey Brent B.
LORENZO, Maricon T.
LOZANO, Caren Joy G.
LOZANO, Erik Roy V.
LOZANO, Katrina S.
LU, Kathrine C.
LUA, Denise Leavina G.
LUCERO, John Nico R.
LUGASAN, Leslie Ann R.
LUMABAS, Angela B.
LUMANAG, Janine Rose G.
LUMAPAS, Ria Danielle A.
LUMBRE, May Rosarie Anne D.
LUMIO, Jhon Rommel L.
LUMONGSOD, Jose Neil D.
LUNA, Mary Grace D.
LUYABEN, Cris Margot A.
LUZ, Erickson C.
LUZ, Lizette L.
MA-AT, Harlem P.
MAALA, Ren Marc P.
MABILANGAN, Janine V.
MAC, James Philippe
MACADATAR, Abbas S.
MACALA, Lindzei Mae M.
MACALINO, Nikki Nakhiska N.
MACALINO, Rachelle C.
MACALINO II, Marc Artemio N.
MACALINTAL, Krezza Gem L.
MACANDOG, Andrei Kristoffer G.
MACAPAGAL, Rowen Melvin B.
MACAPUGAS, Fatima Zyra R.
MADEJA, Ruby Angelie V.
MADERA, Bebelan A.
MADERA, Marione Laarni H.
MADERAZO, Timothy Mark G.
MAESTRE, Mikael Regin B.
MAGABILIN, Cherilyn Bernadette D.
MAGALIT, Ryce J.
MAGALONG, Jonelle Elline A.
MAGARANG, Ana Nihara D.
MAGHIRANG, Andrei L.
MAGNO, Christ Denn Joy A.
MAGONGCAR, Abdul Nassive B.
MAGPANTAY, Froilan A.
MAGRATA, Rhodel S.
MAGSOLING, Therese Princess Gem B.
MAGTIBAY, Carmel Genevieve S.
MAGUIGAD, Basil G.
MAHDI, Omira S.
MAHILUM, Honnely G.
MAHINAY, Lenyth Jann B.
MALABAD, Alimar Mohammad
MALABANAN, Eissel J.
MALABANAN-PEREZ, Devie Marie S.
MALAGSIC, Junry C.
MALASI, Jessie Mae M.
MALATE, Dane Juriel G.
MALAYAG, Rowi Arbilon P.
MALENIZA, Rosauro Angelo B.
MALIAWAO, Sittie Rashida U.
MALINAO, Kennerly Albert R.
MALLARI, John Patrick S.
MALLARI, Paul Jerick O.
MALLONGA, Aileenjane P.
MAMAILAO, Jasim B.
MAMARUNGCAS, Nasihah S.
MAMBUAY, Norhanifah M.
MANAHAN, JR., Remigio M.
MANALANG, Carla Jane A.
MANALIGOD, Jamaica C.
MANALO, Maria Veronica M.
MANATAD, Joseph Dave D.
MANCIA, Ryle Scott D.
MANGADLAO, Jessa D.
MANGASER, Cecille Diane DJ.
MANGILA, Kathryn Jane P.
MANGUERA, Quinnmer M.
MANGULABNAN, Ryan Emmanuel S.
MANIPON, Kriszan F.
MANIQUIS, Kahela Ayna G.
MANOG, Gerald S.
MANSION, Princess Honey Anne B.
MANTARING, Lourd Mackintosh G.
MANUEL, Kenneth Glenn L.
MANUEL, Maurice Victoria E.
MANUEL, Realyn I.
MANUEL-BAHUL, Josephine B.
MANZANO, Ranieri B.
MANZANO, Tennessee Denise M.
MAONGCO, Ansarah Julynne R.
MAQUIRAN, Azalea Marie S.
MARABE, Florlita Zarina Jane A.
MARANDA, Kahlil Gibran D.
MARANDA, Khalil Fedmar D.
MARAVE, Marco Riener F.
MARAVILLOSA-BACARRA, Michelle C.
MARCELO, Grecilda D.
MARCELO, Maria Denise Claire C.
MARCILLA, Ma. Elaine E.
MARCOS, Cloydie Mark A.
MARDO, Pauline Grace G.
MARELLA, Jose Maria L.
MARFORI, James Ellem E.
MAROTO, Neptali G.
MARQUEZ, Bettina Isabel C.
MARQUEZ, Carl Lemuel P.
MARQUEZ, Donna Mae G.
MARQUEZ, Gabriel P.
MARQUEZ, Jo Erika F.
MARQUEZ, Rod Francis B.
MARQUEZ, JR., Narciso C.
MARSANGCA, Muhammad Murshid M.
MARTIN, Angelique Ashley B.
MARTIN, Mary Grace R.
MARUZZO, Marc Armand B.
MASANGKAY, Margarita Louise D.
MASAOY, Queencel Mae M.
MATA, Nomar Jethro Y.
MATABUENA, Agatha Josephine V.
MATEO, Alyssa Carmelli DF.
MATIAS, Joulle Lynton E.
MATIB, Fabienne P.
MATIENZO, Millicent SJ.
MAULEON-TING, Jeannie Ozelle M.
MAUNTOL, Saydamin M.
MAYLON, Ron Stevend P.
MAYO, Mark Steven S.
MAYORALGO-ACANTILADO, Maria Remedios C.
MEDIAVILLO, Yuji Marce G.
MEDINA, Evan Ephraim P.
MEDINA, JR., Emmanuel P.
MEDRANO, Kimberly Jean DC.
MEJES, Pauline Shiela M.
MELICOR, Ruth F.
MELLA, Sarah Joy T.
MENDIOLA, Aiza Gail S.
MENDIOLA, Ezer V.
MENDOZA, Camille Angelica A.
MENDOZA, Emir- Deogene V.
MENDOZA, Jezreel M.
MENDOZA, Jose Ranulfo R.
MENDOZA, Mark Jerome H.
MENDOZA, Melissa Roe R.
MENDOZA, Myko F.
MENDOZA, Neil Jason P.
MENDOZA, Roland Joseph C.
MENDOZA, Rovi Grace T.
MENGUITO, Leo Angelo S.
MENOR, Arlane V.
MERCADO, Allen S.
MERCADO, John Kristopher S.
MESA, Grant Buena Joy C.
MESA, Jevan S.
MIGUEL, Jose Gabriel G.
MIJARES, Maricel
MILES, Danielle D.
MILLANO, Ma. Elena A.
MIRANDA, Katrina Jean C.
MIRANDA, Mel Catherine C.
MODERES, Raymund C.
MODESTO, Diane Erika L.
MOISES, Joseph Bar Paulo V.
MOLAER, Airisa Fe Esperanza D.
MOLDERO, Jessa Jane C.
MOLINA, Marc Joseph N.
MONDARES, Flora May M.
MONDEJAR, Carl Vincent G.
MONDEJAR, Mary Kimberly Lucille L.
MONDERIN, Christine P.
MONER, Khalidbinwalid D.
MONES, Anna Liza B.
MONROYO, Mikael Edward M.
MONSANTO, Matthew Kressler A.
MONTECILLO, Diana Erika A.
MONTECLARO, Jaelein Nicey A.
MONTES, Mark David A.
MONTORO, Noelito P.
MONZON, Romelyn T.
MORADA, Cheenee V.
MORADO, Jonnah Marie D.
MORAL, Cheza Marie M.
MORALEJO, John Michael E.
MORALES, Majal Margret A.
MORALES, Rangelique N.
MORANO, Pamela Emilia E.
MORELOS, Mark P.
MORTEJO, Jennifer P.
MOSTRALES, Thea Kharina I.
MUCHAMIEL, Lynill Haze L.
MUNGCAL, Anna Marjouree M.
MUNGCAL, Charish D.
MURILLO, Maria April L.
MUTIA, Ariel Joshua L.
MUÑEZ, Evangeryl A.
MUÑOZ, Florelyn P.
NADATE, Allan Chester B.
NAINGUE, May Anne M.
NALA, Jassien Cindy A.
NAPOLES, Janine Faye A.
NAPOLES, JR., Rogelio P.
NATIVIDAD, Kalipay Franchesca A.
NATIVIDAD, Michael Ryan
NAYVE, Josephine A.
NAÑADIEGO, Yvette Marie Y.
NEPOMUCENO, Joseph Erik Y.
NEQUINTO, Catherine Jane E.
NICDAO, Ma. Angelica N.
NIETO, Bianca Ysabel E.
NIETO, Kathleen Mae L.
NIVERA, JR., Rolly B.
NOBLE, Maria Jessa G.
NOGUERA, Antonio Karlo A.
NONATO, Peter Emil P.
NOOR, Halim M.
NOPUENTE, Ivn Maj M.
NOSTRATIS, Jalyn L.
NOVAL, Christopher M.
NOVAL, Don A.
NOVELERO, Junar T.
NOVILLA, Danica Stephanie T.
NUGUID, Alexis John N.
NUÑEZ, Ma. Angela D.
NUÑEZA, Maricris L.
OBANI, Mie C.
OBAR, Romualdo B.
OBIAS, Jacques Michele R.
OCAMPO, Daniel Kristoffer S.
OCAMPO, Lorenzo Angelo A.
OCAMPO, Maricar P.
OCAMPO, Niko Paolo M.
OCAMPO, Rhonald S.
OFALSA, Rebecca S.
OFILAN, Joel V.
OKKO, Alma T.
OLAIVAR, Rhea Mae E.
OLALIA-LAURETA, Anafel P.
OLAÑO, Kathy A.
OLEA, Stephanie Marie Abigail B.
OLI, Charlotte P.
OLIVA, Ma. Teresa Arika Gail C.
OLIVEROS, Ma. Liana R.
OLMOS, Ruel C.
OMANDAP, Noel Alberto S.
OMBAO, Pauline Anne O.
OMNES, Regina R.
OMOROG, Ana Mae S.
OMPAD, John Patrick A.
ONA, John Joseph A.
ONG, Cesar Ruperto P.
ONG, Christian Edward F.
ONG, Janzl B.
ONGLENGCO, Eriza Nicole M.
ONGOCO, Katrina Grace C.
ONTAL, Gil Ray V.
OQUIAS, Ma. Nikka Andrea F.
OR, Mary Elizabeth D.
ORAPA, Jassey Jane B.
ORBITA, Eugene Lawrenz M.
ORETA, Samantha Joy H.
ORIAL, Dorothy Dale D.
OROLAZA, Casimir S.
OROPESA, Hazel Marie AC.
ORTEGA, Emer Ley Ayesa Y.
ORTEGA, Regine Marie N.
ORTIZ, Mirabel Sanchria K.
OSIAS-WONG, Josha L.
OTADOY, Charmaine Regine C.
PABRUA, Anna Karenina S.
PACALLAGAN, Roy Joseph S.
PACHECO, Raychelle S.
PACIENTE, Zarah Joy C.
PACIS, Czarina Maybellyne V.
PACULBA, John Philip S.
PADAO, Inez Monika C.
PADATE, Kemal M.
PADILLA, Jo Anne Florenz G.
PADILLA, Kim Austine M.
PADILLA, JR., Lamberto M.
PADLAN, Camille S.
PADUA, Meilyne C.
PAGAL, Eva Cristine G.
PAGALILAUAN, Gerome A.
PAGSIBIGAN, JR., Antonio S.
PAGTABUNAN, Anna Marie
PAGUYO, Gretelmar R.
PAJARITO, Iris Clara R.
PAJO, Julie Ann Mae O.
PALABAY, Rana Alyssa M.
PALAJE, Paulin Jessa S.
PALANCA, Irvin L.
PALER, Chantal Sue P.
PALER, Marinel June S.
PALMA, Jasmine Clarissa C.
PALMA, Ray Marvin A.
PALMA, JR., Emmanuel L.
PALSIW, Edward Raymond B.
PAMITTAN, Amie L.
PAMPILO, Hansel Jake B.
PANGANDAMAN, Alamiah S.
PANGANIBAN, Aubrey Jane A.
PANGANIBAN, Princess Sarah G.
PANGCOG, Don Albert Philippe C.
PANGILAMEN, Mohammad Nour Seddiq A.
PANGILINAN, Joseph R.
PANILAGAO, Shea Ira P.
PANLILIO, Kyla Monica M.
PANTI, Catherine B.
PANTOJA, Maria Dominique M.
PANULAYA, Mae Honeylet C.
PANUMPANG, Johaima D.
PARAHIMAN, Princess Fatima T.
PARAISO, Ma. Abigail Francia M.
PARAISO, Rashidi Fahad A.
PARALISAN, Arianne N.
PARAS III, Edgardo P.
PARCIA, Charlotte Criztel Y.
PARILLA-GUZMAN, May-ann DC.
PARMISANO, Janna Christi M.
PARREÑO, Rb Grace Hope T.
PASCUA, Alice B.
PASCUA, Dion Ceazar M.
PASCUA, Donna Phoebe M.
PASCUAL, Aizen Paula DS.
PASCUAL, Jennett Marie M.
PASCUAL, Joshua Lawrence A.
PASCUAL-PRANADA, Sheila Marie S.
PASTOR, Jan Kristy Y.
PASTOR, Von G.
PASU-IT, Virnell P.
PATANAO, Mariz D.
PATAWARAN, Pamela Marie C.
PAULICAN, Earl Russell S.
PAUS-TUMAYAN, Mary Rose L.
PAY-ONG, Van Poks O.
PAYAD, Azanith Ann B.
PAYNOR, Miljohn Denver Y.
PAZAULAN, Sittie Junaidah C.
PAÑO, Maria Regina Victoria L.
PEDOC, Enrique G.
PEDROSA, Catherine P.
PELAGIO, Maria Cecilia M.
PELAYO, Michael Lawrence C.
PELINGGON, John Raphael M.
PENALES, Trixie Marcel H.
PEPITO, Maria Bernadette M.
PEPITO, Romeca Kristine Kate T.
PERALTA, Jennifer V.
PERALTA, Patricia Mae G.
PEREZ, Aidyl Pearl U.
PEREZ, Arabhel M.
PEREZ, Carla Patricia S.
PEREZ, Esther Lauren M.
PEREZ, Jethro C.
PEREZ, King Anthony Y.
PEREZ, Reginald M.
PEREÑA, Albert Caesar M.
PETIILAN, Bolkia B.
PETILLA, Kiefer Clint L.
PETILOS, Vinci M.
PETRACHE, Ria Kriselle P.
PEÑA, Lea Kathryn D.
PEÑA, Sir Laurence T.
PEÑAFIEL, Wendy Angeline A.
PICHAY, Nimpa T.
PIEDAD II, Florian A.
PIMENTEL, Theresa May P.
PINEDA, Irish A.
PINEDA, Ma. Jhysty G.
PINEDA, Nina Sarah P.
PINO, Gilson Y.
PINTOR, Rea Irish Michelle R.
PIOQUINTO, Lara Mae B.
PITULAN, Lorenza C.
PLANAS, Marlouis U.
POBLETE, Maria Isabelle J.
POCAIS, Laurice L.
POCSOL, Brigitte G.
POJAS, Kristofer Abe B.
POLOYAPOY, Dreiston Ace P.
PONCE, Cristilyn K.
PONGCHACHEN, Mariano S.
PORNELDA, Airha Kae V.
PORTES, Mikee Angelu S.
POTOY III, Melquiades B.
POWAO, Jayford O.
PRADO, Tamsin Vizzenta N.
PROSPERO, Patrisse Bea D.
PROTASIO, Josine Ma. V.
PUDIQUET, Rhenea M.
PUERTO, Khenett R.
PUGONG, Harvey A.
PUJOL, Justin E.
PULIDO, Fredison L.
PUNAY, James Oliver T.
PUNONGBAYAN, Kim V.
PUNONGBAYAN, Paulito M.
PUNSALAN, Alysa Gieter Q.
PURA, Valentin V A.
PUSOD, Lord Anthony A.
PUYOC, Miracquel P.
QUE, Bienz Reiner Draeion A.
QUE, Maria Louisa M.
QUEJADO, Maria Katrina V.
QUERIDO, Maria Louise R.
QUERUBIN, Nestly A.
QUESTIN, Clarice Angeline V.
QUEZON, Mark Lorenz C.
QUIACHON, Rudith Ann W.
QUINLOG, Junalliez Yreka N.
QUINTANA, Irish May D.
QUINTANA-DELFIN, Rachelle R.
QUINTOS, Louisa Marie J.
QUIPSE, Melcah T.
QUIÑONES, Edione B.
RELEASE DATE
The BAR Exam Results November 2019 is expected to be released within five months or on April to May 2020.
REMINDER
SC may release the results earlier or later than the expected date without prior notice.