MAIQUI PINEDA – The fiancée of TV host Robi Domingo recently shared a message for him on his birthday.
Sharing a series of photos and a video of the two of them on her social media account, Maiqui Pineda said that she can't thank him enough for all that he has done and continue to do for her and she's so grateful to have found a partner in life with him.
Maiqui went on to express his love for his fiancé and tell him that he's the most amazing person she knows and he deserves all the love and blessings he's been receiving.
Robi Domingo Says Maiqui Pineda's Health "Improving A Lot"
Robi Domingo: "Got my birthday wish as the doctor told us she's improving a lot!"
ROBI DOMINGO – The TV host gave an update about Maiqui Pineda's health, saying that his fiancée's health is "improving a lot".
The TV host posted a series of photos with his fiancée on his social media account last September 27, 2023 and he also shared how he celebrated his birthday at that time.
According to him, he and his fiancée went home after her recent medical visit in Singapore. He also said that it's different from the other birthdays that he had celebrated, but the trip has given him a new way of appreciating life.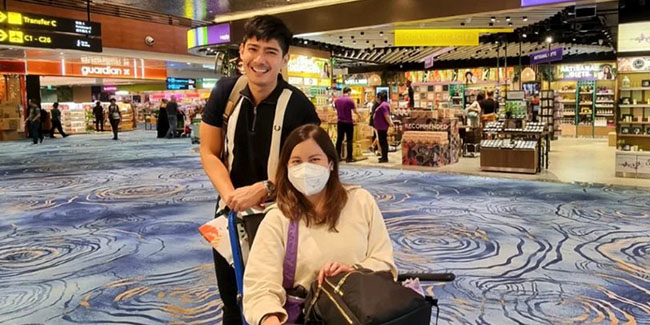 In the caption of his social media post, Robi said that he got his birthday wish as they were informed by doctors that his fiancée's health is "improving a lot".
"Yes sure, it's different from the other birthdays I've celebrated but this trip has given me a new way of appreciating life. Got my birthday wish as the doctor told us she's improving a lot!" Robi said. "Hopefully, tuloy tuloy na. Thank you for all the prayers."
Fellow celebrities and social media personalities then greeted him on his birthday and also sent their well-wishes for his fiancée in the comments section of his post.
For her part, Maiqui thanked her fiancé for accompanying her on her medical visit on his birthday week.
Maiqui shared that she's glad they got to celebrate in his favorite restaurant and coincidentally in Singapore again just like last year. She added that she and Robi were also celebrating the good news that her health is improving.
"I know how much your birthday means to you and how this is such a big work week too but you let go of all that to be with me in Singapore," she said in the caption of her social media post.
Robi and Maiqui got engaged in 2022 after being in a relationship for 4 years.
It was last month when Maiqui disclosed her Dermatomyositis diagnosis to the public. At that time, she lamented how this year was supposed to be an exciting year of wedding planning, preparing for a new home, and working on her career.
Despite this, Robi said their wedding will push through as scheduled as it gives his fiancée "something to hope for".
Thank you for visiting Newspapers.ph. You may express your reactions or thoughts in the comments section. Also, you may follow us on Facebook as well.