Lady Passenger Airs Dismay Over Her Alleged Worst Commuter Experience
After sharing her "worst commuter experience" at MRT-3, a female passenger goes viral and elicits reactions online.
'ALLANA,' a Twitter user, expressed her disappointment by sharing her worst commuter experience at MRT-3. The post soon went viral online, eliciting a wide range of reactions from internet users.
On her way home, the lady passenger takes the MRT while carrying her laptop and other valuables. She laid her laptop flat before the scanner to assure its safety. Unfortunately, the man commuter behind her pushed his luggage through the scanner with great force.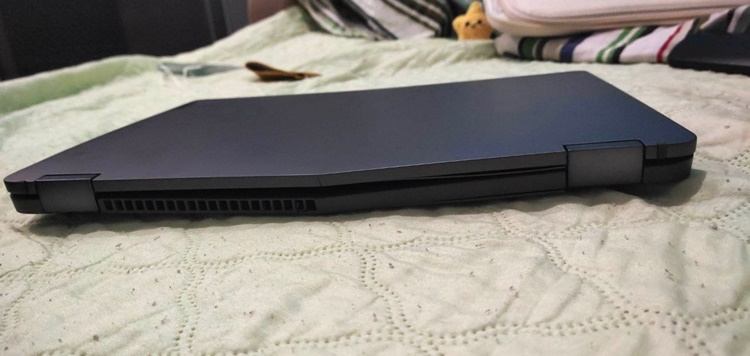 Her bag was pushed vertically upright and became stuck inside the scanner as a result of the incident. She panicked and struggled to reach her luggage, but the guards did nothing but stand there and stare.
Commuters heard a loud crack once her luggage reached the conveyor belt and discovered her laptop in poor condition, with the screen horribly shattered.
The female commuter burst into tears and cried for almost 10 minutes, but the guards simply ignored her. She was supposedly disregarded by the employees.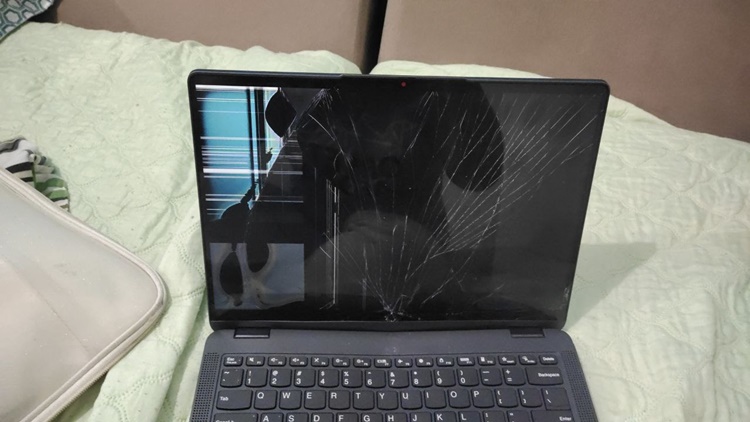 Here is the full post:
"I was on the way home around 9 PM, it was a rush hour but I made sure to be mindful of my belongings as I was carrying my laptop and other valuables with me. When it was my turn to put my bag inside the scanner after long minutes of queuing, I made sure to lay it flat. Anyone with a laptop would know to lay it flat on its back to avoid damage bc of how small the scanner is. Then, the guy behind me forcefully pushed his bag inside the scanner which caused my backpack to be pushed vertically upright.
I saw right away and panicked, by this time my bag was already inside so I rushed to the other side to get it but it already got stuck inside the scanner. The guards just watched, no emergency protocol whatsoever. They just watched as I struggled to reach for my bag.
We all know that the scanner has an emergency stop button pero hindi ko pa rin talaga maintindihan kung bakit hindi nila pinindot yun kahit hindi na umaandar yung conveyor belt.
They just watched and reacted offensively as I was panicking in front of them. We all heard a loud crack, and then the conveyor started moving again. I immediately checked if my laptop was ok, only to see that it had been bent, and the screen got horribly shattered.
Tiningnan lang ako ng guards at iba pang mga tao while I was having a panic attack. Tinalikuran ako ng guards, and announced on their megaphone "Ilagay niyo po nang maayos yung bag niyo para di kayo matulad kay ate dito (referring to me)."
Can't even describe how bad I felt when I heard them say that. Kita sa video na 'to na nakatalikod lang sila sakin, all three of them. Kahit konting sympathy man lang sana would've been fine. But no, they didn't care even for a while. I felt so bad for myself.
To other commuters, please be mindful of how you put your bags in the scanner. I understand that many of us are in a rush but please be considerate of other people and their belongings. You don't know how important it may be to them.
My laptop was just bought last year. A birthday gift from my OFW father who I only see once/twice a year. This laptop is very sentimental to me kaya ingat na ingat ako dito — only for it to be destroyed because of an inconsiderate person."
The social media users expressed their reactions to the post: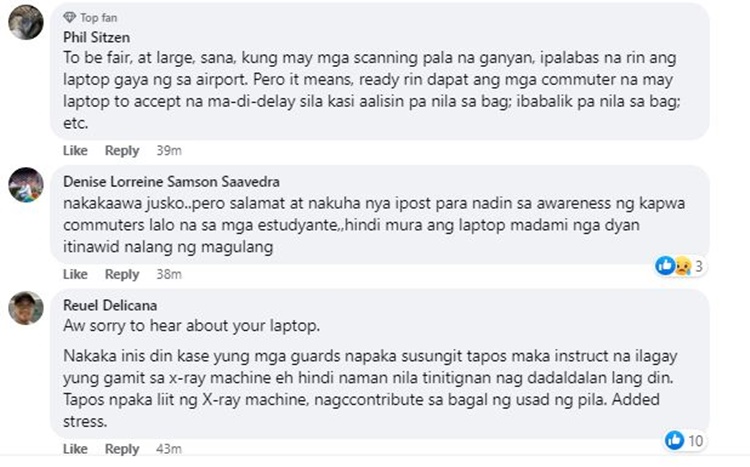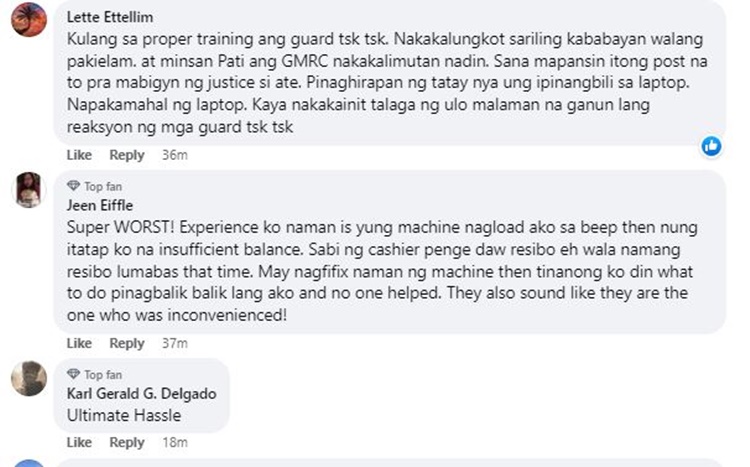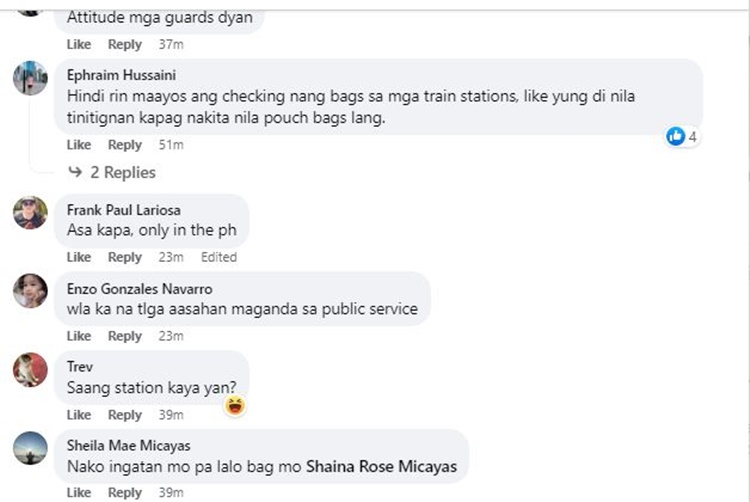 What can you say about this lady passenger? Just leave your comments and suggestions for this report.
Thank you for visiting Philippine Newspaper (Newspapers.ph). You may also follow us on the following social media platforms; Facebook page and YouTube channel.