What Is "Rough" In Tagalog? (Answers)
ROUGH IN TAGALOG – This article will teach you about the Tagalog translation of the word "rough" based on the context of the sentence.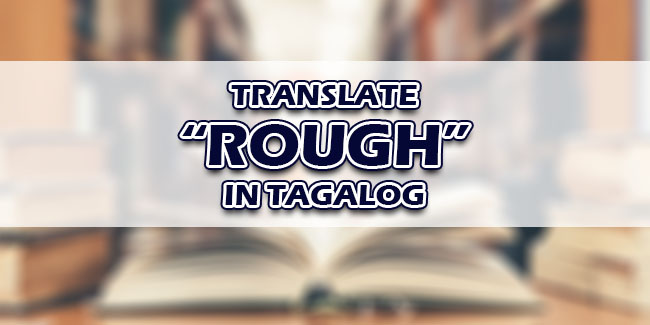 There are several Filipino words that don't have a direct translation in English, that's why we need context in order to fully translate them.
What is "Rough"?
"Rough" is an English term that refers to something that is uneven and not smooth.
What is "Rough" in Tagalog?
"Rough" can be directly translated as "magaspang". The use of this word, however, may depend on the context of the sentence.
Here are some example sentences:
Mark believes that this wall is made of rough stones.
Carla told George that a rough cloth prickled her skin.
Ben saw a table that has rough edges.
Danica's house was built solidly of rough wooden planks.
In Tagalog, these sentences could be translated as:
Naniniwala si Mark na ang pader na ito ay gawa sa magaspang na bato.
Sinabi ni Carla kay George na isang magaspang na tela ang tumusok sa kanyang balat.
Nakita ni Ben ang isang mesa na magaspang ang gilid.
Ang bahay ni Danica ay matatag na itinayo mula sa magaspang na tabla.
Thank you for visiting Newspapers.ph. You may express your reactions or thoughts in the comments section. Also, you may follow us on Facebook as well.
For other English-Tagalog translations, visit HERE.