What Is "Pawnshop" In Tagalog? (Answers)
PAWNSHOP IN TAGALOG – This article will teach you about the Tagalog translation of the word "pawnshop" based on the context of the sentence.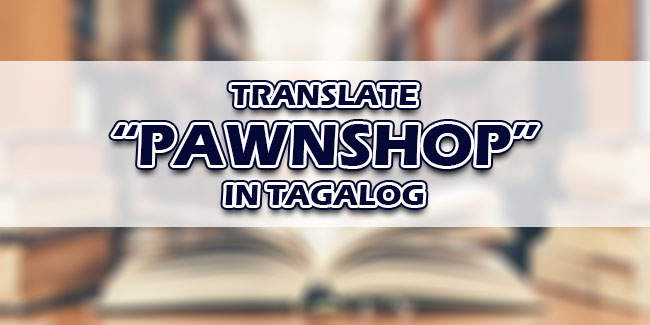 There are several Filipino words that don't have a direct translation in English, that's why we need context in order to fully translate them.
What is a "Pawnshop"?
"Pawnshop" is an English term that refers to a shop or business that lends money at high-interest rates in exchange for collateral such as electronic items, jewelry, or anything else that is judged to have a resale value. It also refers to a pawnbroker's shop.
What is "Pawnshop" in Tagalog?
"Pawnshop" can be directly translated as "sanglaan". The use of this word, however, may depend on the context of the sentence.
Here are some example sentences:
Ben redeemed his phone at the pawnshop.
Carla told Angelo that she hadn't been to the pawnshop in a long time.
Bob pawned Betty's gold earrings at the pawnshop.
Danica goes to the pawnshop every month.
Mark told Leah that the pawnshop didn't accept the item he want to pawn.
In Tagalog, these sentences could be translated as:
Tinubos ni Ben ang kanyang telepono sa sanglaan.
Sinabi ni Carla kay Angelo na matagal na siyang hindi nakakapunta sa sanglaan.
Sinangla ni Bob ang mga gintong hikaw ni Betty sa sanglaan.
Buwan-buwan pumupunta si Danica sa sanglaan.
Sinabi ni Mark kay Leah na hindi tinanggap ng sanglaan ang bagay na gusto niyang isangla.
Thank you for visiting Newspapers.ph. You may express your reactions or thoughts in the comments section. Also, you may follow us on Facebook as well.
For other English-Tagalog translations, visit HERE.