Lost and found! Chow Chow
CHOW CHOW – A hungry and matted spitz-like dog breed was found in Jaro, Iloilo.
Dogs are among the world's most common and popular domestic animals. It has lived with humans for over 12,000 years as a hunting companion, protector, object of scorn or adoration, and friend, which is why they are considered "man's best friend".
They are regarded differently in different parts of the world. They are used as guards, beasts of burden, or even food in some parts of the world, whereas dogs are protected and admired in the United States and Europe. On the other hand, they were considered sacred in ancient Egypt during the reign of the pharaohs.
Unfortunately, millions of stray dogs exist in the Philippines alone. They do not receive adequate care and attention.
A certain Camille Jean Ladio took to the social networking site, Facebook wherein she shared that a member of Furry Friends Second Chance found a hungry and matted Chow Chow in Iloilo.
The Chow Chow is a spitz-like dog breed that originated in northern China. It is a sturdy-built dog with a square in profile, a broad skull, and small, triangular, erect ears with rounded tips. The breed is distinguished by a very dense double coat that can be either smooth or rough.
Apparently, it is not known if the dog was abandoned, escaped, or whatever. The canine appears to be very hungry and its coat was tangled into a thick mass.
Meanwhile, the uploader is asking for the legit owner to show proof if the owner claims it. There were netizens who expressed interest to adopt the dog as well.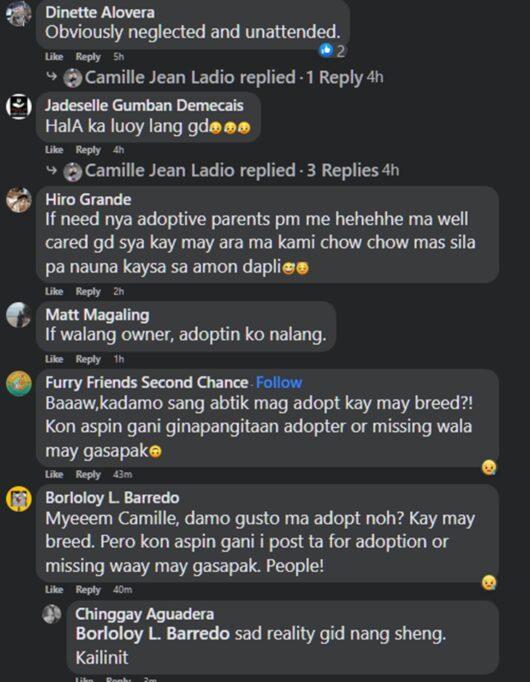 What can you say about this article? Share your thoughts or insights in the comment section below. For more news and the latest updates, feel free to visit Newspapers.ph more often as well as our Facebook page and YouTube channel.