Cargo Truck w/ Pigs Fell in Nueva Vizcaya Cliff after "Losing Break"
TRUCK – A cargo vehicle carrying 75 pigs supposedly off to Tuguegarao City fell off the cliff in Nueva Vizcaya.
One of the unfortunate truths is that accidents can happen anywhere. It can be triggered by reckless behaviors or simply out of something that no one expected to happen. The roads are among the places where accidents usually take place.
Recently, another road accident took place in Nueva Vizcaya. The incident specifically transpired in a cliff in Diadi. It involved a cargo vehicle that was off to Tuguegarao City.
Based on a report on ABS-CBN News, a cargo truck that was carrying 75 pigs fell off a cliff in Diadi, Nueva Vizcaya. Diadi Police investigated the situation.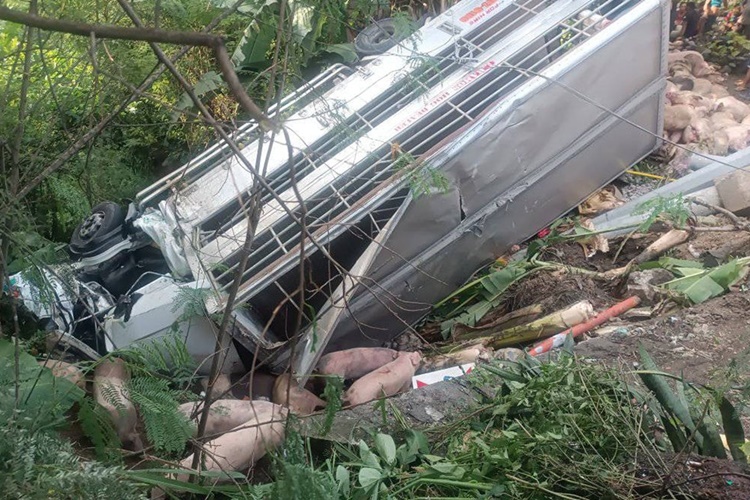 According to the police authorities, the cargo truck was traveling along the national highway in Barangay Nagsabaran on a downward motion when the vehicle lost its break. The driver claimed that he lost the break and he also lost control of the steering wheel.
The vehicle fell off a cliff that was around 20-meters deep. The driver and his human passenger obtained wounds and were rushed by the rescue team to Diadi Emergency Hospital. Later on, they were transferred to Region 2 Trauma and Medical Center in Bayombong, Nueva Vizcaya.
The cargo truck loaded with 75 pigs was from Bulacan. Based on the report, it was supposedly off to deliver the 75 pigs in Tuguegarao City, Cavite when the accident happened. According to Diadi Police Major Roderick Rabago, the number of pigs that died on the incident were not anymore counted because the owner said not to make actions on them. The authorities decided not to open the vehicle.
Currently, the investigation regarding the incident is ongoing. The authorities remind the motorists to make sure that their vehicles got functional features before traveling to prevent accidents.
You may also visit – Couple Shot Inside their House in Capiz