Tippy dos Santos: "Bar review vlogs coming soon?"
TIPPY DOS SANTOS — The singer-turned-law student recently took to social media to announce that she is set to graduate from the law school of the University of the Philippines-Diliman.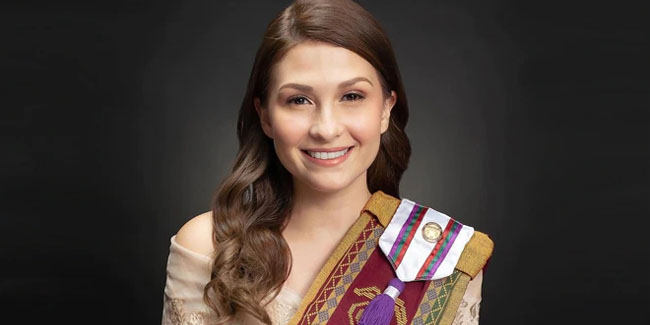 Sharing a graduation photo of herself on her social media post, she recalled her journey while taking up law at the University of the Philippines. Tippy shared that she has finally arrived at the finish line of her journey as a law student despite the challenges she faced.
Also, Tippy extended her gratitude to her parents and dedicated her law degree to them, saying that her gratefulness to both of them will never be fully realized by what she can put into words.
She also thanked her sister for being her "#1 supporter" and for encouraging her to reach for her dreams. According to her, her sister has always been proud of anything and everything she did no matter how simple the task may be.
Tippy went on to share a message of gratitude for her husband Miguel Porcuna for his unwavering support.
READ ALSO: Tippy Dos Santos and Miguel Porcuna Are Married
She told her husband that he supported her even when things became burdensome for him and he continued to support her even now that things have become more challenging.
"To my then boyfriend, now husband, thank you for pushing me to do this. You told me to 'go for it' even when I thought I was not cut out for law school," she wrote in the caption of her social media post.
It was last July 30 when Tippy and Miguel marked their 1st wedding anniversary.
She also gave a shoutout to her schoolmates who went through the same journey as her, saying that she can't wait to see all of them pursuing the careers they have all worked so hard for.
Lastly, she thanked her YouTube subscribers for supporting her by watching her vlogs about law school.
"To the people who supported the law school vlogs: all of you kept me going and wanting to work harder. Thank you.   Bar review vlogs coming soon? Hehe," Tippy said.
Based on her social media post, she will be graduating with a Dean's Medalist for Academic Excellence from the UP College of Law.
Thank you for visiting Newspapers.ph. You may express your reactions or thoughts in the comments section. Also, you may follow us on Facebook as well.