This is the LET Exam Result June 2022 Secondary (Y-Z) Passers
LET EXAM RESULT JUNE 2022 — This is the list of passers (Y-Z) for the secondary level as released by the Professional Regulation Commission (PRC).
The exam results including the list of passers, top 10 passers, top performing and performance of schools, and other announcements related to this will be posted on this website once PRC will release it.
PRC conducted the fourth batch of licensure exam for teachers on June 26, 2022 at testing centers in Metro Manila, Baguio, Butuan, Cagayan de Oro, Cebu, Davao, Iloilo, Koronadal, Legaspi, Lucena, Pagadian, Pampanga, Rosales, Tacloban, Tuguegarao, Zamboanga, Bacolod, Cauayan, Dumaguete, Catanduanes, Catarman, Kidapawan, Jolo, Sulu, and Tawi-tawi.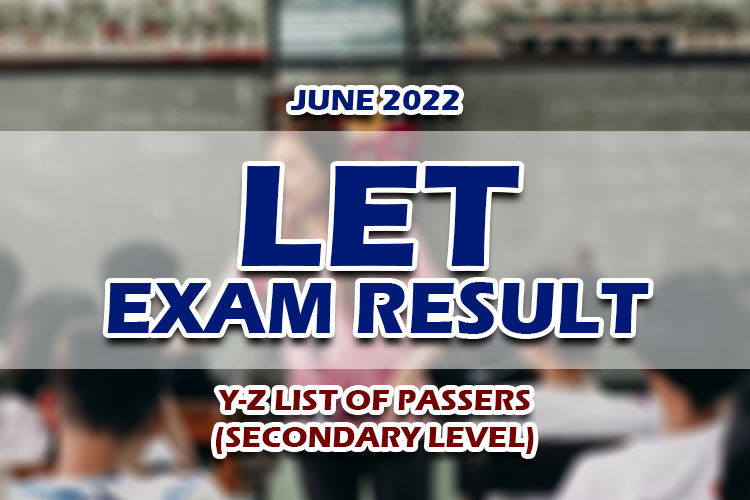 PRC Board of Professional Teachers Chairman Dr. Rosita L. Navarro, Vice Chairman Dr. Paz I. Lucido, and members Dr. Paraluman R. Giron and Dr. Nora M. Uy administered the board examinations.
SUMMARY OF RESULTS
Here is the list of passers:
Roll of Successful Examinees in the
L. E. T. – SECONDARY – All Regions
Held on JUNE 26, 2022
Released on AUGUST 4, 2022 Page: 203 of 205
Seq. No. N a m e
10090 YABO, ALAIZA TOMAS
10091 YABUT, SHERYLL MONTES
10092 YACOB, JOYCE DAMALERIO
10093 YADAO, ANALYN GONZAGA
10094 YAGUNO, CHRISTIAN SUMICAD
10095 YALON, MARILYN HANGOY
10096 YALONG, JOY MALLARI
10097 YAMA, IVY JILL CAPINO
10098 YAMAMOTO, MARISEL DANDOY
10099 YANDOC, QUENNIE BAYOT
10100 YANGWAS, CARLO SALERA
Roll of Successful Examinees in the
L. E. T. – SECONDARY – All Regions
Held on JUNE 26, 2022
Released on AUGUST 4, 2022 Page: 204 of 205
Seq. No. N a m e
10101 YANSON, KATHLEEN GUARIN
10102 YAP, ALTHEA VILLARDE
10103 YAP, MARY GRACE LUNA
10104 YAP, REDEM PAUL MANUAT
10105 YAPCHAPCO, MAY ANN ORTEGA
10106 YARANON, ANN JENNETTE ABENIR
10107 YASIN, RYZZA ALIANA ANGAS
10108 YASOL, ROGILYN TEODOSIO
10109 YATAR, BABES CAMPANIR
10110 YAZON, RONALD REPIL
10111 YBALANE, GIRLIE MAE SALON
10112 YBANEZ, NELJEAN DAHUNAN
10113 YBAY, JEAN DE SAGON
10114 YBAÑEZ, CHARMIE PEÑAS
10115 YBAÑEZ, DANIEL SOLON
10116 YBAÑEZ, MARIA GEMMA DELGADO
10117 YCOT, ARLINDA SANTUELE
10118 YCOT, CHERYL TIQUER
10119 YECLA, MA DIVINA ALCANTARA
10120 YEE, CARL MINBERT RABI
10121 YGAY, BABIELITA FON
10122 YGOT, JENILYN ZUNIGA
10123 YLANAN, HEIDE BATANAY
10124 YMALAY, MAHARBELA JOVIEL OMPOC
10125 YNOT, MICHAELYN LONTABO
10126 YOGYOG, WINDY DULNUAN
10127 YOLOLA, BRYAN MANDAC
10128 YORPO, KENNIE LACIO
10129 YTANG, JEZREEL CABREROS
10130 YTING, ALVIN PABLEO
10131 YU, ROSE ANNA MARISA ABULON
10132 YU, SHUJI AUMAN
10133 YUCOT, CRISLYN MAE AUZA
10134 YUDE, HANZEL CORDERO
10135 YULA, JAY-EN PAT
10136 YUNOS, NORHANA PUSDAN
10137 YUSON, CATHLENE PEARL FERNANDEZ
10138 YUSON, JULIE ANN BITOS
10139 YUSOP, NURUL-LAILA SARIHASAN
10140 YUSUP, ADELYN JAMLUN
10141 ZABALA, FLARY PALLONES
10142 ZABALA, JODEL ESCULTURA
10143 ZABAT, MA ELEONOR TUMPANG
10144 ZACARIAS, MARIA MAY MALACAS
10145 ZACARIAS, MARVELYN JOVELLANOS
10146 ZACARIAS, RAQUEL VALENCIA
10147 ZAFE, LOURINCE MEDINA
10148 ZAFRA, ANDRIA CECILIA MATNOG
10149 ZAFRA, JOVETH CORBE
10150 ZAFRA, STEPHANIE JOYCEL ALMENIE
Roll of Successful Examinees in the
L. E. T. – SECONDARY – All Regions
Held on JUNE 26, 2022
Released on AUGUST 4, 2022 Page: 205 of 205
Seq. No. N a m e
10151 ZAILON, MOHAMMAD ALIWAS
10152 ZALDIVAR, HYACINTH ROSE VALDISIMO
10153 ZALDUA, RECHILLE SANTOS
10154 ZAMORA, CHARLENE BALTAZAR
10155 ZAMORA, JEUNENE VICEDA
10156 ZAMORA, NOEMIE ESPAÑA
10157 ZAMORA, SHERYL CARMELO
10158 ZAMURAGA, CHRIS RYAN TOGONON
10159 ZAPA, SHERINA VILLACERAN
10160 ZAPANTA, MARY MARIEL GENAGA
10161 ZAPICO, LARA MELISSA TAYAM
10162 ZARA, MARITESS COMIA
10163 ZARA, SARAH JOYCE ALEGRE
10164 ZARAGOSA, LIEZEL PANTINO
10165 ZARATE, FRITZ GIA SUMAYO
10166 ZARRA, ANA JANINE URSUA
10167 ZARZUA, ANALYN GESULGA
10168 ZAULDA, LEISTHER ZONIO
10169 ZAYCO, JOEVHONN ANDO
10170 ZAÑO, JUDILYN GRACE ALMACEN
10171 ZEPEDA, HANS-MAGNUS BRAGAIS
10172 ZERRUDO, DANICA CHENETTE TIAÑO
10173 ZERRUDO, RUDYLYN TILA-ON
10174 ZIGANAY, CHARISE MAE LUMAMBA
10175 ZIGANAY, CHARMAINE AMLOG
10176 ZINAMPAN, MARK EVAN BRAZIL
10177 ZITA, MARIA ELOISA DE VERA
10178 ZOILO, JEANE ABAYATA
10179 ZOLETA, MARIA PATRISHA DOLOROSO
10180 ZOMIL, JOYLEN ZUBISTA
10181 ZONIO, JULIET DELA CERNA
10182 ZORCA, LAURA RAMOS
10183 ZORCA, LEA FLOR RAMOS
10184 ZOSAS, KRIZIA FAITH DELOS REYES
10185 ZOSIMA, FEL ANN FILOSOFO
10186 ZOZOBRADO, JUDAME CHARO BARBON
10187 ZULUETA, MARY GRACE MILLAMA
10188 ZULUETA, PRINCESS ESTIALBO
10189 ZULUETA, SHEENA DOMINGO
10190 ZUNIEGA, MYLENE MANON-OG
10191 ZURBANO, MARK ANTHONY SANTOS
10192 ZURITA, JHON LHEOUS PASCUAL
10193 ZUÑIGA, MIKE JOSEPH CONCHADA
NOTHING FOLLOWS———————-
EXAM COVERAGE
General Education (GenEd)
English – Study and Thinking Skills, Writing in the Discipline, Speech and Oral Communication, Philippine Literature and Master Works of the World 
Filipino – Komunikasyon sa Akademikong Pilipino, Pagbasa at Pagsulat sa Panananaliksik at Masining na Pagpapahayag 
Mathematics – Fundamentals of Math, Plane Geometry, Elementary Algebra and Statistics and Probability 
Science – Biological Science – General Biology, Physical Science with Earth Science 
Social Sciences – Philippine Government New Constitution with Human Rights, Philippine History, Basic Economics, Taxation, Agrarian Reform, Society, Culture with Family Planning; Rizal and other Heroes, Philosophy of Man, Arts, General Psychology and Information and Communication Technology 
Professional Education (ProfEd)
Teaching Profession, Social Dimensions of Education 
Principles of Teaching, Educational Technology and Curriculum Development 
Facilitating Learning, Child and Adolescent Development 
Assessment of Student Learning, Developmental Reading 
Field Study and Practice Teaching 
Also, specialized subjects were covered in the licensure examinations for the field of specialization in English, Biological Sciences, Filipino, Physical Sciences, Mathematics, Values Education, MAPEH, Social Studies and Social Sciences, Agriculture and Fishery Arts, and Technology and Livelihood Education.
RELEASE DATE
PRC is expected to release the exam result within 25-30 working days after the last day of the examination.
REMINDER
The exam result may be released by the PRC earlier or later than the target date without prior notice.
REQUIREMENTS
Notice of Admission
Duly accomplished Oath Form
2 pieces of passport-sized ID photos in white background and with complete name tag
2 sets of documentary stamp
1 piece short brown envelope
Aspiring teachers can visit the official website of the Professional Regulation Commission and use the verification page for the results of the board examination passing rate.
Examinees will be required to provide their full name, birthdate, application number, exam name, and date of examination.