This is the LET Exam Result June 2022 Secondary (V-X) Passers
LET EXAM RESULT JUNE 2022 — This is the list of passers (V-X) for the secondary level as released by the Professional Regulation Commission (PRC).
The exam results including the list of passers, top 10 passers, top performing and performance of schools, and other announcements related to this will be posted on this website once PRC will release it.
PRC conducted the fourth batch of licensure exam for teachers on June 26, 2022 at testing centers in Metro Manila, Baguio, Butuan, Cagayan de Oro, Cebu, Davao, Iloilo, Koronadal, Legaspi, Lucena, Pagadian, Pampanga, Rosales, Tacloban, Tuguegarao, Zamboanga, Bacolod, Cauayan, Dumaguete, Catanduanes, Catarman, Kidapawan, Jolo, Sulu, and Tawi-tawi.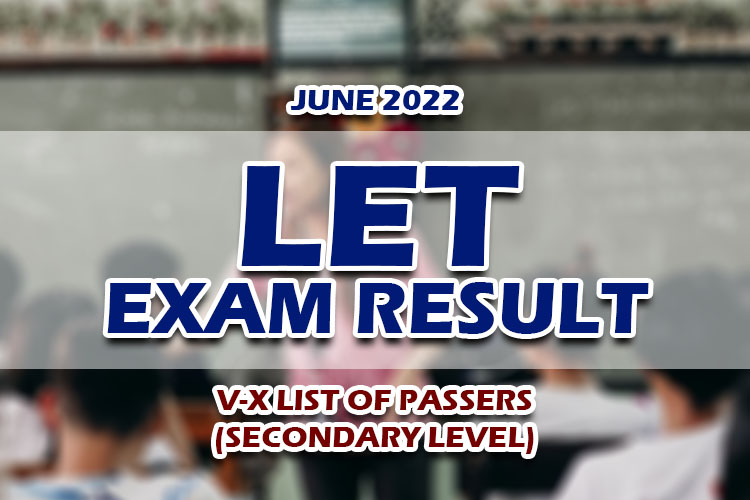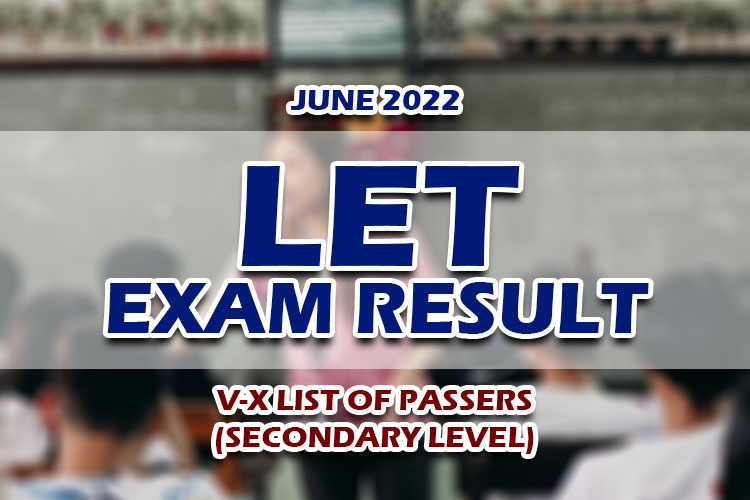 PRC Board of Professional Teachers Chairman Dr. Rosita L. Navarro, Vice Chairman Dr. Paz I. Lucido, and members Dr. Paraluman R. Giron and Dr. Nora M. Uy administered the board examinations.
SUMMARY OF RESULTS
Here is the list of passers:
Roll of Successful Examinees in the
L. E. T. – SECONDARY – All Regions
Held on JUNE 26, 2022
Released on AUGUST 4, 2022 Page: 195 of 205
Seq. No. N a m e
9686 VACALARES, KAYROL ANN BANGCOWANG
9687 VAFLOR, MARY APRIL SINGSON
9688 VAJE, MA CHRISELA SERONA
9689 VALAD-ON, MABELLE VELADO
9690 VALBAREZ, RAVEN JADE OABE
9691 VALDEHUEZA, KATHLYN NACALABAN
9692 VALDEMORO, GATSBY APAREJADO
9693 VALDEMORO, RODERICK ARREGLADO
9694 VALDERAS, FEBLYN BUAN
9695 VALDERRAMA, KRISHA DEQUIÑA
9696 VALDERRAMA, LEIZEL SICAD
9697 VALDEZ, AILEEN DILIM
9698 VALDEZ, ELIZA JOYCE ESPONILLA
9699 VALDEZ, ELOISA MAY TAÑOLA
9700 VALDEZ, HELEN SABET
Roll of Successful Examinees in the
L. E. T. – SECONDARY – All Regions
Held on JUNE 26, 2022
Released on AUGUST 4, 2022 Page: 196 of 205
Seq. No. N a m e
9701 VALDEZ, JAYSON CAEZAR MONTANO
9702 VALDEZ, JENNY PITAS
9703 VALDEZ, JOSSIE MAE LAROA
9704 VALDEZ, LESTER TABANAO
9705 VALDEZ, LOVELY SALVADOR
9706 VALDEZ, MA. HEENA DIAZ
9707 VALDEZ, MARIEL LLENA
9708 VALDEZ, RACHELLE PUNZALAN
9709 VALDEZ, RUBY ROSE OLPINDO
9710 VALDISIMO, ADRIEL GEREZ
9711 VALDOPEÑAS, GIRAFFE PEREÑA
9712 VALDUEZA, JUMMO EROJO
9713 VALE, MARK JOSEPH MACARAIG
9714 VALENCIA, APRIL BAET
9715 VALENCIA, CYRHA PADUA
9716 VALENCIA, DANICA NIEVA
9717 VALENCIA, KATHERINE VALDORIA
9718 VALENCIA, RACHEL LOPEZ
9719 VALENTE, LESTER JAMES ARBADO
9720 VALENTIN, JOANA MARIE SALEN
9721 VALENZONA, ARMINA TERRIBLE
9722 VALENZONA, SHIELO MAE DOROTAYO
9723 VALENZUELA, DENNIS TORIAGA
9724 VALENZUELA, JANZEN NERVAL
9725 VALENZUELA, KEVIN CALUD
9726 VALENZUELA, KHRISTIA VINA BASAMOT
9727 VALENZUELA, MARY JOYCE ICO
9728 VALENZUELA, RUZZEL RAGMAC
9729 VALENZUELA, SORIEL ADRIAS
9730 VALERIANO, JOMARY BORRES
9731 VALERIANO, SHEENA KRIS AGUINALDO
9732 VALERIO, JINKY BINAS
9733 VALEZA, MARK RONALD GALLARDO
9734 VALGUNA, GRACE BALOLOY
9735 VALGUNA, MAY FULGENCIO
9736 VALIAO, CHERRY ANN MABAYAG
9737 VALIENTE, MIRAKEL GOZON
9738 VALLADOR, NORIEL GUERRERO
9739 VALLE, EARL DIAZ
9740 VALLE, JUDY ANN CASIMERO
9741 VALLE, NELMA PALMES
9742 VALLE, SHARMAINE MAKINANO
9743 VALLEDOR, GHIA SALIGUMBA
9744 VALLEGA, ALICE PACHECO
9745 VALLEJERA, GERLA HECHANOVA
9746 VALLEJO, JESSA MAE MAGDADARO
9747 VALLEJOS, LHEA SAMADAN
9748 VALLES, JENNIFER RAFER
9749 VALLESPIN, HERMILYN ASUNCION
9750 VALLESTERO, DONNA GAVINO
Roll of Successful Examinees in the
L. E. T. – SECONDARY – All Regions
Held on JUNE 26, 2022
Released on AUGUST 4, 2022 Page: 197 of 205
Seq. No. N a m e
9751 VALLIES, CARLO
9752 VALMONTE, MA. KRIZZEL NOBLE
9753 VALONDO, HAZZEL VICHO
9754 VALONDO, REINERIA OCAMPO
9755 VANGUARDIA, TEVET MARGARET ELNAR
9756 VARGAS, ABIGEL EVA
9757 VARGAS, ARNEL BULALAYAO
9758 VARGAS, CHRISTINE PAGAL
9759 VARGAS, JOY MARIZ PINEDA
9760 VARGAS, LA-ARNI MARCIAL
9761 VARGAS, LEONEL DEL MUNDO
9762 VARGAS, LORLYN FERNANDEZ
9763 VASALLO, DEAN RICHARD OBIDO
9764 VASALLO, MERENISSA DELA CRUZ
9765 VASO, VINCENT RIZARONE
9766 VASQUEZ, JOSIELEE GRACE SINAON
9767 VASQUEZ, KIMVERLY LEONARDO
9768 VASQUEZ, KRISTY JAN TUPAS
9769 VASQUEZ, RHEA LYNN AGUIRRE
9770 VECINO, MARICON DELA TORRE
9771 VEEDOR, JANE CYNDEL AURELIO
9772 VEGA, JHOLINA RADA
9773 VEJANO, JAMAICAH JALANDO-ON
9774 VELANO, FERLYN ALIWALAS
9775 VELANTE, ROSE ANN VILLALON
9776 VELARDE, FHATIMA GONZALES
9777 VELASCO, DIANA LARGO
9778 VELASCO, ELIZABETH CORTES
9779 VELASCO, ELMA RAMOS
9780 VELASCO, GABRIEL ANGELO
9781 VELASCO, GLENDA TAVERA
9782 VELASCO, J AURON MORALLO
9783 VELASCO, JAIMELYN MENDEZ
9784 VELASCO, JEHAN DONABEL LONGARES
9785 VELASCO, JERVE SALVE
9786 VELASCO, JEZREL VALENCIA
9787 VELASCO, LOVELY MARMOL
9788 VELASCO, SATURCITO JR BATOY
9789 VELASQUEZ, MA CLAUDETTE BALUYOT
9790 VELASQUEZ, MELONA SALCES
9791 VELASQUEZ, ROSALIE MALUNIS
9792 VELEÑA, GEORGE SIMON DELACRUZ
9793 VELILLA, ROXANNE QUE
9794 VELITARIO, CLARISSA MAE GONOWON
9795 VELLOSO, MARY ANN PROGOSO
9796 VELORIA, ALLEN RODRIGUEZ
9797 VELOSO, ESTIFANE BITARA
9798 VELOSO, JENNY MUÑOZ
9799 VELOSO, VENUS APAWAN
9800 VELUZ, MARIGRACE SALVANERA
Roll of Successful Examinees in the
L. E. T. – SECONDARY – All Regions
Held on JUNE 26, 2022
Released on AUGUST 4, 2022 Page: 198 of 205
Seq. No. N a m e
9801 VENANCIO, ANAMAE BLANCO
9802 VENANCIO, ELVIE LIBERATO
9803 VENCER, JOY BAUL
9804 VENDIZOLA, DAHLIA REYES
9805 VENERABLE, CATRINA ACERVO
9806 VENERACION, PAULA MAE CARDIÑO
9807 VENEZUELA, CHRISTINE LIMUARDO
9808 VENIEGAS, EDWARD TUBERA
9809 VENIEGAS, GABRIELLE EISA ANISSID PEREZ
9810 VENTANILLA, JOENNA BACANTO
9811 VENTOCILLA, MISHELL BISCO
9812 VENTOLERO, ARLIE MAE ALDE
9813 VENTUCILLO, ENGELICA MONTEZA
9814 VENTURA, HANA BATOCABE
9815 VENTURA, JENNIFER FLOHEMON
9816 VENTURA, MIKIE TAYABEN
9817 VENTURA, NOLI FLORES
9818 VENUS, JESSA CABUSLAY
9819 VENUS, JOHN ERUELLE CORTIGUERRA
9820 VENZON, KIM LEMUEL ABELLERA
9821 VERACRUZ, MARA JEAN MONREAL
9822 VERANO, GELOMAE GUMAOD
9823 VERANO, JASON PESCADERA
9824 VERANO, NATHALIE VALENZUELA
9825 VERAQUE, CYREEN JOYCE DIMAILIG
9826 VERASTIGUE, SHIERLY ALBANO
9827 VERDIDA, LOVELY JANE LOPEZ
9828 VERGARA, ALVIN SISTOSO
9829 VERGARA, ANIRICA MASINSIN
9830 VERGARA, APRIL JOY MACALALAD
9831 VERGARA, CHRISTINE CRUZ
9832 VERGARA, DAISY LUCERO
9833 VERGARA, EMAN ESCUETA
9834 VERGEL, RODOLFO JR QUINDAO
9835 VERGIS, ARIEL MUAÑA
9836 VERIÑO, NOIME VARONA
9837 VERNAULA, MA JESSA FRANCISCO
9838 VERSOLA, SHERWYN UDARBE
9839 VERSOZA, ELIZABETH ECHON
9840 VERSOZA, SHANIEL RODAVIA
9841 VERTUCIO, JOSHUA MAYUGA
9842 VERTUCIO, REXNEL NAMBAYAN
9843 VERULA, DARYL MIRAL
9844 VERZO, GENNI ROSE CUILAO
9845 VERZOSA, FLORENCIO JR DASIG
9846 VESTUIR, CHRISTINE JADE HORTILANO
9847 VIBAR, APRIL ROSE BIASCA
9848 VIBAR, JOHN RISEN TERUEL
9849 VIBAR, ROGER PLANDEZ
9850 VICEDO, JONEL ABARATIGUE
Roll of Successful Examinees in the
L. E. T. – SECONDARY – All Regions
Held on JUNE 26, 2022
Released on AUGUST 4, 2022 Page: 199 of 205
Seq. No. N a m e
9851 VICEDO, ZARRABETH WICO
9852 VICENTE, CAROL QUIBLAT
9853 VICENTE, HELENGIE BALDONADO
9854 VICENTE, JAY SARINO
9855 VICENTE, JINKY CARMEN
9856 VICENTE, MICHELLE RUFIN
9857 VICTA, CHARISSA CALASIN
9858 VICTA, LHEA LLARENA
9859 VICTOR, ANNABELLE ROGUEL
9860 VICTOR, JOAN SANTIAGO
9861 VICTORAMA, ADAH DIOSO
9862 VICTORIA, SHEENA MACAMOS
9863 VICTORIANO, INAH BACALSO
9864 VICTORIANO, JONA
9865 VICTORIANO, MABELLE REMEGIO
9866 VICTORINO, ADRIN DIMLA
9867 VICTORINO, ARNOLD TATING
9868 VICTORINO, DANIEL JOSHUA ARAMBULO
9869 VIDAD, MYRNESHEL LAPUZ
9870 VIDAL, JAYSON MONTEMOR
9871 VIDAL, LENNY CAFE
9872 VIDALLO, SHEELA BALBINO
9873 VIDAROZAGA, JENNALYN DELA PEÑA
9874 VIDUYA, RASTANORA BOADILLA
9875 VIENTE, MARK LIMUEL
9876 VIESCA, JHANMARIEFER SAS
9877 VIGO, JULIE ANN LLANDA
9878 VILAR, AZENITH NESE AUTOR
9879 VILAS, DANICA VERANO
9880 VILLA, CHERRY MAE YANILLA
9881 VILLA, JESUSA OBINA
9882 VILLA, JOANALYN TOLENTINO
9883 VILLA, MACY ANN NARES
9884 VILLA, MARIEL GRACE ROSANO
9885 VILLA, MARJAN NACIONALES
9886 VILLA, MARVE MORANDANTE
9887 VILLA, NIMFA ENTERO
9888 VILLA, ROWENA DELOS SANTOS
9889 VILLA-VILLA, REX ABINGUNA
9890 VILLABLANCA, ANALYN RUBIO
9891 VILLACAMPA, JOYCE MARIE DUMALI
9892 VILLACARILLO, CAREN LIMCHOCO
9893 VILLACARLOS, MARLYN GONZALES
9894 VILLACENCIO, RELYN BACALSO
9895 VILLACENCIO, RITCHEL CANOY
9896 VILLACERAN, JABRIL GREGORIO
9897 VILLACO, CRYZHA KIM CALAGUAN
9898 VILLACORTA, JENNIE ROA
9899 VILLACORTE, GEORNETH LORETO
9900 VILLACRUSIS, ZELESTY MAE MARAÑON
Roll of Successful Examinees in the
L. E. T. – SECONDARY – All Regions
Held on JUNE 26, 2022
Released on AUGUST 4, 2022 Page: 200 of 205
Seq. No. N a m e
9901 VILLACRUZ, RONEL AGOY
9902 VILLADOZ, CHERRY ANN TERMULO
9903 VILLAESTER, JOAN VILLE REQUINTO
9904 VILLAFLOR, CZAINEEH ALBERCA
9905 VILLAFLOR, RENZ HARREN GARILLO
9906 VILLAFLOR, RHODA MAE FENIS
9907 VILLAFLORES, MARY GRACE SANCHEZ
9908 VILLAFRANCA, ANN LORAINE LEDESMA
9909 VILLAFRANCA, SALOME CASTOR
9910 VILLAFUERTE, EULANIE CAMBARIJAN
9911 VILLAFUERTE, MARYJANE DIZON
9912 VILLAFUERTE, MEAMAE DIANO
9913 VILLAFUERTE, RAYMUNDO PARGA
9914 VILLAGRACIA, CHARLS WYLBORN DUMAGUIT
9915 VILLAGRACIA, MARITES BUENAOBRA
9916 VILLAHERMOSA, RUDY AUSMAN
9917 VILLALOBOS, ANGELICA MANIMTIM
9918 VILLALOBOS, CAMILLE ANNE MACALALAD
9919 VILLALOBOS, MARK JOSEPH MARASIGAN
9920 VILLALUZ, ALYSSA DE JUAN
9921 VILLAMAR, BRYL JOHN LAWRENCE ZURITA
9922 VILLAMARZO, CINDY ABANTO
9923 VILLAME, DAISY JOY BUAL
9924 VILLAMIEL, JOHN PAUL ANDA
9925 VILLAMIN, WEBSTER ERNAS
9926 VILLAMINO, JUNEWILLIE LATA
9927 VILLAMOR, ARLENE LAPASTORA
9928 VILLAMOR, DOMAYLEN SORABIA
9929 VILLAMOR, JEMEMA BUQUE
9930 VILLAMOR, JENNY ADREMESIN
9931 VILLAMOR, LALAINE DIVINA
9932 VILLAMOR, MA. MARJORIE PADER
9933 VILLAMOR, ROSTUM FERDIE TOBONGBANUA
9934 VILLAMOR, RYAN CHRISTIAN ARGUEL
9935 VILLAMOR, SAMUEL HONOR
9936 VILLAMORA, JELYN LEQUIN
9937 VILLANIS, CHERRY MAE BANABAN
9938 VILLANOSA, LEA SAURA
9939 VILLANUEVA, ABEGAIL LONEZA
9940 VILLANUEVA, AL-WYNNE CAWALING
9941 VILLANUEVA, ALIZA MAY BALTAZAR
9942 VILLANUEVA, ARLENE DUROGNAN
9943 VILLANUEVA, ARVIN RAGSAC
9944 VILLANUEVA, BART ESGUERRA
9945 VILLANUEVA, BRENALYN ARMEDILLA
9946 VILLANUEVA, DIANE CHRISTY BALDAGO
9947 VILLANUEVA, ERWIN ROWEN CARPIO
9948 VILLANUEVA, FAYE LOUISE BAYONETA
9949 VILLANUEVA, GERARD BARONIA
9950 VILLANUEVA, HAIDEE UMALI
Roll of Successful Examinees in the
L. E. T. – SECONDARY – All Regions
Held on JUNE 26, 2022
Released on AUGUST 4, 2022 Page: 201 of 205
Seq. No. N a m e
9951 VILLANUEVA, JANICE ANDICO
9952 VILLANUEVA, JAY-R LUNA
9953 VILLANUEVA, JOAN ABELLERA
9954 VILLANUEVA, JOJET NUQUE
9955 VILLANUEVA, JOMAR MENDOZA
9956 VILLANUEVA, KRIEZZA JABONERO
9957 VILLANUEVA, KRISTAL JOIE JERESO
9958 VILLANUEVA, LIMUEL CATABAY
9959 VILLANUEVA, LOVELYN CAYNAP
9960 VILLANUEVA, MARY GRACE BELTRAN
9961 VILLANUEVA, MARY GRACE UMALI
9962 VILLANUEVA, PAULINE SURRAL
9963 VILLANUEVA, PRECIOUS AMBAL
9964 VILLANUEVA, RENE APARRI
9965 VILLANUEVA, RENIE CARIÑO
9966 VILLANUEVA, RESHELLE MAJAÑA
9967 VILLANUEVA, RIAN ALEJANDRO
9968 VILLANUEVA, ROSALY MARI
9969 VILLANUEVA, ROXANNE CAYE ESTEBAN
9970 VILLANUEVA, SHARLA MONTEMAYOR
9971 VILLANUEVA, TRICIA MAE GARCERA
9972 VILLANUEVA, UGEN LABAJO
9973 VILLANUEVA, VICE BUENAVENTURA
9974 VILLANUEVA, VIDA VISTAL
9975 VILLAPANDO, CYRENE LAT
9976 VILLAR, AXL ROSE DAVO
9977 VILLAR, EDZEL PALACIOS
9978 VILLAR, GIEZCEL CADELLINO
9979 VILLAR, KATE MORALES
9980 VILLAR, LEO FORTUS
9981 VILLARAN, CHRISTINE GRACE ZUELA
9982 VILLARBA, PAULA DIANE DIMAANO
9983 VILLARDE, MA PAULINE ARELLANO
9984 VILLAREAL, MA. ISABEL MENDOZA
9985 VILLAREAL, SHARAH JAINAL
9986 VILLARES, CRYSTAL BAQUIL
9987 VILLARETE, BERNIE JR AZUELO
9988 VILLARETE, KRISTIANA MICHAELA BUENAVIDES
9989 VILLAREÑA, MARIE ANGELA CANAPIT
9990 VILLARIEZ, KRISHA MAE PRECIOSA
9991 VILLARIN, CLARIBEL CARILLO
9992 VILLARIN, FLORELOU MAGALLANES
9993 VILLARIN, JENNELYN GOMEZ
9994 VILLARIN, MARY JOY SEDIGO
9995 VILLARIN, WINNAH GRYZEL POMARIN
9996 VILLARINA, RHINA DISCUTIDO
9997 VILLARIÑA, CRISLER GONDRA
9998 VILLAROSA, ALVIN DE GUZMAN
9999 VILLAROSA, DAVE PAUL LUNA
10000 VILLAROSA, DIOSA TENA
Roll of Successful Examinees in the
L. E. T. – SECONDARY – All Regions
Held on JUNE 26, 2022
Released on AUGUST 4, 2022 Page: 202 of 205
Seq. No. N a m e
10001 VILLAROSA, GEMMA MALANSAN
10002 VILLAROZA, JHERHOME QUILANTANG
10003 VILLARTA, ELENA TABONTABON
10004 VILLARUEL, JOAN SATUITO
10005 VILLARUEL, JOHN GREG FERRANCULLO
10006 VILLARUEL, JUDY MAE HONAYON
10007 VILLARUEL, JULIE ANN MORADAS
10008 VILLARUEL, MA CRISSALYN HERNANDEZ
10009 VILLARUEL, MIRICHELL SOMBRERO
10010 VILLARUZ, PATRICK GEORGE LUJAS
10011 VILLARUZ, RAZEL BUCALING
10012 VILLAS, ANGELICA
10013 VILLASANTE, ROSELLE IMATONG
10014 VILLASARIO, GLYDAINE NATAD
10015 VILLASENCIO, JUSTINE PARDILLO
10016 VILLASEÑOR, ARVIN ALMIRAÑEZ
10017 VILLASIN, JESSA ETIS
10018 VILLASOR, JANMART FABIOSA
10019 VILLATE, ANGELICA AMOYAN
10020 VILLAVERDE, MARIBEL VELASCO
10021 VILLAVICENCIO, CHERRY ABANES
10022 VILLAVICENCIO, MARINETH OLAES
10023 VILLEGAS, CRISANTO RAMIREZ
10024 VILLEGAS, JEMUEL IBAÑEZ
10025 VILLEGAS, MARY ROSE ROLLO
10026 VILLEGAS, RILOU MAE ECHAVEZ
10027 VILLENA, CRISTINE CAPISPISAN
10028 VILLENA, JEAN CARMELA CORONADO
10029 VILLENA, ROSHELLE FLOR
10030 VILLESTER, MARICEL MANATAD
10031 VILLONES, DARREL CASILANG
10032 VILLORENTE, MARY ROSE ZAUSA
10033 VILORIA, REENA ANGELYN LAFORTEZA
10034 VINASOY, RICHITA TULINAO
10035 VINLUAN, MEL JUSTIN SALONGA
10036 VINO, MARIANE
10037 VINOYA, MICHAEL DELA CRUZ
10038 VINSON, ANGELICA
10039 VINSON, JESSA JAN COLACION
10040 VINSON, REGINA MONTAÑO
10041 VINUYA, RICA MAE SAMONTE
10042 VIODOR, LEIZEL VISTAL
10043 VIOLA, CHRISTINE JOY LEYNES
10044 VIOLA, JAMELA ADOR
10045 VIOLA, MARY GRACE DE LARA
10046 VIOS, FLORDELYN ELISAN
10047 VIPINOSA, MA MAY CAMILLE LUCES
10048 VIRAY, KLARIZZA HILARIO
10049 VIRREY, JOLLY ANN AVELLANO
10050 VIRTOSO, ALYSA SHAYNE PRECIOSO
Roll of Successful Examinees in the
L. E. T. – SECONDARY – All Regions
Held on JUNE 26, 2022
Released on AUGUST 4, 2022 Page: 203 of 205
Seq. No. N a m e
10051 VIRTUDAZO, KAREN GALENDEZ
10052 VIRTUDAZO, VINCENT DE LA TORRE
10053 VISAYA, PAUL GALAROZA
10054 VISCAYA, MA MAE ALEGADA
10055 VISCAYNO, EVIE PARANGUAY
10056 VISITACION, CECILE DIMAANO
10057 VISITACION, EVELYN AGUINALDO
10058 VISITACION, GEMMA ZYL VALOR
10059 VISLENIO, MARICAR ENDAYA
10060 VISMANOS, GENY ROSE COMALING
10061 VISON, LUREN ESPERILA
10062 VISPO, AIRA VILLEZA
10063 VISPO, LESTER PAUL VISPO
10064 VISTA, LUTGARDA GUMATAY
10065 VISTAL, NERISA CANDOLE
10066 VISTAR, NORLYN BALAYO
10067 VITAL, MA. ZARAH JANE DIAZ
10068 VITTO, ANGELYN JOYCE CARANDANG
10069 VIUDEZ, EDNEL GACIAS
10070 VIVAR, SHAIRA ULIP
10071 VIVAS, JOHN NICOLE MAULLON
10072 VIÑAS, IVY DORIS FLORES
10073 VIÑAS, JENNY CARBAJOSA
10074 VOLANTE, EZEKIEL BIÑAS
10075 VOLOSO, LIANNE ALTAR
10076 WAGDOS, SHIELA MONTENEGRO
10077 WAKIT, JORELYN TOMILAS
10078 WALI, SAIDA KAMELON
10079 WALOC, ROTCHEL NAIDAS
10080 WALOHAN, MAY COPADA
10081 WANG, LESLY ALIA
10082 WAPIRI, LOREN MAE NAVESIS
10083 WARDE, JERICK CHENG
10084 WASAWAS, PECHIE ABANER
10085 WASQUIN, GENIELYN SANTILLAN
10086 WATIMAR, CHERRY CUBAROL
10087 WEE, CHARITY BADON
10088 WEE, MILLEN GRACE MAYO
10089 WENCESLAO, SYRA JOY NICOLE GABRIEL
EXAM COVERAGE
General Education (GenEd)
English – Study and Thinking Skills, Writing in the Discipline, Speech and Oral Communication, Philippine Literature and Master Works of the World
Filipino – Komunikasyon sa Akademikong Pilipino, Pagbasa at Pagsulat sa Panananaliksik at Masining na Pagpapahayag
Mathematics – Fundamentals of Math, Plane Geometry, Elementary Algebra and Statistics and Probability
Science – Biological Science – General Biology, Physical Science with Earth Science
Social Sciences – Philippine Government New Constitution with Human Rights, Philippine History, Basic Economics, Taxation, Agrarian Reform, Society, Culture with Family Planning; Rizal and other Heroes, Philosophy of Man, Arts, General Psychology and Information and Communication Technology
Professional Education (ProfEd)
Teaching Profession, Social Dimensions of Education
Principles of Teaching, Educational Technology and Curriculum Development
Facilitating Learning, Child and Adolescent Development
Assessment of Student Learning, Developmental Reading
Field Study and Practice Teaching
Also, specialized subjects were covered in the licensure examinations for the field of specialization in English, Biological Sciences, Filipino, Physical Sciences, Mathematics, Values Education, MAPEH, Social Studies and Social Sciences, Agriculture and Fishery Arts, and Technology and Livelihood Education.
RELEASE DATE
PRC is expected to release the exam result within 25-30 working days after the last day of the examination.
REMINDER
The exam result may be released by the PRC earlier or later than the target date without prior notice.
REQUIREMENTS
Notice of Admission
Duly accomplished Oath Form
2 pieces of passport-sized ID photos in white background and with complete name tag
2 sets of documentary stamp
1 piece short brown envelope
Aspiring teachers can visit the official website of the Professional Regulation Commission and use the verification page for the results of the board examination passing rate.
Examinees will be required to provide their full name, birthdate, application number, exam name, and date of examination.