What Is "Privilege" In Tagalog? (Answers)
PRIVILEGE IN TAGALOG – There are several Filipino words that don't have a direct translation in English, that's why we need context in order to fully translate them.
This article will teach you about the Tagalog translation of the word "privilege" based on the context of the sentence.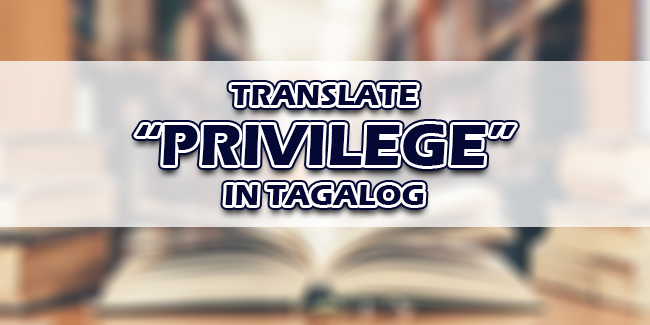 What is "Privilege"?
"Privilege" is an English term that refers to a special right, advantage, or immunity granted or available only to a particular group or person.
What is "Privilege" in Tagalog?
"Privilege" can be directly translated as "pribilehiyo". The use of this word, however, may depend on the context of the sentence.
Here are some example sentences:
Ana had the privilege of meeting the queen.
Carla had the privilege of interviewing the president.
It was a great privilege for Ben to hear Bob sing.
Mark never abuses his privilege.
In Tagalog, these sentences could be translated as:
Nagkaroon ng pribilehiyo si Ana na makilala ang reyna.
Si Carla ay nagkaroon ng pribilehiyong makapanayam ang pangulo.
Napakalaking pribilehiyo para kay Ben na marinig na kumanta si Bob.
Hindi kailanman inaabuso ni Mark ang kanyang pribilehiyo.
Thank you for visiting Newspapers.ph. You may express your reactions or thoughts in the comments section. Also, you may follow us on Facebook.
For other English-Tagalog translations, visit HERE.