Here is the Respiratory Therapist Board Exam Result February 2022 List Of Passers
RESPIRATORY THERAPIST BOARD EXAM RESULT FEBRUARY 2022 — Here is the list of passers as released by the Professional Regulation Commission (PRC).
The exam results including the list of passers, top 10 passers, top performing and performance of schools, and other announcements related to this will be posted on this website once PRC will release it.
PRC conducted the Respiratory Therapist Licensure Examination (LERT) on February 3-4, 2022 at testing centers in Metro Manila, Baguio, Cebu, Davao, Pampanga, and Zamboanga.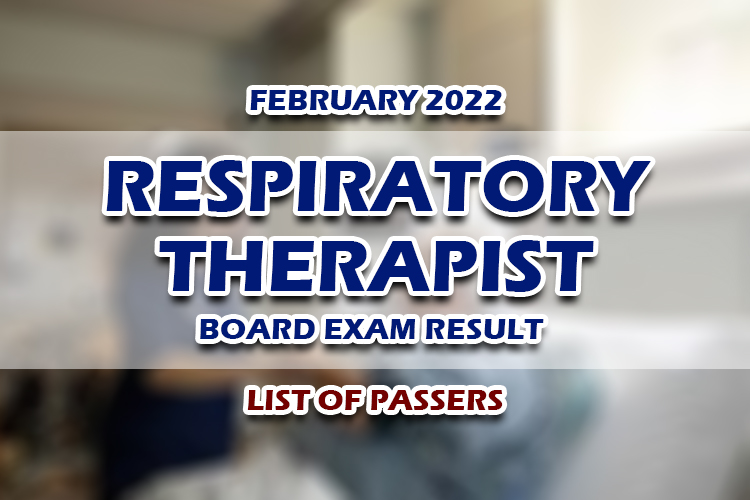 Chairman Julita V. Toledo and members Senen O. Teope and Jesus M. Espinas of the PRC Board of Respiratory Therapy administered the board examinations.
The Respiratory Therapist board exam is one of the programs with an average number of examinees conducted by the Professional Regulation Commission.
SUMMARY OF RESULTS
Here is the list of passers:
Roll of Successful Examinees in the
RESPIRATORY THERAPY LICENSURE EXAMINATION
Held on February 3-4, 2022
Released on February 8, 2022
Seq. No. N a m e
1 ABASOLA, MARIA VICTORIA NAVALTA
2 ABDULSING, ERLINDA EBRAHIM
3 ABDURAJAK, SHAIRA SABIRAN
4 ABDURASID, RHEEMA-ALWA SAPIE
5 ACOSTA, MICAELLA FORTUNADO
6 ADARLO, ROSEIET VILLOSO
7 AGNAYA, SHAL AGASEN
8 AGUINSOD, MARJORIE SABIANO
9 AHAJAN, FARHALYN LUTIAN
10 AKAN, FARHANA ERNESTO
11 AL-SALEM, ANALORRAINE HADJARANI
12 ALBI, NUSPA SAWALDI
13 ALDANA, WINDELYN GRACE CACAO
14 ALIH, ALDASHER ALAWADDIN
15 ALLIAN, YASHIER HAMSID
16 AMMAD, BHONG SAYADI
17 ANCHETA, MIKKA JOY MIFA
18 ANDRADA, NICOLE ANDREA MUELAN
19 ANGELES, LADY NEL DELOS SANTOS
20 ANNI, SHARNALYN BALUAN
21 ARAOS, EMILIO BUNGALON
22 ARSID, RUFFA MANI
23 ASDAIN, FATIMA BANGAHAN
24 ASMADUN, DHANA KALLAS
25 ASMAWIL, NURFAINA EKKIN
26 AVENTUNA, VINCENT JOFETTE AGUANTA
27 AYSON, MARIA MAYVELYN ELEMOS
28 AÑIS, JUSTINE JOY AQUINO
29 BALINGIT, APRIL MANAGASE
30 BANAYAT, LALAINE SAYMO
31 BARGASO, MA VISITACION
32 BATCHAR, STEWART BUENSUCESO
33 BATULAN, FRANCIS CHRISTINE PRESILLAS
34 BAUTISTA, DANNAH MAE CATACUTAN
35 BAYACHAN, KATE CHYNN GIL
36 BERNARDINO, MARICRIS PARAS
37 BRINGAS, VINCE JUSTIN CORTEZ
38 BUENVIAJE, LENZMAR PADEROG
39 CABERTO, DAN RIEL ESPIRITU
40 CABIGON, ROSEMARIE PAUSAL
41 CAMLIAN, SHERHANA ALBARACIN
42 CANILAO, ALMIRA SERRANO
43 CARILLO, ACE LOUISE MUECA
44 CARIÑO, MELISSA CRISANTA DAGOHOY
45 CARTABIO, CLAUDETTE FAYE REYES
46 CASIL, GHEA PAULA CACANINDIN
47 CASPELLAN, ROSELYN DOMINGO
48 CAYATOC, AERIS EUFE DEMOT
49 CEDILLO, MIKKO SOLIS
50 CHAN, MANUEL AARON TOBES
Roll of Successful Examinees in the
RESPIRATORY THERAPIST LICENSURE EXAMINATION
Held on FEBRUARY 3 & 4, 2022 Page: 3 of 5
Released on FEBRUARY 8, 2022
Seq. No. N a m e
51 CIMANES, JOY MIRABONA
52 CLAVERIA, JANICA LEI NOVA
53 COMAYINGKING, MARY GRACE FERNANDEZ
54 CRISTOBAL, JENIEROSE DOMINGO
55 CRUZ, HAROLD RIVADILLO
56 DAGOHOY, MICHAEL MISMANOS
57 DE CASTRO, SHAIRA MAE MENDOZA
58 DE JESUS, MARIA ANNA SANGALANG
59 DE VERA, FERDINAND ASTORGA
60 DESCAYA, ROBERTO MARI MIRANDA
61 DINFOTAN, JETHRO JIMSON CARLON
62 DIOSO, PATRICK JEROME PALETE
63 DUQUE, JIMMY RIVERA
64 EGIYA, JENNA ARIANE SANTOS
65 ELLIH, JUNHAJIR ADIL
66 ELRASHID, HAARON ELAWAD
67 ENCIENZO, CHRISTIAN DALE CANTONES
68 ESMAS, JAMES VINCE MC DOUGLAS MALOLOY-ON
69 ESTRELLADO, JENICA ANGGAN
70 FERNANDEZ, JOHN JACOB CORONEL
71 FERNANDEZ, JUSTINE VALERY GAPUZ
72 FERNANDEZ, MARIE ANTONETTE MADDELA
73 FERRER, JESSA MAE SANCHEZ
74 FOY-AWON, CHERYL TAFALENG
75 GALLARDO, JELA
76 GALLERO, KURT NHOEL PELIÑO
77 GANCENIA, BEVERLY RUTH MARRON
78 GARCIA, CZARLES SAPLALA
79 GARZO, GIELAINE MALINAO
80 GENOVEZA, JOHN PAUL DURAN
81 GERONGCO, MARY ROSE TAGANAS
82 GONZALVO, HENRY MANALO
83 GRANEL, KLIEN KRISHA JAICE TUMAMMAN
84 GUMBAHALI, DYANARAH NASSAL
85 HADJINULLA, SHERIDZA SARAIL
86 HAKIM, NURDIAM MANGGONA
87 HAPIL, ADAMER ABDULAHAB
88 HARAMAIN, SHERMAHAR SAJIRAN
89 HASSAN, RICHELLE DULAHIM
90 HUSSEIN, ADZMIR ASARI
91 IBBA, NURHIMA MAHARAIL
92 IGNACIO, VEA ANGIELA MONTEMAYOR
93 IMBAY, FHARA MAE BARA
94 ISMAEL, ALSUHIL BALADJI
95 ISMAEL, HAMDAN SALLIM
96 JAID, NUR-JAIDA AKUL
97 JAINUL, UMMI KALSUM AMIN
98 JAVIER, RIZZA BIANCA ODI
99 JAYAG, DENEZ BUENAVENTURA
100 JIKIRI, SITTI SARHA ARANAIN
Roll of Successful Examinees in the
RESPIRATORY THERAPIST LICENSURE EXAMINATION
Held on FEBRUARY 3 & 4, 2022 Page: 4 of 5
Released on FEBRUARY 8, 2022
Seq. No. N a m e
101 JILHANO, BENJILYN SALIM
102 JIMENEZ, PHOEBE QUE
103 JUAINI, ALESSANDRA PANDAOG
104 JUNAIDE, IBRAHIM UDDIN
105 KABINGUE, CHESKA MARIE BATICAN
106 KASIM, SAHARA ADDAIN
107 KHASMER, WANHAR KADIAM
108 KURAIS, MOHAMMAD FADZREE ARASAD
109 LADIGNOM, QUEEN BALERY
110 LAL MOHAMMAD, ABDULLAH LANDASAN
111 LANDINGIN, SHANELYN APILADO
112 LAZATIN, CAMILLE HAZEL SHAMYRRH SANTIAGO
113 LEE, CAROLYN AMILASAN
114 LEODONES, LYNDEL ANNE DELA CRUZ
115 LEUNG, JOHNSON JR MINA
116 LIZARES, PRINCESS JOY RIO
117 LLAMOSO, DIANA KEITH GARCIA
118 LOPEZ, LOVELY ROSE DALISAY
119 LORENZO, CRISTIAN JAY GABUAY
120 LUI, FRANZ MARIE LIMPALAN
121 MACABODBOD, MARY CHIL MONTEFRIO
122 MACARAIG, DANICA ANNE GARCIA
123 MAHINGYAN, JEVILYN GAYANA
124 MALASA, KAREN MAY MANGAO
125 MALLARI, CLARISSA MAE DAVID
126 MANANGAN, FAUJIYA AMILASAN
127 MANAPIL, MELINDA VALDEZ
128 MANIBOG, FREDELYN BARCARSE
129 MANUEL, KIMBERLY ANN CABALLERO
130 MARI, GERALD TAYAG
131 MAULOD, MAIMUNA SITO
132 MIRANDA, ZACK IOMMY LIPIANO
133 MONDARES, DELCE PONTANOSA
134 MORALES, MOH-AWS ABDULLAH
135 MORENO, SHEKINAH MARAIAH HENDRIKA REDULLA
136 MUSA, RHUSAYFA MAHMUD
137 NAMLI, SHARIFA ASULA
138 NAPALANG, DOMINIQUE ANNE JARIN
139 NEMIL, KYLE LORENZO LOZADA
140 NOMBRADO, RIA PAULINE ANDEO
141 OCAMPO, ARVIN ANGELO FLORES
142 OCAMPO, EDEN ROSE SADIANGCOLOR
143 OMAR, SAMERA ALAMA
144 ORTEGA, CASSANDRA JUNE DIAZ
145 PACIA, JAMES MICHAEL DELARA
146 PADON, STEPHEN JHONN BUENAVENTURA
147 PALMA, ALIZA CHYNA NEPOMUCENO
148 PALMA, MARIA ISABELLA JIMENEZ
149 PANGAN, JEFFREY MANALILI
150 PANGAN, JUDITH MANALILI
Roll of Successful Examinees in the
RESPIRATORY THERAPIST LICENSURE EXAMINATION
Held on FEBRUARY 3 & 4, 2022 Page: 5 of 5
Released on FEBRUARY 8, 2022
Seq. No. N a m e
151 PAYUMO, ELLA MARGARET
152 RAMOS, MUFFY GALLEO
153 RAMOS, SHEENA MANILYN UGALDE
154 RASID, AMIR SANTOS
155 RASUL, WARDA PINTASAN
156 REYES, PAUL RICAMARA
157 RIVERA, KAREN GRACE CASIBANG
158 RIVERA, NEEZAH HAXJIEL LAZARO
159 RODAJE, JOSIE CO
160 ROJAS, PATRICIA MAE NATIVIDAD
161 ROMANO, JAMIN MARIZ MANGONDATO
162 ROMERO, CAMILLE GUSTILO
163 ROXAS, VENUS CANDELARIA
164 SABAS, PATRICK JUNE SERRANO
165 SABDANI, JAVIER AMOALIE
166 SABINO, ANGELO GERON
167 SAJAUD, AZZA MAJUK
168 SALUH, SOR-AIZA QUE
169 SAMLA, ADZHAR AMIL
170 SARMIENTO, MARK ANTHONY PESTANAS
171 SEVILLENA, CATHERINE FRANCO
172 SIBAYAN, JOVITA BARASI
173 SIGNEY, ANDREA NICOLE BALINGIT
174 STA JUANA, ANGEL MARANAN
175 SUSULAN, MARSALYN ARAJAN
176 TABAÑAG, JOHN FREDRICK DECIERDO
177 TAWASIL, MAHATHIL ONG
178 TAYONE, CHIRRALIE PATILUNA
179 TAYOTO, RONNEL ILAO
180 TELLO, REJANE GONZALES
181 TIMBASAL, FATIMA SHERWENA BAKIL
182 TIMBOL, HANNA MAE JALOTJOT
183 TOLIBAS, BETTY JEAN CAGOYONG
184 TORREFIEL, KRISHIALYN KAYE BANDALES
185 TUASON, ROXANNE EVE CESA
186 TUBIG, JENINE ALYSSA SEVILLA
187 TUGUINAY, ALPHA MAY DUNGAYA
188 TUMPAO, KEITH GERALD DANG-AY
189 TURALBA, KIZZEL JOY DAGUSEN
190 UTAL, MUNISA RAJUL
191 VICENCIO, ALEJANDRO PANLILIO
192 VILLAMIN, JOHN JOSEPH
193 YLING, ROBERTO III PECHARDO
194 YOUNG, JOHANNA JADE DIAZ
NOTHING FOLLOWS———————-
EXAM COVERAGE:
Diagnostics
Pathophysiology
Respiratory Care
Neonatal and Pediatric Care
RELEASE DATE
PRC is expected to release the Respiratory Therapist board exam result within 3 working days after the last day of the examination.
REMINDER
The board exam result may be released by the PRC earlier or later than the target date without prior notice.
REQUIREMENTS
Notice of Admission
Duly accomplished Oath Form
2 pieces of passport-sized ID photos in white background and with complete name tag
2 sets of documentary stamp
1 piece short brown envelope
Aspiring respiratory therapists can visit the official website of the Professional Regulation Commission and use the verification page for the results of the board examination passing rate.
Examinees will be required to provide their full name, birthdate, application number, exam name, and date of examination.