Here is the BAR Exam Results February 2022 list of passers (I-Q) for batch 2020-2021.
BAR EXAM RESULTS FEBRUARY 2022 — Here is the list of passers (I-Q) for batch 2020-2021 as released by the Supreme Court.
The exam results including the list of passers and topnotchers will be posted on this website once the Supreme Court will release it.
Citing Supreme Court's BAR Matter Resolution No. 3490 released on January 4, 2022, there are 11,790 BAR examinees registered to take the BAR examinations for batch 2020-2021. Of these, 11,378 BAR examinees showed on the first day of BAR exams.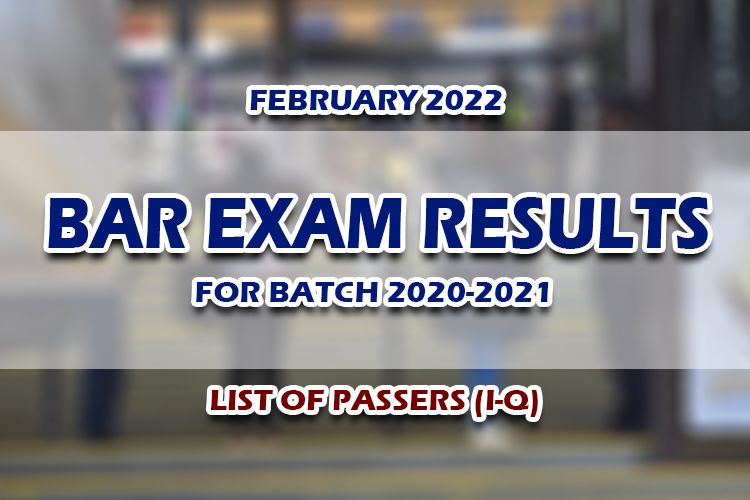 The Supreme Court conducted the BAR examination on February 4 and 6, 2022 at testing sites in Metro Manila (Makati, Pasay, Manila, Quezon City, and Taguig City), Baguio City, San Fernando City-La Union, Tuguegarao City-Cagayan, Bayombong – Nueva Vizcaya, Angeles-Pampanga, Lipa City-Batangas, Calapan City-Oriental Mindoro, Naga-Camarines Sur, Iloilo City, Bacolod City, Cebu City, Dumaguete City, Tacloban City, Zamboanga City, Cagayan de Oro City, Iligan City, Davao City and General Santos City.
SC headed by 2020/21 BAR Examinations Chairperson Justice Marvic M.V.F. Leonen, in partnership with several local government units (LGUs) nationwide, administered the Bar examinations.
The digitalized BAR examinations for batch 2020-2021 is the largest batch of examinees in history.
SUMMARY OF RESULTS
As announced by Bar Chairperson Marvic Leonen, 8,241 out of 11,402 Bar examinees successfully passed the Bar exams for batch 2020-2021.
Here is the official list of passers:
(I-Q) List of Successful Examinees in the 2020-2021 Bar Exams
Held on FEBRUARY 4 & 6, 2022
Released on April 12, 2022
IBANEZ, Abigail L.
IBANEZ, Sonny Mark J.
IBARDALOSA, Quenny Rose V.
IBARRA, Camille C.
IBARRA, Felizardo M.
IBARRA, Princess Caroline Nichole C.
IBAÑEZ, Edren B.
IBAÑEZ, Jocelyn G.
IBE, Gerald Lance T.
IBISATE, Georlan A.
IBRAHIM, Amir Essam N.
IBRAHIM, Hanan C.
IBRAHIM, Hazra A.
IBRAHIM, Razul Kiram A.
ICALABIS, Joy E.
ICAO, Gean Pearl P.
ICAO-CHUA, Ma. Estrellita B.
ICARO, Frederick R.
IDDOBA, Bellanie Crista M.
IDICA, Roman G.
IDJIRANI, Datu Syed Omar K.
IDMILAO, Bryan Gai T.
IGLESIAS, Maria Katrinna M.
IGNACIO, Delight Grace P.
IGNACIO, Edward D.
IGNACIO, Lareina P.
IGNACIO, Leah A.
IGNACIO, Mark Gilverton B.
IGNACIO, Quina Angeli A.
IGNACIO, Roentgen Jude Paolo L.
IGNACIO, Sharmaine S.
IGNES, Annielyn A.
IGOT, Lorenzo III T.
IGUBAN, Myra Marie B.
IKLAMAN, Ruhfa M.
ILAGAN, Carl Mari V.
ILAGAN, Juverglen C.
ILAGAN, Mark Ivan V.
ILAGAN, Richard E.
ILALIM, Jose Warven T.
ILDEFONSO, Michael D.
ILLESCAS, Peter David P.
ILUSTRISIMO, Rogie Mel M.
IMPELIDO, Christine Frances G.
IMPERIAL, Efren Jr. D.
IMPERIAL, Fernando Felix L.
IMSON, Kamille V.
INCIO, Charmagne P.
INCOMIO, Frans Joseph F.
INFANTADO-TAGUIBAO, Ciara Christia P.
INFANTE, Paolo S.
INGENTE, Mark Phillip M.
INOPIQUEZ, Bruce Carlo L.
INOT, Jermilyn P.
INOT, Marieal M.
INTIA, Leo Anthony A.
INUMERABLES, Sheila May E.
INVENTO, Kier Christian Rhenier M.
IPIL, Careyssa Mae I.
IRONG, Gegi Jr. F.
ISAGUIRRE, Lean M.
ISHMAEL, Abdul Aziz A.
ISIDERIO, Joan Therese Z.
ISIDOR, Dianne Marie A.
ISIDRO, April Mae G.
ISIDRO, Carlo Iñigo G.
ISLA, Kristina M.
ISLA, Nikki Jane S.
ISLO, Diana C.
ISMAEL, Amilkhan P.
ISMAEL, I-za Fe Z.
ISMAEL, Jimlan S.
ISMAEL, Marbe Rose S.
ISMAEL, Mayah B.
ISMAEL, Omelkhair E.
ISMAEL, Sitti Warna D.
ISON, Jury Emmanuel P.
ISRAEL, Kimberly A.
ISRAEL, Patricia Kareena A.
ISULAT, Clarence Raymund Giles D.
ITURIAGA, Mika Jeza S.
IWAY, Mary Ellen C.
IÑIGO, Tanya Gaye R.
JABAGAT, Azalea E.
JABAGAT, Dennis S.
JABALLA, Joselito D.
JABINES, Hannah Jea R.
JABONE, Evan Sean C.
JACABAN, Francis May L.
JACABAN, Romeo Jr. A.
JACINTO, Alyssa Marie A.
JACINTO, Doane Kevin P.
JACINTO, Rucheska Paola N.
JACKSON, Loida M.
JACOB, Genamari Leigh M.
JACOSALEM, Ronamae .
JADRAQUE, Samson E.
JADRAQUE, Shahiva Tazhnim S.
JAGMIS-VILLANO, Aileen P.
JAILANI, Alan U.
JALA, Queenie G.
JALALON, Jeanine Vanessa R.
JALI, Sharifa Sittie Zehada M.
JALIJALI, Crystal Diona B.
JAMAROLIN, Jahara N.
JAMER, Khristian Damielle A.
JAMERLAN, Vanessa C.
JAMERO, Gari R.
JAMIL, Prince Hazzanhul Saddam D.
JAMIN, Mark Jeeg C.
JAMISOLA, Mary Anne B.
JAMPAS, Joseph Marwin B.
JANDOC-DIEGO, Ivy May R.
JAO, Quennie P.
JAPITAN, Angel Agustine II O.
JAPSON, Rosadel May C.
JAQUIAS, Geraldine A.
JARA, Ermel Z.
JARAMILLA, Franeli Jessa C.
JARAMILLO, Philip Robert S.
JARAPA, Jeffrey R.
JARLOS, Anglebert A.
JARO, Luigi Jess O.
JAULA, Leunamme Gayle M.
JAVALERA, Jillary Carolene M.
JAVELLANA, Stephanie Rose C.
JAVIER, Christal Faith F.
JAVIER, Imee Joy B.
JAVIER, Jan Arianne R.
JAVIER, Janiene Marian E.
JAVIER, Junela Mae P.
JAVIER, Karen Joy T.
JAVIER, Kurt Melvin A.
JAVIER, Mikhail Ramon L.
JAVIER, Stephen Daniel H.
JAVIER, Therese Fatima V.
JAVIL, Raynan F.
JAVINES, Cherrie Moana Marie F.
JAYME, Annaliza P.
JIMENA, Eliza Joy C.
JIMENA-PEREZ, Janine B.
JIMENEZ, Angeli Pauline I.
JIMENEZ, Jemenica Angela I.
JIMENEZ, Joyen Melca I.
JIMENEZ, Louisa Ysabel S.
JIMENEZ, Maria Kriselda A.
JIMENEZ, Regine L.
JOAQUIN, Jobelle P.
JOAQUIN, Salmo Deo T.
JOCSON-TAN, Jacelud A.
JOLLOSO, Peter Angelo J.
JONGOY, Kent Francesco C.
JOQUIÑO, Nathaniel S.
JORDAN, Abigail Ann M.
JORE, Nathaniel Jr. T.
JOSE, Martin Sean T.
JOSE-GRAVELA, Katherine Grace L.
JOSOL, Glem M.
JOSON, Carlyn T.
JOSON, Sherlyn Mae L.
JOSUE, Aileen Joy A.
JOSUE, Bahama Mirachylle A.
JOVEN-BANABANA, Neslie N.
JOYA, Donald Jude H.
JOYAS, Victor Emmanuel C.
JUAN, Paulo Angelo G.
JUAN-DE LEON, Jackielyn H.
JUANITEZ, Ken A.
JUAREZ, Albie T.
JUAREZ, Francis Lorenzo R.
JUAREZ, Jerby Emmanuel T.
JUAREZ, Michael Jordan V.
JUBA, Jereca U.
JUBAN, Felipe Jr. L.
JUBIAR, Dara O.
JUBILO, Salvador L.
JUCO, April Elenor C.
JULIAN, Cheenie Mae C.
JULIAN, Mark Morris M.
JULKANAIN, Nur A.
JUMADLA, Richan C.
JUMAGDAO, Chrismaire D.
JUMALON, Erika B.
JUMALON, Jewelyn A.
JUMALON, Rodelyn B.
JUMAMIL, Vinzli H.
JUMAO-AS, Odette Marie V.
JUMAO-AS, Rielamae I.
JUMAQUIO, Erika Lyd D.
JUMAQUIO, Karissa S.
JUMDAIN, Farhan T.
JUMO, Vanessa B.
JUMUAD, Laarne B.
JUNGCO, Rudiver Jr. D.
JUNIAR, Christopher P.
JUNTILLA, Joanne G.
JUPURIE, Jurhaiza H.
JURADO, Aldritz Ignacio III P.
JURADO, Joanne C.
JURADO, Ralph E.
JUROLAN, Marymar L.
JUSTINIANO, Juan Miguel D.
KABIGTING, Ray Thomas F.
KADATUAN, Arif D.
KAJIHARA, Shogo M.
KAPUNAN, Kyle Ma. Linus C.
KARAAN, Marcella Maria L.
KARIM-BARRAT, Nadine M.
KATINDIG, Leo M.
KAWAMOTO, Nansei M.
KAWI, Christine T.
KE-E, Adam B.
KEE, Zyra D.
KENTILITISCA, Ricky G.
KERYAO, Pablo C.
KHABAB, Hapsha D.
KHADKA, Alexandra V.
KHO, Kevin Klint J.
KHO, Olga T.
KHOLOMA, Rosemarie L.
KIAMCO, Rofel B.
KILLIP, Lyden Claire S.
KIM, Maria Fricela .
KINAADMAN, Karlo Mar D.
KINDAHAN, Carla Jeanne M.
KINDIPAN, Kathleen P.
KINDIPAN, Richard U.
KING, Daniel M.
KING, Stephanie Gail R.
KINGAD, Vaericke K.
KINTANAR, Marie Caitlin C.
KIONG, Shaira Kasey L.
KIPLI, Alvin Ryan S.
KIS-ING, Jonalyn P.
KISOL-MACARAMBON, Fatma U.
KITONG, Irish S.
KO, Nikki Mei Q.
KOK, Katrisha Analine B.
KOMICHO-GAANO, Kaye L.
KONG, Christian Lulu A.
KONG, Edward Louis C.
KONG, Kevin Kromwel R.
KONG, Primrose P.
KUA, Teresa Katherine R.
KUB-AO, Wayne R.
KUB-ARON, Keith Haelter D.
KUIT, Naferteri S.
KULANI, Midzmar A.
LA MADRID, Rafael Andrei U.
LAAJANEN, Deborah P.
LABANON, Karl Max L.
LABANTA-BANZON, Ainah Rae M.
LABANZA, Desiree F.
LABAYOG, Neri Danessa B.
LABIS, Roxan R.
LABIS, Warlito E.
LABOGA, Clarelle B.
LABORDO, Aaron Anthony S.
LACAMBRA, Leidee January G.
LACAMIENTO, Grace Melanie I.
LACANDALO, Justo Franco R.
LACAP, Diego Carmelo D.
LACAP, Jeanette N.
LACASTESANTOS, Leizel S.
LACBAY, Jeromme D.
LACDO-O, Emelita A.
LACHICA, Daniel John D.
LACOPIA, Joycelyn A.
LACSAMANA, Edita Mara L.
LACSIE, Melvin P.
LACSON, Gabriel Luis L.
LACSON, Gressa Meri H.
LACSON, Loucille A.
LACSON, Raginnie S.
LACSON-CLARIN, Ruby Rose R.
LACUBTAN, Rushan Lex A.
LACUROM, Clea Faye C.
LADDARAN, Cherie Marie V.
LADEMORA, Ciara Angela A.
LADIA, Princess Hyacinth T.
LADIGNON, Ma. Rosalia Emmanuel S.
LADJAGAIS, Mohammad Hussein J.
LADJAHASAN-LAS, Zainab W.
LADORES, Jeffrey M.
LADRILLANO, Jeshuel M.
LAFUENTE, Fionna Lyn A.
LAFUENTE, Raffy M.
LAGAJINO, Lira C.
LAGAO, John Paul M.
LAGAPA, Steve Marc B.
LAGARE, Marifel A.
LAGATAO, Armando Jr. E.
LAGAZO, Carlo Ezekiel A.
LAGCAO, Kim S.
LAGMAY, Patricia Cristina G.
LAGO, Norhaya A.
LAGO, Veronica Marie M.
LAGODGOD, Cathrine C.
LAGRADA, Frederick Jr. B.
LAGRIMAS, Michael Joff P.
LAGUA, Charlene B.
LAGUARDIA, Jamilah Paola D.
LAGUILLES, Arielle Ana G.
LAGUIO, Ysrael Joseph Jr. P.
LAGUITAO, Judith Z.
LAGUMBAY-DACILLO, Maeryl N.
LAGUNDI, Eizel Karina P.
LAGURA, Martin Thomas III B.
LAHOZ, Genica Gale F.
LAI, April Rose D.
LAIGO, Maria Josephine P.
LALANTO, Saliha P.
LALAS, Norman Paul P.
LALATAG, Richard V.
LAMADO, Camille B.
LAMBAN, Neil A.
LAMBAN, Zari Louise Angelique C.
LAMBRINTO, Ahira Joy E.
LAMERA, Danny P.
LAMERY, Glenn P.
LAMINATO, Charles Lindoln-jay D.
LAMPA, Jorace T.
LAMPITOC, Sarah Marie P.
LANCION, Rolan Jeff A.
LANDERO, Cyrene B.
LANDICHO, Carlo M.
LANDICHO, Cristine M.
LANDICHO, Janelle Larraine T.
LANDICHO, Maria Clarina O.
LANGATO, Sharine Joy A.
LANSANGAN, Emerald L.
LANTAKA, Grace Katherine M.
LANZADERAS, Joan A.
LANZARROTE, Romeo Jr. O.
LANZUELA, Andrew G.
LAO, Alexander D.
LAO, Jan Michael Dave S.
LAO, Sittie Norhanie H.
LAPE, Camille Victoria V.
LAPE, Eleazar E.
LAPID, Jezelle Irish C.
LAPIDARIO, Annika Mykaela L.
LAPITAN, Cristeta J.
LAPNAWAN, Melford A.
LAPUZ, Joyce S.
LAQUI, Roxanne T.
LAQUI, Xela Leona D.
LAQUINDANUM, Joshua J.
LARA, Arvel S.
LARA, Ephraim Daniel .
LARA, Jengke F.
LARA, Kristina A.
LARA, Maria Estrellieta G.
LARA, Marion Lawrence P.
LARA, Ronald Ryan L.
LARAÑO, Jose Louigi G.
LARENA, Rehne Gibb N.
LARIN, Janusz Paolo G.
LARIN, Sloan Dominique B.
LARINES, Norieshiel W.
LAROGA, Christine Lou A.
LARON, Lito Joshua N.
LAROSA, Hazel Grace U.
LARRODER, Earl D.
LAS PIÑAS, Roland E.
LASALA, Eharra Christa B.
LASALA, Shantee S.
LASAM, Clarence M.
LASCO, Hygiea Maye P.
LASIG, Mary Ann C.
LASTIMOSA, Anne Carmille G.
LASTIMOSO, Sean Jared R.
LASTIMOZA, Johanne Rose V.
LAT, Danneth Gian P.
LAT, Melissa Marie R.
LAT-IW, Krislyn M.
LATINA, Christian Michael E.
LATONIO, Kimberly Anne H.
LAUDE, Sheila Mae D.
LAUNIO, Ramon Jr. B.
LAUREDO, Caleb L.
LAURENTE, Kathleen Kaye M.
LAURENTE, Krisha Mae M.
LAURICIO, Eileen Joy D.
LAURIO, Izza Mari D.
LAURISTA, Jean L.
LAUT, Mosarah A.
LAUTILLO, Bernardino O.
LAVADO, Irish M.
LAVADOR, Erwin C.
LAVAPIZ, Arthur Kenneth M.
LAVARES, Marc Ronald N.
LAVARIAS, Angelo Gonzalo B.
LAVARRO, Francis Edgardo G.
LAVENDIA, Ricardo Jr. A.
LAVIÑA, Kevin Paul M.
LAW, Kakit Tony C.
LAWAGAN, Joseph Jr. E.
LAWANA, Auric Silvery B.
LAXA, Mary Grace F.
LAXAMANA, Wendell A.
LAYA, Martin Joseph M.
LAYAGUE, Peeve Kent P.
LAYESA, Sherlyn A.
LAYGO, Mark Dann S.
LAYUGAN, Brian Carlo B.
LAZAGA, Cristeine Mae B.
LEACHON, Rachel Caroline V.
LEAL, Genesis Ijay R.
LEANDER, Kateleyn S.
LEAÑO, Divine Kristine S.
LEAÑO, Tracy Anne L.
LECTURA, Erika Mari H.
LEDDA, John Lionel E.
LEDESMA, Janine Joyce B.
LEDESMA, Ma. Thea Lynn G.
LEDESMA, Mark Anthony V.
LEDESMA, Roxanne T.
LEDRES, Aldrin Jan B.
LEE, Angeline Pamela P.
LEE, Carlisle P.
LEE, Charlton .
LEE, Christian Gerard G.
LEE, Davide S.
LEE, Elaine Joyce J.
LEE, Il Nam Jr. C.
LEE, Ivan Jan G.
LEE, John Raleigh D.
LEE, Judde Bryan L.
LEE, Laarni L.
LEE, Monica Therese B.
LEGADO, Jefferson G.
LEGASPI, Bob Augusto F.
LEGASPI, Chyles Denise E.
LEGASPI, Gianne Claudette P.
LEGASPI, Jaypee A.
LEGASPI, Mark .
LEGASPI, Reena Marie D.
LEGASPI, Sulpicio Henry III E.
LEGASPINO JR., Geovani N.
LEGASPO, Marje L.
LEGISLADOR, Carlos B.
LEIDO, Vicente IV C.
LELAY, Lord Bien G.
LENTEJAS-QUEVEDO, Paulynn S.
LEOCARIO, Ryan E.
LEONAR, Jing Jing D.
LEONARDO, Jolina Mae D.
LEONARDO, Racquel R.
LEONES, Carl Jerry E.
LEONES, Jason A.
LEONG, Christine L.
LEONIDA, Ryan-dane L.
LEONOR, Angelica Belladonna C.
LEONOR, Joe Patrick L.
LEONOR, John Mark L.
LEQUIGAN, John M.
LERIOS, Mary Abegail P.
LESACA, Bjorn Nicholi L.
LESAVA-RESURRECCION, Anna Tricia D.
LESIGUEZ, Norberto J.
LESINO, May Nayda C.
LETRAN, John Ellyson L.
LEUCH, Kathryn K.
LEUS, Kevin Andrew B.
LEUTERIO, Mary Ann C.
LEYBLE, John Emmanuel A.
LEYSON, Edgar Jr. B.
LEYSON, Felix Gerard Jr. D.
LEYVA, Mary Ann H.
LI, Jinnelyn O.
LI, Jonah R.
LIANGCO, Adrian Paul P.
LIANGCO, Alissa Andrea E.
LIANZA, Calvin Klein E.
LIANZA, Christian Marc E.
LIAO, Karlene Erika C.
LIBA, Ivy M.
LIBARDO, Mark Xavier C.
LIBARIOS, Antoni B.
LIBARIOS, Ruby Kimberly C.
LIBAY, Jastene Joy A.
LIBO-ON, Joannalyn M.
LIBOON, Mark Anthony Y.
LIBRANDO, Ronald Anthony A.
LIBUNAO, Ronaldo R.
LICATAN, Von Richie L.
LICAY, Dexter P.
LICAYAN, Abigail R.
LICUAN, Ann Leonor G.
LICUANAN, Larrynette Lyka F.
LICUDO, Justine Ann G.
LICUP, Johanna Cass A.
LICUP, Kristian Weller P.
LIGUTAN, Ruel Eduard P.
LIGUTOM, Gaudencio Quinito IV A.
LIM, Abigail Charmaine C.
LIM, Acdea R.
LIM, Adelaide Joie B.
LIM, Alfred Raymond S.
LIM, Anton Kristoffer M.
LIM, Catherine Joy T.
LIM, Christian Louis S.
LIM, Denise Christine C.
LIM, Duane Kendall S.
LIM, Elerlenne P.
LIM, Eli Justin C.
LIM, Hyrl Aedrian C.
LIM, Jeen Kathlee B.
LIM, John Marc I.
LIM, Joseph Humbert Michael Y.
LIM, Kristine Dianne C.
LIM, Krystal Gyle F.
LIM, Mark Chester S.
LIM, Melanie R.
LIM, Morris Marco S.
LIM, Ravienne Jeru .
LIM, Raymond H.
LIM, Renz Francis A.
LIM, Shaina Fei-fei .
LIM-PASMAN, Judy A.
LIM-TAN, Joan H.
LIMBOC, Alyssa Anne Bernadette J.
LIMENA-RICARTE, Laureen Marie L.
LIMIN, Sheree Joyce B.
LIMJOCO, Justinelli Marie T.
LIMOS, Owen S.
LIMOSNERO, Aizza Marie F.
LIMOSNERO, Kenneth G.
LIMPANGUG, Mary Mae E.
LIMPANGUG, Roldan E.
LIMPOT, Karessa Mae B.
LIMUCO, Cristine M.
LINAAC, Arlou Adrian M.
LINAJA, Clyde S.
LINCO, Iah D.
LINCOD, Daryl D.
LINDA, Eizel Ann Chessca C.
LINDA, Karen Claudine M.
LINDO, David-ben F.
LINGAD, Enrico V.
LINGAN, Priscilla C.
LINTAG, Geraldine Princess A.
LIPAT, Jeanelle Rose R.
LIPNICA, Mary Joan P.
LIRA, Alain Marcellius S.
LIRA, Arnold Monching P.
LIRIO, Christopher T.
LISING, Paula F.
LISONDRA, Charlyndon E.
LITE, Maria Luz B.
LITERATO, Ronie B.
LIU, Jerry M.
LIWAG, Emilie P.
LIWANAG, Gloria Amor T.
LIZANO, Jhessa Lizette B.
LIZARDO, Ronald Allen H.
LLADONES, Ariel D.
LLAGAS, Maribel B.
LLAGUNO, Myka Josa D.
LLAMAS, Leo Ernesto H.
LLAMAS, Roberto Stefan S.
LLANO, Kristine Joy N.
LLANZA, Aprodette D.
LLAPITAN, Shiela Marie T.
LLARENA, Delan John M.
LLEDO, Patrick Jacob L.
LLEDO, Prince Johannes L.
LLEGUNAS, Ivan Joash O.
LLEVE, Artche P.
LLORICO, Januaree Ann S.
LLUCH, Francesca Andrea E.
LLUZ, Lourleth C.
LO, Tiffany Ann P.
LOBO, Joseph J.
LOBO, Larry Jun R.
LOBOS, Jonalyn Kryscelle C.
LOBRIGO, Niña Therese L.
LOBUSTA, Mikaela S.
LOCANO, Alpha M.
LODEVICO, Richo P.
LOFRANCO, Ralph Leo S.
LOH, Bryan D.
LOJERO, Mark-denniel J.
LOMAS-E, Ivy Jean G.
LOMIBAO, Ma. Karen F.
LOMIGO, Roland Paul P.
LOMOCSO, Erika Judi V.
LOMOSAD, Frilin M.
LOMUNTAD, Levi S.
LONGABELA, Mary Christine L.
LONGAKIT, Blaise Giovanni J.
LONGBOAN, Justin Marc Francis A.
LONGOS, Victor C.
LOPERA, Joseph Gary Anthony L.
LOPEZ, Abner Alvin C.
LOPEZ, Alfonso Miguel C.
LOPEZ, Catherine O.
LOPEZ, Chryselle Z.
LOPEZ, Cynthia Anne Marie H.
LOPEZ, Emmanuel C.
LOPEZ, Feliz Hughenio J.
LOPEZ, Fides Carissa Bianca R.
LOPEZ, Ginette P.
LOPEZ, John Marco S.
LOPEZ, Jose Mari S.
LOPEZ, Laura P.
LOPEZ, Louie Joseph A.
LOPEZ, Marc Christian M.
LOPEZ, Maribel Nicole D.
LOPEZ, Marlon Aedrian A.
LOPEZ, Michael L.
LOPEZ, Michiko S.
LOPEZ, Phoebe Grace D.
LOPEZ, Ramsey A.
LOPEZ, Rochelle O.
LOPEZ, Rufino T.
LOPEZ, Ryan Angelo M.
LOPEZ, Sherlyn .
LOPEZ, Stephanie Flor R.
LOPEZ-ATANACIO, Meriniza P.
LOQUIAS, Jean L.
LOREN, Edumer Bryan D.
LORENO, Andrea Nicole C.
LORIA, Monique Allen V.
LORIEGA, Felix Leo V.
LORONO, Mil L.
LOSA, Dianne Faye A.
LOSAÑES, Louise Mae L.
LOTA, Aizel Enn T.
LOTA, Andrew Stephen S.
LOVENDINO, Honeylyn M.
LOVERIA, Maria Angelica R.
LOYOLA, Aldrin R.
LOYOLA, Juan Samuel Ismael A.
LOYOLA, Paula Bianca A.
LOZADA, Eric S.
LOZADA, Katherine Cris P.
LOZADA, Marco Miguel E.
LOZADA, Maybelene J.
LOZADA, Wenceslao Georgio U.
LOZANO, Doel B.
LU, Kyle Brandon James M.
LU, Rey Emmanuel S.
LUANSING, Annielou L.
LUBAG, Hurjae S.
LUBANGCO, Marc Russel Ann P.
LUBATON, Chamles A.
LUBAY, Angela A.
LUBERAS, Faith O.
LUCAS, Aurea Antonette T.
LUCAS, Tshane Faye E.
LUCAS, Zadrick R.
LUCERO, Andrew S.
LUCERO, Deniz Kaan D.
LUCERO, Janelle Winli B.
LUCERO, Mark Joey S.
LUCERO, Marriel C.
LUCERO, Nick Emmanuel B.
LUCERO-DENSEN, Jennifer C.
LUCIANO, Romena R.
LUCINDO, Patrizia Adeline A.
LUCION, Romy Paolo L.
LUCMAN-SANGCOPAN, Sheryhan M.
LUCOP, Alex G.
LUGO, Christian Paul R.
LUGTU, Joshua Janine G.
LUMAAN, Izra M.
LUMAGBAS, Mhelene M.
LUMAGOD, Jonah May D.
LUMANAG, Jonah Rose G.
LUMANLAN, Rolinda G.
LUMANTAS, Veronica Vera Socorro V.
LUMAPAS, John Alexander J.
LUMASAC, Mia Zyra B.
LUMAUAG, Frances Perl E.
LUMBAG, Brent B.
LUMBANG, Almira Monica T.
LUMBAS, Dawn April G.
LUMBRE, Jeany Lou P.
LUMBRE, Kevin John B.
LUMILAN, Angel Layca D.
LUMINARIAS, Orland Marc S.
LUNA, Jerald L.
LUNA, Juan Paolo O.
LUNA, Raquel Monique L.
LUNA-PAPIN, Monica A.
LUPANGO, Mark Joseph C.
LUPANGO, Vince Noel L.
LUSTRE, Armand Karlo G.
LUZADAS, Regina Rae G.
LUZANO, Gabriel Ray L.
LUZURIAGA, Ma. Theresa Jessica B.
MA, Kathryn Dawn U.
MAAGMA, Shiela L.
MAAMO, Rexis Jun M.
MAANDIG, Alexandria Louise A.
MAAT, Kimberly Mae S.
MAATA, Reynante G.
MABANAG, Nicole C.
MABANTA, Rose Anne H.
MABAYLAN, Karen Rose B.
MABBORANG, Exceleene D.
MABBUN, Jose Mari M.
MABELIN-NORTIZA, Jonah O.
MABINGNAY, Alysa Marie Apple .
MABOLOC, Jeffrey Emmanuel Q.
MABUDYANG, Reymos C.
MACABABAYAO, Hanah Francine C.
MACABABBAD, Realyn T.
MACABANDING, Jamairah B.
MACABANDO, Emmirhama P.
MACABANDO, Raisa S.
MACABANTOG, Daud M.
MACABAYA, Bea Angelica O.
MACABAYA, Jerald Oliver N.
MACABUAT, Faisah A.
MACABUHAY, Jurist Christiani M.
MACABUHAY, Justin Francis M.
MACADAEG, Jovy B.
MACADATO, Amenolah P.
MACAIRAN, Reystelle D.
MACALALAD, Aireen Keith S.
MACALANDAP, Mohammad Yusoph M.
MACALINAO, Romielyn P.
MACALINDONG, Marielle R.
MACALINGA, Agnes L.
MACALINO, Madelle P.
MACALINO, Rowell Nico S.
MACALMA, Chevette R.
MACALUDOS, John Farid K.
MACAPAAR, Ismael S.
MACAPADO, Yaneeza A.
MACAPAGAL, Divine Jomarie R.
MACAPAGAL, Racel C.
MACAPAGAL-LASALETA, Mariecel N.
MACAPUGAS, Marissa Xuxa R.
MACARAEG, Gabriel E.
MACARAIG, Ma. Joyce B.
MACARAMBON, Sitty Aisha B.
MACARAMBON, Sittyhaima H.
MACARAMPAT-MANGORAC, Normina M.
MACARANAS, Angelo S.
MACARAYA, Johaira B.
MACARUBBO, Juris Alexis T.
MACASA, Joyce Ivy C.
MACASADDU, Ronalyn Keith R.
MACASINAG, Joven M.
MACASINDIL, Alimar G.
MACATAMAN, Sairah P.
MACATANGAY, Jose Angelo R.
MACATANGAY, Ren Irene D.
MACATANGCAL, Ameena C.
MACATIAG, Lord Zedrique T.
MACATOL, Jhon Dave L.
MACATULAD, Danielle Rj L.
MACAUNA, Sohayle B.
MACAVINTA, Mervin Karl C.
MACAYA, Krystie Dhane G.
MACEREN, Michael Gerard D.
MACLI-ING, Vanity Loise D.
MACLID, Ernesto Jr. M.
MACMAC, Norjanah A.
MACMOD, Walid Z.
MACOB, Johanne Margarette R.
MACOROL, Katherine Mae L.
MACUMBAL, Hanimai I.
MACUNAT, Renz Marlon D.
MACUTAY, Michelle Christine M.
MACUÑAT, John Lloyd B.
MADAMBA, Frances Anne Margaret S.
MADAMBA, Fritz Frances Danielle P.
MADANGUIT, Jemuel Jay S.
MADARANG, Jessie Jim B.
MADAY, Chaddy T.
MADDAWIN, Ruel C.
MADELO, Ginalyn G.
MADLAMBAYAN, Isaiah Gil L.
MADOLIN-MERANO, Madilyn C.
MADRID, Claudine Aira L.
MADRID, Gian Tristan G.
MADRID, Jan Keith D.
MADRID, Jefferson B.
MADRID, Roberto P.
MADRIDEO, Jolly Ann L.
MADRIGAL, Genelle Mae A.
MADRILEJOS, Jhonna Faye R.
MADULA, Delyen D.
MADULID, Roy Michael N.
MAESTRE, Rhobert C.
MAGABILIN, Elaine Joy D.
MAGADA, Jeffrey M.
MAGADIA, Benjamin Guillermo B.
MAGALLANES, Carie Fel B.
MAGALLANES, Ferdinand Daniel B.
MAGALLANES, Krystel Hypa C.
MAGALLANES, Van John C.
MAGALLON, Stephen A.
MAGALONA, Carlos Manuel G.
MAGALONA, Niña Angelica V.
MAGANA, Wenceslao IV V.
MAGANDIA, Abdul Jomar P.
MAGANGCONG, Amersab L.
MAGAOAY, Rhose Azcelle L.
MAGASO, Jovita Andelescia L.
MAGAYANES, Ira Sheena H.
MAGAYANES, Nico Fidel S.
MAGBIRO, Dyn Cezane J.
MAGBOJOS, Kristine V.
MAGCALAS, Ceri Kay Minette M.
MAGCALAS, Cristina R.
MAGCAWAS, Gerlie R.
MAGCAYANG, Tracy V.
MAGDALUYO, Therese Mary P.
MAGDAMIT, Glecy Rae T.
MAGDAONG, Arnie A.
MAGDARAOG, James B.
MAGDARAOG, Jethro C.
MAGDAYAO, Ronna Mariz V.
MAGDOZA, Whoopi Jane P.
MAGGAY, Maria Virginia B.
MAGGONGA, Charmaine A.
MAGGULUN, Cherwin D.
MAGHIRANG, Dione Inna G.
MAGHOPOY, John M.
MAGISA, Odessa Rossilyz L.
MAGISTRADO, Emmanuel B.
MAGISTRADO, Joshua Manuel U.
MAGISTRADO, Vincent B.
MAGLANGIT, Joann A.
MAGLANGIT, Zosimo Jr. D.
MAGLAYA, Genevieve R.
MAGLAYA, Guillermo III S.
MAGLAYA, Juan Miguel Jr. R.
MAGLIBA, Rujhen Rujh R.
MAGLUCOT, Edward .
MAGNO, Alfredo Marcos C.
MAGNO, Jon Gilbert B.
MAGNO, Maria Luisa A.
MAGNO, Mark Lester R.
MAGO, Floyd B.
MAGPANTAY, Ivanhoe D.
MAGSANAY, Kristine Joy B.
MAGSANO, Ma. Cristina Rae E.
MAGSINO, Christian A.
MAGSINO, Jamaica B.
MAGSUMBOL, Guiller C.
MAGTIRA, John Michael B.
MAGTIRA, Marielle Grace S.
MAGTUBA, Thea Claire M.
MAGTURO, Leilani Rose R.
MAGUDDATU, John Paul III S.
MAGUMUN, Valeriano E.
MAGUNDAYAO-BORLADO, Khay Ann C.
MAGUSARA, Adrianne Rose L.
MAHINAY, Angelo S.
MAHINAY, Michael Cyril D.
MAINES, Redbert Chris T.
MAIQUEZ, Shien C.
MAITEM, Anfernee M.
MAKILING, Faye Maena B.
MAKINANO, Hazel Ann C.
MALAAY, Vincent S.
MALABANAN, Jaymond Jorge H.
MALABAYABAS, Robert G.
MALACA, Raven Claire A.
MALAGA, Cybel Shephered S.
MALAGAD, Rodevi C.
MALALUAN-CRUZ, Ria M.
MALAMUG, John Vincent U.
MALAPITAN, Chelo Vianca A.
MALAQUE, Alexander T.
MALATE, Lyvia M.
MALAYO, Eunice A.
MALAZARTE, Vivian M.
MALBAS, Marie Cris S.
MALCONTENTO, Joseph R.
MALDO, Rey B.
MALELANG, Joseph Jennel M.
MALFERRARI, Nicolette S.
MALI, Nurbaith Ramadia B.
MALIAMAN, Dalimay Ruth D.
MALICAD, Charito T.
MALICAY, Emil Jay F.
MALICAY, Queenie Chariz D.
MALICDEM, Ralph Monique M.
MALIGAD, Gian Antonio A.
MALIGAYA, Romelyne R.
MALIJAN, Gerani D.
MALIK, Muhammad A.
MALILAY, Andrew Mari A.
MALIMAS, Ariel Conrad S.
MALINAO, Deborah D.
MALINAO, Pete C.
MALIT, Nathaniel P.
MALIWAT, Sharenn G.
MALLADA, Mariel F.
MALLARE, John Louis E.
MALLARI, Adrian Paul S.
MALLARI, Alan Aicriel M.
MALLARI, Hazel Marie Y.
MALLARI, Jeremiah B.
MALLARI, Justine Victoria M.
MALLARI, Peter Anthony T.
MALLARI, Riadale Mikaela Q.
MALLO, Jerrold C.
MALLORCA, Erika B.
MALMIS, Randy T.
MALONZO, Mark Laurence D.
MALTOS, Maureen Charisse A.
MALUBAG, Stephanie N.
MALUTO, Rapunzel Mae F.
MAMACLAY, Emeric C.
MAMANGON, Fatima C.
MAMARADLO, Gerald Q.
MAMARIL, Mariela Mae B.
MAMAUAG, Florenz Gabriel S.
MAMERGA, Leonard M.
MAMOGCAT, Jayhanne K.
MAMON, Joryl M.
MAMUCOD, John Paul M.
MAMUGAY, Ian Van B.
MAMUTUK, Romaisa L.
MANABAT, Mark Jim M.
MANABILANG, Fritz Jihann P.
MANADAO, John Reiñer G.
MANAHAN, Eurice Anne C.
MANAHAN, Megan Therese Y.
MANAHAN, Michaela Therese R.
MANAIG, Marielle Bernadette G.
MANAIG, Roselyn B.
MANALANG, Alyanna Marie T.
MANALAO, Sittie Amera T.
MANALASTAS, Claudette Irene S.
MANALASTAS, Jiathron O.
MANALASTAS, Mary Aiza M.
MANALIGOD, Antonio III C.
MANALIGOD, Illia Patricia J.
MANALILI, Mart Joel P.
MANALO, Jason A.
MANALO, Jinky Mae O.
MANALO, Meliza Joy P.
MANALO, Pamela Nicole N.
MANALO, Wilson U.
MANALOCON, Amerodin M.
MANALON, Nelson Jr. Y.
MANANGAN, Fernando Victor G.
MANANSALA, Archibald Jose T.
MANAO, Jonathan Sigfried G.
MANAOIS-AZARRAGA, Ma. Carla Margarita A.
MANARIN, James Hubert T.
MANAROS, Amer Hussien B.
MANAYON, Rose N.
MANCENIDO, Mach Jefferson S.
MANDA, Loren Marie B.
MANDAL, Asgar S.
MANDALUPA, Eleine Luv R.
MANDANTES, Maricar A.
MANDAP, Mark Ernest E.
MANDING, Ambayanan B.
MANE, Michelle Ann O.
MANEJA, Engelbert A.
MANEJA, John Ferdinand M.
MANG-USAN-DEGAY, Karen Sheila B.
MANGADANG-ABDULLAH, Aneesah Jamenah A.
MANGAHAS, Ma. Bianca D.
MANGANTULAO, Laura P.
MANGAO, Michael Kevin Edgar B.
MANGAWANG, Marneah Jeane D.
MANGAYA, Francis Luigi R.
MANGGAO, Manuel R.
MANGHI, Shekina B.
MANGIBIN, Ceres Margaret C.
MANGILIN, Maria Victoria S.
MANGILOG, Jude M.
MANGINSAY, Amira H.
MANGLAPUS, Aryan Ceasar J.
MANGLAPUS, Kria Celestine A.
MANGLICMOT, Russell Jay M.
MANGLIWAN, Mark T.
MANGOMA, Christine P.
MANGONDATO, Fatima C.
MANGOTARA, Raifah G.
MANGOTARA, Raisalie G.
MANGOTARA, Sitty Hannan B.
MANGUBAT, Cherry Lyn B.
MANGUBAT, Jeorge Ryan I.
MANGUBAT-GOMEZ, Reymunneth Frances E.
MANGUERA, Triccie Coleen A.
MANGUIAT, Julie Ann C.
MANGUILIMOTAN, Cenelyn D.
MANGUNI, Jeanifer L.
MANIEGO, Mary Edreen A.
MANIGBAS, Joyce D.
MANIGBAS, Riztian Dale D.
MANIGQUE, Jan Erik C.
MANINANG, Ernesto M.
MANIO, Glenn J.
MANIQUIS, Nadezna Maris P.
MANIRI, Muhammad Yasin M.
MANIT, Paolo U.
MANJAAL, Margaret R.
MANJARES, Justin Ian M.
MANLAPID, Glenn Matthew C.
MANLEGRO, Rhenfacel J.
MANLIGOY, Kristine Joy L.
MANLONGAT, Artemio Gonzalo A.
MANLULU, Rudolfh Kevin A.
MANODON, Kristiana Marie P.
MANOGAN, Mylene M.
MANONGYAO, Yvonne Jade D.
MANOTOK, Leah Christianilde F.
MANOY, Mary Ann Lenneth R.
MANTAC, Ryan Y.
MANTOS, Jasper B.
MANTOS, John Dexter B.
MANTUANO, Arvin Jay M.
MANUEL, Angelica Marie C.
MANUEL, Joselito C.
MANUEL, Josephine Joy .
MANUEL, Lowel Dave D.
MANUEL, Mary Joyce G.
MANUEL, Vernon Ged A.
MANUEL, Voz Eduardo C.
MANUEL, Wayne Dell L.
MANZANARES, Ernest Luigi A.
MANZANO, Aimee Rose L.
MANZANO, Alyanna Dyan G.
MANZANO, Bryan George M.
MANZANO, Carlou N.
MANZANO, Lyelly Marie C.
MANZANO-TESTADO, Maria Angela C.
MANZO, Miguel Cayo M.
MAPALAD, Jayson John P.
MAPALO, Adrian P.
MAPANOO, Anna Dominique L.
MAPILE, Dino Fernando P.
MAPOY, Tiarra Grace Z.
MAPPANG, Joy Francine B.
MAPUTI, Joey Ross V.
MAQUILING, Gem F.
MAQUIRAYA, Mark Gregory R.
MARAMARA, Ocace Dave R.
MARANAN, Angeli Lois A.
MARANAN, Gelaine P.
MARANAN, Roland D.
MARANAN, Sherie Anne C.
MARANGA, Mark Gabriel B.
MARASIGAN, Ma. Jeanne Therese G.
MARASIGAN, Mariella A.
MARAVE, Jason C.
MARAVILLA, Bea Charisse B.
MARAVILLA, Kathleen P.
MARAYAN, Maria Vanessa M.
MARAÑA, Marvin Toni Dulci R.
MARAÑON, Anne Beatrice N.
MARAÑON, Maila C.
MARBELLA, Faith T.
MARCELINO, Jose Jr. D.
MARCELO, Ernest Adams P.
MARCELO, Macy N.
MARCELO, Rohnwald T.
MARCELO, Trisha Mae A.
MARCELO, Trixie A.
MARCIAL, Edwin Jr. V.
MARCIAL, Mikhail Franco G.
MARCIAL, Roel Christian N.
MARCILLA, Karlo Francisco H.
MARCO, Mark Olyver T.
MARCO, Rafaela Carla A.
MARCOS, Ailene S.
MARCOS, Megan B.
MARGALLO, Menchell Ralph E.
MARGALLO, Vener Angelo C.
MARI, Mac Jerwin G.
MARIANO, Diana Lou D.
MARIANO, Ma. Cristina P.
MARIANO, Mark Jacob J.
MARIANO, Paul Andrew S.
MARIANO, Raffy M.
MARILIM, Edgar John O.
MARIN, Eljohn C.
MARIN, Wymmer Keith F.
MARINDUQUE, Melissa L.
MARIQUINA, Eva Marie C.
MARISTELA, Jacinth Felice L.
MARIÑAS, Maria Pacita M.
MARIÑAS, Marianne Ellaine G.
MARLING, Xyza M.
MARMETO, Gabriel R.
MARMOL, Anna Dominique G.
MAROHOM, Fatima Zuhra K.
MARONILLA, Ruby Patricia R.
MARPURI, Noreen Carmela O.
MARQUEDA, Marie Ann Claire D.
MARQUEZ, Camille Anne D.
MARQUEZ, Dominic Paolo C.
MARQUEZ, Jay Michael A.
MARQUEZ, Josef Romeo A.
MARQUEZ, Josemaria Ignacio M.
MARQUEZ, Michael Angelo V.
MARQUEZ, Reena Theresa C.
MARQUEZ, Reginald C.
MARQUEZ, Reyshanne Joy B.
MARQUEZ, Roi Edward D.
MARQUEZ-MASANGKAY, Mercy M.
MARTE, Martina Marlin S.
MARTEJA, Kenneth A.
MARTEJA, Michaela C.
MARTEL, Aldwin Dhon P.
MARTICIO, Queena M.
MARTIJA, Leiron Conrad T.
MARTIN, Auvrei A.
MARTIN, Dronel O.
MARTIN-MARCOS, Michelle Q.
MARTINEZ, Cherry Rose G.
MARTINEZ, Josen P.
MARTINEZ, Raphael Niccolo L.
MARTINEZ, Redendo E.
MARTINEZ, Rodrick A.
MARTINQUILLA, Marino Jr. R.
MARTIR, Cherry Ann Marie G.
MARU-CATAYOC, Chymn F.
MARUHOM, Datu Esma Mikee P.
MARZAN, Dina R.
MARZAN, Jeffrey O.
MASAMOC, John Mark M.
MASANGCAY, Marinel Elaine B.
MASANGCAY-SUDARIO, Ester Melody E.
MASANGKAY, Alexis Dawn L.
MASARATE, Jose Fernando B.
MASCARIÑAS, Hazel H.
MASCULINO, Jenine Anne V.
MASEDMAN, Moises P.
MASIGA, Llana Marie B.
MASLANG, Josephine K.
MASUERTE, Jayson M.
MATA, Geremae M.
MATA, Hanna Mae M.
MATABAN, Kenneth John D.
MATANOG, Norhanifa B.
MATAWARAN, Michael Kent M.
MATEO, Felix Jr. G.
MATEO, Mark Anthony T.
MATEO, Mary Evielyn N.
MATEO, Megan Mary F.
MATEO, Roseanne B.
MATIAS, Michelle Dulce C.
MATIB, Kelvin P.
MATIBAG, Lorenzo V.
MATIC, Kim Lamberth N.
MATIENZO, Maricris P.
MATIENZO, Shander A.
MATILING, Charissa J.
MATOL, Greghvon A.
MATORRES, Runiel Reel S.
MATSUMURA, Mayumi G.
MATSUYAMA, Futoshi Ivan T.
MATUGUINA, Ma. May P.
MATUNOG, Raissa N.
MATURA, Edwin P.
MAULION, John Adrian D.
MAUNES-IGOT, Mida Lynn M.
MAURIN, Niño Jay M.
MAWAK, Rufert Benedict D.
MAYOR, Franz Kevin L.
MAYOR, Mathew Rodson Jr. Q.
MAYOR, Rayson M.
MAYORDO, Marjorie Anne N.
MAYUGA, Marnille Dianne T.
MAÑALAC, Genevieve Kristine B.
MAÑALAC, Ma. Francesca Alexis P.
MAÑARA, Faith Evangeline L.
MECONO, Riddick M.
MEDALLA, Jose Patricio S.
MEDALLE, Kimberly Kathe O.
MEDIANERO, Dianne P.
MEDIAVILLO, Ronel L.
MEDINA, Caryl Louise L.
MEDINA, Dean Harold Danzen V.
MEDINA, Doris Marie M.
MEDINA, Maureen Anne B.
MEDINA, Mykee Ferdinand Jr. B.
MEDINA, Rabelais F.
MEDINA, Yves Peter Carlo D.
MEDRANO, Angelica C.
MEDRANO, Joseph D.
MEGUISO, Kimberly G.
MEJIA, Brian Christopher R.
MEJIA, Jetter Jones N.
MEJIA, Melanie P.
MEJIA, Niño Karlo O.
MEJICA, John Paolo A.
MEKING, Hazel L.
MELCHOR, Christine Joyce B.
MELCHOR, Lyndon Pedro Jay Jr. B.
MELECIO, Jonas T.
MELEGRITO, Arianne B.
MELENDEZ, Aaron James C.
MELENDEZ, Berchman Jr. L.
MELENDREZ, Marie Florienne F.
MELIVO, Beatrice C.
MELO, Katrina May S.
MELOCOTON, Rena Mae D.
MENCHAVEZ, Ruben Y.
MENDEZ, Rochelle B.
MENDEZ, Ryan E.
MENDIOLA, Gail Bernadine T.
MENDIOLA, Glenn Mikko V.
MENDIOLA, Iris L.
MENDIOLA, Samantha Isabel A.
MENDIOLA, Yza Marie T.
MENDOZA, Alyanna Louise B.
MENDOZA, Angelica P.
MENDOZA, Anne Cyrille C.
MENDOZA, Armand Kevin S.
MENDOZA, Barleon R.
MENDOZA, Cheyzer Crystal Citadel J.
MENDOZA, Christine Joyce S.
MENDOZA, Ciari T.
MENDOZA, Criselda Buhay P.
MENDOZA, Danica E.
MENDOZA, Daphne Dianne D.
MENDOZA, Edward Paul P.
MENDOZA, Elliana D.
MENDOZA, Irvin Alexei A.
MENDOZA, Joel B.
MENDOZA, John Alfred H.
MENDOZA, Jose Mari I.
MENDOZA, Joseph Anthony B.
MENDOZA, Juris Renier C.
MENDOZA, Justin Zosimo D.
MENDOZA, Lalaine N.
MENDOZA, Larry Jack R.
MENDOZA, Lawrence Jesse S.
MENDOZA, Loumari B.
MENDOZA, Mark Ivan Chester J.
MENDOZA, Mia Cielo P.
MENDOZA, Mildred A.
MENDOZA, Nepomuceno III M.
MENDOZA, Nia Coline M.
MENDOZA, Rafael Jerome M.
MENDOZA, Raphael Antonio F.
MENDOZA, Robin Ron Z.
MENDOZA, Romano U.
MENDOZA, Yralli C.
MENDOZA-ULEP, Irene Joy A.
MENESES, Allyn Franz C.
MENESES, Jasper A.
MENESES, Justin Leanne A.
MENESES, Rosendo IV D.
MENESES, Yves Tristan R.
MENGULLO, Keith B.
MENGULLO, Teneessee Anne L.
MENIL, Mario Josshua C.
MENOR, Hanzel P.
MENOR, Rose Anne G.
MENORCA, Jonessa Marie B.
MENZON, Romualdo Jr. A.
MERCADER, Natalio A.
MERCADO, Bryan Jude .
MERCADO, Hilary Faye A.
MERCADO, Jasmin Angela Dhey D.
MERCADO, Jay P.
MERCADO, Marc Edmer Glen A.
MERCADO, Mervin John P.
MERCADO, Patricia Anne M.
MERCADO, Rasselle Louise L.
MERCADO, Sergio Luis M.
MERCADO, Sofia Mikaela D.
MERERIA, Aldrin Carlos Niño A.
MERGAS, Krema Jean C.
MERIDA, Arabella A.
MERIDA, Gertrude D.
MERILLES, Marion Iya D.
MERINO, Marian Gae V.
MERRERA, Raisa Victoria G.
MERTO, Paul John C.
MERU, Immanuel Anthony E.
MESA, Jonna Isabel M.
MESIAS, Ryanlee G.
MESIERA, Ivan Alfred D.
MESTIOLA, Rona A.
MIANO, Aimele Rose M.
MIANO, Edemarah C.
MIANO, Sergio Jr. B.
MICABANES, Maribell T.
MIDSALIPAG, Datu Nur-hamsa A.
MIDTIMBANG, Mohamad-ali Jr. S.
MIER, Sosthenes Arnold F.
MIGANO, Daryll Generyn B.
MIGUEL, Czar Rafael II B.
MIGUEL, Gene Michael T.
MIGUEL, Maria Therese Louise C.
MIGUEL, Syra M.
MIGUEL, Vianca Mikaella S.
MIGUEL, Victor Caesar G.
MIJARES, Maria Richelle A.
MILAN, Joanne Vhale C.
MILAN, Michael L.
MILANES, Ylona Grace R.
MILITAR, Natasha Czarina A.
MILLARES, Charlene Joy W.
MILO, Martel John F.
MINA, Allan Rey R.
MINA, Florianne Joy D.
MINA, Ma. Christina A.
MINGOA, Kiichi Lyne F.
MINGUA, Syna Ruth M.
MINOR, Marife R.
MINTAR, Juvy Jr. B.
MIOLE, Lorena V.
MIPANGA, Faramillah T.
MIRA, Charlene Mae D.
MIRABEL, Lydia Marie I.
MIRADOR, Patricia Therese C.
MIRALLES, Violeta L.
MIRALPES, Normilyn A.
MIRAMBEL, Marjorie P.
MIRAMON, Victor B.
MIRANDA, Charmen Mae M.
MIRANDA, Clarisse Ann K.
MIRANDA, John Jerald P.
MIRANDA, Michelle Z.
MIRANDA, Selina Alessandra M.
MIRANDA, Ysabelle Rei P.
MIRANO, Erlyn E.
MIRASOL, Kriztine Clairence R.
MIRHAN, Jaime Mathew R.
MIROY, Jasmin D.
MISA-OROWAN, Marlen C.
MISAGAL, Jan Ivan Y.
MISAGAL, Winnie Ann L.
MISALANG, Ma. Criste Giesel H.
MISOLA, Mark Gil E.
MISON, Ramil Daniel J.
MISTERIO, John Kessler S.
MIÑOZA, Shawn Michael P.
MOC-ENG, Maggie B.
MOCTAL, Nurhanna A.
MOCTAR, Nasheba M.
MOHAMAD, Nabila E.
MOJANA, Elisa O.
MOJARES, Mae Antonette L.
MOJICA, Felicia Marie Jemima D.
MOJICA, Marianito III Q.
MOJICO, Marie Belle A.
MOKAMAD, Abraham A.
MOKAMAD, Kaleef A.
MOLABOLA, Ray Lemuel D.
MOLANO, Loridema M.
MOLIJON, Lexxa Jane T.
MOLINA, Leslie Ann Bennita R.
MOLINA, Marceliano III N.
MOLINA, Rene G.
MOLINA, Ron C.
MOLINO, Vanessa Marie C.
MON, Michael Granville V.
MONARES, Eydie Marie G.
MONCUPA, Bernadette J.
MONDAY, Rafael Kieran M.
MONDAY, Ralph L.
MONDEJAR, Vicman Jr. T.
MONDIDO, Victor Oliver T.
MONDIGO, Jennifer Faith A.
MONDRAGON, Nice R.
MONDRAGON-GAWARAN, Marianne M.
MONER, Jasmen L.
MONES, Marllowe L.
MONES, Mikkaela Benedict S.
MONGAYA, Katrina Maristel A.
MONGE, Jellie C.
MONINIO, Neil Bryan N.
MONJE, Kathreen Li V.
MONSALE, Karl Francis B.
MONSALUD, Mikaela T.
MONSANTO, Bret B.
MONTALBO, Gladee C.
MONTALBO, Loi Francis M.
MONTALES, Shannah Marie O.
MONTALES-DOLOM, Theresa Marie I.
MONTALLANA, Kessey N.
MONTALVO, Henpritz M.
MONTANCES, Jane Mabel F.
MONTAÑER, Ayeeza Haira Fathma C.
MONTAÑO, Ram Richsmart V.
MONTAÑO, Ronniel P.
MONTE, Pat P.
MONTE, Victoria Denise M.
MONTECILLO, Maria Mae Florence A.
MONTELLANO, Ronald Kevin L.
MONTEMAYOR, Aira Nikka S.
MONTEMAYOR, Maria Socorro R.
MONTENEGRO, Benedict Leandro .
MONTENEGRO, Francesca Isabel P.
MONTEREAL, King Anthony M.
MONTERO, Cherith Inna D.
MONTERO, Gizelle Karina D.
MONTERO, Maryjoy P.
MONTERO, Roger Jr. B.
MONTES, Lyndon N.
MONTES, Maria Francesca R.
MONTES, Vincent N.
MONTESA, Albert Vincent B.
MONTESA, Andrew W.
MONTESA, Karl Romilo C.
MONTEVERDE, Angelo Seigfreid S.
MONTILLA, Mary Ann R.
MONTON, Rejean P.
MONTOR, Shericka Jade V.
MONTORO, Juan Miguel E.
MONTOYA, Jacques Evan M.
MONTOYA-PARAGAS, Shiela-ann R.
MONZON, Jessa Marie M.
MONZON, Ronan Angelo R.
MORA, Leangie L.
MORA, Mirielle Anne S.
MORADO, Princess Angelica P.
MORAGA, Clarissa G.
MORALEJO, Donald Jay E.
MORALES, Auramil Anne E.
MORALES, Carol Ann S.
MORALES, Crissa Jean M.
MORALES, Edilyn T.
MORALES, Genie C.
MORALES, Inah Marie Z.
MORALES, Karen A.
MORALES, Mary Armin Ofelia B.
MORALES, Patrick Jay F.
MORALES-SABILE, Anna Katherine P.
MORALLOS, Marc Aleh B.
MORANTE, Precious Hope H.
MORATALLA, Ma. Cristina L.
MORAÑA, Leilani L.
MORDENO, Francise Mae M.
MORE, Minstrelle S.
MORENO, Robert Paul A.
MORENO, Ruby Rose Faith G.
MORES-BAYTEC, Shiela M.
MORGADO, Christine Anne A.
MORPE, Zelayne G.
MORTEL, Andre B.
MOSLARES, Cherie Lyn D.
MOSOT, Lodivico Pett Jr. Q.
MOSTAJO, Liane Hilary Gale N.
MOTE, Amelyn A.
MOTILLA, Alvin D.
MOTIO, Levin Dwytte T.
MOTOOMULL, Gopaldas III O.
MOTUS, Nikki Mae S.
MOYA, Reynaldo Jr. N.
MUDANZA, Juree B.
MUGAS, John Michael .
MUKARAM, Adzmar K.
MUKSAN, Ameir Sayeed A.
MUNDER-GANDAMRA, Sittie Aina D.
MUNDIN, Bianca Nympha S.
MUNDO-SABIO, Mary Jane S.
MUNGCAL, Joanna Krystle .
MUNGCAL, Justin Benedict S.
MUNIEZA, Godofredo T.
MUNSAYAC, Edgardo H.
MURATA, Dominic Nikki D.
MURIA, Nadja Valerie M.
MURILLO, Golda Marielle G.
MURILLO, Niño Jesus G.
MURJANI, Pooja L.
MUROS, Ed II C.
MURRAY, D.n. Abubakar A.
MUSA, Purita G.
MUSLIM, Nafeedah M.
MUTI, Saimah M.
MUTILAN, Safenaz L.
MUTOC, Maria Cor Reyna M.
MUYUELA, Edsel M.
MUÑOZ, Danice Joy V.
MUÑOZ, Ma. Luisa C.
MUÑOZ, Samantha Jo C.
NA-OY, Mark Francis O.
NABO, Carlo T.
NACA, Angelica Marie S.
NACES, Adonis A.
NACILLA, Nica Jenine O.
NACORDA, Joan G.
NACPIL, Gerald L.
NADAL, Leandro Agustine P.
NADONZA, John Raphael T.
NAGA, Princess Emeresa A.
NAGAMORA, Jamairah A.
NAGAYNAY, Vail Michael P.
NAGUIAT, Isabella Marie L.
NAIG, John Paul J.
NAJERA, Lea Antoneth D.
NALANGAN, Lemuel P.
NALDO, Cristina L.
NALUG, Dario T.
NAMBATAC, Zylla Abigail S.
NAMOCA, Daniella A.
NANG, Reginald M.
NAPA, Clarizza Grace D.
NAPAY, Joan Don A.
NAPIGUE, Rodlison Ervin A.
NAPOCAO, Alwin Ray M.
NAPOLIS, Elvie T.
NARAG, Juliette A.
NARCA, Arvin Clemm Q.
NARCILLA, Princess Melody L.
NARCISO, Marien S.
NARDO, Darryl Shane S.
NARSHALL-REQUIZA, Lorraine Mae D.
NARSOLES, Kristine Joy P.
NARTEA, Riyani Marie M.
NASIS, Jovelyn T.
NATAA, Vera L.
NATANGCOP, Sittie Intifadah M.
NATIAL, Aldrin James N.
NATIVIDAD, Jaima G.
NATIVIDAD, Jan Elna A.
NATIVIDAD, Kelly Clark M.
NATIVIDAD, Miamor D.
NATIVIDAD, Paolo Miguel S.
NATU-EL, Neil P.
NATUPLAG, Nikko Marie Beatriz S.
NAVAL, Vincent Matthew P.
NAVALES, Mrk Ericson L.
NAVALES, Virginia M.
NAVALTA, Monique E.
NAVARRO, Ann Maureen A.
NAVARRO, Bea Czarina B.
NAVARRO, Benjamin III V.
NAVARRO, Dawn Mae M.
NAVARRO, Ezekiel Demetrio J.
NAVARRO, Jaypherson M.
NAVARRO, Jianne Rose Augustine V.
NAVARRO, Justine A.
NAVARRO, Kyle Dominique L.
NAVARRO, Rafael Christian S.
NAVARROZA, Armand V.
NAY-UD, Janice D.
NAZARENO, Paolo J.
NAZARIO, Christopher G.
NAZARIO, Sambrina Vel D.
NAZARREA, John Patrick M.
NEBATEN, Frederick B.
NEBATO, Felino P.
NEBREJA, Veronica J.
NEBRES, Kristine Joy M.
NEBRIDA, Massabielle Sherlaine L.
NEBRIDA, Samuel Jr. P.
NEBRIL, Andrew A.
NECESITO, Criselda V.
NEGADO, Carlo Angelo T.
NEGAPATAN, Art Ryan P.
NEGRE, Johanne Daniel M.
NEGRE, Julia Rio Therese M.
NEGRILLO, Joseph C.
NEGRILLO, Noemi R.
NEPOMUCENO, Ma Anthea Rose B.
NEPOMUCENO, Marlo S.
NEQUINTO, Maydelyn Joy B.
NERI, Revy Medrick D.
NERIA, Christine O.
NERY, Kara Evangelee G.
NESSIA, Gabriel Louis O.
NEYRA, Alvin A.
NG, Raymond S.
NG, Stephanie Y.
NGEO, Diane Jade G.
NGINSAYAN, Mylene L.
NGIPOL, Martin Jr. B.
NGUJO, Monica Pearl D.
NIBATEN, Jeriko B.
NICASIO, Emmanuel G.
NICHA, Joy Rosal Fe P.
NICOLAS, Krizia Camille P.
NICOLAS, Manny Rose B.
NICOLAS, Nikki M.
NICOLAS, Reynaldo Jr. P.
NIDEA-MOLAVE, Kaena Marie L.
NIDUA, Precious-ann N.
NIEDO, Sancho III C.
NIEL, Earl Wences Joseph P.
NIERE, Katherine R.
NIERE, Sherlyn S.
NIETO, Gizelle Ann V.
NIETO, Marimar T.
NIEVA, Michael Benjohn N.
NIFAS, Gabriel Vincent G.
NILO, Jhon N.
NILO, Kristian John P.
NINI, Fidel Rico Y.
NIOG, Jefferson E.
NIOG, Tristan G.
NIPAHOY, Aivy G.
NIQUIA, Alfie Jay O.
NITOYA, Lea A.
NITURA, Arnel B.
NIÑOFRANCO, Ryan P.
NOBLES, Christian Shane L.
NOBLES, Michelle T.
NOCOMORA, Julius B.
NOEL, Jonathan Victor S.
NOL, Danica V.
NOLASCO, Charlotte Juven T.
NOLASCO, Jaime Rene F.
NOMBRES, Clarissa O.
NOMBRES, Tracy T.
NOTARIO, Rowena D.
NOVAL, Efren June L.
NOVAL-CABALES, Maria Cristina M.
NOVELA, Conie P.
NOVENO, Kathlene D.
NOVIO, Virgilio IV T.
NUDO, Davy Roger R.
NUEVA, Cherry Ann Ryce C.
NUEVAESPAÑA, Sharmaine P.
NUFUAR, Leigh O.
NUGAL, Celeste Marie R.
NUGUIT, Jeodinard P.
NULIAN, Dolores R.
NUNAG, Maria Riza V.
NUQUE, Vanya Klarika E.
NURUDDIN, Mardheeya S.
NURUDDIN, Shara Monia A.
NUVAL, Janelle B.
NUÑEZ, Chloe Allyn L.
NUÑEZ, Emerson R.
NUÑEZ, Jeffrey Carlo M.
NUÑEZA, Peter Lou P.
OATEMAR, Psydi Mae O.
OBALDO, Gladys D.
OBAOB, Laurence M.
OBAOB, Niervana Mia P.
OBEJAS, Kiefer Thomas M.
OBERO, Karen Liz D.
OBIAS, June Romeo Jr. O.
OBIEGBU, Precious Esther Uchenna M.
OBILLOS, Arnold Adelo P.
OBLIGADO, Shane C.
OBLIGAR, Ralph Angelo G.
OBNAMIA, Atillah T.
OBNAMIA, Hamilcar T.
OBNAMIA, James Evan I.
OBRA, Juralyn Lilian A.
OCAMPO, Christopher Warren M.
OCAMPO, Estelle Marie A.
OCAMPO, Glendoris R.
OCAMPO, Jaden B.
OCAMPO, Joshua Paulo A.
OCAMPO, Luis Miguel F.
OCAMPO, Maria Charina Asuncion G.
OCAMPO, Maria Teresa Ann R.
OCAMPO, Miguel Angelo C.
OCAMPO, Patricia Anne T.
OCAMPOS, Doris Enecita M.
OCANA, Leonel O.
OCASO, Winona Vee L.
OCCIANO, Mishael R.
OCLARIT, Alberto T.
OCMEJA, John Niño Rey G.
OCON, Kimberly P.
ODASAN-REYES, Sheryl G.
ODSEY, Vanayan D.
ODSINADA, Herbert R.
OFLEAR, Rodel S.
OGAD, Mike Francis .
OGATIS, Michelle A.
OGAYON, Ralph Vincent M.
OGUIS, Reese B.
OINEZA, Jonathan Tomas D.
OKIT, Porchia Mae S.
OLABRE, Ma. Aleli E.
OLALIA, Erikson Q.
OLAMIT, Ara Princess O.
OLAMIT, Ryan Paul A.
OLAPE, Dixie Gale G.
OLARITA, Cristina .
OLARTE, Yna Darla M.
OLAS, Reynante D.
OLAVE, Vestiah A.
OLAVERIA, Catherine C.
OLAYRES, Rhea J.
OLAZO, Stephen Andy M.
OLIVA, Cris Albert B.
OLIVA, Katrina Mae Elaine A.
OLIVA, Pauline Antonette G.
OLIVA, Raven Jam B.
OLIVA, Renil B.
OLIVAS-UGAY, Edelwin T.
OLIVEROS, Aimee Nicole L.
OLIVEROS, Eloisa A.
OLIVEROS, Jeffrey B.
OLIVEROS, Julia Mae F.
OLIVEROS-NACUA, Lyn E.
OLIVETE, Katherine Joyce C.
OLLERO, Arnel C.
OLLERO, Gail G.
OLLERO, Juan Paolo Maurino R.
OLMILLO, Gecirs B.
OLONDRIZ, Marie Charlotte G.
OLORES, Emmanuel M.
OMADTO, Evangeline P.
OMAMALIN, Jani G.
OMAOENG, Connie Joy A.
OMAR, Norlainie C.
OMAR, Nur Ameen T.
OMAÑA, John Vicker B.
OMEGA, Ma Carol Luz L.
OMEGA, Mary Jun B.
OMILLIO, Limuel R.
OMOS, Kristina Marie M.
OMOSO, Donna Marie B.
ONA, Christopher Michael G.
ONA, Einstein M.
ONA, Zhaira Louise L.
ONAYAN, Kimberly Ann D.
ONDA, Marinette B.
ONDANGAN, Ranzel V.
ONDONG, Joan Victoria D.
ONG, Alley I.
ONG, Daniel Emerson B.
ONG, Dominic Edcel B.
ONG, Ellijah Erl S.
ONG, Janet Vylle T.
ONG, Lauren Isabel S.
ONG, Madeleine Jan T.
ONG, Paolo Montano M.
ONG, Sapphire Rose M.
ONG, Stanley P.
ONG, Tyrone Lewis D.
ONG, Vincent J.
ONG, Xyrus Stevenson R.
ONG VAÑO, Augustine Ignatius V.
ONGCUANGCO, Mellany V.
ONGLEO, Eric Ryan C.
ONGSIAKO, Regina Isabel R.
ONGTENCO, Kristine Pauline M.
ONGTIOCO, Bryna Jane D.
ONIA, Steven Ralph S.
ONOD, Arcelli B.
OPAMIN, Annabelle I.
OQUENDO, Francine Rae Y.
ORA, Katrina B.
ORACION, Irene L.
ORALLO, Rene II C.
ORAN, Pastor III A.
ORANDA, Vergil Ray S.
ORBE, Simon Jr. J.
ORCULLO, John Paul D.
ORCULLO, June Irekka C.
ORCULLO, Ma. Karisha Mae C.
ORCULLO, Salve Regina L.
ORCULLO, Scranton L.
ORCULLO, Vogue Vernal B.
ORDESTA, Marycris G.
ORDILLO, Nazzel D.
ORDINARIO, Ronald B.
ORENA, Joy D.
ORENSE, Ma. Lorna I.
ORIGENES, Alain S.
ORIGENES, Jason E.
ORILLA, Adonis C.
ORLINO, Randlier A.
ORNELAS, Elmore Edward J.
OROCEO, Karol Grace G.
OROLFO-OLIVAR, Metha Dawn H.
OROPEL, Oliver John R.
ORPILLA, Francisco Jr. M.
ORQUIA, Basil Ian M.
ORTEGA, Anna Lauren Marie D.
ORTEGA, Danielle Bianca G.
ORTEGA, Gerwin M.
ORTEGA, Ignatius Dominic C.
ORTEGA, Justin Caesar Q.
ORTEGA, Kella A.
ORTEGA, Marni Fenina F.
ORTEGA, Mary Grace L.
ORTEZUELA, Arianne Trisha C.
ORTILANO, Anna Leizl H.
ORTIZ, Angelito M.
ORTIZ, Bianca Isabella J.
ORTIZ, Chiradee C.
ORTIZ, Francis Edmund D.
ORTIZ, Junmer Z.
ORTIZ, Kathleen Anne S.
ORTIZ, Laurence Gerard F.
ORTIZ, Lea Lynn G.
ORTIZ, Lillian Leslie F.
ORTIZ, Ma. Katrina Rafaelle M.
ORTIZ, Maria Theresa J.
ORTIZ, Neill Matthew Addison N.
ORTIZ, Saul Aries Marck V.
ORTIZ-JALAPA, Diana A.
ORTIZO, Grandeureign D.
ORTUOSTE-SAMBA, Maria Mikkoh R.
ORYAN, Aira M.
OSAL, Joe Danny N.
OSIAL, Rolindo Fausto A.
OSINGAT, Efraim C.
OSONGCO, Tristan G.
OSORIO, Lee D.
OTANES, Cherie Art D.
OTCHENGCO, Albertson P.
OTICO, Maria Lea Bernadeth S.
OTIDA, Reynand A.
OUANO, Deana Kaye A.
OUANO, Jansen Ynrik V.
OUANO, Joshua Felix .
OYALES, Jemma Z.
OYZON, Uldarico Jr. Q.
OZARAGA, Maria Rebecca C.
OÑATE, Ziv Angelo B.
PABALAN, Cid Benedict D.
PABALAN, Uriel Pieter D.
PABALAN-LUMBAO, Danica V.
PABALAY-ROJAS, Mary Rocelyn C.
PABAS, Alfredo Jr I.
PABELONIA, Pamela Denise V.
PABIA, Jestoni Y.
PABILONA, Byrone L.
PABLEO, Donali Gem M.
PABLO, Jason Kervy D.
PABLO, Michelle F.
PABLO, Ralph Karylle P.
PABLO, Roi Marru L.
PABLO, Xavier C.
PABON, Lara Imelda D.
PABUAYA, Daisy B.
PACALAN, Romeo Jr. V.
PACALIOGA, Ramon Arturo III R.
PACALSO, May Irene A.
PACAMALAN, Dirika D.
PACANA, Ma. Regina Corazon C.
PACARIEM, Kristine Bernadeth A.
PACASUM, Aljohn S.
PACHAO, Diane Blake B.
PACHECO, Jose Acerey Jr. M.
PACIS, Mia Micah N.
PACLIPAN, Grecel B.
PACQUING, Vicente Jr. C.
PACSA, Gennady G.
PACSON, Sharmaine Maila P.
PACUNAYEN, Ariana G.
PACURIBOT, Joanne Marie D.
PACURIBOT, Melissa Leah D.
PADATE, Nasif Numeiry A.
PADAYAO, Michelle B.
PADAYAO, Rae Jan Krystle M.
PADAYHAG, Christine Rose S.
PADAYHAG, Marlon P.
PADDAYUMAN, Shelomith B.
PADERANGA, Emmanuel Antonio Jr. R.
PADERANGA, Ria Faye P.
PADERAYON, Katrina Alyanna G.
PADERES, Ethel Mae G.
PADERNAL, Niño A.
PADIERNOS, Gia Janella D.
PADILLA, Christian M.
PADILLA, Eenah Joelle A.
PADILLA, Gerald Christopher M.
PADILLA, Jean Danica A.
PADILLA, Jemmilyn E.
PADILLA, Joana Liza S.
PADILLA, Lance Christopher D.
PADILLA, Ysmael R.
PADILLA, Zoe Ysabel D.
PADIN, David Roy C.
PADRIGO, Cris Juan Miguel N.
PADRONES, Mark Christopher F.
PADRONES, Rica Marie L.
PADUA, Arjie Paul C.
PADUA, Ella Marie D.
PADUA, Julie Ann E.
PADUA, Marie Rojan S.
PADUA, Shuah S.
PADUAL, Joseph C.
PADUGANAN, Francis Andrew O.
PADUGANAN, Lalaine D.
PAESTE, Christian Rewell A.
PAESTE, Lybenson B.
PAEZ, Jane Anne Rachelle T.
PAGADDUT, Aubrey S.
PAGADUAN, Benilda O.
PAGADUAN, Grace Ruth Gladdy Mae G.
PAGADUAN, Jonathan D.
PAGALA, Nicolo T.
PAGALILAUAN, Cenon II M.
PAGALILAUAN, Marlena M.
PAGALILAUAN, Raul Che M.
PAGALILAUAN, Romeo F.
PAGALILAUAN, Teodora B.
PAGAOA, Harry Dave O.
PAGATPAT, Karl A.
PAGBILAO, Raymond Eigel R.
PAGCALIWAGAN, Gee O.
PAGCALIWANGAN, Marvie L.
PAGCO, Christopher Ronn Q.
PAGDANGANAN, Ariana Cristelle L.
PAGENTE, Jigg Lynnard B.
PAGGABAO, Michael B.
PAGKANLUNGAN, Jose Angelo P.
PAGLINAWAN, Al Mayo Sandino C.
PAGSUYOIN, Joanna Marie Y.
PAGTALUNAN, Maylen C.
PAGTAN, Joenel T.
PAGUILA, Neeneelyne C.
PAGUIRIGAN, Keithley Don P.
PAGULAYAN, Gionico L.
PAGULONG, Gladys Gay B.
PAGUNTALAN, Sam M.
PAGUYO, Joy Fellenor F.
PAHATI, Pia Roelen C.
PAHAYAHAY, Maria Karen A.
PAHAYAHAY, Wildy L.
PAHUDPOD, John Jefferson M.
PAHUNAO, Mary Joy S.
PAISO, Shermiruz S.
PAJAO, Shanya Mair Laureen D.
PAJARIN, Patrick Rommel M.
PAJARITO, Henio M.
PAJIMOLA, Allan Hil B.
PAJO, John Carlo T.
PAJO, Lawrence Carmelo T.
PAKIL, Abdul Wahid M.
PAKURAN, Gina K.
PALACIO, Jade Rezwen Carlo L.
PALACOL, Celyn Ann Mae S.
PALAD, Arlene T.
PALAD, Gian Pauline G.
PALAD-BAUTISTA, Nolibelle Anne P.
PALAMOS, Edrelynn Joy C.
PALAMOS, Maria Ysabella B.
PALAPUS, Jarolyne T.
PALASAN, Dariel S.
PALASAN, Lenie B.
PALATTAO, Jezebel Guen C.
PALATTAO, Niajhan Rosekhan P.
PALCE, Abraham B.
PALCULLO, Phoebe J.
PALENCIA, Dexter John B.
PALENCIA, Marie Alissandra S.
PALER, Chona Mae I.
PALER, Mark Harold S.
PALGAN, Mae Emmeline M.
PALIS, Dan Rafael H.
PALISPIS, Jaimar D.
PALLON, Anna Leah P.
PALMA, Karen Clarisse P.
PALMA, Kristine Ann R.
PALMA, Marde E.
PALMA GIL, Louis F.
PALMARES, Alfredo Clement C.
PALMARES, Allaric Luig B.
PALMARES, Johnson M.
PALMERO, Ayzel Lea R.
PALMES-VILLARO, Emlyn A.
PALOMAR, Gelbert M.
PALOMATA, Jan Maxine P.
PALOMENO, Tonee Rose M.
PALOMO, Ronna Athena A.
PALORMA, Larizza Gail B.
PALTING, Lexter E.
PALUTKE, Lyerra P.
PAMA, Edelyn E.
PAMA, Roland Gregory T.
PAMA-ATILANO, Florlyn M.
PAMBUAN, Ma. Stella D.
PAMFILO, Maicah Marie A.
PAMONAG, Giovanni L.
PAMPLONA, Jose Guiller A.
PAMPLONA, Maria Lucila M.
PAMPLONA, Val Raphael A.
PANAGA, Anne Louise T.
PANAGA, Gail F.
PANALIGAN, Celina Marie T.
PANALIGAN, Joanna G.
PANALIGAN-CARABALLE, Janice C.
PANAY, Angelika Mariko B.
PANDA, Amal Jayieda A.
PANDANDUYAN, Janica B.
PANDAPATAN, Alija Rowie Schailey M.
PANED, Jheia Lindhelle N.
PANER, Glaicee Joy T.
PANERIO, Jan Mikhail J.
PANGAN, De Paolo E.
PANGAN, Eissel D.
PANGAN, Ian P.
PANGAN, Vincent Paul S.
PANGANIBAN, Ma. Carolane S.
PANGANIBAN, Marc Jian U.
PANGANIBAN, Roman Cyril A.
PANGANIBAN, Shanna Mae L.
PANGATUNGAN, Joshly C.
PANGCATAN, Analyn W.
PANGESFAN, Shareene F.
PANGILINAN, Imran A.
PANGILINAN, John Stephen B.
PANGILINAN, Marie Elaine Legis V.
PANGILINAN, Patrick Jay P.
PANGILINAN, Vloudy Mia S.
PANIM, Jermaine I N.
PANLAQUE, Charmaine J.
PANLASIGUI, Marben M.
PANLILIO, Demi Aubrey R.
PANLILIO, Donna Marie B.
PANNOGAN, Roy Christian Rush A.
PANO, Gretchen R.
PANOPIO, Maren Dynel I.
PANOTES-LIBARDO, Sheila Mae L.
PANTALEON, Ivy Mae D.
PANTALEON, Jea Verdine C.
PANTANOSAS, Queen Harra Sheigila .
PANTE, Daniel Joseph T.
PANTINO, Steffi Kay D.
PANTOJA, Joshua L.
PANTOÑAL, Cynthia V.
PAPAS, Keziah Cyra B.
PAQUERA-CUARTERO, Elvira V.
PAR-OGAN, Annie Joy A.
PARADO, Ma. Angela Pia P.
PARAGADOS, Janicka P.
PARAGAMAC, Christopher S.
PARAGAS, Carla Louise F.
PARAGAS, Novelle Q.
PARAGAS, Ted Teodulo Jr. R.
PARALEJAS, Charlemagne R.
PARAS, Erika Bianca G.
PARAS, Jimmy Jr. G.
PARAS, Joaquin Jerome A.
PARAS, Justin S.
PARCE, Pamela M.
PARCIA, Charlie Jr. B.
PARCON, Junfe S.
PAREDES, Angelica I.
PAREDES, John Patrick H.
PAREDES, Pebbles B.
PAREJA, Mark Genesis C.
PARIAN, Roy Joseph C.
PARIÑAS, Jolly Faith B.
PARMES, Jean Marion O.
PAROY, Kurdel Johansen C.
PARRAS, Thea Ivory B.
PARREÑO, April Liz A.
PARROCHA, Boon Irish D.
PARRUCHO, Fernando Tomas B.
PARULAN, Kathleen A.
PARUNGAO, Andrew James F.
PARUNGAO-MARTINEZ, Reby Q.
PASA, Roxanne Unica H.
PASAJOL, Joan G.
PASANDALAN, Abdulkadir Jr. D.
PASANO, Nestor Vicente D.
PASCACIO, Mariecel M.
PASCO, Deanne Mitzi S.
PASCO, Raymond B.
PASCUA, Bridgeta Fatima Y.
PASCUA, Haziell P.
PASCUA, Jaybee D.
PASCUA, Jemmarie Q.
PASCUA, Joanna B.
PASCUA, Kim Kenneth P.
PASCUA, Lyka L.
PASCUA, Mark Ryan L.
PASCUA, Rownelee G.
PASCUAL, Ana Marie Angelica D.
PASCUAL, Bernice Joy G.
PASCUAL, Bernina Victoria Josefina I.
PASCUAL, Carlos Jr. M.
PASCUAL, Evangeline P.
PASCUAL, Feliz Khristine H.
PASCUAL, Maverick G.
PASCUAL, Victorio B.
PASIA, Kristel Louise S.
PASIA, Norvie Aine C.
PASIGAN, Lovely Joy E.
PASION, Joana May B.
PASION, Justin P.
PASION, Kevin Christian A.
PASION, Mary Anne M.
PASION-GOLBERG, Sandra T.
PASOS, Abigail C.
PASSOL, Jarrett L.
PASTILLERO, Mary Rose A.
PASTOR, Brian L.
PASTOR, Ma. Genevieve G.
PASTOR-DALAUIDAO, Cherry Chris T.
PASTORES, Kristine P.
PASTORFIDE, Noel G.
PASTORIZA, Giselle L.
PASTRANA, Jose Narciso B.
PASTRANA, Mae Sharmane T.
PASTRANA, Monina Ann B.
PATACSIL, Romel C.
PATAOTAO, Jay Lord Adonis L.
PATAUEG, Kenneth Roy A.
PATAWARAN, Pocholo Rae N.
PATENIO, Kevin Mikhail D.
PATENTE, Karen U.
PATETICO, Arnel I.
PATIÑO, Rhodora D.
PATOC, Sanivier Silver Anthony J.
PATORAI, Sittie Farinah R.
PATRICIO, Aira Joyce G.
PATRIMONIO, Manuel Nelson II B.
PATRON, Dexter Kim Y.
PATRON, Freya Elessandra G.
PAULATE, Cresente III C.
PAULINO, Arvin Ian M.
PAULINO, Trizia Janelli B.
PAULITE, Arline C.
PAULMA, Christine L.
PAULO, Geraldine Marie V.
PAUMIG, John Patrick L.
PAVICO, Mike Luke C.
PAVON, Toby Emerson T.
PAYUMO, Dominique Lyne N.
PAÑARES, Ma. Baby P.
PECAYO, Michael P.
PEDOLIN, Domingo B.
PEDRAJA, Rico L.
PEDRAJAS, Charlene T.
PEDRASA, Jose Ma. Victor P.
PEDRON, Venich Jammin Ramzel A.
PEDROZA, Nikko Arnold L.
PEDROZO, Diomarie D.
PEKAS, Odani Fe L.
PELAEZ, Chester Bryan P.
PELAEZ, Cindy Lou B.
PELAGIO, Mabini O.
PELANTAGAAN-REYES, Jocelyn V.
PELAUSA, Stephanie Louise S.
PELAYO, Rossenee D.
PELESMINO, Anthlyn Eve I.
PELINGON, Salvador T.
PELIÑO, Patricia Bettina L.
PELLEJO, Ma. Mina N.
PELOBELLO, Shaula Marie B.
PELONGCO, Jose Ryan S.
PENA, Donna Jean I.
PENA, May B.
PENGSON, Mika Mei B.
PENOLIO, John Michael N.
PENUS, Marc Kenneth J.
PEPITO, Chesnaniza B.
PEPITO, Dan Aldwin C.
PEPITO, Iren G.
PEQUINA, Sheralyne D.
PERALTA, Clarisse Anne G.
PERAS, Ariel Ruth A.
PEREZ, Aira Kathrina C.
PEREZ, Aylwin John E.
PEREZ, Carmella Gaye D.
PEREZ, Christine Reyna P.
PEREZ, Clarissa G.
PEREZ, Deborah Micah O.
PEREZ, Faye Jennifer P.
PEREZ, Florabelle A.
PEREZ, Gelinia Belle A.
PEREZ, Jelica D.
PEREZ, Jose Benjamin III L.
PEREZ, Kimberly M.
PEREZ, Lorenzo A.
PEREZ, Maria Hannah D.
PEREZ, Mark Josep R.
PEREZ, Paolo Ervin N.
PEREZ, Rhino Y.
PEREZ, Rosennova B.
PEREZ, Shana Alexandra P.
PEREZ-APODERADO, Grace C.
PEREZ-VERGARA, April R.
PEREÑA, Ryan Anthony G.
PERIA, Efren Elvin A.
PERIAMESA, Jhanelle C.
PERIANES, Laurisse Marie T.
PERINO, Jolleanne Claire E.
PERLEZ, Dezery M.
PERNALA, Sally M.
PERNES, Joan Veronica S.
PEROL, Arlyn Jophe L.
PEROL, Zyra Jenica M.
PEROTE, Ma. Bernadette Vielle E.
PERRAL, Dahlia Claudine May B.
PERU, Jimmy I.
PERU, Melca V.
PESCADERA, Nonielon P.
PESCADO, Norman Ralph Emberlon M.
PESINA, Kesha J.
PESODAS, Charles U.
PESQUIRA, Reyna Angeli L.
PESTAÑO, Danica Grace S.
PESTAÑO, Larry H.
PESUEÑA, Miguel Alberto I.
PETILLA, Marianne Shen L.
PEYRA, Publio Jr. Iii M.
PEÑA, Alden Mae P.
PEÑA, Diane Althea V.
PEÑADA, Homer P.
PEÑAFLOR, Alexander P.
PEÑAFLOR-REDOBLE, Grace S.
PEÑALOSA, Christine Anne A.
PEÑANUEVA, Annamin D.
PEÑARANDA, Mon Edward F.
PEÑAREDONDO, Vhea Angelica B.
PEÑAS, Josef Bernard Leo V.
PEÑERA, Erika Sharie Mae M.
PIA, Krizia E.
PIANG, Anna Sophia Tarhata P.
PIANSAY, Joanna Christine A.
PICARDAL, Donn Ferdinand E.
PICARDAL, Freshstille Rose Dianne B.
PICARDAL, Marc Ivan E.
PICHAY, Anna Patricia E.
PICHAY, Racquessa Jainne S.
PICO, Michael Angelo J.
PIDO, Eleasar B.
PIEDAD, Florence A.
PIEDAD, Khassandra A.
PIEDAD, Val F.
PILA, Paul Dean Mark S.
PILACAN, Karyl Vic P.
PILAPIL, Janelle Anne A.
PILAR, Timothy Q.
PILI-VINLUAN, Pristine Aira D.
PILIMPINAS, Mary Lorenz C.
PILLAS, Jose Miguel L.
PILLE, Julie D.
PILOTIN, Dwight Jr. P.
PILUDEN, Trixia Beth A.
PIMENTEL, Abbeylyn Erica T.
PIMENTEL, Cristine Joy T.
PIMENTEL, Erikka V.
PIMENTEL, Katrina G.
PIMPING, Haifa S.
PINALGAN, Sherwin H.
PINCA, Jana Paola E.
PINEDA, Anna Patricia S.
PINEDA, Christine Sharmaine M.
PINEDA, Elaine I.
PINEDA, Jamal Karlo O.
PINEDA, Jan Rez D.
PINEDA, Karla Joyce C.
PINEDA, Kathlene P.
PINEDA, Maica P.
PINERO, Ma. Lourdes Camille E.
PINGOL, Jefferson M.
PINLAC, Christine Mae F.
PINMILIW, Arnel M.
PINTOR, Marc Rodney B.
PINTUCAN, Chris Osmond M.
PINUGU, Jaime Cayetano R.
PINUGU, Maricel C.
PIO, Ana Israfel C.
PIO RODA, Niño Joseph B.
PION, Paola Margarita V.
PIOQUINTO, Edwin Salvador D.
PIOQUINTO, Mae Anne Jeeh D.
PISCOS, Loudel P.
PITOGO, Jinboy A.
PIZA, Gemmalyn B.
PIZARRAS, Frank Lorenzo R.
PIZARRO, Shaun Ma Celina C.
PIÑEDA, Ma. Anna Cecilia S.
PLACIDO, Marilyn L.
PLAMENCO, Gloiza Rufina M.
PLAN, Emmanuel Neil Jonathan VII M.
PLANA, Lendl Don-don R.
PLARISAN-LUBONG, Khey O.
PLATA, Jerome V.
PLATON, Raul V.
PLAWAN, Monaifah B.
PLAZA, Charlene S.
PLAZA, Mariafe M.
PLAZA, Reynaldo Jr. P.
PLETE, Adrian Noel O.
PLEYTO, Czarina Michaella Y.
PLOMILLO, Rea Chill C.
PLUMA, Michael John Niño .
PO, Alexander Michael V.
PO, Duane Michaels U.
POBE, Mary Dominique Gabrielle C.
POBRE, Ralph Vincent A.
POCOT, Eldan R.
POCULAN, Robert Nick IV P.
POKING, Samuel Jr. P.
POLANGCOS, Maui F.
POLICARPIO, Mary Genivive F.
POLICINA, Julpha Clarisse P.
POLIDO, Joshua R.
POLINAR, Cassandra Joy M.
POLINAR, Stephany A.
POLINES, Jonas G.
POLITO, Rabindranath S.
POMIDA, Kristian Ray R.
PONCE, Erik Paul E.
PONCE, Glenda T.
PONCE, Joline Eva P.
PONCE, Nicole Ann T.
PONCHINLAN, Elino Jr. M.
PONDOYO, Gregor Alfonsin C.
PONFERRADA, Adrian Ray A.
PONGCOL, Quenee Lavern G.
PONGOS, Bernard E.
PONTANARES, Julie Ann O.
PONTE, Mark Anthony A.
PONTILLAS, Vanessa Niña P.
PONTILLO, Rheza Mae A.
POOTEN, Therese Abbay D.
PORCINA, Marjorie D.
PORRAS, Olaira M.
PORRAS, Sarah Jane M.
PORTEZA, Niza April M.
PORTILLO, Mariel Joyce D.
PORTUGUEZA, Kirsten C.
POTENCIANO, Emeriza D.
POTIAN, Erika Cher P.
POZON-GAMIL, Riz A.
PRADES, Michaela B.
PRADES, Winston John A.
PRADES, Zsarmaine Lee S.
PRADO, Ingrid Beatrix I.
PRADO, Katrina Ann S.
PRAGADOS, Maribelle O.
PRELLEJERA, Michael Joseph A.
PRESTO, Jonah Margarette F.
PRIETO, Valentin Eduardo Miguel M.
PRINCIPE, Pierre Don Seanri B.
PRIOLO, Bion Henrik A.
PROBADORA, Zarah Jill L.
PROMEDA, Jane Arra Arianne C.
PROMENTILLA-BAÑARES, Stella Maris M.
PROTACIO, Mary Clarence Angela T.
PROVIDO, Rosel Joy A.
PRUDENCIADO, Rey E.
PRUDENTE, Gabriel Alessandro N.
PRUDENTE, Maica A.
PUA, Ma. Angelie Erika V.
PUA, Stephanie Janine G.
PUCAN-BONILLA, Jessa Reen T.
PUDIN, Aracelli E.
PUEBLOS, Psalm Rylle G.
PUGAO, Johnlery O.
PUGAT, Hadji C.
PUGAY, Wilkinson M.
PUGOY, Rhea Rose F.
PULIDO, Angelica R.
PUMBAYABAYA, Sittie Reham T.
PUN-AD, Nancy P.
PUNIO, Arlene A.
PUNIO, Eric D.
PUNIS, Conrado Jr. T.
PUNO, Richela Maria V.
PUNSALAN, Casey Lorenzo B.
PUNZALAN, Ezekiel B.
PUNZALAN, Joven T.
PURAY, Joni S.
PURUGGANAN, Doneli Carmel F.
PUSA, Goldy Jane A.
PUSPUS, Eden P.
PUYO, Marie Christabel O.
PUZON, Nathan .
QUE, Louell Jude B.
QUE, Mark Brainwin L.
QUE, Roselio Cheng Jr. A.
QUEBAL, Ace Dominic T.
QUEBEC, Ann Frances S.
QUEBEC, Ralph M.
QUELIZA, John Derek Chester P.
QUERIJERO, Frances Loren P.
QUESADA, Mary Joy B.
QUIAMBAO, Robert T.
QUIAÑO, Maridel Jasmine E.
QUIBOD, Jancarlo C.
QUICOY, Tyrone M.
QUIDATO, Francis Djan B.
QUIDET, Lois Jade T.
QUIDILLA, Christian Dale C.
QUIDILLA, Danielle Jan S.
QUIGAO, Donald B.
QUIJADA, Maria Cherrylen C.
QUIJANO, Antonia B.
QUIJANO, Gerald A.
QUIJANO, Mia Marielle T.
QUIJANO, Nathanael A.
QUIJOTE, Ron Karlo O.
QUILALA, Katrina Chloie B.
QUILANTANG, Jesus Ray Jr. G.
QUILANTANG, Melanie A.
QUILATON, Abelardo Jr. C.
QUILBAN, Ruby Luz C.
QUILENDERINO, Zeneth O.
QUIMADO, Julie Antonette B.
QUIMORA, Dorothy Leonor P.
QUIMSON, Ellaine M.
QUIMSON, Jan Florenz M.
QUINA, Lawrence Andrew F.
QUINTANA, Marie Antoinette Z.
QUINTIN, Ed Vinson C.
QUINTO, Daryll Marcson J.
QUINTO, Princess Joy C.
QUINTOS, Brenden Kim J.
QUINTOS, Quengilyn A.
QUINTOS, Roberto Octavo D.
QUIPANES, Merrynel Jane P.
QUIRO, Roneil D.
QUIROG, Ralph Glenn S.
QUIROS, Jonnifer S.
QUIROZ, Yron Josh W.
QUISING, Josiah David F.
QUISMORIO, Maria Candice Maudie S.
QUISUMBING, Donna Hill R.
QUITAYEN, Roxanne F.
QUITO, Aliana Joy T.
QUITORIANO, Carl Vincent D.
QUIZON, Kaye Antonette B.
QUIZZAGAN, Micah B.
QUIÑANOLA, Harley Hex E.
QUIÑONES, Roldan F.
QUIÑONES, Shirley Marie C.
EXAM COVERAGE
The Law pertaining to the State and its relationship with its citizens/ formerly Political Law, Labor Law and Taxation Law (30%)
The Law pertaining to Private Personal and Commercial Relations/ formerly Civil Law and Commercial Law (30%)
Procedure and Professional Ethics/ formerly Remedial Law, Legal Ethics and Practical Exercises (25%)
Criminal Law (15%)
RELEASE DATE
The Supreme Court is expected to release the BAR exam results for batch 2020-2021 on April 12, 2022.
REMINDER
The BAR exam result may be released by the Supreme Court earlier or later than the target date without prior notice.
PASSING PERCENTAGE
BAR examinees should have a general average of 75% with no grade lower than 50% in any of the subjects.