Here is the BAR Exam Results February 2022 full list of passers for batch 2020-2021.
BAR EXAM RESULTS FEBRUARY 2022 — Here is the full list of passers for batch 2020-2021 as released by the Supreme Court.
The exam results including the list of passers and topnotchers will be posted on this website once the Supreme Court will release it.
Citing Supreme Court's BAR Matter Resolution No. 3490 released on January 4, 2022, there are 11,790 BAR examinees registered to take the BAR examinations for batch 2020-2021. Of these, 11,378 BAR examinees showed on the first day of BAR exams.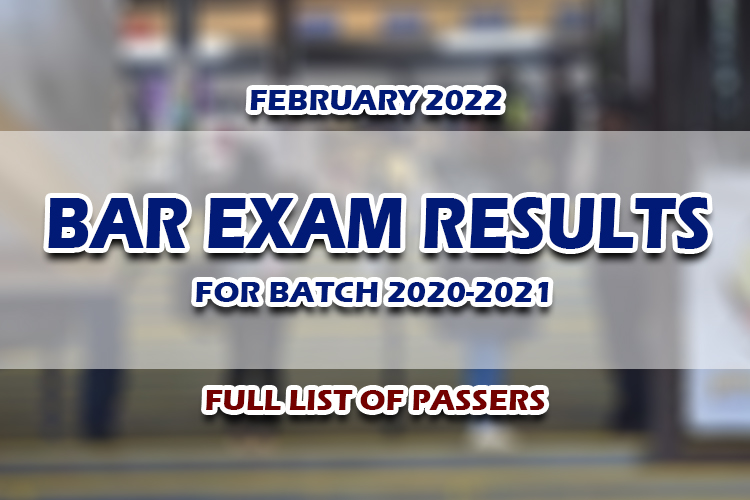 The Supreme Court conducted the BAR examination on February 4 and 6, 2022 at testing sites in Metro Manila (Makati, Pasay, Manila, Quezon City, and Taguig City), Baguio City, San Fernando City-La Union, Tuguegarao City-Cagayan, Bayombong – Nueva Vizcaya, Angeles-Pampanga, Lipa City-Batangas, Calapan City-Oriental Mindoro, Naga-Camarines Sur, Iloilo City, Bacolod City, Cebu City, Dumaguete City, Tacloban City, Zamboanga City, Cagayan de Oro City, Iligan City, Davao City and General Santos City.
SC headed by 2020/21 BAR Examinations Chairperson Justice Marvic M.V.F. Leonen, in partnership with several local government units (LGUs) nationwide, administered the Bar examinations.
The digitalized BAR examinations for batch 2020-2021 is the largest batch of examinees in history. 
SUMMARY OF RESULTS
EXAM COVERAGE
The Law pertaining to the State and its relationship with its citizens/ formerly Political Law, Labor Law and Taxation Law (30%)
The Law pertaining to Private Personal and Commercial Relations/ formerly Civil Law and Commercial Law (30%)
Procedure and Professional Ethics/ formerly Remedial Law, Legal Ethics and Practical Exercises (25%)
Criminal Law (15%)
RELEASE DATE
The Supreme Court is expected to release the BAR exam results for batch 2020-2021 on April 12, 2022.
REMINDER
The BAR exam result may be released by the Supreme Court earlier or later than the target date without prior notice.
PASSING PERCENTAGE
BAR examinees should have a general average of 75% with no grade lower than 50% in any of the subjects.