Here is the BAR Exam Results February 2022 list of passers (A-H) for batch 2020-2021.
BAR EXAM RESULTS FEBRUARY 2022 — Here is the list of passers (A-H) for batch 2020-2021 as released by the Supreme Court.
The exam results including the list of passers and topnotchers will be posted on this website once the Supreme Court will release it.
Citing Supreme Court's BAR Matter Resolution No. 3490 released on January 4, 2022, there are 11,790 BAR examinees registered to take the BAR examinations for batch 2020-2021. Of these, 11,378 BAR examinees showed on the first day of BAR exams.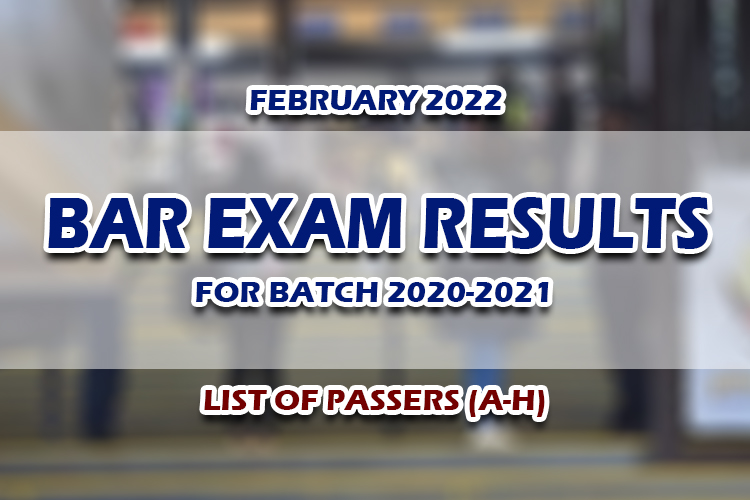 The Supreme Court conducted the BAR examination on February 4 and 6, 2022 at testing sites in Metro Manila (Makati, Pasay, Manila, Quezon City, and Taguig City), Baguio City, San Fernando City-La Union, Tuguegarao City-Cagayan, Bayombong – Nueva Vizcaya, Angeles-Pampanga, Lipa City-Batangas, Calapan City-Oriental Mindoro, Naga-Camarines Sur, Iloilo City, Bacolod City, Cebu City, Dumaguete City, Tacloban City, Zamboanga City, Cagayan de Oro City, Iligan City, Davao City and General Santos City.
SC headed by 2020/21 BAR Examinations Chairperson Justice Marvic M.V.F. Leonen, in partnership with several local government units (LGUs) nationwide, administered the Bar examinations.
The digitalized BAR examinations for batch 2020-2021 is the largest batch of examinees in history. 
SUMMARY OF RESULTS
As announced by Bar Chairperson Marvic Leonen, 8,241 out of 11,402 Bar examinees successfully passed the Bar exams for batch 2020-2021.
Here is the official list of passers:
(A-G) List of Successful Examinees in the 2020-2021 Bar Exams
Held on FEBRUARY 4 & 6, 2022
Released on April 12, 2022
ABABA, Jayson R.
ABAD, Elmer II H.
ABAD, Joshua Quintin I.
ABAD, Neldren J.
ABALAYAN, Sharmie Ann P.
ABALOS, Claudine Joy F.
ABALOS-ANG, Ma. Angelica Y.
ABALOYAN, Ma. Liza N.
ABAN, Marjie L.
ABAN, Ryan James B.
ABANES, Alyssa Mary John P.
ABANGAN, Francis Harris A.
ABANTE, Vea Gypsy M.
ABANTO, Tyrone R.
ABARRA, Karen Mae S.
ABARY, Patricia Irvette C.
ABAS, Rosegail F.
ABASTA, Benazir Faye V.
ABAYA, Floravick Ana B.
ABAYHON, Gaudencio Jr. P.
ABAYON, Albert L.
ABAYON, Jess Amador N.
ABAYON, Ma. Cecilia T.
ABAYON, Sealtiel I.
ABDILLAH, Aliamen B.
ABDON, Reinier Jeffrey E.
ABDUHASAN, Frassius S.
ABDULGAFUR, Ridzanna M.
ABDULHALIM, Abduljalil A.
ABDULLAH-ALAUYA, Nishar Fatimah O.
ABDULMALIK, Nabilah D.
ABDULRAHMAN, Jashim A.
ABDULRAHMAN, Johanne D.
ABDULWAHID, Shahana E.
ABEJERO, Ferdinand F.
ABELENDE, Arra Jean S.
ABELLA, Frances Hellene G.
ABELLA, Jasmine Nicole B.
ABELLA, Kevin A.
ABELLA, Mariel Kathrine A.
ABELLA, Merrick B.
ABELLA, Reynald I.
ABELLA, Vanessa D.
ABELLANA, Francis Raoul II B.
ABELLANA, Genevieve Marie G.
ABELLANA, Sharmaine S.
ABELLO, Jerome Ian A.
ABELLO, Jon Rey F.
ABELLONAR, Christian A.
ABENIR, Christian H.
ABENIR, Rosell Q.
ABERGOS, Carmela Grace A.
ABERILLA, Bethany Joy L.
ABERO, Zhiara Paola A.
ABIQUI, Myles B.
ABIS, Rotcelyn A.
ABITAN, Alexandra P.
ABLE, Doris A.
ABLETES, Ivy R.
ABLETIS, Mark Angelo V.
ABLONG, Marigold G.
ABO, Marigirl March A.
ABOGADO, Irish Louise P.
ABOGADO, Melvin Bryan A.
ABON, Angelica T.
ABONADO, Alexander O.
ABONADO, Radji Rashed C.
ABONG, Mario II U.
ABONITA, Sean V.
ABONITALLA, Terrylou D.
ABORKA, Rio Rina B.
ABQUIREN, Illyssa Jane T.
ABRAGAN, Jude Virgil M.
ABRAGAN, Mark L.
ABRAGAN, Roxanne S.
ABRAHAM, Maria Victoria C.
ABRATIQUE, Banoar R.
ABRAZALDO, Romarie L.
ABRENICA, Expedito Jr. G.
ABRENICA, Krisleen A.
ABREU, Cheryl R.
ABRIAM, Juzmend Francez Therese M.
ABRIL, Arnold Aran T.
ABRIL, Francis Dominick P.
ABRILLO, Maria Isabella C.
ABROGUEÑA, Clarisse Jhil A.
ABRUGAR, Vincent Q.
ABSALON, Charles Kevin C.
ABUALAS, Fatima Ritza A.
ABUAN, Ralph Eduard R.
ABUCION, Mayren P.
ABUDA, Kenneth A.
ABUEDO, Jhinelle Khay A.
ABUEG, Joshua Remir M.
ABUEG, Raponcel D.
ABUEL, Christine Denise A.
ABUEL, Joselito V.
ABUGHO, Ariane Crystal Vine D.
ABULENCIA, Maria Angelica C.
ABUTAZIL, Omar A.
ABUYEN, Armie Hanalee G.
ABUYO, Jan Cedrik S.
ACAMPADO, Ada Joline S.
ACAMPADO, Erika Sophia T.
ACAS, Rizal Thaddeus .
ACAYLAR, Franz Lawrence Q.
ACBAY, Franc Joshua B.
ACBAY, Franzel Ray B.
ACEBEROS, Jamila Alfeiya S.
ACERA, Domingo M.
ACERO, Hazel D.
ACERO, Ricky J.
ACERON, April V.
ACERON, Brian Kerwin G.
ACHAS, Precious Lovelle C.
ACLAN, Dorothy Jean M.
ACOP, Reena Alekssandra M.
ACOPIADO, Ariel M.
ACOSTA, Charlene S.
ACOSTA, Frances Margarette M.
ACOSTA, John Paul Louis C.
ACOSTA, Luna Maria Dominique S.
ACOSTA, Voltaire S.
ACTUB, Engrid R.
ACUAVERA, Charmel Toni E.
ACUSA, Rachel R.
ACUYONG, Sidartha G.
ACUÑA, Ana Crystal I.
ACUÑA, Eric Jiro III A.
ACUÑA, Jared Mitchell V.
ACUÑA, Rhev Xandra .
ADA, Neil Kirby L.
ADA-OL, Ruben L.
ADAJAR, Melissa L.
ADALEM, Camille D.
ADALIM, Ronald Rey M.
ADAME, Dakila B.
ADANTE, Carmela E.
ADAP, Abdul Jabbar M.
ADAP, Kyle Merill S.
ADARNE, Jennica G.
ADDUCUL, Frankneil M.
ADDUN, Cornelio A.
ADDURU, Jerhmy Ian Q.
ADEA, Ma. Mimette P.
ADER, Sittie Ainee P.
ADIGUE-URSAL, Christy E.
ADLAWAN, Joyce Ann P.
ADLAWAN, Samuel Jr. G.
ADOBO, Rejorel Christian J.
ADOLFO, Caren Kay B.
ADOLFO, Ma. Mawilynn Concepcion B.
ADOLOR, James Kenneth P.
ADORA, Gabriel D.
ADORACION-BELLOGA, Grace Anne S.
ADORNA, Alyzia Andrea E.
ADRALES, Jill Lea L.
ADRE, Anna Katrina C.
ADRIANO, Glaesan G.
ADRIAS, Ramtrina C.
ADRIAS, Von Ryan Emmanuel L.
ADRIATICO, Paul Julius H.
ADRICULA, Dave D.
ADUBE-BEJAR, Marnelli G.
ADVINCULA, Mitch Francelle B.
ADZUARA, Immaculate Marie L.
AFABLE, Fritz Jared P.
AFABLE, Mark Gregory C.
AFOS, Jan Aldrin E.
AGABIN, Queenie Joy B.
AGAPAY, Hanna Hazel H.
AGAYO, Ronico S.
AGBON, Sherwin Q.
AGCAOILI, Joy Angela C.
AGCAOILI, Judielle Brian S.
AGCAOILI, Victor Emerito S.
AGCARAO, Ma. Stephanie Faye O.
AGCOPRA, Maria Therese D.
AGDAWI, Jesebel L.
AGDEPPA-RAQUEL, Princess Angelie C.
AGDON, Areen Kaye G.
AGGABAO, Carlo Ray V.
AGGABAO, Rambee G.
AGITO, Klydeen Innah P.
AGLIAM, Nelson S.
AGLOSOLOS, Marie Claire F.
AGNILA, Divine Grace E.
AGNO, Alecsa Asdis M.
AGODON, Nardine Aislinn Marie P.
AGPALO, Julianne B.
AGPALO, Ruth Anne D.
AGPAY, Claire Abigail M.
AGPOON-ABAD, Katrina M.
AGREGADO, Ray John M.
AGRIS, Charmaine Joy F.
AGRITO, Charlene L.
AGRUPIS, Cheska Arla C.
AGTARAP, Alexis S.
AGUADO, Jolliete Karl C.
AGUAM, Sittie Yasmin A.
AGUATIS-SAN LUIS, Chrisalyn M.
AGUBA, Nilo Nazario B.
AGUBA-DOSPUEBLOS, Maria Abigail R.
AGUILA, Gabriel Angelo C.
AGUILA, Juan Jr. B.
AGUILANDO, Ma. Lourdes M.
AGUILAR, Agatha Rosario M.
AGUILAR, Charles Tito R.
AGUILAR, Darylle Hannah D.
AGUILAR, Dyann Isabel M.
AGUILAR, Eric Karl Nicholas M.
AGUILAR, Flynn B.
AGUILAR, Jeross R.
AGUILAR, Kates Jastin E.
AGUILAR, Leonardo Julian G.
AGUILAR, Paul Jordan G.
AGUILAR, Pio Mari G.
AGUILAR, Stanly Noel C.
AGUILERA, Emmanuel A.
AGUINALDO, Cherie Mae F.
AGUINALDO, Enrico Joseph C.
AGUINALDO, Jacquevhee R.
AGUINALDO, May Kristel D.
AGUIRRE, Adrienne Mae R.
AGUIRRE, Danica B.
AGUISANDA, Kim Khaled T.
AGULAN, Levi C.
AGUSTIN, Angelica C.
AGUSTIN, April Rose A.
AGUSTIN, Gerald Archie M.
AGUSTIN, Kenneth Paul Christian M.
AGUSTIN, Nikka Carmela J.
AGUSTIN, Pauline Marie M.
AGUZAR, John Benedict G.
AGWILANG, Lyle Murth Y.
AHMED, Mark Sajid C.
AJAN, Mina P.
AL-KHATIB, Susan C.
AL-NAMIT, Maria Belen A.
ALABASTRO, Mark Vincent A.
ALABATA, Janet E.
ALAFRIZ, Franzel Reanshield T.
ALAGBAN, Rhea Joyce S.
ALAGBAY, Airene A.
ALAGOS, Dianne Kriza Wan Mae A.
ALAJAS, Lady Joy A.
ALAMAN, Eillen M.
ALANO, Dave Abby M.
ALANO, Lyra Clarisse P.
ALARCON, Maria Teresa L.
ALARCON, Pamela L.
ALARCON-FAUSTINO, Anabelle E.
ALARDE, Asez C.
ALARDE, Joel Adrian C.
ALARILLA, Richard Paolo M.
ALARVA, Queen Marilyd S.
ALAS-AS, Cristina B.
ALAUYA, Amiruzzaman M.
ALAVA, Quino Fernando M.
ALAVA, Walter Jason G.
ALBA, Aldrin B.
ALBA, Kenneth B.
ALBANIEL, Reena Del B.
ALBANO, Diana Catherine P.
ALBANO, Jaana Lei D.
ALBARAN, Maria Melyssa P.
ALBAY, Keenzy Mae B.
ALBAÑA, Xy-ra Marie D.
ALBAÑO, Jan Michael M.
ALBEOS, Raymond A.
ALBERTO, Eden U.
ALBERTO, Victoria Raye P.
ALBINA, Jane C.
ALBITO, Geraldine Glenda Graciosa S.
ALBOPERA, Neil T.
ALBUERO, Elead Gaddiel S.
ALBURO, Jelly Rose S.
ALBURO, Ryan A.
ALCALA, John Kevin L.
ALCALDE, Jejomarie T.
ALCALDE, Louise Angelique G.
ALCANO, Ace Julius Z.
ALCANTARA, Christopher M.
ALCANTARA, Katrine Ann E.
ALCANTARA, Patrick M.
ALCANTARA, Roel P.
ALCARAZ, Alalane L.
ALCARAZ, John Victor J.
ALCAREZ, Janessa Fe M.
ALCASABAS, Jan Carolyn D.
ALCAZAR, Ana Martin A.
ALCISO, Micah Saturday P.
ALCOBER, Karen Joy C.
ALCORAN, Rizalio L.
ALCOS, Carla Marie P.
ALDAVE, Queen Jane T.
ALDAY, Roxell A.
ALDEN, Xian Justin R.
ALEGARME, Jason John V.
ALEGRE, Kristine Joyce U.
ALEJANDRO, Fra Angelica S.
ALEJANDRO, Noriel John O.
ALEJANDRO, Ritz Angelica R.
ALEJANDRO, Rose Ann A.
ALEJANDRO, Ryandel M.
ALESNA, Cielomar L.
ALFARAS, Joanna Marie B.
ALFARO, Nathaniel D.
ALFECHE, Wilfred P.
ALFONSO, Armida S.
ALFONSO, Carlo P.
ALFONSO, Cornelio III Y.
ALFONSO, Cris S.
ALFONSO, Pinky P.
ALFORQUE, Jimmie Jan M.
ALFORQUE, Joanna Rhea A.
ALI, Haron R.
ALI, Jawhara K.
ALI, Maadz S.
ALI, Sittie Namraidah L.
ALIANAN, Richmond Jerry L.
ALIANZA, Katelene D.
ALIGATO, Trisha Ann Samantha S.
ALIGNO, Diego Salvador R.
ALIHUDDIN, A'eesa Mar'wa A.
ALIM, Erica Paula L.
ALIM, Virginia T.
ALIMAN, Anjela S.
ALIMAN, Christina T.
ALIMARIN, Ma. Regina M.
ALIMES, Jesler Nick L.
ALINA, Leonora A.
ALINAO, Luz Phyllis B.
ALINAS, Renz Alrec R.
ALINDOGAN, Ramir C.
ALINEA, Alyssa Truty C.
ALIP, Alexyss Anne P.
ALIPING, Nisha P.
ALIPIO, Hannah S.
ALLAGA, Daryl Joy H.
ALLANIC, Mariella Grace C.
ALLAS, Rosemary Zari L.
ALLAUIGAN, Hayden Richard T.
ALLER, Emmanuel C.
ALLERA, Crystal D.
ALLIG-REYES, Joan B.
ALLORDE, Channelle Anne B.
ALMACHAR, Louvenedick M.
ALMALBIS, Angela Marie A.
ALMAQUER, Joseph Euje D.
ALMARIO, Hanna Karen V.
ALMAZAN, April Rose S.
ALMAZAN, Bertrand Russell T.
ALMAZAN, Nathalie T.
ALMAZAR, Victor Emmanuel I.
ALMAZORA, Joyce Ann Marie V.
ALMEDA, George D.
ALMERIA, Brian Joseph P.
ALMERO, Maria Elizabeth A.
ALMERO, Roderick B.
ALMODAL, Niña Andrea D.
ALMOGELA, Winona Audrey S.
ALMONTE, Rosa Lynne V.
ALMORADIE, Ma. Cariza L.
ALMORADIE, Rysa Arden A.
ALMUEDA, Karl Angelo C.
ALNAS, Reynaldo Jr. E.
ALO, Jezza Mariz A.
ALO, Mizelle Rose A.
ALOJADO, Le Ann C.
ALOMBRO, Katherine Geen Kaneishia A.
ALON, Jasper P.
ALONTO, Jasima G.
ALONZO, Alyssa Nadine M.
ALONZO, Charisse Joy P.
ALONZO, Handra Leez B.
ALONZO, Jurico Bocker P.
ALONZO, Miguel Antonio N.
ALONZO, Roilan Rigil Kent A.
ALPAJORA, Diana Joy N.
ALPHA, Edzmar S.
ALQUIZALAS, Chris Erwin S.
ALSISTO, Alec Martin M.
ALTAR, Mira Hyacinth S.
ALTAR, Rouella May P.
ALTARES, Christine P.
ALTISO, Ana Marie Edelyn P.
ALTOMERA, Jam Candice R.
ALTUBAR, Kenny Junce P.
ALTUNA, Edmund Christian S.
ALULOD, Cathlyn A.
ALUNDAY, Genghis B.
ALUNING, Reinaur S.
ALVAR, Clyne Michael Jude U.
ALVAREZ, Alexandra Czarina Louise B.
ALVAREZ, Atreja Rei B.
ALVAREZ, Ele Christia Rey C.
ALVAREZ, Francine Abby E.
ALVAREZ, Marjorie L.
ALVARICO, Danah L.
ALVARINA, Vince Nigel M.
ALVARO, Michelle V.
ALVAÑIZ, Anjo A.
ALVELDA, Timothy Carl D.
ALVERO, Ace Norman P.
ALVIAR, Jhonjie C.
ALVIAR, Macy April B.
ALVIOR, Jeanen A.
ALZAGA, Miryam Royce S.
ALZATE, Cyril Jesus D.
ALZATE, Maricar Angela M.
ALZATE, Serafin Michaelle B.
AMAC, Zoe Bryce T.
AMADEO, Joanna Marie M.
AMADOR, Juan Paulo V.
AMAN, Abigail Joy L.
AMAN, Mikhaela L.
AMANSEC, Alexandre Chrissa C.
AMAR, Xyster C.
AMASA, Benes Vic Mar D.
AMBAS, Katrina Marie D.
AMBAT, Mareza G.
AMBE, Jerald C.
AMBROCIO, Eunice L.
AMBROS, Mildred P.
AMBULAN, Jerwin C.
AMENE, Yaleslie B.
AMEROL, Jaafar I.
AMEROL, Numairy S.
AMIGO, Ma. Krishina Joy C.
AMIL, Christelle B.
AMIL, Fatmah Zahra C.
AMISTAD, Niño Akeem V.
AMISTAD, Stanley Leslie C.
AMISTAD, Stella Lyn C.
AMISTAS-BRILLANTES, Geonalyn C.
AMODIA, Francis Laurence Jake B.
AMODIA, Glyzie Pauline C.
AMOLAT-VECINA, Irene R.
AMOLATO, Regine B.
AMOR, Ma Florianne S.
AMOR, Rutherford V.
AMORA, Justine Jose V.
AMORES, Anna Issabele C.
AMORES, Jose Carlo M.
AMORES, Winjalynne Caress D.
AMORO, Aniah F.
AMOROSO, Ralph Martin C.
AMOSIN, Airon Jeunne B.
AMOYAN, Krizza Lei T.
AMPA, Almaizer S.
AMPANG, Omie Calzom L.
AMPATIN, Marcel Faith H.
AMPIL, Jose Ramon M.
AMPONG, Jason A.
AMULONG, Mary Grace L.
AMURAO, Angelica D.
ANACTA, Virlyn Grace A.
ANADON, Shielamie C.
ANASARIO, Rossette S.
ANAUD, Mary Joy N.
ANCHETA, Abigail M.
ANCHETA, Carolyn Rose V.
ANCIRO, Suzette A.
ANCOG, Jessie P.
ANDAL, John Caleb C.
ANDALES, Divino Czar A.
ANDAS, Datu Alfazar B.
ANDAYA, Anna Bettina H.
ANDAYA, Erwin C.
ANDAYA, Junny Vic M.
ANDAYA, Marie Delle .
ANDIT, Edsam Rotedem L.
ANDOJOYAN, Eugene Pateson C.
ANDRADE, Alfonso Jr. Q.
ANDRES, Andrea Marie M.
ANDRES, Darine Jane R.
ANDRES, Mylette V.
ANDRINO, Karl Rigo E.
ANDRINO, Mae Laurenz B.
ANDRINO, Reah Crezz P.
ANDUJAR, Cecilio Jr. B.
ANG, Alfa Zarah B.
ANG, Arlene J.
ANG, Arthur Angelo G.
ANG, Cedric Sean Y.
ANG, Daniel P.
ANG, Mark Anthony N.
ANGARA, Patrick Alexis .
ANGEL, Ben-ceazar Q.
ANGELES, Adrian Louis V.
ANGELES, Antonio Lorenzo T.
ANGELES, Exzekel Immanuel M.
ANGELES, Gedrick Elvin E.
ANGELES, Michelle Ann Rose S.
ANGELES, Tom Lance G.
ANGOT, Justi Alexis O.
ANINO, Jack Rollan S.
ANONAS, Rexchelle Aiyla C.
ANONUEVO, Ma. Criselda A.
ANOS, Jose Mari P.
ANSAN, Juvy Ann D.
ANTALAN, Charis S.
ANTE, Jenneelyn Marie R.
ANTE, Mark Jason A.
ANTE, Michelle Kristine B.
ANTEPASADO, Sherlaine Ann L.
ANTIGA, Corina Jane L.
ANTIGA, Michael S.
ANTIQUERA, Reigner Jireh D.
ANTIVOLA, Maria Lorraine D.
ANTOLIHAO, Raymond C.
ANTONA, Christopher J.
ANTONA, Janos Randel A.
ANTONIO, Alexandra Chelsea L.
ANTONIO, Desserie T.
ANTONIO, Jayson V.
ANTONIO, Louise Sigrid C.
ANTONIO, Paulo Miguel R.
ANTONIO, Zeniah Joy M.
ANTONIO-CRISOSTOMO, Candice Dyan Marie A.
ANTRAJENDA, John Kennie V.
ANUDDIN, Alayka A.
ANZIA, Soledad A.
ANZO, Meibellin M.
APADCHEW-CARLOS, Lilian C.
APALE-SIMENE, Mary Aphrodite B.
APALLA, Edwin Jr. B.
APAO, Ederic M.
APARECE, Michelle Ami C.
APARICIO, Remolus A.
APAS, Carlo Joel B.
APASAN, Josef Gabriell N.
APAWAN, Lydio Jr. D.
APAWAN, Maylanie D.
APAYYO-PARROCHA, Phoebe L.
APELLIDO, Rashanne M.
APEROCHO, Willard M.
APLACADOR, Joselito F.
APOLINARIO, Janice Rae S.
APOLONIO, Jesylene S.
APOSTOL, Harold Edgar C.
APOSTOL, James P.
APOSTOL, Leo Silmar .
APOSTOL, Perlita R.
APOSTOLES, Jasmin N.
APRUEBO, Hannah F.
APURA, Chen Lee T.
AQUINO, Alberto Nigel C.
AQUINO, Barry G.
AQUINO, Beatrice C.
AQUINO, Benson Thomas L.
AQUINO, Cheryl Moana Marie .
AQUINO, Elwina S.
AQUINO, Ernell Matthew S.
AQUINO, Iluminada F.
AQUINO, Jemaica Anne T.
AQUINO, Jenica A.
AQUINO, Johanna M.
AQUINO, Khen C.
AQUINO, Maria Karissa Sandra B.
AQUINO, Rodolfo V.
AQUINO, Steve L.
ARABEJO, Royel P.
ARABIA-DIMAIWAT, Melissa B.
ARADA, Aaron Jaime A.
ARADA, Beatriz Nicole A.
ARADA, Mary Joe D.
ARADO, Lorbil Jr. B.
ARAFOL, Ma. Gloria Trinidad S.
ARAGON, Josefa Reina B.
ARAGON, Lyonnel S.
ARANAL, Doreena Pauline V.
ARANAS, Grey Kristoff F.
ARANAS, Juan Paolo S.
ARANAS, Keviene A.
ARANAS, Phoebe Catherine G.
ARANAYDO, Teodoro D.
ARANDA, Jed Nicolo Von A.
ARANDA, Philord D.
ARANZANSO, Jeffrey N.
ARAPAN, Jemar E.
ARAQUE, Jubelyn Jade G.
ARAZA, Ayleen B.
ARAÑEZ, Amiel Andrew A.
ARBIS, Ronil G.
ARBITRARIO, Roderick A.
ARBUES, Erwin .
ARCADIO, Robert Daniel B.
ARCALLANA, Erah Syl D.
ARCE, Alistin A.
ARCE, Anna Patricia C.
ARCE, Ricardo Jr. R.
ARCENAS, John Kevin S.
ARCENAS, Nicolin Anne R.
ARCIAGA, Antonette F.
ARCILLA, Arjan Jay Arsol D.
ARCILLA, Tobias Gavin C.
ARCILLAS, Rhea Joy B.
ARCINAS, Marian Michelle G.
ARCISO, Diane Gale B.
ARCOS, Edward P.
ARDIENTE, Ernest Joshua G.
AREGLADO, Mhel Joseph P.
ARELLANO, Cresencio Jr. F.
ARELLANO, Eddie I.
ARELLANO, Gear G.
ARELLANO, Juan Gabriel B.
ARELLANO, Mareja Aña G.
ARELLANO, Raymund Leo O.
ARELLANO, Reynante C.
ARENA, Reil Jenily B.
ARENAJE, Elaine M.
ARENAJO, Christian N.
AREVALO, Maria Lourdes Isabel C.
AREVALO, Melanie Aurie R.
AREVALO, Patricia Ann S.
AREÑO, Rizelle Joy S.
ARGANDA, Leo Crispin D.
ARGAWANON, Cymon P.
ARGAWANON, Lethylle Kreezia J.
ARGONZA, Estalker II G.
ARGOSO, Rolex R.
ARGUELLES, Manuel Jr. E.
ARIAS, Eula Maye Celaine P.
ARIAS, James P.
ARIAS, Ma. Sheryl O.
ARIAS, Meliza Victoria C.
ARIBAL, Daveau U.
ARICHETA, Paula Joy D.
ARIMADO, Mark Anthony Bryan O.
ARISGA, Jemarie A.
ARISGADO, Dalvio Martinne B.
ARISTON, Aaron Niegel R.
ARIZ, Mac Tommy D.
ARIZALA, Kimberly Q.
ARMADA, Niña Margaret Joy H.
ARNADO, Sheila Mae S.
ARNADO, Vincent Albien V.
ARNAEZ, Jam Ember C.
ARNIÑO, Kim R.
ARNOLD, Guarin F.
ARNOZA, Gesal Marie N.
ARNUCO, Christopher Lawrence S.
ARPA, Robert Paul C.
ARPA, Samuel Jr. P.
ARPON, Johann Hein B.
ARQUERO, Paolo Miguel C.
ARQUILLO, Gertrude G.
ARREOLA, Maria Lynette L.
ARRIETA, Calick D.
ARRIOLA, Donna Queen C.
ARRIOLA, Magdalena Cecilia L.
ARROYO, Kenneth C.
ARROYO, Perla V.
ARROYO, Rodrigo Paolo V.
ARROYO-PASICOLAN, Ma. Cristina D.
ARROZ, Jose Roger O.
ARTAJO, Joel Jr. M.
ARTETA, Gabrielle Karlo P.
ARTIAGA, Juan Paolo M.
ARTIAGA, Katrina Crista M.
ARTIENDA, Julie Diane A.
ARTIZUELA, Jazztine M.
ARTUZ, Roi Glendale F.
ARUTA, Roy Angelo A.
ARZADON, Izzel Jarviz M.
ASA, Lawrence D.
ASAN, Samuel C.
ASCUE, Jeronimo M.
ASDALA, Jillian Fatima G.
ASENTISTA, Ruselo Riva I.
ASEOCHE, Mary Odette C.
ASETRE, Kristoffer C.
ASIO-SALIH, Grace Angelie C.
ASIS, Alvin K.
ASIS, Jan Aristhedes P.
ASISTIO, Maritoni Luise O.
ASISTORES, Raena Marie P.
ASO, James J.
ASPERIN, Jerome R.
ASPILI, Nery B.
ASTO, Rosemarie Joyce D.
ASTROLOGO, Armando Jr. M.
ASUMBRA, Katrina F.
ASUNCION, Arthur D.
ASUNCION, Joseph Lorenz A.
ASUNCION, Raymarc Elizer A.
ASUNCION, Rolin M.
ASUNCION, Rommiel B.
ASUNCION-BIATO, Daryll Gayle A.
ATANACIO, Roberto Joaquin S.
ATAYDE, Garri A.
ATEGA, America M.
ATIBAGOS, Joanna Monette D.
ATIENZA, Arnel O.
ATIENZA, Cristalyn M.
ATIENZA, Donnalene Jane A.
ATIENZA, Erole John F.
ATIENZA, Joy A.
ATIENZA, Mark Cholo V.
ATIENZA, Wilfredo Jr. L.
ATIENZA-MONDINA, Wena A.
ATITIW, Joshua Gawis J.
ATOLMOM, Jhene Liechelle W.
ATON, Charlene Lord Y.
ATON, Jave Mike F.
ATON, Leandro B.
ATONEN, Castro M.
ATUD, Robehgene N.
AUGUSTO, Carol O.
AUGUSTO, Era P.
AUGUSTO, Evith B.
AUM, Rosch Van D.
AUMENTADO, Reymundo Jr. P.
AUREA, Charmaine Key C.
AURELIO, Aaron Franz S.
AURELLANO-ARROYO, Josephine P.
AUREO, Minette Marie G.
AURO, Marizeta P.
AUSTRIA, Camille C.
AUSTRIA, Caren W.
AUSTRIA, Christian Iris A.
AUSTRIA, Christian Miguel A.
AUSTRIA, Maria Alexandra C.
AUSTRIA, Maria Karla Mae P.
AUXILLOS-CAYANAN, Alel F.
AVECILLA, Ma. Concepcion L.
AVELIN, Patrick M.
AVELLANEDA, Neil Patrick I.
AVELLANOZA, Jeremiah R.
AVENIDO, Angeli D.
AVEO, Erliza E.
AVERGONZADO, Lucio C.
AVES, Genelle Ann L.
AVILA, Margarita L.
AVILES, Alyssa R.
AVILES, Gaynore Jesus T.
AVISADO, Nikol V.
AWING, Arnel G.
AWING, Mailah L.
AYAK, Kenneth Jay F.
AYALA, Fitz Lexine V.
AYDINAN, Mariano Jr. B.
AYO, Luis Magno S.
AYO, Ramon Nonito S.
AYONGAO, Renz J.
AYSON, Addison Amiel C.
AZARCON, Pia Lea Andrea C.
AZARIAS, Mary Kathleen M.
AZARRAGA, Virden May L.
AZCARRAGA, Maria Lilia O.
AZIS, Alayza C.
AZNAR, Ezra Phil K.
AZUELO, Josiebeth B.
AZUPARDO, Audrey O.
AZURIN, Romeo Jr. G.
AZURO, Kristine Mary Ann C.
AÑABIEZA, Rei Von Henreich M.
AÑANA, Francis King A.
AÑO, Joselito Jr. Z.
AÑONUEVO, Emmanuel B.
AÑONUEVO, Erika Faye L.
AÑONUEVO, Ray Michael N.
AÑONUEVO-CAÑETE, Darryl I.
AÑORA, Marefel B.
AÑOVER, Rafael Ignacio W.
BAARDE, Jerickson P.
BAARDE, Ma. Christine Joy V.
BABA, Karla Marie B.
BABAN, Neil Dante D.
BABARAN, Jielsen Dale L.
BABARAN, Ma. Racelle Joy B.
BABASA, April Lwellyn D.
BABASA, Kathleen B.
BABATE, Fareed Alyahna S.
BABAYLAN, Albert Jerome F.
BABELONIA, Maria Hazel A.
BABIANO, Eloisa .
BABIERA, Kirstin Gale M.
BABON, Jacqueline O.
BACABAC, Shella C.
BACARON, Aprille Rose E.
BACASNOT, Crislyn Rose R.
BACAY, Florence Reneé R.
BACAYO, Ezer Ivan R.
BACCAY, Emmanuel G.
BACCAY, Jenalyn T.
BACHARO, Mark B.
BACHINELA, Marie Claire O.
BACHO, Christine V.
BACLAO, Rosa Maria S.
BACLAY, Jeira Eriza C.
BACLAY-SUAREZ, Gillean Clair A.
BACLIG, Ronaldjerick Peter T.
BACO, Jeffrey G.
BACONAWA, Randy B.
BACQUEL, Lindon Miguel C.
BACQUIAN, Stenard P.
BACSAIN, Mark Emerson S.
BACSAL, Bartolome N.
BACUD, Byron Angelo D.
BACURIO, Kenneth Bernard N.
BACUS, Antoniete C.
BADAGUAS, Fatima R.
BADENAS, Melanio Jr. A.
BADILLA, Leander Gerard N.
BADILLO, Ferdinand P.
BADILLO, Lope Jr. A.
BADONG, Careen Dominica O.
BADONG, Vincent Steve P.
BAG-AYAN, Voltaire S.
BAG-ID, Virgilio P.
BAGALANON, Teonilo Jr. M.
BAGALIHOG, Francis Aleli H.
BAGANO, Apolinario Jr. A.
BAGAOISAN, Kris Edrelle R.
BAGAY, Francis B.
BAGAYAO, Kurt Paul G.
BAGAYAS, Josiah Patrick P.
BAGAZIN, Willem Jun L.
BAGIS, Sarah U.
BAGLEO, Jeanie C.
BAGOL, Lorraine R.
BAGSIYAO, Crisel A.
BAGUIO, Gerard Ceasar S.
BAGUIO, James Rael P.
BAGUIO, May Irma C.
BAGUIO, Neil Paolo E.
BAGUIO, Sheila Marie M.
BAGUIWAN, Brennan S.
BAGUIWEN, Feric B.
BAGUMBAY, Dexter Jay F.
BAGUNAS, Kara Marie Angela R.
BAGUNDANG, Zaidamin D.
BAGUNU, Reynaldo P.
BAHENA, Eufinel B.
BAHIAN, Andrea Kristina L.
BAHRI, Mehrab U.
BAHUL, Momar D.
BAILON, Angelica Joy Q.
BAJADA, Joshua C.
BAJAMUNDI-PURA, Yazmine A.
BAJE, Beverly Keren Lou B.
BAJO, Michel Louise R.
BALABA, Amiela S.
BALABAT, Venica Jaelyle P.
BALACE, Arnulfo B.
BALADAD, Loudovico Jr. M.
BALAG-OY, Crispin B.
BALAGASAY, Deannara Jill G.
BALAGTAS, Khristine A.
BALAJADIA, Celinna Therese A.
BALALIO, Ofe Marie L.
BALANG, Mohammad Muariff S.
BALANGUE-ADUAN, Maribel B.
BALANQUIT, Franklin Jr. F.
BALANQUIT, Mabel V.
BALANQUIT, Naizette Marie M.
BALAODAN-CAYABYAB, Yvileth K.
BALASABAS, Tonirose B.
BALASOLLA, Mary Jasmin Zennaia M.
BALATBAT, Robin P.
BALBA, Rizza Krystelle C.
BALBANERO, Niña Jasmine Marie J.
BALBASTRO, Shiela Mae U.
BALBERONA, Marlon B.
BALBERONA, Renzo Beaver B.
BALBIN, Charles Phoebelmer G.
BALBIN, Keith Anthony G.
BALBINES, Wylynne L.
BALBOSA, Jay Mark P.
BALBUENA, Niñanne Nicole B.
BALBUENA, Salvador II B.
BALCEDA, Louie M.
BALCUEVA, Ira Colleen E.
BALDERAMA, Ben Laurence O.
BALDIVIA, Xyra Jane B.
BALDOMARO, Novie Amor A.
BALDON, Lianne B.
BALDONADO, Carmille Ann B.
BALDONADO, Martha Isabelle H.
BALDOS, Christelle Ayn D.
BALDOVINO, Christian S.
BALGOA, Patricia Nicole M.
BALGOS, Emmanueline V.
BALIAD, Edbert M.
BALIAT, Beverly B.
BALICAS, Alexis Victor G.
BALIGOD, Rei C.
BALILO, Victoria Marie S.
BALINDAN, Jarvish F.
BALINDONG, Ali Pangalian III A.
BALINDUA, Enrique Benigno Esterlito N.
BALINGAO, Ma. Glory Ann C.
BALIONG, Eunice S.
BALISADO, Jan Michael A.
BALISCO, Herald S.
BALISI, Patrick Ray B.
BALISONG, Patrick Edward L.
BALITA, Fatima Dexie D.
BALITTE, Sheena Liz A.
BALIWAS, Maria Concepcion R.
BALLADARES, Ruth P.
BALLECER, Donnie Franco S.
BALLECER, James Christian S.
BALLENTOS, Brawn Baron Irving C.
BALLEQUE, Irene A.
BALLESTA, Maria Golda S.
BALLESTEROS, Dennis L.
BALLESTEROS, Judea Lynn Q.
BALLESTEROS, Myra Joy B.
BALLESTEROS, Theo Miguel A.
BALLETA, Malvin A.
BALLOS, Jacob D.
BALMEO, Jan Kaeko D.
BALMONTE, Dante A.
BALO, Jimar C.
BALOC, Christiane Marie T.
BALOCNIT, Amorelle A.
BALOCNIT, Jamela Pat G.
BALOLOY, Ma. Lalaine T.
BALONAN, Hanston O.
BALONGGAY, Lubimaya Jayle B.
BALT, Al-emir Yusoph J.
BALT, Saddam Hussein S.
BALTAR, Marlon C.
BALTAZAR, Ariel S.
BALTAZAR, Christina C.
BALTAZAR, Lawrence A.
BALTAZAR, Mary Anne Micah R.
BALTAZAR, Renjomar C.
BALTAZAR, Timothy James Myth J.
BALUBAL, Mc Vernon L.
BALUCA, Christian James B.
BALUDDA, Kherry Lo P.
BALUMA, Samantha Dawn F.
BALUYAN, Frances Janina F.
BALUYOT, Gerald Francis C.
BALUYUT, Mark Renzo T.
BANAAG, Clark Aldwin B.
BANAAG, Cris Marco V.
BANAAG, Imelda C.
BANAAG, Mary Jerome S.
BANABANA, Florian P.
BANAL, John Michael G.
BANAO, Nolibeth B.
BANASAN, Brandon M.
BANATIN, Alyssa Monique T.
BANAYAN, Cherie Fe B.
BANCALE, Jacob V.
BANCE, Kimberley M.
BANCE, Roi Paulo O.
BANCIFRA, Claudine S.
BANDILLO, Jean V.
BANDONILL, Gerald Paul B.
BANDOY, Israel A.
BANDUYAN-TIQUE, Gelaiza Lem N.
BANEZ, Alvin Gregory J.
BANG-AS, Mark Dave L.
BANG-NGIT, Jestin Belle L.
BANGCAWAYAN, April M.
BANGGAWAN, Edsel T.
BANGIBANG, Recson B.
BANGIS, Pfizer C.
BANGLITEN, Miraldine T.
BANGNGAY, Gauden Marie C.
BANGO, Jeaneth B.
BANGOT, Jayjay R.
BANGOY, Ireneo Q.
BANGSOY, Aileen M.
BANGUIS, Francisco Jr. C.
BANIAGA-GANDAWALI, Sittie Aliya A.
BANICO, Herminio III K.
BANISIL, Sittie Fayza A.
BANLAYGAS, Castelo T.
BANOGON, Barzillai Josh M.
BANOTAN, Leilani M.
BANQUERIGO, Areo Krisanto V.
BANTAO, Fatima Aliah M.
BANTILAN, Maria Elaine Therese A.
BANTILING, Lloyd A.
BANTUGAN, Ma. Emilee D.
BANUELOS, Donna Christine P.
BAQUIAL, Winona Marie D.
BAQUIANO, Mia B.
BAQUIRAN, Denise B.
BAQUIRAN, Florencio Jr. C.
BAQUIRAN, Myreel E.
BARA-ACAL, Anshanor D.
BARAGUIR, Datu Rafsanjani M.
BARAMBANGAN, Asmenah M.
BARAN, Foena B.
BARANDINO, Christian U.
BARANDON, Michelle G.
BARAO, Christina Marie M.
BARAOIDAN, Nathaniel O.
BARAWID, Leane Anne G.
BARBA, Olive Adrienne G.
BARBACENA, Eden V.
BARBARONA, Hazel M.
BARBERO, Rigoberto R.
BARBOSA, Paz P.
BARCE, Daphne B.
BARCELON, Frederick I.
BARCELONA, Aniway L.
BARCENILLA, Denmark B.
BARDE, Karlo Emmanuel S.
BARIL, Kristine Marielle M.
BARING, Alexandra Nicole M.
BARINQUE, Venice Jade M.
BARIQUIT, Joymee L.
BARLIZO, Jelyssa Keith F.
BARNACHEA, Daniel Philip V.
BARNES, John Michael M.
BAROJA, Rachel Anne C.
BAROMA, Bea Anne P.
BARON, Marianne A.
BAROT, Karen Claudene R.
BAROY, Ed Mark C.
BAROÑA, Angelica Ernestine L.
BARQUEZ, Sheila Lynn B.
BARQUIN, Jonathan D.
BARRAMEDA, Marianne Angeli D.
BARRANTES, Ezra C.
BARREDO, Eran B.
BARREDO, Pamela Camille A.
BARRERA, Arisse Jannah B.
BARRETE, Christine B.
BARRIDO, Geia Andrea B.
BARRIENTOS, Yvette Kathryn S.
BARRION, Bettina P.
BARRION, Chrissie May R.
BARRIOS, Carlos R.
BARROGA, Nikki Joy F.
BARRON, Gerard Andre P.
BARROSA, Paul John F.
BARROSO, Frances Angelie T.
BARROZO, Joanna Marie L.
BARSABAL, Melchito U.
BARTIQUIN, Malaquias Friday B.
BARTOLATA, Mary Lizza D.
BARTOLATA, Rowena A.
BARTOLOME, Aron Paul S.
BARTOLOME, Ralph Jireh A.
BARZUELA, Sol Elvin L.
BAS, Mavilene Simonette G.
BASABAS, Raquel A.
BASAL, Michelle C.
BASALO, Daryll D.
BASALUDDIN, Mohammad Ivan B.
BASANG, Jemima M.
BASAY, Jaliel Moeen M.
BASBAS, Lorane Angeli L.
BASCO, Kim Cyrille Mei R.
BASCO, Rodel T.
BASCO-PEREZ, Ellinore Josephine C.
BASCON, Jose I R.
BASELERES, Diorson M.
BASILIO, Maria Kristine P.
BASQUIÑA, Angeles Jr. R.
BASSIG, Ma. Karina A.
BATAAN, Cathleen Marie C.
BATAC, Gloria Patricia H.
BATALLER, Jerremiah Kriziah B.
BATARA, Faidah P.
BATARA, Kylemil M.
BATHAN, Ma. Roselle A.
BATHAN-AMORIN, Anna Lissa A.
BATINO, Bea Constancia B.
BATINO, Mary Alelie D.
BATION, Karl M.
BATOBALONOS, Christopher P.
BATOCAIL, Hazel Joy V.
BATOMALAQUE, Roseve P.
BATONDO, Ariel Joseph A.
BATTON, Ivory Miles H.
BATTUNG, Marieflor S.
BATUGAL, Mark Julius R.
BATUGAN, Ilham U.
BATULA, Daniel Dominic C.
BATULA-NASIAD, Kimberlyn S.
BATULAN, Kervin B.
BATURIANO, Filemon Jr. O.
BAUAG, Marc Lester H.
BAUCAN, Kareen Mae B.
BAUCAS, Stephanie L.
BAUD, Sittie Rainnie M.
BAUN, John Christian IV G.
BAUTISTA, Bless Marian L.
BAUTISTA, Carl Steven B.
BAUTISTA, Cecille Loie G.
BAUTISTA, Charles Aames M.
BAUTISTA, Eldren Jay T.
BAUTISTA, Francis Gerard J.
BAUTISTA, Guianne Joyce L.
BAUTISTA, John Robert O.
BAUTISTA, Jonathan A.
BAUTISTA, Kresnie Anne F.
BAUTISTA, Mark John G.
BAUTISTA, Martin Alec N.
BAUTISTA, Marvis Philip Melcky R.
BAUTISTA, Menlyn N.
BAUTISTA, Michael Vincent A.
BAUTISTA, Paolo Gabriel P.
BAUTISTA, Patrick L.
BAUTISTA, Raphael O.
BAUTISTA, Rolando A.
BAUTISTA, Simplicio Jr. C.
BAUTISTA, Vernadette D.
BAUTISTA, Vincent Brian M.
BAUTISTA-ORTEGA, Anne Cathlyn C.
BAUTISTA-VALDEZ, Marnellie E.
BAUZON, David Miguel O.
BAUZON, Ge Ann Michelle M.
BAWALAN, Allana Marie P.
BAYA, Maria Dolores A.
BAYA, Nash Denver S.
BAYABAO, April Z.
BAYABOS, Julie Ann P.
BAYADOG-PAYE, Marichel B.
BAYAN, Maria Ysabelle P.
BAYANI, Rachel A.
BAYBAY, Bryan Ervin L.
BAYLE, Mari Ann B.
BAYLE, Stephanie M.
BAYLON, Jay Ryan S.
BAYLON, Shena Gladdys D.
BAYLOSIS, Jessie B.
BAYOG, Ernesto S.
BAYONA, Patricia Anne A.
BAYOT, Abel Angelo Jr. D.
BAYOT, Dominador Raymond Nelson Jr. B.
BAYOT, Jemuel A.
BAYQUEN, Carla Louise B.
BAYSA, Lynk Juren U.
BAYSA, Lyza Mae S.
BAYUDAN, Beatriz Raine L.
BAÑARES, Nathaniel A.
BAÑARIA, Gwendolyn Ann I.
BAÑAS, Chit Leonelle Isaiah R.
BAÑAS, Christopher R.
BAÑEZ, Alice Corinna G.
BAÑEZ, Lorenz Camillus V.
BAÑEZ, Zachary P.
BEATO, Dulce Amor A.
BECARO, Jebmari R.
BECEIRA, Rowena M.
BEDAÑA, Joy Gabrielle A.
BEIRA, Paul Nathan A.
BEJASA, Kirk Dean H.
BEJER, Analyn B.
BEJOSANO, Jose Ibarra D.
BELA-O, Krisanto A.
BELANO, Zoilo Jr. D.
BELARDE, Kevin Shawn Ray S.
BELARDO, Ma. Cristina S.
BELARMINO, Aliza L.
BELARMINO, Alphonse Louie E.
BELARMINO, Bernardo B.
BELARMINO, Ed Gibson C.
BELARMINO, Ezra Dan M.
BELARMINO, Marie Bernardine M.
BELARMINO, Shaila Joyce P.
BELDAD, Mary Bernadette L.
BELEJERDO, Jikko S.
BELEN, John Ric V.
BELEN, Xyra B.
BELENA, Giovanni B.
BELENO, Emerson B.
BELENZO, Ritzchelle C.
BELGA, Joanne Angela B.
BELGA, Karl John L.
BELGA, Paulino III C.
BELGICA, Louie Z.
BELISTA, Charisa L.
BELLAFLOR, Danica C.
BELLEN, Honey Joy M.
BELLEN, Sheena Hazel R.
BELLEZA, Aleksei N.
BELLO, Mario Jr. M.
BELLO, Marla Olivia C.
BELLOSILLO, Izobel M.
BELMONTE, Shena Ann M.
BELTRAN, Elenita L.
BELTRAN, Enrique A.
BELTRAN, Jose Miguel B.
BELTRAN, Mark Salvador C.
BELTRAN, Patricia Bianca E.
BELUANG, Phoebe Kim S.
BELVIS, Eunice Fleur B.
BELZA, Jon-jon M.
BEMIDA, Donita Lou A.
BEN, Ma. Consolada V.
BENDIJO, Jenifer V.
BENEYAT, Marie Grette B.
BENITEZ, Angelica Joyce S.
BENITEZ, Bianca Celest T.
BENITEZ, Edgardo M.
BENITEZ, Kathleen Mae P.
BENITEZ, Paula Diane .
BENITEZ, Stela Marie E.
BEO, Kenneth M.
BEQUIN, John Harvey Lee A.
BERAME, Arjonnah T.
BERANA, Eunice Joy R.
BERBA, Rosanna F.
BERBANO, Divine Grace P.
BERBERABE, Maria Angelica A.
BERDIN, Franklin Jae M.
BERDIN, Glenn Anne Marie G.
BERDUGO, Maxwel John B.
BERIN, Tani Cris G.
BERINGUEL, Jarleine J.
BERINGUELA, Kevin John B.
BERIÑA, Robert Louie N.
BERJA, May Ann A.
BERMACHEA, Joanna L.
BERMEJO, Christen Niña H.
BERMUDEZ, Benedict Jonathan J.
BERMUDEZ, Nathalie S.
BERMUDO, Christine Joy G.
BERNABE, Dawn Betina Q.
BERNABE, John Benedict J.
BERNABE, Sherissa Marisse M.
BERNAL, Bianca Louise F.
BERNAL, Dahlia L.
BERNAL, Marice R.
BERNALES, Ina Noelene M.
BERNALES, Maybelle Joy E.
BERNARDEZ, Ivy Clarize A.
BERNARDINO, Mikaela V.
BERNARDO, Adrian Paul C.
BERNARDO, Angelica A.
BERNARDO, Harold M.
BERNARDO, Ivy M.
BERNARDO, Juddene R.
BERNARDO, Mary Chelean Michelle L.
BERNARDO-SABENIANO, Elena C.
BERNARTE, Bryan I.
BERNARTE, Dominic I.
BERNAS, Marie Claudine B.
BERNAS-DIVINAGRACIA, Marthena Joyce G.
BERNOLIA, Krisha Dawn B.
BERO, Ira Jennena J.
BERSABAL, Elijah B.
BERSABAL-LUY, Connie S.
BERSAMIN, Abigail T.
BESA, Jerome Cornelius M.
BESARIO, Kenny Anne D.
BESMONTE, Kristine D.
BETING-PILPIL, May-ann M.
BETOYA, Shinar Ley R.
BHAGWANDAS, Neeresh V.
BIACO, Angelica G.
BIAG, Joseph Ryann J.
BIAGTAN, Christian Ernest C.
BIBERA, Neslie Vic L.
BIDUA, Arvin C.
BIEN, Christiana Jude D.
BIEN, Eduardo Jr. R.
BIGAY, Donnabelle S.
BIHASA, Richard G.
BILAGANTOL, Angelique Mhar S.
BILIRAN, Cheza Marie D.
BINAHON, Pearlie Jane Q.
BINALAY, Carol P.
BINALAY, Ramjie P.
BINASING, Jibriel S.
BINAYAS, Phillip Owen T.
BINAYAS, Valerie Kaye D.
BINUYA, Jan Darryl G.
BIOL, Lawrence C.
BIONG, Melanie N.
BIRONDO, Annabelle A.
BIRUAR, Ariff Adam Sansaruna II M.
BISCARRA, Hazel L.
BISCOCHO, Abbie Patricia P.
BISCOCHO, Henessy Z.
BISNAR, Katreena M.
BISNAR, Paolo Sales Jr. Z.
BITANGA, Jeremias V.
BITO, Virgilio G.
BITOIN, Joanna Pauline T.
BIWIT, Alvin B.
BLANCA, Francis Joseph L.
BLANCAFLOR, Jaybe L.
BLANCAFLOR, Leticia Marie C.
BLANCO, Hannah Mae .
BLANCO, Ian S.
BLANCO, Roderick F.
BLAY, Jose Angelo A.
BO, Raoul Isagani Jr. R.
BOADO, Diana Lou L.
BOBILES, Francis Mico E.
BOCALA, Louise Abigail C.
BOCALAN, Mary Danielle E.
BOCBOC, Dobie S.
BOCITA, Raziel Angeline A.
BOCO, Eva Joy C.
BOCYAG, Cathy B.
BODO, Pauline Marie A.
BOGÑALOS, Julie Ann B.
BOHOL, Faye Cience C.
BOISER, Manuelito L.
BOJO, Petros Absalon C.
BOJOS, Rita Angelica U.
BOLANIO, Adrian V.
BOLINGET, Zoroaster G.
BOLLER, Karen Mae C.
BOLLOZOS, Kenneth Andrew R.
BOLOFER, Dorothy Dea T.
BOLOS, Debbie Gaile J.
BOLTIADOR-ORIO, Marydith B.
BOMBEZA, Deebee C.
BOMBITA, Virgil Andre C.
BONACUA, Sherdinand C.
BONAOBRA, Rose Ann B.
BONCODIN, Sheryl L.
BONDAD, Ramil A.
BONEO, Jico V.
BONETE, Geevie Mar A.
BONGABONG, Joshua James M.
BONGABONG, Ronny S.
BONGALON, May B.
BONGALON-CALABUNG, Rodesa Lara Fea V.
BONGAPAT, Mary Joy C.
BONGSIAN, Judy B.
BONIEL, Marsha V.
BONIFACIO, Carissa V.
BONIFACIO, Ma. Patricia Therese C.
BONITE, Israel G.
BONJOC, Mariecris A.
BONOAN, Lovely Mae R.
BONOAN, Luis Gonzaga Jr. S.
BONOAN, Ramon Francisco P.
BONOT, Erynne Angelie B.
BONSATO, Dennisse Ian I.
BONTANON, Karl Patrick P.
BONTUYAN, Christine Claire A.
BOOL, Leanne Claire M.
BOQUIRON, Ian Howell P.
BORATA, Felix Gian L.
BORBE, Jane Karla C.
BORCES, Bobby M.
BORCES, Gabrielle L.
BORDADOR, Maria Rebecca Claire B.
BORDIOS, Zairyle Fhey C.
BORGA, Janzel Roquette E.
BORILLA-BALDOZA, Rian J.
BORILLO, Koreen C.
BORJA, Brian Theo P.
BORJA, Frances Luz L.
BORJA, John Christopher Z.
BORJA, Merryl Angelic C.
BORJA, Ronilo U.
BORLAGDATAN, Mae Joy L.
BORLAS, Titus Jr. A.
BORRES, Shane E.
BORROMEO, Bonna Lisa O.
BORROMEO, Chrizel Ann S.
BORROMEO, Jose Mari Ramone H.
BOSQUE, Francis Ronald B.
BOTE, Kristine Valerie R.
BOTOR, Maria Agnes R.
BOTOR, Noe Armon B.
BOYONGAN, Joyce B.
BOÑAGA, Charina Mae B.
BRADECINA, Darwin B.
BRAGA, Michael Vencynth H.
BRANDES, Charlo V.
BRAVO, Francisco Jr. O.
BRAVO, Jayson M.
BRAVO, Raymundo Jr. D.
BRAVO, Roselle Ruby B.
BRENA, Myrwin M.
BRIAN, Jhodessy Jane A.
BRICIA, Jan Karlo V.
BRIES, Sherwin Timothy C.
BRILATA, Melani L.
BRILLANTES, Bryne Angelo M.
BRILLANTES, Fel Lino Amor G.
BRILLANTES, John Mark G.
BRINGINO, Rholdan C.
BRIONES, David Karlo S.
BRIONES, Erica Mae I.
BRIONES, Jasper Frederick C.
BRIONES, John Caldan P.
BRIONES, Jose Wilmer M.
BRIONES, Joyce Hachelle A.
BRIONES, Kristelle R.
BRIONES, Shailah Leilene A.
BRIONES, Steven G.
BRIOSO-ROA, Rhodelyn Mae B.
BRIOSOS, Bryan B.
BRIOSOS, Cheryll D.
BRITANIA, Renee A.
BRITANICO, Nerie D.
BRITO, John Patrick T.
BRIZ, Joseph Anthony P.
BRIÑAS, Joanna Cherica Y.
BROBO, Katheleen Fe A.
BRONCATE, Kimberly Joy E.
BROZO, Mark James M.
BRUL, Hezron T.
BRUSOLA-BOBIS, Lara R.
BRUZON, Dave Adrian V.
BUBAN, Ana Regina A.
BUBONG, Al-amen A.
BUCAY, Diannour N.
BUCAYCAY, Gerard Patrick I.
BUCOY, Isagani Jr. B.
BUCTAYON, Hazel P.
BUCU, Aleli Joyce H.
BUDADEN, June Mae R.
BUDLONG, Katrina F.
BUENA, Jeffrey V.
BUENAVENTURA, Jonnie H.
BUENAVENTURA, Marie Melanie O.
BUENAVENTURA, Nicole Kristel Y.
BUENAVISTA, Rina Raquel C.
BUENCONSEJO, Ahreen Kiela B.
BUENDICHO, Earl John S.
BUENO, Ellen Joyce C.
BUENO, Johnrom Homer M.
BUENO, Mc Garrie Earl C.
BUENO, Orlando Jr. D.
BUENO, Renato D.
BUESER, Allan Matthew G.
BUGARING, Larry D.
BUGARING, Yurik Mikhail R.
BUGAY, Anna Isabel S.
BUGAYONG, Juan Antonio A.
BUGNA, Marlito C.
BUGNAY, Jonathan G.
BUGNOSEN, Monique G.
BUGTAS, Camille C.
BUHANGIN, Janelle Ann H.
BUHANGIN, John Dominic T.
BUHAY, Jhudith D.
BUHAY, Kamille Liza M.
BULACAN, Angelette C.
BULAN, Marvin Rhick G.
BULAN, Zyka D.
BULANDAY, Beverly Jane H.
BULANGGIT, Dave Mark O.
BULANON, Jannet A.
BULASA, Jo Mary O.
BULATAO, Johann Angelo C.
BULAYUNGAN, Robert Jr. V.
BULGADO, Dybie L.
BULIYAT, Brent B.
BULLECER, Cazzandhra Mae N.
BULOSAN, Gel Camille G.
BULOTANO, Jhan Ray R.
BULURAN-REYES, Vhalerie S.
BUMALAY, Joann Christa R.
BUMANGLAG, Josie-reyna S.
BUMANLAG, Christine Karen L.
BUMANLAG, Gian Carlo E.
BUMANLAG, Leida Mae L.
BUMOHYA, Jovilyn M.
BUNCAG, Charvenn N.
BUNDA, Hersie A.
BUNDAC, Michaela Alyssa M.
BUNDALIAN, Alberto Jose B.
BUNDANG, Ma. Krissa Ellaine P.
BUNGUBUNG, Leovigildo Jr. B.
BUNGUBUNG, Pia Christine M.
BUNIEL, Chris Lloyd Peter A.
BUOT, Neil Dionisio A.
BURCAO, Beverly V.
BURCE, Ernie A.
BURCE, Frezalva Vir C.
BURDEOS, Alyza Imma Concepcion M.
BURGESS, Ruth Esther B.
BURGOS, Elsie S.
BURGOS, Justine Louise R.
BURGOS, Rina Paula A.
BUROG, Ceyhan Angela V.
BUSA, Natividad G.
BUSAING, Jemima Elaine S.
BUSIL, John Charles B.
BUSOG, Jones Harold Bird M.
BUSTAMANTE, Dulce S.
BUSTAMANTE, Eunice R.
BUSTAMANTE, Jhulian Roby D.
BUSTINERA, James Abram G.
BUSTO, Imelda A.
BUTALID, Claudelle B.
BUTAO, Kimberly May .
BUTRON, Maria Contessa S.
BUYCO, Samantha Esther T.
BUYUCCAN, Shannon B.
BUZON, Cherie Anne R.
BUZON, Janice Belle T.
BUÑAG, Kenneth Earl T.
BUÑO, Maria Bernadette M.
BUÑO, Paul Michael L.
CAALEM, Kate P.
CAANDOY, Hezro I.
CAASI, Sheree Ann G.
CAAYAO, Lee Johan Marie O.
CABADDU, Marjorie S.
CABAEL, Alexandra Nicole C.
CABAGBAG, Andrea M.
CABAHUG, Darlene Anne A.
CABAHUG, Emrico M.
CABAHUG, Gibb Andrew M.
CABAHUG, Karina Virginia Perpetua R.
CABAHUG, Kim Marielle H.
CABAHUG, Kuditah Victoria Inez R.
CABAIS, Ma. Ella Natividad N.
CABALAN, Bismark L.
CABALANG, Alyssa Faye P.
CABALLEGAN, Lenidel C.
CABALLERO, Aira Alyssa M.
CABALLERO, Angelika Marie E.
CABALLERO, Carlo Frances E.
CABALLERO, Jeremiah N.
CABALLERO, Mary Natalie E.
CABALLERO, Sunday L.
CABALLES, Danica L.
CABALLES, Mark Julius P.
CABALTERA, Inah Sophia T.
CABALTERA, Lea Victoria T.
CABALTERA, Stephen B.
CABANAG, Jose Antonio S.
CABANG-GAMMAD, Edith Q.
CABANGLAN, Rodolfo Jr. G.
CABANGON, Eunis Flamme S.
CABANILLA, Jessy Francis F.
CABANIT, Joseph A.
CABANLONG, Viola Marie Emille P.
CABANNAG, Jetty Gay O.
CABANTING, Aileen Mae F.
CABANTING, Gregorio S.
CABARLO, Cavin Jhon M.
CABARON, Eryl Isabelle Y.
CABATBAT, Katherine Pia M.
CABATU, Rema Pazvia D.
CABAUATAN, Androus Rogel C.
CABAUATAN, Karl Patrick G.
CABAYACRUZ, Jesy Ann T.
CABAYAO, Ruby Ann C.
CABEL, Alyssa Nicole I.
CABEL, Eunika Philline C.
CABELLO, Kim P.
CABELLO, Mia Margaritha T.
CABEZA, Nina Sarah D.
CABIAO, Arrianne Joy Q.
CABIAS, Dome Myrll T.
CABIDOG, Rey Franz B.
CABIGAO, Marc Andrew G.
CABIGON, Ma. Tiffany T.
CABIGTING, Rafeliza F.
CABIJE, Alan Jr. A.
CABILDO, Jennifer Corazon D.
CABILITASAN, John I.
CABILTE, Alexandre U.
CABITAC, Fernando III B.
CABOCHAN, Jonas Josh Florentino C.
CABOG-BERGONIA, Nichelle Ann M.
CABOVERDE, Teresita C.
CABRAL, Alyanna Angelina M.
CABRERA, Ana Karla L.
CABRERA, Godfrey Anton J.
CABRERA, Mark Romel G.
CABRERA, Mc Noel P.
CABRERA, Nikos Noel Honesto Ruben M.
CABRERA, Rhea F.
CABRERA, Roseanne O.
CABRERA, Sven P.
CABREROS, Andrea Lauren E.
CABREROS, Astrid Berenice C.
CABREROS, Jessaline P.
CABRIANA, Romel E.
CABRIDO, Leslie Mae O.
CABRILLOS, Louela T.
CABUG-OS, Ma. Eva G.
CABUGAO, Kristina D.
CABUHAL, Herald Jayne M.
CABUHAT, Milea Kim Karla S.
CABULANG, Margielene L.
CABUS, Theodore L.
CABUSO, Aivy Jhoy M.
CABUSORA, Rinah Lae I.
CACAPIT, Lian Marco S.
CACATIAN, Florenz Efren D.
CACATIAN, Lily Jean L.
CACAYAN, Hanna Leah T.
CACDAC, Micah Mari C.
CACDAC, Teresa Marie C.
CACERES, Frances Claire R.
CACERES, Hannah A.
CACERES, Mary Mae Z.
CACHAPERO, Phillip Dave C.
CACHO, Camille C.
CACHO, Jose Mari L.
CACHO, Kristoffer Ryan A.
CADAG, Kenneth James P.
CADANO, Eusef Riel B.
CADAO, Marvin I.
CADAVOS, Mae Ann M.
CADAYONA, Kimberly C.
CADELEÑA, John Reyrani E.
CADENILLA, Aileen H.
CADER, Junaid G.
CADIOGAN, Sarah L.
CADIZ, Jose Enrique S.
CADIZ, Karl Andrei N.
CADIZ, Ma. Charlene R.
CADORNIGA, Rodel Jr. R.
CAEDO, Emilio Sebastian M.
CAGAANAN, Vic Raymond C.
CAGAMPAN-TALATALA, Merrissa B.
CAGAMPANG, Aiza A.
CAGAN, Jenalyn A.
CAGANDAHAN, Edcarl R.
CAGAY, Glendy Marie B.
CAGURANGAN, Peter Paul P.
CAHINDE, Harold Sam L.
CAHINDE, Pearl Ingrid E.
CAHUCOM-CAÑEDA, Caroline T.
CAI, Michael Kean L.
CAIMBRE, Kimberly D.
CAINGAT, Jan Andrian V.
CAIPANG, Jacob L.
CAISIP, Benson M.
CAISIP, Gerard John P.
CAISIP, Marlon M.
CAJAYON-ORIAS, Flor-ann A.
CAJIGAL, Clarizze May P.
CAJUCOM, Katrina Monica T.
CAL, Rodrigo Jr. L.
CALACA, Shaliha Anjierah R.
CALACAR, Opalynne Rose A.
CALAG, Gelyn R.
CALAGOS, Cyrine L.
CALAGUAS, Joshua Alexander S.
CALAGUI, Aneka Joy A.
CALAGUI, Jayson B.
CALAGUIAN, Mark D.
CALAMBA, Marion Jossette B.
CALAMBA, Norman B.
CALAMBA, Wedi B.
CALAMBRO, Fernando Jr. B.
CALANG, Princess V.
CALANGI, Diana Mae C.
CALANOG, Wendell Jr. G.
CALAPATI, Mae Margaret E.
CALAUNAN, Leomar D.
CALCETA, Melani C.
CALDERON, Krystel Grace L.
CALDERON, Maria Ginalyn C.
CALDERON, Marlon G.
CALDIT, John Wencel M.
CALDO, Patrick Anthony L.
CALDONA, Enrico C.
CALESTERIO-GRANDE, Raquel Q.
CALIBUGAN, Rudeza Sheena A.
CALICDAN, Allan Michael A.
CALINDAS, Dacy Imee T.
CALINGACION, Charmi C.
CALISO, Ivy Marie D.
CALISTE, Rochelle T.
CALIUAG, Jordanne Marie B.
CALIWAN, Emmanuel S.
CALIWARA, Lester Joseph L.
CALLEJA, Jeniza P.
CALLEJA, Mary Anne R.
CALLEJA, Raymund Paolo S.
CALLEJO, Jasfher R.
CALLO, Michelle Alen O.
CALLUENG, Ma. Regine B.
CALMA, Cammile B.
CALMA, Ismail J.
CALMA, Marvin F.
CALMERIN, Keneth Caesar C.
CALO, Michael T.
CALORA, John Marvin A.
CALPITO, Edmerson Prix S.
CALUALHATIAN, Marc Marion R.
CALUB, Giulia Ingrid C.
CALUB, Tracy Mae M.
CALUMBA, Isaiah P.
CALUMBA, Mark F.
CALUNA, Joemar P.
CALUNGSOD, Alex Dexter R.
CALVO, Denise Dominique L.
CALVO, Fidel Gabrielli .
CALZADO, Warren M.
CAMACHE, Therese Angelie M.
CAMACHO, Joshua A.
CAMANNONG, Benvir G.
CAMARA, Amorsolo Jr. R.
CAMARAO, Aeron C.
CAMARAO, Lyodychie Q.
CAMARILLO, Kristine Bernice C.
CAMASIS, Zerlaine Inna D.
CAMASURA, Jayson U.
CAMAYMAYAN, Gil M.
CAMBA-FANGWA, Irish M.
CAMBALIZA, Tzarlene J.
CAMBEL, Katherine Mae B.
CAMINADE, Christine A.
CAMINONG, Ma. Rhea D.
CAMITAN, Godly Ann T.
CAMPANER, Marrie Allexa F.
CAMPO, Arvic Robert A.
CAMPO, Rolan Carlo P.
CAMPOS, Austine M.
CAMPOS, Eric C.
CAMPOS, Judd Maximo D.
CAMPOSANO, Anna Joyce T.
CAMPOSANO, Cyrene R.
CAMPOSANO, Katrine Brille B.
CANAPE, Aaron Dale T.
CANAPI, Carmela Flores Cure .
CANARIAS, Januar B.
CANAYA, Gene Rose C.
CANCINO, Realyn R.
CANDA, Ferdussia May M.
CANDARI, K-phren D.
CANDAZA, Trina Marie M.
CANDELARIA, Christian Miguel C.
CANDELARIA, Jocelyn M.
CANDELARIA-MANGABAT, Michelle Ivy R.
CANDIDO, Antonio C.
CANDIDO, Janina Raniella F.
CANDOLE, Janine V.
CANILAO, Lennard S.
CANILLAS-PEN, Viodela C.
CANINO, Jonil D.
CANIW, Janine Blaize O.
CANJA, Francis Antonio S.
CANLAS, Glen Santiago Jr. K.
CANONES, Stephanie Ann B.
CANONIZADO, Jenny Kenn S.
CANOSA, Ezra Joy A.
CANOY, Shannon Mae O.
CANTEVEROS, Noe B.
CANTIMBUHAN, Mariane Philine T.
CANTORIA, Gianna B.
CAOAGDAN, Marlou S.
CAPA, Kristabelle T.
CAPACITE, Mark Adrian T.
CAPADA, Dave Robert H.
CAPANZANA, Krizia Dominique L.
CAPAO, Henna Auggie M.
CAPAPAS, Rachel Anne O.
CAPARAS, Androlf Fernan V.
CAPARIÑO, Joselito Narciso B.
CAPATI, Nina Alisha D.
CAPCO, Reinier C.
CAPILA, Archiebald F.
CAPILA, Mervin Kim P.
CAPILASTIQUE, Cherry Rose M.
CAPILI, Michaela Anne I.
CAPIO, Ma. Kristel G.
CAPISTRANO, Allyne Emecee J.
CAPISTRANO, Marinela Isabelle M.
CAPISTRANO, Rocel Anjanet Q.
CAPITLE, Christy M.
CAPITO, Dianara B.
CAPUCHINO, Mafel M.
CAPUCHINO, Nicki Vine C.
CAPULONG, Patrick Philip L.
CAPUNDAG, Jayson M.
CAPUNO, Mary Shane E.
CAPUPUS, Gemma P.
CAPURCOS, Jumel L.
CAPUTOLAN, Franz D.
CAPUYAN-BUSTILLO, Dianne Carmelle C.
CARACUEL, John Raphael S.
CARAG, Esther Claudine C.
CARAGAY, Michael Christopher D.
CARAIT, Magtangol III J.
CARAIT, Magtangol Jose P.
CARAM, Francine Beatrix A.
CARANDANG, Lorraine M.
CARAOS, Juliene Martha R.
CARATOR, Arnold B.
CARBAJAL, Fortunato III T.
CARBAJOSA, Ma. Cecilia D.
CARBONELL, A.j. John M.
CARBONELL, Byron A.
CARDENAS, Enrique Jr. M.
CARDENAS, Franklin D.
CARDENAS-VARGAS, Leah V.
CARDEÑO, Andre Jan L.
CARDEÑO, Maria Lelaina R.
CARELO, April Aidearlin D.
CARIAGA, Clive Hendelson F.
CARIAGA, Lovely Nikki A.
CARIDO, Fidel Jr. R.
CARILLO, Pauline Angela D.
CARIN, Clee Ayra S.
CARINGAL, Jamela Jane D.
CARINGAL, Krystle P.
CARIOS, Luningning P.
CARIÑO, Avelino Jr. P.
CARIÑO, Ella L.
CARIÑO, Gershon F.
CARIÑO, Joshua Emmanuel L.
CARIÑO, Princess P.
CARIÑO, Sean Frances P.
CARLOS, Divine Grace A.
CARLOS, Jesimiel G.
CARLOS, Von Jason J.
CAROLINO, Beata Regina U.
CAROLINO, Carlo C.
CARONAN, Dan Mikee V.
CARONAN, Nelee Grace T.
CARONAN, Rhoda Marie B.
CARONOÑGAN, Ana Bettina D.
CARPIO, Emilio P.
CARPIO, Mazradain Gayle D.
CARPIO, Mico Anthony M.
CARPIO, Robyn Carla M.
CARPIO-DOLIGON, Angeli R.
CARPIZO, Mark Cesar M.
CARREON, Elouisa Ann D.
CARREON, Michaelangelo M.
CARREON, Phoebellyn S.
CARREON, Romelen A.
CARREON, Victor Gabriel D.
CARREON-PASCUAL, Ellen Grace M.
CARRERA, Barbara Alexis D.
CARRERA, Jonald F.
CARRIEDO, Mark C.
CARTAGENA, Danica Aurea Y.
CARTAGENA, Geoffrey Rainier O.
CARTAGENA, Renadith Apple J.
CARTIN, Richelle Ann A.
CARUNUNGAN, Melissa B.
CARVAJAL, Erylle Anne F.
CASABAR, Joson L.
CASACLANG, John Paul C.
CASAMA, Fritz Paolo V.
CASAMA, Marvin Andrew C.
CASANOBA, Cynthrose F.
CASAO, Jayrard M.
CASAR, Hyderabad R.
CASEM, Jomari M.
CASIBANG, Diana M.
CASILAN, Ivy N.
CASIM, Miguel Alfonso O.
CASIMERO, Mark Almund M.
CASINILLO, Charlotte Vina S.
CASTAÑEDA, Rosenni A.
CASTAÑEDA, Xeres Anne C.
CASTAÑO-JACILDO, Jude Mae B.
CASTELAR, John Anthony A.
CASTELLANO, Zyshan Nain B.
CASTELLO, Ted Cassey B.
CASTELLTORT, Ellizar A.
CASTEN, Daimler John C.
CASTIGADOR, Anna Monique B.
CASTILLEJO, Agatha Faye G.
CASTILLO, Antonio Ramon L.
CASTILLO, Boenvel M.
CASTILLO, Charisse G.
CASTILLO, Charlotte Grace V.
CASTILLO, Cris Vincent V.
CASTILLO, Dennyson Q.
CASTILLO, Edwin S.
CASTILLO, Frances Gail F.
CASTILLO, Frinz Lemwel G.
CASTILLO, Isabella E.
CASTILLO, Ivy Crystal T.
CASTILLO, John Richmond Q.
CASTILLO, Joy Carmen G.
CASTILLO, Kathryn Arianne A.
CASTILLO, Lerma L.
CASTILLO, May R.
CASTILLO, Meriel P.
CASTILLO, Nina Beleen F.
CASTILLO, Philip Ulysses T.
CASTILLO, Precious C.
CASTILLO, Ronald C.
CASTILLO, Ryan A.
CASTILLO, Stephanie C.
CASTILLO, Tristan Carlos S.
CASTRO, Christine Jill S.
CASTRO, Edgar Jr. E.
CASTRO, Elreneo R.
CASTRO, Emir M.
CASTRO, Irene L.
CASTRO, Jan Dominic C.
CASTRO, Jeffany J.
CASTRO, John Paul D.
CASTRO, Joma R.
CASTRO, Mary Aireen M.
CASTRO, Mary Cherwyn L.
CASTRO, Sushmita Shane D.
CASTRODES, El Phant John T.
CASUPANAN, Filestrella M.
CASUYON, Rowena F.
CATA-AL, Fretzie Jane P.
CATABIAN, Glenford H.
CATACUTAN, Solimar A.
CATALAN, Glodyl Marie V.
CATALAN, Rachel Ann P.
CATANA, Darlyn Margaritte V.
CATANDUANES, Edselie Joyce R.
CATANTAN-CADAVIS, Pearl Caryl B.
CATAQUIZ, Mark Kenneth A.
CATBAGAN, Danica Karla T.
CATEDRILLA, Carl C.
CATIMBANG, Christine C.
CATIPAY, Jan Kriezl M.
CATIPON, Nimiel Joseph D.
CATLE, Neil C.
CATOLICO, Nikki Kristine R.
CATOLICO, Oscar III B.
CATOTAL, John Vincent G.
CATRAL, Beatrice Angela L.
CATUBAY, Nica A.
CATUBIG-DIMAYA, Liza B.
CAUBANG, Aven Sina B.
CAUBANG, Mary Grace G.
CAUILAN, Edison P.
CAUILAN, June Aika S.
CAUILAN, Paolo Simeon S.
CAVALIDA, Ervin Michael B.
CAWAL-O, Lixa Mae B.
CAWIGAN, Joana Marie B.
CAY-AN, Dorothy Joy A.
CAYABO, Marina P.
CAYABYAB, Princess Dianne R.
CAYAGO, Fresnel A.
CAYANAN, Jennelyn J.
CAYETANO, Elsie P.
CAYETANO, Kristine S.
CAYETANO, Virgilio Jr. P.
CAYLAO, Camille Faye R.
CAYUNDA-GALVEZ, Rosalia B.
CAZEÑAS, Vanessa Gem P.
CAÑEDO, Gretchen B.
CAÑETE, Alexis Claire Q.
CAÑETE, Antonietto Y.
CAÑETE, Cattleya L.
CAÑETE, Gladys S.
CAÑETE, Glykie D.
CAÑETE, Junnel P.
CAÑETE, Mary Anne C.
CAÑITA, Dianne Hazel D.
CAÑOSO, Peter Paul L.
CEA, Val V.
CEA-VALENCIA, Cherry Ann Jane P.
CEBALLOS, Jesus C.
CEBALLOS, Sheila Lou R.
CEDROME, John Nicolai G.
CELAJE, Joshua Brandon S.
CELERIO, Louise I.
CELINO, Erik N.
CELINO, Ralph Rafael C.
CELIS, Accel J.
CELIS, Franchezka Mae S.
CELIZ, Camille Anne H.
CELLO, Caleb P.
CELOSO, Via Joy B.
CEMINE-MAPULA, Celyn J.
CENIT, Casina Mae B.
CENIZA, Marjorie S.
CENIZA, Thea Anne Marie M.
CENTINO, Kristine Y.
CEPE, Ruth Mae C.
CEPEDA, Elaine Gerald C.
CEPEDA, Jami Rose C.
CERACAS, Paula Mae Y.
CERADO, Vincent D.
CERALDE, Kyle Alexander P.
CERBO, Jean V.
CERBO-LINDAYAG, Mides Mari S.
CERCADO, Adrian Karlo P.
CEREBO, Bryan Eric T.
CERIA, Emerson T.
CERVANTES, Margarita B.
CESPON, Amelie A.
CEZAR, Omar Carlo P.
CHALLONGEN, Annabel S.
CHAN, Annika Kay B.
CHAN, Carmilla Sophia B.
CHAN, Ellen Joy D.
CHAN, Justin Mark C.
CHAN, Kirk Mikhail Andrei P.
CHAN, Mark Flourine B.
CHAN, Patricia Jade Alexis C.
CHAN, Veronica G.
CHAN, Vien Lenox C.
CHANG, Jean Timothy Maxine Q.
CHANG, Pauline Marie V.
CHANG, Victoria Fay V.
CHANYEE, Kathia Kierstin S.
CHAPYOSEN, Franklin K.
CHARCOS, Christian G.
CHAVEZ, Christine C.
CHAVEZ, Hans Christian Romulo B.
CHAVEZ, Lydwin J.
CHAVEZ, Shayra Mar B.
CHAVEZ, Yzabelle P.
CHAVEZ-CABAÑES, Maita R.
CHICANO, Anthony Jude D.
CHICANO, Marc Lester D.
CHICO, Richard L.
CHILAGAN, Kimberly Joy P.
CHIN, Jeyan B.
CHING, Benazir P.
CHING, Dennis P.
CHING, Vin R.
CHIONG, Averie Camille C.
CHIONG, Dalton V.
CHIONG, Michaelvin Gabrielle R.
CHIU, Ronald P.
CHOACHUY, Anne Marie C.
CHOKOWEN, Ivy Rachelle A.
CHU, Alan Hubert P.
CHU, Julia Alexandra D.
CHU, Lea Mona P.
CHUA, Alainah P.
CHUA, Alyana Micaela A.
CHUA, Angelo A.
CHUA, Christine Bernadette M.
CHUA, Glenn D.
CHUA, Ingrid Corinne F.
CHUA, Janica Joyce D.
CHUA, Janine Nicole O.
CHUA, Jeorge Jr. S.
CHUA, Lyka Josefa S.
CHUA, Rodin Butch B.
CHUA, Royce Kaddarik T.
CHUA, Serjen Lara M.
CHUA CHENG, Ma. Lawreine Francesca C.
CHUAQUICO, Jett I.
CHUNG, Lynnette E.
CHUNGTUYCO, Christian Paul B.
CIAR-REMIGIO, Julie Anne Princess A.
CICAT, Daphne Dianne P.
CID, Czarina Mae Claudine F.
CIGARAL, Regina Coeli P.
CILOT, Howell T.
CIMATU, Jyrus B.
CINCO, Ana Rose D.
CINCO, April Ann U.
CINCO, Gretchin R.
CIPRES-SALAZAR, Lannie B.
CIPRIANO, Keith H.
CIPRIANO-CAMPOS, Rocelie D.
CISNERO, John Dee N.
CLABISELLAS, Carmelito Jr. D.
CLARETE, Ellaine Joy F.
CLARIN, Stephanie Anne J.
CLARITO, Florentino Sheldon III V.
CLARK, Immaculate G.
CLARO, Cicero D.
CLAROS, Laureano Lawrence Juris R.
CLASARA, Isagani Jr. R.
CLAUDIO, Jebel Dhanna C.
CLAUDIO, Ma. Judith A.
CLAUNA, Lyndon John A.
CLAVER, Ayangwa Francis M.
CLAVERIA, Carina Amor D.
CLEDERA, Kevin P.
CLEDERA, Rachelle Ann T.
CLELO, Kevin O.
CLEMENS, Chriszelle V.
CLEMENS, Regienald M.
CLEMENTE, Guia Adrienne D.
CLEMENTE, Jeanica G.
CLEMENTE, Jellyn C.
CLEMENTE, Jerick Angelo D.
CLEMENTE, Lisa Marie J.
CLEMENTE IV, Pascual Julian B.
CLEOFE, Mark Jeff V.
CLERIGO, Arlyn C.
CLIMACOSA, Jethro Faustine S.
CLUTARIO, Jumar A.
CO, Calvin O.
CO, Czeska Johann G.
CO, Edward Jasper T.
CO, Ernest Adrian F.
CO, John Brian D.
CO, Mark Edsel L.
CO, Ronna Rica L.
CO, Thomas Joseph D.
COBALLES, Emil L.
COBARRUBIAS, Aristotle P.
COBARRUBIAS, Imee C.
CODANGOS, Eric S.
CODILLA, Luke Morgan B.
COJUANGCO, Eduardo S.
COLAR, Mila S.
COLAS, Jam M.
COLIGADO, Karl Matthew E.
COLILI, Ivy T.
COLLERA, Cristelle Elaine V.
COLMENARES, Richard Troy A.
COLOBONG, Charyl Gayle H.
COLOMA, Dhennifer Louryce C.
COLOSAGA, Tristan C.
COLUMNA, Jann Carlo A.
COLUMNAS, Evince Earl C.
COMALING, Abigail B.
COMARADANG, Afipa T.
COMCOM, Ian E.
COMCOM, Rhea May C.
COMEDIDO, Aia Marie M.
COMENDADOR, Ann Q.
COMENDADOR, Lady Faith Carlaine J.
COMIA, Alyssa Giesselle R.
COMIA, Cheza C.
COMILA, Alvin G.
COMIQUE, Antonio G.
COMON, Dianne G.
COMON, John Cedric M.
COMOTA, Jehu Ramiel C.
COMPASIVO, Vannesa R.
COMTIAG-AGMATA, Maria Lourdes L.
CONAG, Renante P.
CONCEPCION, Allyzza Mari T.
CONCEPCION, Dinah Jade C.
CONCEPCION, Gerard Lacs A.
CONCEPCION, John Cristian M.
CONCINA, Jairus Vincent P.
CONDE, Val Pierre O.
CONDENO, Richard D.
CONDES, Reyna Amor R.
CONSING, Jose Antonio Miguel M.
CONSOLACION, John Raymond P.
CONSON, Marie Czarina T.
CONSTANTINO, Ana Katrina O.
CONSTANTINO, Ann Germaine L.
CONSTANTINO, Joshua V.
CONSTANTINO, Marc Kevin S.
CONSTANTINO, Mary Ann L.
CONSULTA, Alicia P.
CONSULTA, Richleigh M.
CONTACTO, Lisette Angelica C.
CONTRERAS, Cesar Clarence D.
CONTRERAS, Mary Christel Joy G.
CONTRERAS, Pia Janine V.
COPONES, Jefferson C.
COPRADA, Voltaire Y.
COQUIA, Raisa E.
CORACHEA, Alexander J.
CORALDE, Joyce Anne M.
CORALDE, Raul Jr. M.
CORALES, Ronaldo M.
CORBETA, Isha B.
CORDENILLO, Roberto III A.
CORDERO, Ma. Lovella Shalom M.
CORDERO, Orland Jerico M.
CORDOVA, Blas Joshua C.
CORNEJO, Shiela Mae S.
CORNELIO, Patricia Isabel E.
CORNELIO, Restel R.
CORO, Azil D.
CORONADO, Jeffrey A.
CORONADO, Jocelyn L.
CORONEL, Dar Amber R.
CORONEL, Gabriel A.
CORONEL, Joana-rose A.
CORONEL, Maria Paulina S.
CORONEL, Nikki Manuel S.
CORPORAL, Keziah O.
CORPUZ, Edwin Jr. A.
CORPUZ, Francis Arthur A.
CORPUZ, Jervis Martin A.
CORPUZ, Jessiery Mae S.
CORPUZ, Junius Benedict C.
CORPUZ, Maria Christina F.
CORPUZ-CABASAG, Sarah Joy F.
CORRAL, Laika P.
CORRE, Jemerson B.
CORREA-GAGARING, Keith Ann M.
CORREO, Esther M.
CORREO, Irra M.
CORREOS, Zayra Blanche M.
CORRO, Erika Rose S.
CORRO, James Shemron C.
CORTES, Carl Jayson C.
CORTES, Patrick Gil B.
CORTES, Reynaldo Angelito R.
CORTEZ, Elizabeth Joy D.
CORTEZ, Frederic E.
CORTEZ, Iris P.
CORTEZ, Jee Princess C.
CORTON, Gary Lord P.
CORTUM, Alyanna S.
CORVERA, Adam Niel G.
COSALAN, Elijah Roland A.
COSARE, Terence Thomas M.
COSCOLLUELA, Katrina Y.
COSICO, Denji G.
COSICO, Jean Michelle V.
COSICOL, Edeline O.
COSTELO, Michael Jr. E.
COTIW-AN, Kizel .
COVARRUBIAS, Rogen A.
CREAYLA, Christelle Fatima A.
CREO, Thea Ava L.
CRESENCIO, Diosdado M.
CRISOSTOMO, Anna Camille C.
CRISOSTOMO, Jessica Ida Clarisa M.
CRISOSTOMO, Joshua C.
CRISOSTOMO, Ma. Ruby Mae B.
CRISTOBAL, Eric John M.
CRISTOBAL, Jerric B.
CRISTOBAL, Ma Corazon M.
CRISTOBAL, Maria Katrina D.
CRUDA, Ronald R.
CRUIZ, Mike Joseph M.
CRUZ, Aaron Christian E.
CRUZ, Aiyana Yasmin A.
CRUZ, Ana Janellie L.
CRUZ, Anjho .
CRUZ, Anna Rosette .
CRUZ, Antonio Martin C.
CRUZ, Aura Jeune F.
CRUZ, Camille Angela S.
CRUZ, Edric Frey M.
CRUZ, Edward Danielle I.
CRUZ, Erica D.
CRUZ, Frances Claire S.
CRUZ, Francis Rey .
CRUZ, Gary Jr. A.
CRUZ, Gianina T.
CRUZ, Glen Johannes P.
CRUZ, Ivan Kristel P.
CRUZ, Izrael Phillip V.
CRUZ, Jan Fredrick P.
CRUZ, Jeannie D.
CRUZ, Jeff Gabriel M.
CRUZ, Jemima Rachel B.
CRUZ, Jonas Miguelito P.
CRUZ, Karizza Kamille M.
CRUZ, Kerwin A.
CRUZ, Kyle Andrew H.
CRUZ, Lamberto Jr. S.
CRUZ, Ma. Krissie Janella M.
CRUZ, Malcolm Joshua C.
CRUZ, Manuel Luis B.
CRUZ, Mary Abigail S.
CRUZ, Mikka J.
CRUZ, Princess Mary Lourd B.
CRUZ, Yrah Micarla M.
CRUZ, Ysabella Jenell J.
CRUZ-AM, Francheska Joanne Q.
CRUZ-BORROMEO, Michelle D.
CRUZ-SALUDO, Gladys Christine T.
CUA, Bryan O'neal T.
CUA, Samuel Liam L.
CUADRA, Arthcris T.
CUADRASAL, Gerardo Klauddio Van III G.
CUADRO-TATE, Ellaine Marie I.
CUALTEROS, Godofredo Jose IV D.
CUARESMA, Roger P.
CUARTERO, Laisa Marie D.
CUAYZON, Kester Kitz N.
CUBACUB, Averill V.
CUBERO, Eljun R.
CUBERO, Wellah L.
CUBIAS, Gladys Marie B.
CUBILLAN, Abigail Therese Y.
CUELLO, Ma. Jessica B.
CUENCA, Joben Vernan C.
CUENCA, Penny Janina C.
CUERDO, April Joy A.
CUERPO, Czarina Cher M.
CUETO, Kristina Mae V.
CUETO-MOLAR, Sophia Nena R.
CUEVA, Korina Ces M.
CUEVAS, Charlemagne C.
CUEVAS, Charmagne L.
CUEVAS, James Louie C.
CUEVAS, Janela Marie A.
CUEVAS, Jedidiah Kate D.
CUEVAS, Roland Anthony L.
CUEVAS, Rolando II T.
CUISON, Rosario Sarah Z.
CUIZON, Jane C.
CUIZON, Kristoffer Lambert Lance P.
CULAJARA, Kelvin J.
CUMIGAD, Carmelie P.
CUMIGAD, Charmagne Joy F.
CUMIGAD, Jenny Lynne V.
CUNANAN, Jason C.
CUNANAN, Milane Anne C.
CUNANAN-SUSANO, Fides Marie L.
CUNTAPAY, Lord Jay-em E.
CUPATAN, Eugene Francis A.
CURA, Jhansel R.
CUREG, Marvin A.
CURIBA, Rochelle Nieva D.
CURO, Norhassan S.
CUSTODIO, Dan Angelo Israel C.
CUSTODIO, Ness Ivy C.
CUSTODIO, Shiela Arman B.
CUSTODIO, Theresa G.
CUTI, Gregorio Jr. C.
CUTIYOG, Walbert M.
CUYOS, Jubert L.
CYPRES, Andres Jr. S.
D'LONSOD, Jemimah Pearl C.
DABU, Annabelle O.
DACALOS, Carmina Therese J.
DACALOS, Dave Ryan B.
DACANAY, Margarette C.
DACILLO, Janet L.
DACILLO, Princess Camille M.
DACLAN, Christopher Chase P.
DACQUEL, Arnaldo D.
DACQUEL, Marie Adoracion P.
DACUMOS, Kruwel Joevanni D.
DADAT, Louie Marie M.
DADAYAN, Sarahjannah G.
DADIVAS, Ardely Q.
DADO, Kylie Kaur M.
DADOL, Kenn Angelique A.
DADOR, Bianca Fenila E.
DADUA, Charles Oliver III P.
DADULLA, Steven C.
DADULLA-ELVINA, Mercy Gay T.
DAEL, Erniel Peter G.
DAGIWA, Glemor A.
DAGLE, Neil B.
DAGOHOY, Charmaine I.
DAGOYEN-BELINO, Elma C.
DAGPIN, Elvin Roy B.
DAGSAAN, Albert James M.
DAGUIMOL, Xyryah G.
DAGUINOD, Ericka Mae .
DAGUIO, Roy Jr. M.
DAGUMAN, Daniel Jr. Y.
DAGUN, Jenny Mary C.
DAGUNA, Alexander Kent N.
DAGUNA, Von Rothman N.
DAILEG, Ma. Alexandria M.
DAJAO, Epi Ma. Kassandra A.
DAJAO, Redentor M.
DALAGAN, Maria Rebecca G.
DALANON, Reycel M.
DALAPO, Sushmita C.
DALEN, Gustavo F.
DALIDIG, Jamil P.
DALIN, Karlovy L.
DALISAY, Reynaldo Jr. S.
DALISAY, Sherwin C.
DALIUAG, Rona Marielle G.
DALMACIO, Rachelle B.
DALMACIO-VISPERAS, Jocelyn L.
DALUMPINES, Jose Angelo II L.
DALUPANG, Abegail F.
DALUPANG, Julius Augustus A.
DALUPINES, Jeraldine M.
DALURO, Lawrence Xavier T.
DAMASCO, Nildin Danabelle A.
DAMASCO TY, Don Bernard T.
DAMAYO, Dale N.
DAMAYO, Jesstonie C.
DAMIAN, Annika G.
DAMIAN, Roberto Jr. G.
DAMIAN, Sherleen Anne A.
DAMILES, Nicole Adrienne P.
DAMOLE, Catherine D.
DAMOS, Mariter P.
DAN?O, Jeda A.
DANAO, Mario Fidel U.
DANDAMUN, Magasuga B.
DANGAZO, Bea Patricia G.
DANGILAN, Dwight Soyan A.
DANIEL, Zen Deane Danielle S.
DANNUG, Karen Joy C.
DANS, Vito C.
DANTE, Christofferson O.
DAPITANON, Diane C.
DAQUIAL, Andrea Patricia T.
DAQUIGAN, Paula Bianca C.
DAQUIZ, Ralph Randel S.
DARNAYLA, Mary Fhien Mae G.
DASIG, Charlene L.
DATINGUINOO, Kristian Ian Dale C.
DATOR, Peter Paul F.
DATUDACULA, Apipah I.
DATUIN, Maria Katrina L.
DAUZ, Chelsea Eichel R.
DAVE, Jose Carell D.
DAVID, Alden Jerome C.
DAVID, Allen Franz T.
DAVID, Catherine Joy S.
DAVID, Cyrus Aldrine M.
DAVID, Denise Airielle S.
DAVID, Deriq M.
DAVID, Hosanna C.
DAVID, Jean Rae D.
DAVID, Kremil S.
DAVID, Norianne D.
DAVID, Paul Ryan G.
DAVID, Quenny Mae B.
DAVID, Raizza Dawn Angeli C.
DAVOCOL, Mariel Victoria R.
DAYAG, Melody L.
DAYAGBIL, Valiant II A.
DAYAGBIL, Vanda Charissa T.
DAYALDAS, Jethmal William D.
DAYANGHIRANG, Anna Marie B.
DAYANGHIRANG, Elaine Viktoria M.
DAYANGHIRANG, Emilio IV A.
DAYANGHIRANG, Estefanie A.
DAYAO, Ernesto Jr. N.
DAYAO, Shirley S.
DAYOT, Raiza Dawn D.
DAYRIT, Jeselle Ann V.
DAYRIT, Jose Adrian M.
DAYTEC-AVENTAJADO, Kate E.
DAYU, Ariel Rocelle B.
DE ALVA, Miguiel A.
DE ARCE, Joanne Marie Alyssa N.
DE ASA, Christian Allen A.
DE ASIS, Francis M.
DE ASIS, Quejarra R.
DE BELEN, Annelyn G.
DE CASTRO, Arnold V.
DE CASTRO, Fritz Angelain R.
DE CASTRO, Gabriel O.
DE CASTRO, Ma. Sophia Isabella P.
DE CASTRO, Marjolaine T.
DE CASTRO, Maryland V.
DE CASTRO, Princess Aira G.
DE CHAVEZ, Margarita Elisse T.
DE DIOS, Cathlyn Audrey M.
DE DIOS, Crizalde Sr. M.
DE ELLO, Philip Edwin S.
DE GORIO, Zeus Christopher T.
DE GRACIA, Ma. Odessa P.
DE GUZMAN, Audrey G.
DE GUZMAN, Daisy Diane A.
DE GUZMAN, Dominic Laurenzi M.
DE GUZMAN, Fatima Joy D.
DE GUZMAN, Gian C.
DE GUZMAN, Grace P.
DE GUZMAN, Homar Alexeus C.
DE GUZMAN, Jain Louis Eliver D.
DE GUZMAN, Janell Marie S.
DE GUZMAN, Joe Harley G.
DE GUZMAN, Joey Albert P.
DE GUZMAN, Juan Paolo P.
DE GUZMAN, Ma. Angelica R.
DE GUZMAN, Michael James O.
DE GUZMAN, Peter Raymund L.
DE GUZMAN, Princess Kay D.
DE GUZMAN, Prudencio III B.
DE GUZMAN, Robby Brian R.
DE GUZMAN, Ronald T.
DE GUZMAN, Sarah Kristin L.
DE GUZMAN, Vicon B.
DE JESUS, Gerard Angelo T.
DE JESUS, James Nicol D.
DE JESUS, Kristina Teresa M.
DE JESUS, Ma. Luisa A.
DE JESUS, Mark William B.
DE JESUS, Monalisa Nikki V.
DE JUAN, Rey Alan L.
DE LA CERNA, Redbert N.
DE LA CRUZ, Babylyn C.
DE LA CRUZ, Cerine June C.
DE LA CRUZ, Israel C.
DE LA CRUZ, Joan Maricel D.
DE LA CRUZ, Jovy Norriete B.
DE LA CRUZ, Marianne V.
DE LA CRUZ, Orfa Joyce D.
DE LA CRUZ, Ralf Owen F.
DE LA FUENTE, Allysza Mae B.
DE LA PAZ, Adrian Andrew F.
DE LA PAZ, Gian Niccolo Antonio H.
DE LA PEÑA, Bret John S.
DE LA ROSA, Camille S.
DE LA ROSA, Chelsea S.
DE LA ROSA, Jacinto Jerico IV D.
DE LA ROSA, Joresa B.
DE LEON, Aira Veronica R.
DE LEON, Belle Colleen T.
DE LEON, Coleen A.
DE LEON, Harold King D.
DE LEON, Heryann Earl B.
DE LEON, Inna Elyjah Beatrice C.
DE LEON, Jea Belinda B.
DE LEON, Karla Mae E.
DE LEON, Kristofferson M.
DE LEON, Loraine N.
DE LEON, Lyndon John S.
DE LEON, Monique Vivien M.
DE LEON, Nadine Francesca P.
DE LEON, Nathaniel C.
DE LEON, Pinky F.
DE LEON, Redjina B.
DE LEON, Richard Martin A.
DE LEON, Rizaldy F.
DE LEON, Robertino Ari Z.
DE LEON, Rose Mary F.
DE LEON, Vel June C.
DE LEON, Zyrilla Jeoville C.
DE LEON-TANHUECO, Bettina Alyssandra T.
DE LOS REYES, Alfonso Jeziel M.
DE LOS REYES, Danielle Loise B.
DE LOS REYES, Jennifer V.
DE LOS REYES, Reynaleigh H.
DE LOS SANTOS, Jermae Vania D.
DE LOS SANTOS, Jim S.
DE LOS SANTOS, Lara Aurea L.
DE LOS SANTOS, Micah N.
DE LOS SANTOS, Patricia Camille M.
DE LOS SANTOS, Stephen Reymar V.
DE LUNA, Aries S.
DE LUNA, Glenn M.
DE LUNA, John Von Lee L.
DE MESA, Joseph Marnic V.
DE MESA, Mary Camille L.
DE PAZ, Mary Athena D.
DE PAZ, Paul C.
DE PERALTA, Emmanuel Jr. G.
DE PERALTA, Erika Aira S.
DE QUIROS, Patrick Peter Pol A.
DE RAMA, Miro Andrian C.
DE RAMOS, Phillip Joseph D.
DE VERA, Christianne N.
DE VERA, Josef Paul L.
DE VERA, Kenn Ian A.
DE VERA, Kristina C.
DE VERA, Marianne Grace C.
DE VERA, Raphael Jude B.
DE VERA, Rellie E.
DE VEYRA, John Henri P.
DE VEYRA, Lyra Charity C.
DE VILLA, Karen A.
DE VILLA, Orlando M.
DEALCA, John Lesmer A.
DEALCA, Rodolfo Jr. C.
DEATRAS, Val Justin R.
DEBALUCOS, Earl Ian I.
DEBLOIS, Chelna Ann N.
DECAPIA, Katrina Vianca N.
DECENA, Leona Mae G.
DECIERDO, Princess Dianne Kris S.
DECLARO, Neil Ryan D.
DECLARO, Sarby Kay R.
DECOLONGON, James L.
DECOSTO, Irani N.
DEDACE, Carl Ericson John R.
DEDAL, Mercy G.
DEDUYO-LEE, Grace P.
DEE, Francis Y.
DEE, Kyle David A.
DEFANTE, Joaquin II J.
DEFENSOR, Michaela Francesca T.
DEFIESTA, Nikka Yada Frances C.
DEGAMO, Arthur L.
DEGAMO, Bonifacio Jo III S.
DEGAMO, Mark Lennin C.
DEGAYO, A.t. Joan Love S.
DEGOLLADO, Leonore Mae P.
DEGUMBIS-DE GUZMAN, Gila Rose A.
DEIMOY, Shiela Marie E.
DEINLA, Ronnel A.
DEIPARINE, Angelica A.
DEIPARINE, Yoraidyl C.
DEJARME, Lizerril F.
DEL CAMPO, Charlene J.
DEL MONTE, Rochelle M.
DEL MUNDO, Maria Fe A.
DEL MUNDO, Michael Lawrence L.
DEL PILAR, Maria Theresa P.
DEL PRADO, Darren Joseph M.
DEL RIO, Elbert Mathew B.
DEL RIO, John Alfred B.
DEL ROSARIO, Allan M.
DEL ROSARIO, Audrey D.
DEL ROSARIO, Edracel C.
DEL ROSARIO, Eravel Mae C.
DEL ROSARIO, Karen R.
DEL ROSARIO, Kristine Mae C.
DEL ROSARIO, Lamara F.
DEL ROSARIO, Mariz Ella V.
DEL ROSARIO, Mark Lester M.
DEL ROSARIO, Patricia Loise H.
DEL ROSARIO, William Jr. C.
DEL ROSARIO, Yna Trisha Marie T.
DEL ROSARIO-GELACIO, Eunice P.
DEL VALLE, Ryzza Famille M.
DELA CALZADA, Michelle P.
DELA CERNA, Hannah Keziah P.
DELA CERNA, Jacinth D.
DELA CERNA, Jennifer M.
DELA CERNA, Lorenzo L.
DELA CRUZ, Abilene Joy A.
DELA CRUZ, Alexis D.
DELA CRUZ, Alyssa Christine C.
DELA CRUZ, Anna Bettina B.
DELA CRUZ, Camille Victoria D.
DELA CRUZ, Diana Blaire A.
DELA CRUZ, Eileen Eika M.
DELA CRUZ, Elton P.
DELA CRUZ, Gladys Jane M.
DELA CRUZ, Harriz F.
DELA CRUZ, Ingrid R.
DELA CRUZ, James Arvin V.
DELA CRUZ, Janelle Caryn A.
DELA CRUZ, Jay Christian V.
DELA CRUZ, Jerome Joker M.
DELA CRUZ, Juan Pepito E.
DELA CRUZ, Kristofferson .
DELA CRUZ, Kyzeth I.
DELA CRUZ, Louella M.
DELA CRUZ, Louielyn M.
DELA CRUZ, Ma. Clarissa M.
DELA CRUZ, Maria Erica L.
DELA CRUZ, Michael Paul Bryan T.
DELA CRUZ, Mikhail Isiah B.
DELA CRUZ, Mikko Jan E.
DELA CRUZ, Ramonito E.
DELA CRUZ, Raquel M.
DELA CRUZ, William Christian P.
DELA FUENTE, Rachel Ann M.
DELA PAZ, Jhonnelle Mae D.
DELA PAZ, Loreto C.
DELA PEÑA, Girly G.
DELA PEÑA, Mark Angelo S.
DELA PEÑA, Miguel Roberto T.
DELA PEÑA, Oliver B.
DELA PEÑA, Yndrei P.
DELA RAMA, Hayde D.
DELA REA, Steve Jr. B.
DELA ROSA, Charlene Y.
DELA ROSA, Rejinna E.
DELA TORRE, Chelsea Anne O.
DELA VEGA, Alexis D.
DELA VICTORIA, Keeu Emmanuell Q.
DELA VICTORIA, Shiela T.
DELABAHAN, Cel Lord P.
DELATADO, Joan M.
DELELIS, Emmanuel A.
DELES, John P.
DELFIN, Cindy D.
DELFIN, Elvin O.
DELFIN, James Nathaniel E.
DELFIN, Ma. Claire Isabel I.
DELGADO, Alia Jan D.
DELGADO, Cristine Grace M.
DELGADO, Darrell Logan F.
DELGADO, Kathly L.
DELICA, Airah Lyn M.
DELICA, Manuel P.
DELIMA, Chad Michaell G.
DELIN-POSADA, Sharmaine C.
DELLERA, Darrell V.
DELLORO, Ludovico Jr. K.
DELLOVA, Rhaiza R.
DELMO, Maria Charmina Allen G.
DELMO, Marx Nicholai C.
DELMORO, Mel Loise M.
DELOS ANGELES, Lei Christianne O.
DELOS REYES, Benedict B.
DELOS REYES, Christian M.
DELOS REYES, Girly Grace L.
DELOS REYES, Jerome S.
DELOS SANTOS, Crystal Gale C.
DELOS SANTOS, Evelyn M.
DELOS SANTOS, Jairus J.
DELOS SANTOS, Jermane S.
DELOSO, Geo Marco Antonio T.
DELOTINA, Riza Flor Z.
DELOVIAR-ESCALONA, Andrea B.
DEMANALATA, Joel C.
DEMETILLO, Rhiza Jean K.
DEMIAR, Alvin .
DEMONTEVERDE, Rhett P.
DENILLA, Maria Theresa M.
DEOCAREZA, Hazel O.
DEPIDEP, Jocelyn L.
DEQUIÑA, Joebert Daniel Q.
DERECHO, April C.
DERIGAY, Daphnie D.
DEROY, Erlyn Joy C.
DESABELLE, Jela D.
DESABELLE, Robee Camille E.
DESACADA, Maribel D.
DESAMPARADO, Alexandra T.
DESCALZO, Josef Manuel L.
DESCARTIN, Justin Jeremy Edrei B.
DESCARTIN, Michelle M.
DESEO, Shari Vanneza B.
DESLATE, Alfred Benedict P.
DESTAJO, Angelica Mae T.
DESTRIZA, Chuchie G.
DESUYO, Melvyn Z.
DETECIO, Jothan B.
DEUDA, Ma. Frosta M.
DEVELA, Matt Kaiser L.
DEVELOS, Kristel Ann D.
DEVELOS, Maricel O.
DEVEZA, Joseph Elias Geronimo G.
DEVEZA, Kathryn May D.
DEVILLERES, Eliza Den A.
DIACAT, Johari U.
DIAGAO, Jiehan A.
DIAMANTE, Ardeen Roy C.
DIAMANTE, Fernan M.
DIAMANTE, Kenneth Jun G.
DIAMANTE, Kristine T.
DIAMANTE, Ma. Kristina B.
DIAMPUAN, Jihan D.
DIANA, Eulla Magdalene T.
DIANALAN, Abdul Azis IV D.
DIANO, Merilyn B.
DIAZ, Alyssa P.
DIAZ, Edward Ross M.
DIAZ, Francis C.
DIAZ, Gelyn P.
DIAZ, Jayson Paolo D.
DIAZ, Kathleen Mae R.
DIAZ, Kenneth D.
DIAZ, Kimberly Joy I.
DIAZ, Mardie G.
DIAZ, Norwin John S.
DIAZ, Rommel V.
DIAZ, Warlie Z.
DIAZ, Yedda Marie Joy I.
DIBANSA, Ramly M.
DICKSON, Jemyma C.
DICO, Jeanilyn M.
DIESPE, Bianca Mae A.
DIESTRO, Tanya Lynne M.
DIG, Eugenio Antonio E.
DIGNADICE-VILLAFLOR, Ethel Hope L.
DILAG, Eric John C.
DILANGALEN, Rohannah K.
DILANGALEN-MACAPENDEG, Bai Pangandongan G.
DILAO, Karen Rose C.
DILLERA, Esther B.
DILOY, Felicidad N.
DIM, Peter Paolo III P.
DIMAALA, Margaret J.
DIMAAMPAO, Hussein F.
DIMAAMPAO, Mohammad F.
DIMAAMPAO, Rohanie A.
DIMAANO, Jhelsea Louise B.
DIMAANO, Raizel V.
DIMACISIL, Mhumar Khaleeh M.
DIMACULANGAN, Dodjie C.
DIMACULANGAN, Marlo P.
DIMAFELIX, Eddie Boy D.
DIMAGIBA, Paolo Thomas G.
DIMAGUILA, Cheryle L.
DIMALANTA, Joseph M.
DIMALANTA, Michael Manuel D.
DIMALOTANG, Sapphira T.
DIMAN, Arden-shada J.
DIMAPORO, Moh. Rayyan Yassin D.
DIMARUCUT, Michael John O.
DIMATATAC, Michellane Y.
DIMAUNAHAN, Elise Rozel D.
DIMITUI, Juliano Luis L.
DIMLA, Alfonso Miguel V.
DIMNATANG, Somiranao Jr. M.
DIMOL, Mae Theresa Clare M.
DINAPO, Jessa A.
DINERO, Edreilyn G.
DINEROS, Eldred B.
DINEROS, Lady Lyn D.
DINGLASAN, Lizzette D.
DINGLASAN, Wendel C.
DINIO, Melgar Jeri Jr. C.
DINSAY, Kevin Dominic G.
DIOKNO, Laya Elena A.
DIOLOLA, Cyrus G.
DIONELA, Antoniette C.
DIONELA, Meglyka P.
DIONISIO, Coleen May S.
DIONISIO, Jovy Ruth A.
DIONISIO, Karl Anthony T.
DIONISIO, Lauren Gabrielle S.
DIONISIO, Ma. Cheriña S.
DIONISIO, Ma. Mayette M.
DIONISIO, Marjorie L.
DIOSO, Jona Mae M.
DIPATUAN, Baisha A.
DIRAMPATUN, Naira H.
DIRILO, Mark M.
DISOMANGCOP, Hafizah D.
DISU-RAMIREZ, Maribeth S.
DISWE, Rommel E.
DITCHING, Jose Ronilo Jr. V.
DITUAL, Alinor Maulana G.
DIVINA, Lea Donna M.
DIVINAGRACIA, Jay Ann E.
DIVINAGRACIA, Rodolfo H.
DIVINO, Marc Anjo M.
DIWA, Andrea Marciana B.
DIWA II, Leonardo B.
DIWAN, Dynachen Amy B.
DIZEN-BALESTRAMON, Dhelma Flor E.
DIZON, Anna Franchesca D.
DIZON, Enrique V B.
DIZON, Genevive S.
DIZON, Hersan Ivan S.
DIZON, Joana Cassidy G.
DIZON, Joanne S.
DIZON, John Carlo M.
DIZON, Mary Rose E.
DIZON, Paolo John A.
DIZON, Robin A.
DIZON, Roi Christopher T.
DIZON, Tiffany Ann C.
DIÑO, Jolynnah M.
DIÑO, Marvin Martin M.
DOCE, Stephanie Marie I.
DOCTOLERO, Apple Joy M.
DOCTOLERO, Razenne Kyra D.
DOGA-ONG, Charmaigne O.
DOLAR, George Christopher J.
DOLAR, Theodore Adriel S.
DOLIENTE, Joan P.
DOLINA, Athena Lynn P.
DOLINA, Cyrene Theresa Q.
DOLOR, Lourdes Xylene D.
DOLZ, Danica Denise C.
DOMADO, Mohamad Rayyan M.
DOMALANTA, Marianne B.
DOMANICO, Jake E.
DOMETITA, Maria Aileen C.
DOMIGAN, Chelsea M.
DOMINGO, Anjelica Joyce D.
DOMINGO, Fynee D.
DOMINGO, Jan Narelle D.
DOMINGO, Jose Paulino M.
DOMINGO, Kyle Lari C.
DOMINGO, Mar Louie R.
DOMINGO, Maria Luisa P.
DOMINGO, Myrna C.
DOMINGO, Nolan Redji D.
DOMINGO, Rei Luis Anton A.
DOMINGO, Stephanie Mae B.
DOMINGONO, Mathew B.
DOMINGUEZ, Francheska Juliene G.
DOMINGUEZ, Teodoro Jose B.
DOMINIA, Marielou D.
DOMONDON, Karlo Stefano A.
DON, Kristine Jo D.
DONATO, Edward Felix M.
DONAYRE, Myzel U.
DONCILA, Constantine Tereso A.
DONES, Antonio Miguel M.
DONGALLO, Jesus Rey A.
DONGALLO, Rubierosse C.
DONGGAYAO, Bryan Christopher C.
DOPING, Havan A.
DORADO, Czaybeeh E.
DORADO, Jonald B.
DORADO, Mark Vixen M.
DORAN, Mark Anthony A.
DORGAY, Steven Edward M.
DORIA, Daneille Nichole V.
DORIA, Jesson A.
DORINGO, Jad Michael Franzes T.
DOROJA, Louise Ann Camille V.
DOROJA, Patricia Agatha May B.
DOROSAN, Kristian Ladbert B.
DOSDOS, Paul C.
DOYDORA, Deneb S.
DU, Salesheil M.
DUALLO-LARUPAY, Janeth B.
DUARTE, Danrie R.
DUARTE, Lyndon P.
DUBLIN, Joseph Matthew F.
DUBONGCO, Reinier C.
DUCAY, Christian Harvey P.
DUCO, Lance Kerwin S.
DUEÑO, Keane Arvin U.
DUGAN, Maria Natasha C.
DULA, Chester Clark G.
DULANAS, Trisha Aliya .
DULAY, Carmelo G.
DULAY, Charlon B.
DULAY, Deus E.
DULAY, Francis Roel L.
DULAY, Guillermo Jr. B.
DULLAS, Carmela Eloisa S.
DUMADAG, Erica M.
DUMAG, Arwin Peter III T.
DUMAGAT, Joanna Victoria C.
DUMAGCAO, Devanie D.
DUMASIS, Kara Angelie M.
DUMAUAL, Jeanne Pauline J.
DUMELOD, Ricka Abigael R.
DUMLAO, Carlo Angelo C.
DUMLAO, Meca Shayne Ann D.
DUMPAYAN, Marianne Reina B.
DUNGAO, Carlos Daniel S.
DUNGCA, Marc Jansen B.
DUNGCA, Sheryll D.
DUNGOG, Salome Jr. D.
DUNGOG, Yasie T.
DUPAYA, Quinnie Anne V.
DURAN-JAVIER, Emnie Valerie B.
DURANA, Annalee D.
DURANA, Mary Grace G.
DURANTE, Czar Faustus A.
DUTULLO, Jella B.
DUYONGCO, Ramon Mikhail L.
DY, Andrea Ivy R.
DY, Ann Margaret P.
DY, Czara Loraine F.
DY, Immanuel S.
DY, Jeffrey E.
DY, Kristine Mei Anne D.
DY, Maria Catherine Z.
DY, Philip Ian Y.
DY, Ramon Vaughn III F.
DYQUIANGCO, Zaide Jane A.
DYSANGCO, Bertrand Russell C.
EBIO, Mark Francis C.
EBLAHAN, Daniel Mark Kelvin L.
EBO, Mel Domini L.
EBOL, Lirio S.
EBROLE, Lucky April M.
ECALNIR-DELOS SANTOS, Lewivel Camille C.
ECARMA, Kim D.
ECHANO, Cyril Louise V.
ECHIVERRI, Robert Dominic C.
ECLIPSE, Jomar Z.
EDANIEL, Karen G.
EDQUILAG, Ryan James S.
EDUARDO, Joy Christian D.
EDUAVE, Glady Reissa M.
EGAM, Joanna Marie E.
EGANA, Angie C.
EGANO, Glenn Wil D.
EGOS, Czareeve Y.
EGOS, Glicerio Jr. R.
EGUIA, Paula Bianca B.
EGUIA, Trisha Fejj Mae B.
EJAN, Johren A.
ELAGO, Maria Pilar Luisa C.
ELARDO, Jasmin C.
ELAURIA, J. Paulo R.
ELEAZAR, Ernest Elach A.
ELESTERIO, Dessa Marie V.
ELEVAZO, David D.
ELICA, Anthony Jhonuel A.
ELINZANO, Andrei V.
ELISEO, Tom Crystoper A.
ELIZES-GUIAO, Margaux S.
ELLADO, Jayson G.
ELLADORA, Sherry Lou T.
ELLORIMO, Regean U.
ELMIDO, Angelica P.
ELNAR, Melinda C.
ELNAS, Kathy May T.
ELNAS-ALANANO, Grace C.
ELORCHA, Marizel G.
ELPA, Eric Carlo B.
ELUM, Icee Kathleen Dawn B.
ELUMBA, Christian Philip R.
EMATA, Joseph C.
EMING, Nat Bernard G.
EMLANO, Rainier E.
EMPANIA, Donna Jane F.
EMPLICA, Kevin Tj A.
EMPRESE, Mary Grace A.
EMUY, Francis Jeric L.
ENAYON, Jonah May C.
ENCARNACION, Bernadette Gabrielle R.
ENCARNACION, Fidea Marie L.
ENCARNACION, Jeralee C.
ENCARNACION, Mary Grace V.
ENCARNACION, Rosell D.
ENCILA, Elainne I.
ENCIO, Flores B.
ENCISO, Benigno P.
ENDALUZ, Genica Therese B.
ENDAYA, Nolen B.
ENDAYA, Ryan Joshua Q.
ENDICO-PAGAS, Janice C.
ENEMIDO, Luis Armando C.
ENERLAN, Edwin A.
ENFECTANA, Jazzmin L.
ENOC, Ma Theresa P.
ENON, Rhea Lin S.
ENRILE-INTON, Angelica A.
ENRIQUEZ, Angeli Camille L.
ENRIQUEZ, Arrianne R.
ENRIQUEZ, Francis Xavier N.
ENRIQUEZ, Josephine Angelica Beatrice M.
ENRIQUEZ, Lianne Mae D.
ENRIQUEZ, Ron Audrien R.
ENRIQUEZ, Sherwin S.
ENTILA, Ceasar Jan P.
EPANAG, Shain Bianca C.
EPINO, Dindo L.
ERANA, Zilpha Leah A.
ERANDIO, George Mikhail F.
ERESTAIN, Roger Joseph Jr. B.
ERFELO, Ryan Jay B.
ERICE, Romnick C.
ERMAC, Neil Patrick P.
ERMITA-LIM, Yolinda Y.
ERMITANIO, Noli A.
ERNO, Christine A.
ERODIAS, Dominador III D.
ERODIAS, Klaryss S.
ERTO, Rex Denver C.
ERUM, Gretel M.
ESCALANTE, Decemar R.
ESCALANTE, Lezlee Amor R.
ESCALANTE, Robert II L.
ESCALONA, Lorenzo Miguel Y.
ESCANILLA, Emmalyn Z.
ESCARRILLA, Louise Mikhaela Rose L.
ESCARTIN, Stephen C.
ESCASINAS, Paula Jane D.
ESCATRON, John Lord V.
ESCAÑO, Samuel Isidore A.
ESCAÑO, Vincent Gerard T.
ESCLARES-PRADO, Kristianly Hazel G.
ESCOSIO, Angelica Jhoy A.
ESCOTO, Michael Paul A.
ESCOTO, Vivian D.
ESCUDERO, Hannah Bernadette C.
ESCUETA, David Antonio A.
ESCUETA, Mateo Tomas L.
ESCUYOS, Lourdes L.
ESDIO, Patrick Allan D.
ESGANA, Kristine Joy S.
ESGUERRA, Criselda Marie G.
ESGUERRA, Elmer I.
ESGUERRA, George Clarence T.
ESGUERRA-BABISTA, Nonaline Ritz V.
ESIDERA, Mary Anne Rena D.
ESLING, Hector James Albert R.
ESMERO, Generoso Jr. G.
ESMERO, Marivic E.
ESMEÑA, Kimberly Marie F.
ESOLANA, Emmylou S.
ESOLANA, May Ann B.
ESON, Janice Jihan G.
ESPALMADO, Romulo Jr. T.
ESPARAGOZA, Keneth Jorge A.
ESPARAGOZA, Stephen Jorge A.
ESPARCIA, Raul Joseph C.
ESPAÑOLA, Adrienne C.
ESPAÑOLA, Alpha Vit M.
ESPEJO, Mara Antonine D.
ESPELLARGA, Roy F.
ESPERA, Petchie Rose G.
ESPERANZA, Naika S.
ESPERAS, Edgardo Jr. B.
ESPIDOL, Corinne Marie D.
ESPINA, Hazl F.
ESPINA, Jefferson D.
ESPINA, Kaye G.
ESPINA, Maelicito K.
ESPINAS, Queen Therese D.
ESPINELI, Juliette A.
ESPINELI, Paolo Louise L.
ESPINO, Ma. Concepcion S.
ESPINO, Mary Margaret L.
ESPINO, Pacifico E.
ESPINOLA, John Maverick G.
ESPINOLA, Sandy Mae L.
ESPINOSA, Carl Andrey A.
ESPINOSA, Claudia Martina N.
ESPINOSA, Jhon Edmar D.
ESPINOSA, Maria Ana E.
ESPINOSA, Sophia Francesca Z.
ESPIQUE, Daniel Jr. O.
ESPIRITU, Daryl Joshua S.
ESPIRITU, Feriel S.
ESPIRITU, Jed Aaron A.
ESPIRITU, Matthew F.
ESPIRITU, Nadine Xyra C.
ESPIRITU, Ralph Deric S.
ESPIÑA, Melody O.
ESPLANA, Jeanette B.
ESQUEJO, Melodie L.
ESQUIBIL, John Marc T.
ESQUIERDO, Jude V.
ESQUIERRA, Valirie Joyce L.
ESQUIVEL, Lorenzo Miguel E.
ESTABILLO, Kheerleejohn A.
ESTACIO, Remle Anne M.
ESTANISLAO, Angelo J.
ESTAVILLA, Karl Francis R.
ESTEBA, Charmaigne E.
ESTEBAN, Jubail S.
ESTEBAN, Razel Ann P.
ESTEMBER, Daniel John G.
ESTEPA, Dane Rainier M.
ESTEVES, Catherine Joy P.
ESTILO, Christa Angela C.
ESTIMO, Aldrin M.
ESTIOCO, Marianne Angeli B.
ESTIPONA, Shermela C.
ESTOESTA, Francis Cecil G.
ESTOLLOSO, Sonny C.
ESTOQUE, Jo-ann G.
ESTOY, Kristina Ginn A.
ESTRADA, Bentel Jellie C.
ESTRADA, Darlyn G.
ESTRADA, Dessa U.
ESTRELLA, Emily Louise M.
ESTRELLA, Jin Paula C.
ESTRELLA, John Vincent G.
ESTRELLA, Shemiah Jona B.
ESTRELLADO, Vhiena May D.
ESTRERA, Diosa Isabel O.
ESTROPIA, Christine Joy J.
ESTUBO, Maria Norma Fatima I.
ETOLLE, Ruchie U.
ETULLE, Niño Angelo C.
EUGENIO, Cyr T.
EUGENIO-PAGANAJE, Precious Angela B.
EUPEÑA, Ron Christian T.
EUSTAQUIO, Jenvi R.
EVANGELIO, Jasper Paul V.
EVANGELISTA, Emkay G.
EVANGELISTA, Joann Ross C.
EVANGELISTA, Leah V.
EVANGELISTA, Pablo III H.
EVANGELISTA, Ramon III Z.
EVANGELISTA-JAVIER, Judith A.
EVARDO, Benny Boy P.
EVITE, Marvin E.
EXMUNDO, Fabian Ceasar B.
FABE, Janine S.
FABELLA, Ma. Carla Noelle V.
FABI, Glenn Royenn T.
FABIA, Johan Gabriel Q.
FABIA-QUIASON, Krisha L.
FABICO, Karl O.
FABIO, Mikhail Jude Amando III R.
FABON, Maria Kristina R.
FABON, Ralph Cedie P.
FABRE, Ma. Lilibeth B.
FABREGAS, Reina G.
FABRIGA, Glicelmei S.
FABRIGAS, Freeza Jee M.
FABRIGAS, Winchel Jonnel A.
FABROS, Sarah Maria E.
FABULA, Camille Eve B.
FABULA, Jane Blessilda V.
FACINAL, Berne M.
FACISTOL, Judy Ann A.
FACTO, Edwin C.
FADERGUYA, Mark Joshua L.
FAJARDO, Carl Dianne S.
FAJARDO, Eduardo D.
FAJARDO, Jeho Edric F.
FAJARDO, Jezryl P.
FAJARDO, Jheremiah M.
FAJARDO, Renee Valerie G.
FAJILA, Maybelle T.
FAJURA, Jonathan John L.
FALCASANTOS, Ellaine U.
FALCULAN, Delsie F.
FALCUTILA, Reilous .
FALLARCUNA, Elaine F.
FALLORE, Jordan F.
FALOGME-FABROA, Marijune C.
FALSARIO, Quennie Dame J.
FAMA, Edmer P.
FAMADOR-GALLEMA, Catherine G.
FAMOR, Santiago Arlan L.
FAMORCAN, Ramir D.
FARCON, Virgilio III Y.
FARCON, Zarah Julia Y.
FARGAS, Victoria C.
FARIOLAN, Nestor Jr. C.
FAT, Samantha G.
FAUSTINO, Celsa T.
FAUSTINO, Chariz Krezel C.
FAUSTINO, Ronilo H.
FAVOR, Clarissa C.
FEDILLAGA, Glenn Robin C.
FELARCA, Timothy James L.
FELICIA, Roela Faye F.
FELICIANO, Krystyna Nicole D.
FELICIANO, Ursulaine Grace C.
FELIPE, Ma. Angela Camille R.
FELIPE, Ma. Shaun Jeremy M.
FELIPE, Patricia Anne Q.
FELISMINO, Randel S.
FELIX, Lovelyn Kate J.
FELLONE, Michelle B.
FENIS, Kimberly D.
FERAREN, Adrian P.
FERIA, Carmela Y.
FERIDO, Eldrin F.
FERMIN, Christina Doanne G.
FERMIN, John Vincent F.
FERNANDEZ, Benedict A.
FERNANDEZ, Charles Daniel Lovensky A.
FERNANDEZ, Chriszeny L.
FERNANDEZ, Danica Blanche C.
FERNANDEZ, Diyosa Anjenel N.
FERNANDEZ, Donna Mae B.
FERNANDEZ, Gail B.
FERNANDEZ, Gemini Joy B.
FERNANDEZ, Imee M.
FERNANDEZ, Jaime S.
FERNANDEZ, Jan Lester T.
FERNANDEZ, Jena Veronica F.
FERNANDEZ, Jezza Marie R.
FERNANDEZ, Joan Eunise A.
FERNANDEZ, Joaquin Niccolo L.
FERNANDEZ, Johannah Marielle R.
FERNANDEZ, Jonah U.
FERNANDEZ, Jose Carlo S.
FERNANDEZ, Leizle F.
FERNANDEZ, Ma. Kristina Cassandra D.
FERNANDEZ, Melinda Rose R.
FERNANDEZ, Sheila B.
FERNANDEZ, Zharie N.
FERNANDO, Aira Abbygale .
FERNANDO, Giancarlo Abelard D.
FERNANDO, Hans William R.
FERNANDO, Kristel R.
FERNANDO, Kristin Jomafer C.
FERNANDO, Napoleon Jr. F.
FERNANDO, Nathalie Adeline S.
FERNANDO, Niezel Kathryn R.
FERNANDO, Nikki Luz C.
FERNANDO, Wintraph L.
FEROLINO, Eme IV P.
FERRARIS, Franhzi T.
FERRER, Aldrin Dale E.
FERRER, Cherish Kim B.
FERRER, Cyrelle Kim A.
FERRER, Elijah Niño Meekhail S.
FERRER, Jacob Martin C.
FERRER, Josephine Anne B.
FERRER, Kevin Gabriel S.
FERRER, Marrion Jade C.
FERRER, Raoulle Osen N.
FERRER, Rizaldy M.
FERRERAS, Marjorie G.
FERWELO, Sandra C.
FETALVERO, Mae Krystal M.
FIDER, Cyrus Dominic B.
FIGUEROA, Arvin Caesar D.
FIGUES, Maria Helen P.
FIGURA, Franc Anthony C.
FILLON, Katrina Aya C.
FILOSOFO, Jerick A.
FIRME, Adrian Kim H.
FLAMEÑO, Francis Carlo L.
FLOJO, Juan Paulo P.
FLOR, Bianca Marie E.
FLORA, Kenneth Jamaica P.
FLORAGUE, Sergie B.
FLORANO, Rey Harold A.
FLORENDO, Joseph Paul R.
FLORENTINO, Clara Isabella M.
FLORENTINO, Ven Rod M.
FLORES, Areeya M.
FLORES, Aurelio Neil S.
FLORES, Charissa Gabriela V.
FLORES, Che Ann Mae G.
FLORES, Christine Arcel T.
FLORES, Erika Marie V.
FLORES, Ivy Lou F.
FLORES, Jaquelyn Mae O.
FLORES, Jiezel C.
FLORES, Joaquin Gabriel B.
FLORES, Joel F.
FLORES, Joshua A.
FLORES, Kimberly Mil T.
FLORES, Maria Almira B.
FLORES, Mariah Scharmaine S.
FLORES, Marie Elinor L.
FLORES, Michaela Therese A.
FLORES, Michelle Claire O.
FLORES, Moises B.
FLORES, Monica Thea E.
FLORES, Natasha Marie E.
FLORES, Rafiel Alfonso A.
FLORES, Rhys Argel P.
FLORES, Rochelle Rita Marie N.
FLORES, Rommel Brian P.
FLORES, Ronald A.
FLORES, Wella Daynne L.
FLORIDA, Jethro M.
FLOTILDES, Victor L.
FOCASAN, Arielle Lynai T.
FOJAS, Ma. Carmela T.
FOMANEG, Florida K.
FONTANILLA, Miguel Luigi IV E.
FONTANOSA, Alan Vincent II S.
FONTANOSA, Rosean Allison S.
FONTILON, Jude Vincent D.
FORCADAS, Johari V.
FORDAN, Karen Ann P.
FORMARAN, Juris Pablo V G.
FORTES, Fernan G.
FORTICH, Ver Anthony A.
FORTUN, Raymond Wilhelm C.
FORTUNADO, Richcy D.
FOSTER-VELASQUEZ, Hazel B.
FRADES, Albert G.
FRANCIA, Natasha Felicia M.
FRANCIA, Roselyn R.
FRANCISCO, Ansherina Paula C.
FRANCISCO, Arianne .
FRANCISCO, Catherine Kay S.
FRANCISCO, Cyril C.
FRANCISCO, Daisy M.
FRANCISCO, Feliza Hannah A.
FRANCISCO, Gerry A.
FRANCISCO, Jhoana P.
FRANCISCO, John Jeffrick O.
FRANCISCO, Jose Mari Andrei P.
FRANCISCO, Joseph O.
FRANCISCO, Joyce Anne A.
FRANCISCO, Juna Aimee C.
FRANCISCO, Ma. Francesca D.
FRANCO, Cyr John Evaristo B.
FRANY, Sol Joanna V.
FRAYNA, Anthony F.
FRESCO, Jordan .
FRIA, Erna Isabel R.
FRIO, Humility Mae A.
FRONDA, Amanda Kay Celine C.
FRONDA, Junalice R.
FUA, Kydee S.
FUEGO, Alyanna Krista S.
FUENTES, Aileen Joy C.
FUENTES, Camille S.
FUENTES, Gracia Gay B.
FUENTES, Jeffrey A.
FUENTES, Kim Geronimo B.
FUENTES, Klaus Austin V.
FUENTES, Meriam Grace S.
FUENTES, Orlando Jr. B.
FUENTES, Tito Jr. C.
FUENTESPINA-LAMAYO, Pierra M.
FUERTE, Ma. Florence R.
FUERTES, Jamie Rose I.
FULACHE, Dece Christine C.
FULGENCIO, Salvador III S.
FULLANTE, Camille Angeli E.
FUNCLARA, Jotham D.
FURIGAY, Jozsef Ted M.
FURING, Johnson C.
FUTALAN, Ester A.
GA, Mary Rose G.
GABATINO-QUERIDO, Maria Kriztel Cristina C.
GABATO, Esther Glory I.
GABAY, Kryztelle Pearl V.
GABAYNO, Maynard Jr. A.
GABI, Hershey F.
GABITO, Ma. Patrice G.
GABITO, Sherman Louis J.
GABO, Maria Joanna Dahlene A.
GABON, Mark Bryant Y.
GABOR, Jlayda Carmel Y.
GABOR, Rex Bernard D.
GABRIANA, Mary Norean C.
GABRIEL, Giancarlo Kristoffer D.
GABRIEL, Lois Anne G.
GABRIEL-ELLORANDO, Primitiva D.
GABUNADA, Jannen A.
GABUTAN, Nanette C.
GABUTAN, Roshalane Jane B.
GABUYA, Marecor P.
GACAYAN, Lucelle P.
GACHO, Leo Jr. G.
GACHO-ALVAREZ, Febie Diana G.
GACIAS, Oscar Martin P.
GACUS, Georgia Dawn C.
GACUS, Gregor U.
GACUSANA, Dan G.
GADDI, Arnold L.
GADDI, Francis Redeemer D.
GADDUANG, Francheska C.
GADIAN, Raul Roniel G.
GADIANE, Sam Jade M.
GADIANO, Blesyl May M.
GADIANO, Rannel T.
GADOR, May Claudine I.
GAERLAN, Hanz Benedict I.
GAERLAN, Shalom Christian A.
GAFFUY, Jastine Dyanara B.
GAGAJENA, Arvin Stephen A.
GAGARRA, Nur-aiza S.
GAGTAN, Ritchmond C.
GAID, Mariefred S.
GAINZA, Maria Melinda O.
GAISER, Jonas Z.
GAITERA, Hannah Jhania M.
GAITOS, Angelica A.
GAKO, Vicca Loraine B.
GALA, Lylanie M.
GALANDINES, Justine Maria Regina D.
GALANDINES, Lorenzo Thaddeus Ruel D.
GALANG, Camilla Joelle G.
GALANG, John Rosendo A.
GALANG, Mary Anne A.
GALANG, Sir John Paul C.
GALANG, Victor Kenner S.
GALANGUE, Shiela May D.
GALANO, Faith Alexis F.
GALAPIN, Mcmurphy L.
GALAPON, Kariene Gayle R.
GALARRITA, Nikko Lance .
GALEA, Ella Janelle M.
GALENDEZ, Anna Veronica I.
GALENZOGA, Charlene M.
GALEON, Philip R.
GALERA, Gian Paulo B.
GALERA, Paul John B.
GALICIA, Monico King A.
GALIDO-ALTURAS, Kristina R.
GALINATO, Frances Genevieve B.
GALINATO, Mary Grace A.
GALINDEZ, Dannah Mikhaela .
GALINGGAN, Winkate P.
GALIT, Alexandro P.
GALLANA, Janin Aizel T.
GALLANO, Kyra Erika Grace S.
GALLARDO, Christian Andrew L.
GALLARDO, Dolores P.
GALLARDO, Don Diosdado Carlo A.
GALLARDO, Reiner S.
GALLARDO, Tiffany Justine D.
GALLEGO, Sherilaine R.
GALLENERO, Lady Hope F.
GALLO, Garry A.
GALLO, Patricia Maxine D.
GALMAN, Sheena Mai A.
GALO, Dominic Emmanuel Israel G.
GALOPE, Laarni S.
GALPITO, Lovely M.
GALURA, Ellaine T.
GALUT, Jemaima Rose C.
GALVEZ, Gian Carlo O.
GALVEZ, Keith Russell A.
GALVEZ, Ma. Johara G.
GALVEZ, Marie Margarette C.
GALVEZ, Monique B.
GALVEZ, Vladimir A.
GAMAD, Kevin .
GAMAO-MENDOZA, Arthelly D.
GAMBOA, Fiels Dominique D.
GAMBOA, Joelyn Marie G.
GAMBOA, Mark Lawrence Z.
GAMBOA, Tiffany Ruth V.
GAMENG, Maria Regina C.
GAMIL, Jesson G.
GAMLOSEN, Denver A.
GAMMAD, Rae Roselle E.
GAMO, Norenz Jacob Jr. O.
GAMONNAC, John Mark D.
GAMOROT-BILBAO, Shemelyn D.
GAMPONG, Zuhairah B.
GAN, Jacqueline Y.
GANCHORRE, Virgilio III C.
GANDAMRA, Camid III B.
GANDAMRA, Mamintal C.
GANDEZA, Neylan Lei P.
GANDIONCO, Krista Mae A.
GANGOSO-CACERES, Jomele M.
GANI, Bob Ryan D.
GANIA, Sarah B.
GANO, Jevan Klaire L.
GANUELAS, Essell Joyce B.
GANUHAY, Mel Phildrich D.
GAON, Alessandra Regina D.
GAPAY, Dyan C.
GAPIDO, Anthony Clark A.
GAPUEN, Jundy P.
GAPUTAN, Mel Abner C.
GAPUZAN, Vergel A.
GARA, Josef James T.
GARABILES, Tagma Esther V.
GARACHICO, Danielle Rosett R.
GARAN, Lisa Marie A.
GARBANZOS, Yvonne Nicole C.
GARBO, Rene Steve A.
GARCES, Rebelia P.
GARCIA, Albertito D.
GARCIA, Althea Angela M.
GARCIA, Anne Sherina Bianca J.
GARCIA, Bernadeth B.
GARCIA, Charlotte Yris C.
GARCIA, Daryl Patrick Q.
GARCIA, David A.
GARCIA, Doreen Ysabelle E.
GARCIA, Eddie S.
GARCIA, Edzen Jogie B.
GARCIA, Eileen Joy D.
GARCIA, Ezekiel Manuel B.
GARCIA, Gerardo S.
GARCIA, Jermaine Q.
GARCIA, Joelle Mae J.
GARCIA, John Edward M.
GARCIA, John Patrick M.
GARCIA, Julrey Florence C.
GARCIA, Justin Carlos N.
GARCIA, Lawrence Felix T.
GARCIA, Maria Angeles Imelda L.
GARCIA, Maria Celine Elizabeth R.
GARCIA, Maria Teresa Alberto Anjelina M.
GARCIA, Patricia Dianne S.
GARCIA, Rae Angela G.
GARCIA, Ramon Jacinto R.
GARCIA, Riego Ferrer L.
GARCIA, Romando Angelo Ricardo B.
GARCIA, Rosie G.
GARCIA, Shaira Z.
GARCIA, Shaira Camille L.
GARCIA, Zandra Marie M.
GARCIA-PASION, Joeanna Mhay D.
GARCIANO, Gerald W.
GARCIANO, Marichu D.
GARDE, Arnel Q.
GARDE, Marianne F.
GARDOSE, Theodora M.
GARDOSE-CARTAGENA, Gay G.
GARDUCE, Diane M.
GARDUÑO, Danielle Sophia B.
GARFIN, Camille M.
GARGANERA, Aliko Jasmine L.
GARGARITANO, Arnie T.
GARIN, Diana M.
GARINGAN, Catherine Jane P.
GARMA, Don Aehrjay S.
GARO, Fatima Kate N.
GARRAEZ, Mark Anthony D.
GARRIDO, Frances Anne Marie T.
GARRIDO, Nurissa M.
GARRUCHA, Mary Georgel L.
GARVEZ, Aniceto E.
GARVIDA, Emmanuel F.
GARVIDA, Euodia Grace C.
GASAPO, Zarian Lyn A.
GASCON, Janine Camelle T.
GASCON, Jovan B.
GASPAR, Phil Christer L.
GASPI-SAKAI, Mary Joyce O.
GASTANES, Edmond Jones Q.
GATAN, Erica T.
GATCHALIAN, Mary Jacquelyn Sheryl D.
GATCHALLAN, Jan Laurence G.
GATELA, Anna Lee S.
GATERING, Riza Joy E.
GATILLO, Ronemay H.
GATINGA, Pia Loren C.
GATO, Karl Edson G.
GATPOLINTAN, Lorenz Allan J.
GATUC, Ralph Lawrence B.
GAUDIA, Jeofrey V.
GAUUAN, Shirilyn D.
GAVIA, Shirley Anne R.
GAVINA, Roberto Miguel B.
GAVIOLA, Charlene B.
GAVIOLA, Harlo B.
GAVIOLA, Keeshia Earl T.
GAYANES, Mary Joy L.
GAYASO, Catherine D.
GAYATIN, Catriona Janelle V.
GAYUMMA, Kezia Therese N.
GAZO, Jan Louis .
GEBUSION, Joel G.
GEGANTO, Aretha Belle A.
GELIZON, Benjie M.
GELVOLEO, Jose Gene T.
GEMENTIZA, Sheila L.
GEMORA, Aaron S.
GEMPIS, Giancarlo Lorenzo S.
GENER, Francess Louise E.
GENERALAO, Leo Lorenz D.
GENERILLO, Celestine Jeanne M.
GENITO, Rolando Jr. V.
GENON, Fiona L.
GENTEROLES, Jessa G.
GEOLINA, Kenneth P.
GEOLLEGUE, Christine Thel A.
GEONZON, Alfred C.
GEONZON, Caryl R.
GEONZON, Joeffrey D.
GEOTINA, Roberto Rolando L.
GEQUINTO, Mirasol D.
GERADA, Dennis P.
GERALDE, Jose Gerfel F.
GERALDEZ, Nicanor P.
GERALE, Ian Earl Shieldon L.
GERAPUSCO, Shiela Mae D.
GERODIAS, Gino Ismael S.
GERONA, Bendever C.
GERONA, Jessie Glenn B.
GERONAGA, Abram M.
GERONG, Allain Mae D.
GERONGA, Andrea Jade O.
GERONIMO, Aira Marielle M.
GERONIMO, Joie Alphonse G.
GERONIMO, Juno V.
GERONIMO, Marian L.
GERONIMO, Mark A.
GERONIMO, Rachel S.
GERVACIO, Maria Beatrix Nicole P.
GERVACIO, Melton Fredrick A.
GEYROZAGA, Maria Zola Estela I.
GIANAN, Carmela Dawn B.
GIBA, Ronie Cris R.
GIERRAN, Earl Clarence N.
GILI, Julius Sandino R.
GILLES, Janine A.
GILLO, Oswald C.
GIME, Reynold John F.
GIMELO, Micah Alvin S.
GIMENA, Pretty Leighn Kate B.
GIRON-LUMANUG, Ma. Nelissa S.
GLACITA, Zandra Andrea C.
GLIANE, Carlos II T.
GLORIA, Evealyn-krestie C.
GLORIA, Maria Jesse Anne B.
GLORIOSO, Angelica Joy E.
GLOVASA, Imelou A.
GO, Carlo Angelo B.
GO, Chelsea Ysabel D.
GO, Denise Kimberly Krizelle D.
GO, Gentle A.
GO, Harold Justin Y.
GO, Hillary Angela S.
GO, Joaquin Oscar III Y.
GO, Jose Marty D.
GO, Marie Stelle V.
GO, Michael Angelo F.
GO, Paolo Romeo Valentino S.
GO, Rachelle Ann L.
GO, Sarah Jane B.
GO BIAO, Kester Ridge C.
GOBANTES, Primabelle S.
GOBOLE, Mary Sarah D.
GOCAL, Mark Vincent J.
GOCE, Aldrian N.
GOCE, Marian Grace A.
GODORNES, Danica Mae M.
GOHOC, Corinne Abigail S.
GOJAR, Krizzia Camille R.
GOLEZ, Sarah Monique Nicole Antoinette P.
GOLINGAY, Clinton D.
GOLISAO, Mary Lean G.
GOLLA, David Ronell VII M.
GOLOCAN, Christine C.
GOLOD, Jeffrey C.
GOLOSINO, Ernesto O.
GOMEZ, Algen S.
GOMEZ, Alyssa Abigael C.
GOMEZ, Donna Kris B.
GOMEZ, Jan-derrick Royce A.
GOMEZ, Jesus Angelo P.
GOMEZ, Rose Anne Joy D.
GOMEZ, Shanelle Aubrey Gianina A.
GOMOS, Irene Mae R.
GONDA, Majicel O.
GONZAGA, John Christian .
GONZAGA, Mark Joseph T.
GONZALES, Angelo S.
GONZALES, Christine Masset D.
GONZALES, Cyria Ellaine M.
GONZALES, Darren J.
GONZALES, Dolores Marietta D.
GONZALES, Exequiela .
GONZALES, Frances Jemaine L.
GONZALES, Francisco Jeremiah S.
GONZALES, Irene A.
GONZALES, Jan A.
GONZALES, Janina Franchesca R.
GONZALES, Jay L.
GONZALES, Jo-anne P.
GONZALES, Joahna F.
GONZALES, Karla Bernadette L.
GONZALES, Loen May F.
GONZALES, Maela Katherine S.
GONZALES, Maria Muriel B.
GONZALES, Nomer M.
GONZALES, Ralph Rodulfus P.
GONZALES, Tristan Duane N.
GONZALES, Zaira Gem T.
GONZALEZ, Aurelle Marie G.
GONZALEZ, Faye Monchelle O.
GONZALEZ, Krystl Marie B.
GONZALEZ, Maria Corazon B.
GOPEZ, Ronald Jay P.
GOPO, Althea Astrid T.
GORDON, Francis Voltaire Y.
GORGONIO, Jenny Ruth P.
GOROSIN, Marissa C.
GOROSPE, Chraezelle Shane Kaycelle I.
GORREON, Clarissa Joyce R.
GOTICO, Patrick John B.
GOYAGOY, Joahna G.
GOZALI, Philip Armand G.
GOZUM, Renz Erwin B.
GOZUN, J. Robert M.
GRABATO, Jon Cliff A.
GRADO, Paloma G.
GRAGASIN, Donna Mae Anne S.
GRAJO, Denis S.
GRANADA, Joshua John A.
GRANCHO, Gillian Ruth A.
GRANDE, April Grace T.
GRAVOSO, Ronnie Emmanuel P.
GREGAS, Racel M.
GREGORIO, Alfonso S.
GREGORIO, James E.
GREGORIO, Jonathan Peter A.
GRIAR, Marie Stephanie Therese A.
GRIJALVO, Josephine R.
GRIMARES, Francis Derek L.
GRIMARES, Natazia Therese D.
GROSPE, Jayve M.
GROSPE, Maryknoll B.
GRUYAL, Geraldine Ann Victoria A.
GUADALQUIVER, Vjisyl R.
GUADES, Jochris Daniel Z.
GUALBERTO, Marshan Deinn S.
GUALBERTO, Zosimo Jr. L.
GUANIO, Agustini Alfonso C.
GUANIO, Ma. Carina Theresa G.
GUANSING, Armi E.
GUANZON, Angeli B.
GUANZON, Christine G.
GUAREN, Ronamarie Therese A.
GUARIN, Kristine Faye C.
GUARIÑO-AMOR, Princess Kimberly T.
GUBALANE, Rafael B.
GUBAT, Jeanan Ashya M.
GUDOY, Marie Stella G.
GUECO, Gabrielle A.
GUECO, Jennifer Denise D.
GUERRERO, Anna Charmaine P.
GUERRERO, Brian B.
GUERRERO, Elajnah Gabrielle D.
GUERRERO, George Mitchell S.
GUERRERO, Lawrence Wilfrido E.
GUERRERO, Reinald Raven L.
GUERRERO, Shaila Lyn G.
GUETA, Jomuel Patrick D.
GUEVARA, Carl Mitchell L.
GUEVARA, Gerald A.
GUEVARA, Krissie Anne I.
GUEVARRA, Jerico B.
GUEVARRA, Jyrna Rhea J.
GUEVARRA, Karl Derrick S.
GUEVARRA, Ma Karmina G.
GUEVARRA, Michael D.
GUEVARRA, Mikee Andrea B.
GUIA, Bernadette Louise B.
GUIAM, Carlo R.
GUIAM, Emma Lou G.
GUIANG, Ina S.
GUIBONE, Carmela C.
GUIDOTE, Michael Christopher O.
GUIGAYOMA, Angeline V.
GUIGUE, Mary Tweetie Antonette S.
GUILAS, Cherubim E.
GUILING, Ameer Hassan G.
GUILING, Aniesahara L.
GUILLEN, Joseph Angelo J.
GUILLERMO, Jesanile A.
GUILLERMO, Krystel Marie G.
GUILLERMO, Lingelie A.
GUILLERMO, Patricia Mae D.
GUILOREZA, Rea Faye Joy S.
GUIMBUNGAN, Mahicon B.
GUINANAO, Jennifer M.
GUINAR, Princess Haeba A.
GUINGUE, Angelli A.
GUINOMLA, Ferdauza K.
GUINTO, Maria Carissa C.
GUINTO, Ronald B.
GUINTU, Meryl Cayla C.
GUISDAN, Jahrelle Erl M.
GUISON, Marc M.
GUIYAB, Cary Joy L.
GUIYAB, Rajan Vanessa N.
GULAR, Justin Nicol B.
GULMATICO, Salvacion Joan S.
GULPAN, Jayzzah Cyrille A.
GULTIA, Alan A.
GUMA-OS, Sittie Johaira M.
GUMABAY, Emilio Jr. B.
GUMABAY, Hencel Joseph B.
GUMABOL, Erika Mae U.
GUMABOL, Kazzandra Irish B.
GUMANAO, Arnel S.
GUMAPAC, Yzabel Micah M.
GUMARANG, Donnalyn R.
GUMBA, Lloyd Luxie B.
GUMBAN, Jessie Lou L.
GUMBAN, Lian Dominic B.
GUMBOC, Claresse Marion C.
GUMBOC, Stephen P.
GUMELA, Jimson Leandro V.
GUMELA, Jive D.
GUMOLON, Preacious G.
GUNO, Amiel Angelo C.
GURO, Hafsha Darwiza D.
GURTIZA, Vanessa Yvonne A.
GUSILATAR, Jorge Jr. P.
GUSTILO, Regina Johanna V.
GUTIERREZ, Bernadeth B.
GUTIERREZ, Jesily Darla Mae G.
GUTIERREZ, Karol Josef S.
GUTIERREZ, Manelle Paula M.
GUTIERREZ, Merlyn U.
GUTIERREZ, Monica Mariquit M.
GUTIERREZ, Patricia Lorenza D.
GUTIERREZ, Patrick Angelo M.
GUTIERREZ, Remar Griffin S.
GUTIERREZ, Viktor Maria G.
GUZMAN, Charmaine A.
GUZMAN, Jojo B.
GUZMAN, Pat Jr. T.
GUZMAN, Sher-anne C.
GUZMAN-CUREG, Ma. Florina G.
HABLA, Annie Mae S.
HABOC, Roan Jill E.
HACHASO, Edjieson B.
HADJI ABDULLAH, Faihanima B.
HADJI HASSAN, Anisha M.
HADJI MOHSEN, Romaisah L.
HADJI RAKHIM, Aleah-hidaya A.
HAGARAP, Jose Marie L.
HAGUTIN, Laurence Brian M.
HAJAN, Lholi Alnajib J.
HAJIHIL, Sima J.
HAMADA, Kenneth Charles C.
HAMED, Mohamad Kalid M.
HAMIN, Al-zhayeeb C.
HANDANG, Jahiddin F.
HARUN, Jehan V.
HASSAN, Allanuddin S.
HASSAN, Khalid A.
HATAB, Karizsa A.
HAUTEA, Lorenzo Martin J.
HEBREZA, Jayson R.
HECETA, Deanna Clarisse M.
HEMBRA, Hariza Joy R.
HEMOR, Harlene A.
HENSON, Christian Jade C.
HERBOSA, Pamela Riel Carmelle O.
HERMOSA, April Joyce T.
HERMOSO, Jesse John M.
HERNANDEZ, Abelardo G.
HERNANDEZ, Agnes S.
HERNANDEZ, Annabel F.
HERNANDEZ, Chad Jorel V.
HERNANDEZ, Hazel Vera C.
HERNANDEZ, Jaerelle P.
HERNANDEZ, Jobel C.
HERNANDEZ, Justin Luigi V.
HERNANDEZ, Juvenal O.
HERNANDEZ, Karla P.
HERNANDEZ, Katrina Ysobelle A.
HERNANDEZ, Leah G.
HERNANDEZ, Liomar B.
HERNANDEZ, Maria Leonora Soledad Concepcion D.
HERNANDEZ, Mariane L.
HERNANDEZ, Mark Dondee L.
HERNANDEZ, Patricia Jon H.
HERNANDEZ, Paulo O.
HERNANDEZ, Penelope H.
HERNANDEZ, Tyrone Carlo M.
HERNANDO, Raymundo Francisco A.
HERRADURA, Jed Lenard A.
HERRERA, Jonard A.
HERRERO, Joseph Eliezer D.
HERUELA, Lou Angelique C.
HIBAYA, Dennis L.
HICARO, Karen Joy P.
HICETA, Alexis A.
HIDALGO, Alodia Faye N.
HIDALGO, Wynnah Khrysteen O.
HIFE, Christian Oliver A.
HILADO, Ervin John Mikel D.
HILARIO, Celina Marie S.
HILARIO, Jennifer B.
HILARIO, Jessie Josuah P.
HILARIO, Joseph Conrad E.
HILARIO, Pamela Denise D.
HILARIO, Stephanie Anne T.
HIMANG, Ameliano G.
HINANAY, Grace Anne Nicole R.
HIPE, Joaquin P.
HIPOLITO, Reiner Lance M.
HIPOLITO, Roselle Katherine M.
HIPONIA, Hazel Ann D.
HIZOLA, Jomar M.
HOLASCA, Kenneth Michael C.
HOLGADO, Deanna Noreen R.
HOLMAN, Edson Bill M.
HOMERES, Ceferino Jr. B.
HONG, Maria Cecilia F.
HONRADE, Christine Elaine M.
HONRADE, Karen Mae D.
HONRALES, Jacque's Lorenz L.
HONRALES, Kimberly Ann I.
HONRUBIA, Reiniel Y.
HONTIVEROS, Jess Earl Pius C.
HORARIO, Keinth L.
HORNILLA, Ariadne Kirsten E.
HORTAL, Princess Rosshien L.
HORTALEZA, Ron Carlo S.
HOSAKA, Orlino Enrique E.
HOTINGOY, Kenny Melody B.
HOW, Sharrah Josse D.
HUAB, Myra R.
HUERTA, Juris U.
HUERTAS, Daryst Xytuz M.
HUERTO, Karen Ann B.
HUEVOS, Patricia Pamela D.
HUFEMIA, Jumar A.
HULIGANGA, Daniel Patrick M.
HUMIWAT, Jaime Jr. P.
HUSMALAGA, Jose Rollen G.
HUSSIN, Potri Mariam A.
EXAM COVERAGE
The Law pertaining to the State and its relationship with its citizens/ formerly Political Law, Labor Law and Taxation Law (30%)
The Law pertaining to Private Personal and Commercial Relations/ formerly Civil Law and Commercial Law (30%)
Procedure and Professional Ethics/ formerly Remedial Law, Legal Ethics and Practical Exercises (25%)
Criminal Law (15%)
RELEASE DATE
The Supreme Court is expected to release the BAR exam results for batch 2020-2021 on April 12, 2022.
REMINDER
The BAR exam result may be released by the Supreme Court earlier or later than the target date without prior notice.
PASSING PERCENTAGE
BAR examinees should have a general average of 75% with no grade lower than 50% in any of the subjects.