President Duterte: "We continue to see downward trend of the positivity rate, now only less than two percent."
On Monday, President Rodrigo Duterte gave a special mention to two Cabinet officials as the pandemic situation in the Philippines vastly improved.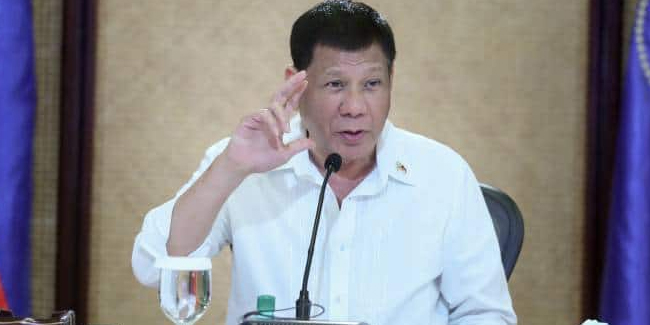 During his pre-recorded "Talk to the People" public briefing aired on Monday night, the President gave due thanks to Filipino frontliners for their "impressive" feat of bringing the number of new daily coronavirus infections back down to the triple-digit range.
"Better days ahead because since Dec. 1, we have been on average of 500 to 600 and the number of active cases continues to go down. I'm talking about the COVID," President Duterte said.
The President went on to recognize the people responsible for these significant victories against the much-feared coronavirus disease.
READ ALSO: President Duterte Offers DOH Post To Fr. Austriaco
President Duterte also gave special mention to 2 Cabinet executives in particular.
"I'd like to thank the doctors, the volunteers and all for — of course, [Department of Health] Secretary [Francisco] Duque [III] and [National Task Force vs. COVID-19 chief implementer] Secretary [Calito] Galvez [Jr]. I thank you for — in behalf of the Filipino people," President Duterte said.
Galvez and Duque were on hand to hear the President's praise as they're key players in the Inter-Agency Task Force (IATF) for the Management of Emerging Infectious Diseases.
It can be argued that the country had successfully controlled the Delta variant, which caused fresh daily coronavirus infections of more than 20,000 in September. Fast forward 3 months later, the Philippines was routinely tallying daily new coronavirus cases of fewer than 1,000.
Also hailing this development was Go Negosyo founder and Presidential Adviser for Entrepreneurship Joey Concepcion.
Concepcion reckoned earlier Monday that the country was the safest place for migrant Filipinos to spend Christmas in, given the improved pandemic situation.
For more news and updates, you may feel free to visit this site more often. You may also visit Newspapers.ph via our official Facebook page and YouTube channel.