BTS shared their thoughts about becoming a global phenomenon.
South Korean pop group BTS recently shared their thoughts about becoming an undeniable global phenomenon.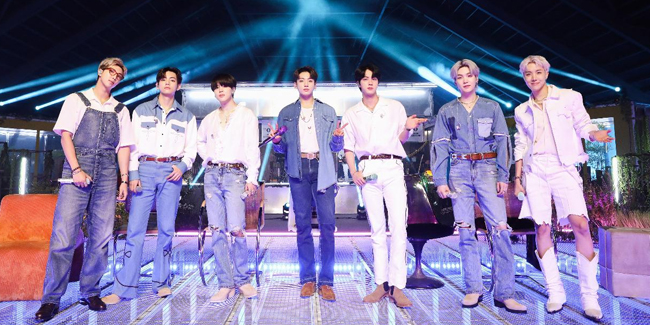 BTS had been steadily working their way to the top since debuting in 2013. As they're now a global phenomenon, the group recently sat down with "Coldplay" frontman Chris Martin and talked about how they feel being at the center of it.
According to RM, they really sometimes felt like they're kind of almost nothing when they looked at themselves.
"We ask ourselves the question, oh these sound WAV files, can this change the world? Can this even be a little help to have some positive impact or energy to the world? Sometimes, it feels really meaningless," RM said.
However, RM shared that it's a different matter when they're with their fans and saw "their energy, their honesty". According to RM, when it comes to the word "global", he still didn't know what it means, but it symbolized many things when they had their stage at the stadiums.
READ ALSO: BTS Appointed As Special Presidential Envoy For Future Generations And Culture
Martin also asked the group how they felt about being appointed as Special Presidential Envoy for Future Generations and Culture by none other than South Korean President Moon Jae-in.
In their new capacity, BTS members Jin, RM, SUGA, V, Jimin, J-Hope, and Jungkook were to attend major international conferences such as the 76th United Nations General Assembly slated for this month.
BTS will offer messages of hope and comfort to young people around the world and participate in different activities in order to "promote international cooperation to solve global issues such as environment, poverty, inequality improvement, and respect for diversity".
According to SUGA, it wasn't what they set out to do when they first became singers, but "the answer was doing what we can do" after thinking about their impact and positive influence on people.
In response, Martin told the group that he believed it's "very important" that they've chosen for the role.
The group gave inspiring speeches at the UN, first in 2018 and then again in 2020. Also, BTS had been behind the ongoing campaign "Love Myself" with UNICEF, which aimed to end "violence toward children and teens around the world, with the hope of making the world a better place through music".
For more news and updates, you may feel free to visit this site more often. You may also visit Newspapers.ph via our official Facebook page and YouTube channel.