The Duterte administration launched a "legacy" roadshow ahead of President Duterte's final SONA.
Ahead of President Rodrigo Duterte's final State of the Nation Address (SONA), the Duterte administration recently launched a "legacy" roadshow.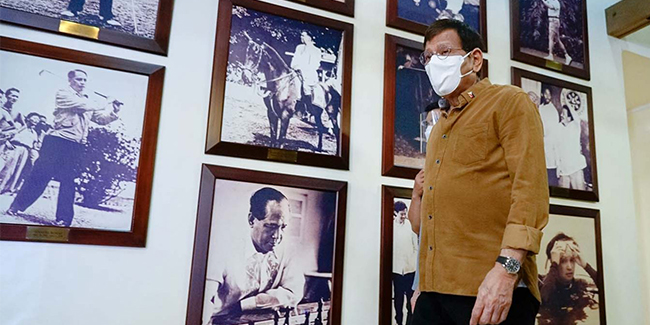 With just over a year left in office, the Duterte administration was embarking on a "legacy" roadshow in order to highlight its achievements in fighting hunger and poverty in the Philippines.
According to Cabinet Secretary Karlo Nograles, the first "pamana" event was kicked off last Thursday in Butuan City as part of the activities lined up ahead of the President's sixth and final State of the Nation Address (SONA).
Speaking at the "Kasama sa Pamana: Regional Pre-SONA Series", Nograles highlighted the administration's efforts in addressing poverty, improving nutrition and food security in the Philippines especially during the coronavirus pandemic.
"Through this initiative, we (shall) inform the various regions and provinces of the administration's accomplishments in the areas of poverty alleviation, nutrition supplementation and the fight against hunger during this health emergency," Nograles said during the event last Thursday.
READ ALSO | President Duterte: "Government is busy doing everything"
Among the programs cited by Nograles were the Enhanced Program Against Hunger and Poverty (EPAHP) program as well as the National Food Policy that included initiatives for achieving food security, ending hunger, improving nutrition, and promoting sustainable agriculture.
Nograles, who was also chair of the government task force on zero hunger, noted that the task force was also working closely with the private sector in order to help feed families under the "Pilipinas Kontra Gutom" initiative.
According to Nograles, the anti-hunger campaign had "achieved a lot" but recognized that the fight wasn't yet over.
Moreover, Nograles said that his office was working closely with the Presidential Communications Operations Office (PCOO), Cabinet members, chairpersons of the Cabinet Clusters, and the Office of the Executive Secretary for the "Pamana" series.
President Rodrigo Duterte, elected last 2016 on a promise to eliminate corruption and illegal drugs, will end his six-year term next year.
For more news and updates, you may feel free to visit this site more often. You may also visit Newspapers.ph via our official Facebook page and YouTube channel.